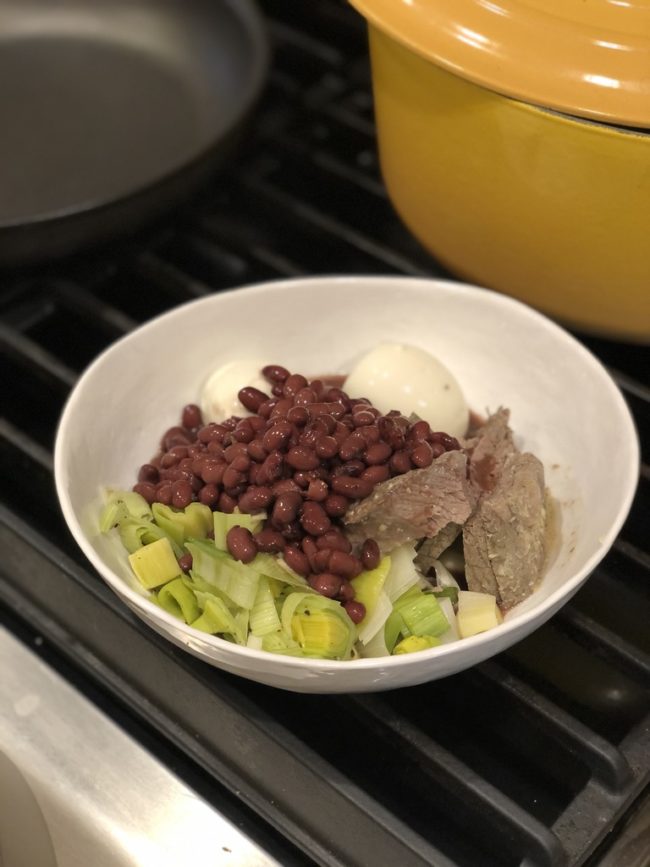 I was having a conversation with a friend yesterday about how easy it is to fall into eating odds and ends rather than real meals when you are tired and depleted. I tend to go into mono-eating of color-less foods when I'm dealing with fatigue and decision fatigue. If left to my own devices I'd just eat bowlfuls of Annie's and nothing else; I was delighted when cauliflower rice and cauliflower gnocchi came en vogue, so that at least I'd sneak in some nutrition for myself during these phases.
Last week I found myself a few too many meals into odds and ends when I realized that I needed vegetables, so for the past two days I've been focused on getting in a green thing and trading greenery photos as positive encouragement. Today's lunch: still odds and ends, but lots of green things: some leftover roast, soft boiled eggs, the end of the beans, over a mess of steamed leeks. Color! Fiber!
Today it was raining and dark for most of the day, but I still managed to sneak in a good run, walk the puppers, and hop on a long overdue friend zoom. Tomorrow is a packed day, but I'm looking forward to my meetings, work, and my Tuesday night regular class: Yin with Yasmene!
xo, Sam