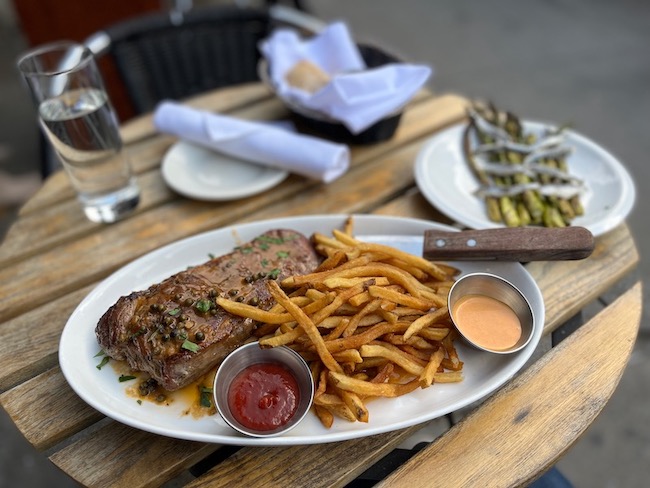 Welcome to my year of eating!
At the end of December, I spend a few weeks in self review mode. I spend a lot of time thinking about what went well, what didn't, and dreaming up what I want to improve. It's part gratitude, part exploratory, part strategy. I write about my full process here.
I make it a point to look through my entire roll of photos (I take many!) and one of the most fun parts of my review is simply writing out a list of all the food that I've eaten. (This isn't as difficult as it seems, because I keep regular journals, a "let's eat!" spreadsheet, and meal plans for just about everything.) Since the pandemic upped my delivery frequency, I look through my various apps for a history of what I ordered from where as well.
Making a grand old list of food is a wonderful way for me to re-live a great meal. It also helps me to expand on what I'd like to eat in the new year and is a great way to help me meal plan. I start seeing patterns (you'll notice a lot of butter chicken). (You can see last year's list here.)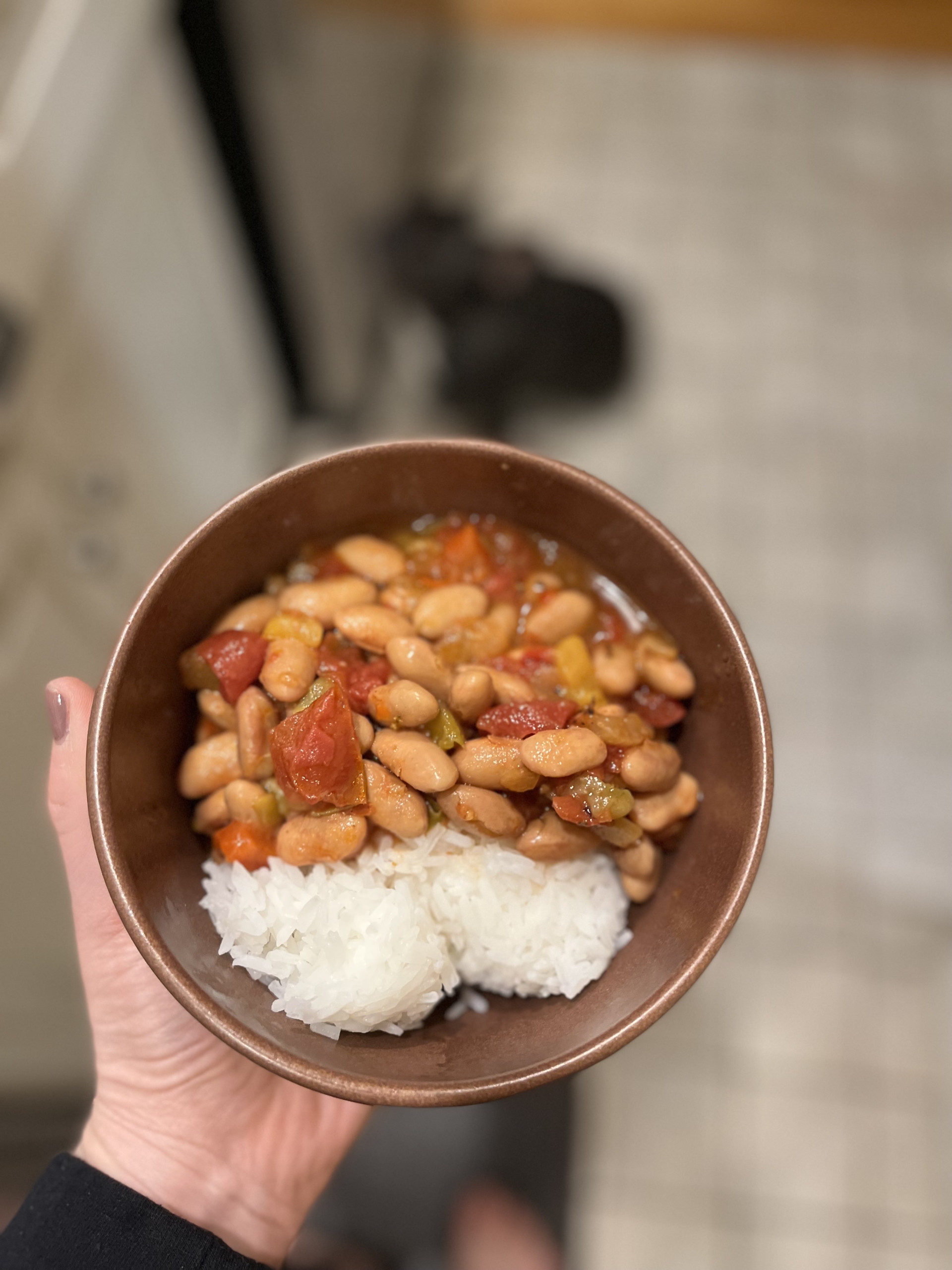 One day I aspire to write a kitchen diary cookbook as robust as Nigel Slater's, or something like Ruth Reichl's My Kitchen Year. For now, there's this list!
In 2023, I'm hoping to be a little bit more creative in the kitchen! More recipes, more projects, more cooking with friends and family. More Turkish cooking. (I'll be working on my kitchen resolutions this week – but here's the 2022 version.)
It's broken down a few different ways: Good Things I've cooked (very few recipes, but when I use them, they are linked). WeCo Meals (a local prepped meal delivery service) gets it's own long section this year. Good Takeout (roughly once a week). A section for treats eaten at any time. And a miscellaneous section at the bottom.
I'm sure I'm missing lots of things in here, but here's the non-exhaustive list: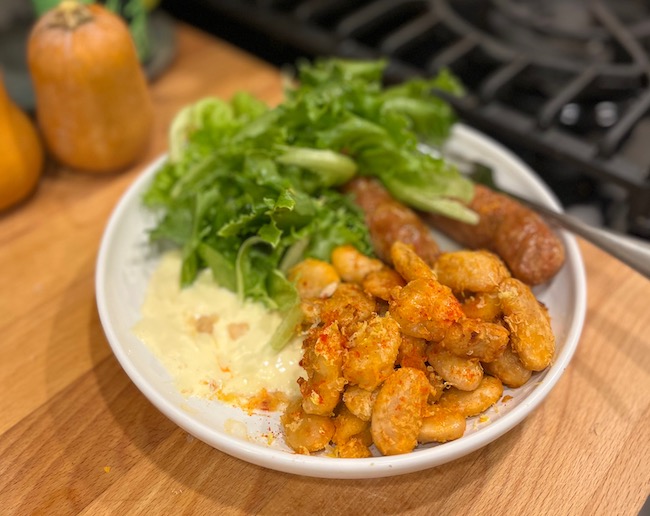 Good Cooking in 2022
1/1 Marcus Samuelsson's Black Eyed Peas with Coconut Milk and Berbere (Perfection)
1/3 Hello Fresh Cavatelli with Ground Pork and Biscuits
1/5 Chili at home
1/8 Sheet Pan Chicken and Cauliflower, pickled Red Onions
1/10 Ground beef, rice bowl, chopped cucumbers
1/11 Chicken, rice, pesto
1/12 Greek baked fish with tomatoes and onions NYTimes (great!)
1/16 Rye toast egg in a hole (Caroline had similar); Hello Fresh Tacos
1/16 Cantonese Poached Chicken (Woks of Life)***
1/16 Cooksmarts Asian Meatloaf
1/19 Taco meat bowl with pickled onions
1/22 Crab, Avocado, Grapefruit Crispy Lettuce Salad (+ star californias)
1/23 Tomato soup + toast with liver paté
1/24 Candied Grapefruit Peel, Alice Waters Fruit Cookbook (incredible)
1/29 Leftover Lamb Biryani from the freezer (Pondicheri cooking class)
2/1 Jasmine rice at home + TJ's bbq chicken
2/3 Steel cut oats with nuts and Formaggio Kitchen passionfruit curd
2/12: Pot of rice, chicken, chili crisp
2/13 A great beef chili with guajillo salsa
2/15 Turkish Cranberry Beans and Rice
2/23 Hello Fresh Tacos
2/25 Manti
2/27 Grilled cheese, tomato soup, chicken and pickle
2/27 Baked Black Bass sushi bowl; cottage cheese with saffron cheese and pesto
3/8 Shredded chicken, mango, avocado green beans and chili crisp
3/19 Air Fryer pork chops, crispy lettuce salad with mango, tomato, cucumber
3/20 Thick avocado toast; lamb chops, roasted cauliflower and hummus
3/26 Salmon asparagus rice bowl
4/2 Shawarma and rice, roasted carrots, cucumber
4/4 A fun shape of curly pasta, sauce, cheese
4/5 Air fryer pork chops, rice, cucumber and avocado salad
4/6 Shrimp, pork, beans under some pumpkin curry
4/10 Cape Cod Pepperoni Pizza (Natalies orange and pineapple juice)
4/20 Chicken Nugget "Donburi" rice bowl
4/30 Rye sandwich with Schwartz's smoked meat and sauerkraut and mustard
5/1 Miso Crunch TJs salad and chicken nuggets
5/2 Fish Rice Bowl with avocado and cucumber
5/3 Pork from Montreal and pinto Rancho Gordo beans
5/5 Salmon Rice Bowl
5/21 Rice bowl with TJs birria, mango, cucumber salad and lime
5/22 Peanut noodles with chicken scallopine
5/25 TJs gnocchi sorrentina, chicken sausage, ricotta
5/26 Roasted a half chicken in the air fryer, huge bowl of mac and cheese; bambino pizzas
5/30 Bowl of caballero beans (and avocado and cheese)
6/17 Surimi rice bowl with avocado and tomatoes
6/19 Home made mac and cheese, little burgers with cheese, tomatoes
6/25 Pork cabbage onion
6/26 Sardine rice bowl
6/26 Soft Shell Crab in air fryer over salad
6/27 Falafel with yogurt (chicken soup with dill and yogurt)
6/29 Salad with rotisserie chicken, egg, slice of toast
7/10 Rice bowl with chicken thighs, peppers, cucumber, dill
7/14 Arugula salad with variety chopped meat and bagel croutons
7/15 Pork and onion of some kind, cucumber salad and mango
7/23 Baked white fish, miso crunch salad, fresh tomatoes; PROFITEROLES!
7/24 TJ's Crunchy Slaw for lunch (add chicken)
7/31 TJs egg fritatta on cheese on tortillas, iced coffee with cinnamon at home
8/7 Salmon rice bowl
8/12 Mac and Cheese
8/13 Skate wing lemon butter over tomato salad; bowl of peaches
8/14 Roasted chicken, roasted zucchini, corn, mozzarella balls
8/15 Chicken meatballs, roasted broccoli, watermelon
8/16 Air fryer chickpeas, cucumber and peppers, chicken
8/16 Liver, peppers and onions
8/18 Bowl of fresh corn, watermelon, mini mozzarella
8/21 Steamed fish bowl, cacio pepe gnocchi, tomato cucumber salad
8/22 Grilled scallops in butter, zucchini, momofuku noodles
9/3 Marinated mozzarella and peaches
9/4 Rancho gordo yellow eyes (marinated) cucumbers, butter toast
9/9 Lobster on salad with Wegman's california rolls
9/10 Chili with zucchini; mini peppermint cones
9/13 Salad with TJ's Kibbeh and leftover Singhs
9/20 Annies and Roasted Cauliflower
9/21 Kibbeh Rice bowl with tomato and avocado
10/2 Pork Chop, roasted cauliflower, toast, and slaw (from Volante)
10/3 Pot of Chili!
10/5 Fila Manila Kare-Kare chicken with bok choy
10/6 Hamburger Helper and a fennel slaw salad (partly from Volante)
10/7 Corona Beans with chicken meatballs, fennel and pesto
10/8 Bucatini with sauce; cucumber salad
10/9 Air Fryer Corona Bean patatas bravas (thank you, Bettina!!)
10/10 TJs Bambinos and salad
10/11 Sardine Rice Bowl with Avocado
10/11 Somchay feeds me tacos and we have a Cider Donut eat-off
10/13 Kibbe, white bean puree, eggplant over rice
10/14 Good and Gather Butter Chicken and Chickpeas over Rice
10/15 Big piece of liver, tomato and arugula salad
10/18 Tteokboki at home! (added eggs like shakshuka)
10/21 Miso Crunch salad with breaded shrimp in air fryer
10/22 Mac and cheese and leftover chili (from freezer)
10/23 Half a cape cod pepperoni pizza and salad
10/25 Sardine rice bowl
10/26 Air fryer panko calamari from farm share, green salad
10/27 Some sort of meat/salad/rice bowl
10/28 More of that butter chicken from Target with chicken thighs
10/29 Pork chop in air fryer, any day microwave bok choy, cocktail sauce
10/30 Air fryer pierogies, salami, lettuce, burrata
10/31 Salad with marinated chickpeas, salami, applekraut
11/1 Butter Shrimp with cauliflower, rice, and tamarind sauce
11/2 Cooked fish, TJs mexican corn, roasted cauliflower
11/3 Rice, pork chop, Donal Skehan's brussels sprouts
11/4 Kibbeh rice bowl with yogurt
11/5 Lamb stew with tomatoes and chickpeas over rice
11/6 Burrata Salad with squash, kraut, etc.
11/8 Fennel salad with burrata and avocado toast; baked a single large cookie
11/9 Half a cape cod pizza
11/12 Steak, honeynut squash, steamed greens
11/13 Corn chowder with fish hello fresh
11/15 Pork chops, roasted potatoes, brussels sprouts
11/25 Butter chicken at home
11/26 More brussels sprouts; big salad with leftover smoked turkey and french onions
11/28 Salami reuben with sauerkraut
11/28 Kibbe rice bowl with cottage cheese and chopped cucumbers
11/30 Three Good Toast dinner – avocado, muhammara, pimento cheese
11/30 Monkfish with chili crisp, rice, bok choy
12/2 Pork pineapple Hello Fresh tacos
12/3 Most amazing TOAST with muhammara and sardines
12/4 Annie's Shells with White Cheddar
12/8 Pork chop in air fryer and broccoli cheddar; amazing star market chocolate chocolate cake
12/9 Salmon Broccoli Cheddar Rice Bowl
12/10 Birria with rice bowl
12/11 Miso crunch salad with steak and burrata
12/12 Salmon Rice Bowl
12/13 Beef, asparagus chili; made some air fryer crispy mushrooms (bettina); black and whites from TooJays
12/14 Miso crunch salad and salami with eggs
12/14 Tuna rice bowl
12/15 Stone and skillet, eggs, Canadian bacon
12/17 Shrimp cocktail and broccoli with blue cheese and balsamic (very good!); Kestane
12/18 Chicken Scallopine and Garlic Swiss chard
12/19 Broccoli cheddar, crispy lettuce, cucumber, tomato, chicken thigh, blue cheese
12/20 Broccoli cheddar, beef kebabs, avocado, cottage cheese, mozzarella
12/21 Pierre Franey's Bass Provencal; latkes with sour cream
12/22 TJ's Kung Pao Chicken (just the chicken) with broccoli, blue cheese, balsamic
12/23 Kare Kare Chicken Thighs, Bok Choy, Korean Rice Cakes
12/24 Pork chops, latkes, brussels sprouts, sour cream
12/25 Braised Beef, Home Made Mashed Potatoes, Asparagus
12/26 TJs beef kebabs, Allison Roman Seedy Carrots on Yogurt, salad
12/27 Lobster Salad with Mozzarella and Tomatoes
12/29 Boiled Chicken, Rice, Lemony Salad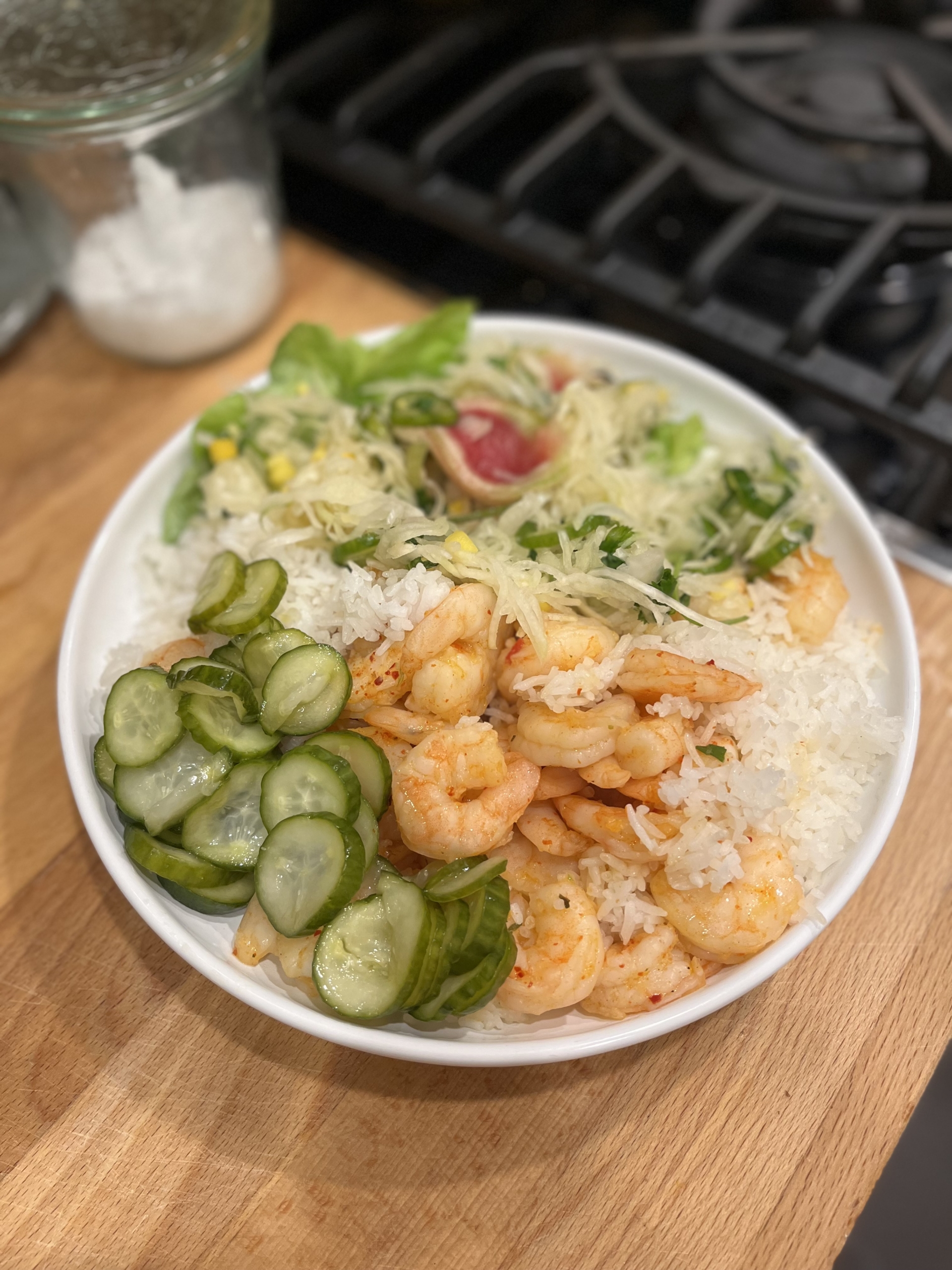 Good WeCo in 2022
WeCo has absolutely saved me for the better part of the year. I lived for a LONG time without a working dishwasher, and having prepared and delicious "home cooked" food was a lifesaver. Bolded some of my favorites! Most times I'd order a dinner and a kid's meal for lunch the next day, or split a meal over two lunches. I'll note that WeCo's vegetarian and pescatarian meals are *awesome*.
One other thing to note: from the end of March for many months, I experienced a near total loss of taste from COVID for some time, and dampened for several more months. I was mildly afraid to cook lest I burn the house down, and gravitated towards as bright colors and textures as I could. (WeCo totally delivered!)
WeCo New Years Lobster Pasta; Duck
WeCo Dunn-well Detox Green Juice
January

1/4 Roasted Eggplant + Farro Bowl
Broccoli Cheddar Soup
1/6 Steak gyro
Cobb Salad
Beet, quinoa and Burrata (SO GOOD)
Bowl of green things – peas, etc. over arugula

February

2/2 Duck Confit
Citrus marinated shrimp, mango + papaya salad
Street corn chowder
Kit's cheesy hot pocket
Tropic like it's hot
2/4 Pork belly miso ramen
Tofu Truck
2/8 Veggie lasagna
Citrus steak
Cannoli
Tickle me pink (Drink!)
2/10 Fresh bucatini with crispy bacon
Cajun chicken + charred corn salad
2/11 burrata panzanella
Charcuterie + cheese board
2/16 mushroom lo mein + duck confit
Curried coconut butternut soup with shrimp
2/17 soy marinated salmon
Roasted eggplant + grains bowl
Cheesecake
2/18 Sweet chili shrimp + rice bowl
2/25 Hot oil udon noodle bowl
Kids grilled cheese + tomato soup
2/22 Carnitas burritos
Curried veggie + cumin rice bowl
Broccoli cheddar soup
Maple walnut bread pudding
2/23 Butternut brown butter + pumpkin ravioli
Shrimp fajita bowl
2/28 Roasted beet + feta salad
Cream of mushroom soup
Kids bbq meatloaf
Carrot cake whoopie pies
The floor is guava

March

3/2 bacon wrapped pork tenderloin
Cacio e pepe cauliflower
3/7 Shrimp truck
Caprese salad with roasted chicken breast
Monkey bread
Pear necessities
3/10 Pea + fava bean cavatelli
Cajun shrimp salad
Kids beef enchilada
3/11 Roasted eggplant + farro bowl
3/29 Carne asada tacos
Burrata + spring veggie bowl
Mezze plate
Get it juiced
3/31 Tamarind chicken
Crunchy spring salad + harissa garlic shrimp
Kids beef + broccoli
Caramel cheesecake brownies

April

4/11 Fresh bucatini with crispy bacon
Adobo + lime shrimp salad
Nuts about you
4/14 Chickpea tikka masala
Roasted asparagus + prosciutto bowl
4/20 baja style shrimp salad
Baked apple crostata
4/22 Tofu truck
4/25 Shrimp truck
Tuscan chicken breast + toasted orzo bowl
Flourless chocolate cake
4/28 Sweet chili shrimp + rice bowl

May

5/4 Citrus marinated shrimp, mango + papaya salad
Key lime smarts
Spelling bee buzzer
5/10 Braised lamb fettucine
Mezze plate
5/13 Roasted Chicken Ramen

June

6/14 Paneer Tikka masala
Roasted veggie + lamb bowl
Shrimp Cocktail
Tickle Me Pink (YUM)
6/15 Curry Crusted Cauliflower + Braised chicken thigh
6/28 Steak Gyro
Smoked Salmon and Asparagus Salad with the crunchies!
Gazpacho with corn, crab, sweet pepper salad
Tiramisu cupcakes
Daquolada
Lobster Roll
Beet + Ricotta Salata Bowl

July

7/7 Shrimp Ravioli
Tofu Truck
Almond Palmer
7/8 Crunchy summer salad + harissa garlic shrimp

August

8/1 Lamb Cavatelli
Summer Halloumi Salad
Crab Dip (VERY GOOD!)
Coconut Lime cookie bar
8/3 Chicken Marsala + Fully Loaded Baked Potato (THIS I HAD TO TOSS BECAUSE I WAS CAUGHT AWAY FROM HOME FOR SEVERAL HOURS AND IT WAS A 90+ degree day and i had forgotten my cooler bag! Tragic!!)
8/5 Roasted cod + chorizo
Beet + ricotta salata bowl
Mezze plate
8/8 Birria Tacos
Cajun shrimp salad
Thick-mint sandwich
8/10 Chickpea tikka masala
smoked salmon + asparagus salad

October

10/24 chicken tinga tacos
Beet + burrata bowl
Bloody hell
Coconut cinnamon rice pudding

November

11/1 butternut squash and coconut curry + harissa shrimp
Turkey meatballs + couscous
Wedge salad
Edamame dumplings
11/8 Lamb biryani
Crab + avocado toast
Dry-tai
Chicken noodle soup

December

Lamb kofta + tabbouleh
Citrus marinated shrimp + papaya salad
Kids chicken ramen
Curried coconut butternut squash soup + roasted shrimp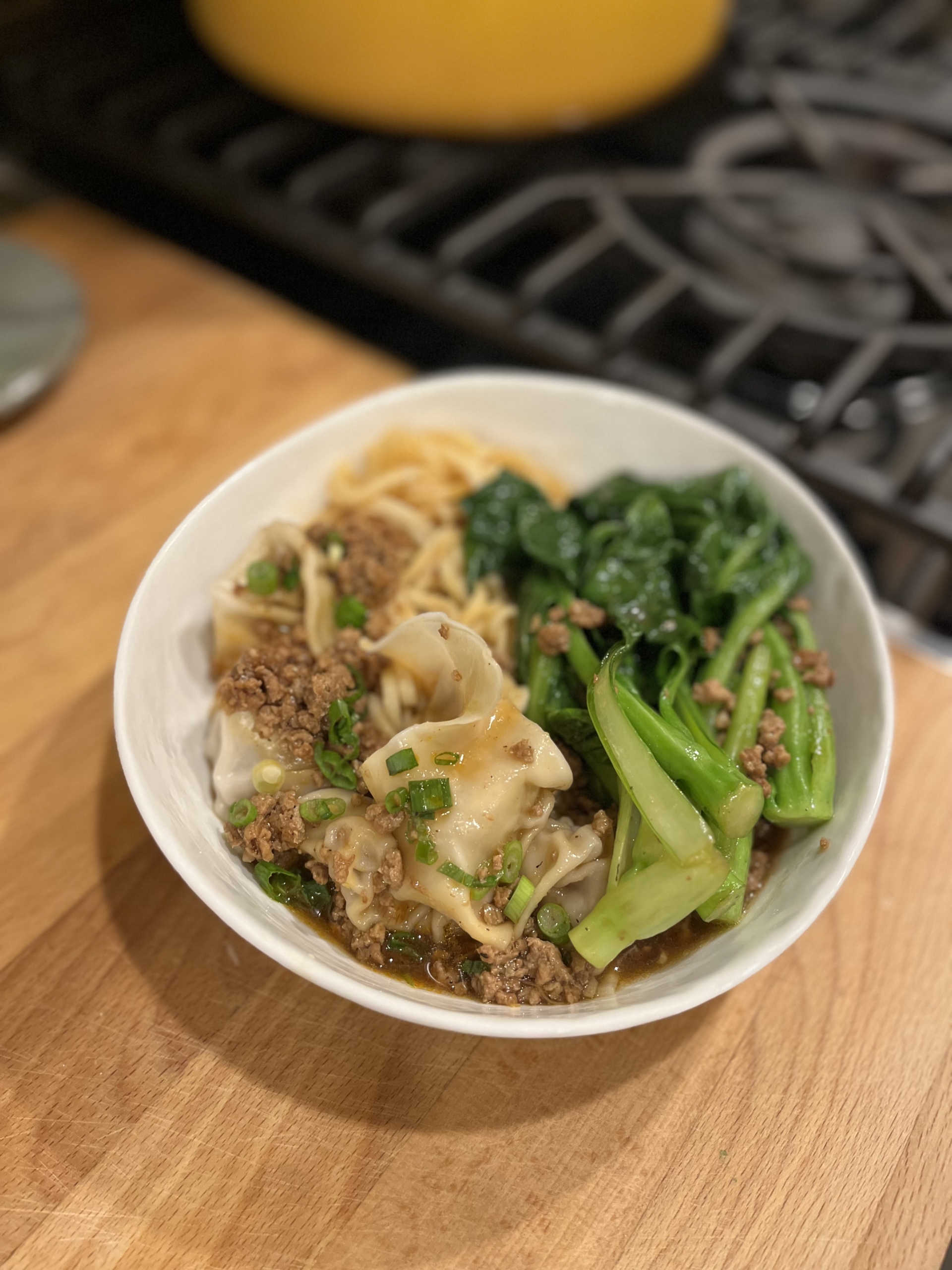 Good Takeout in 2022
Having Grandma's Kitchen open up around the corner from my house was a BOON at the end of this year.
1/9 Pupu Platter, Chicken Wonton Soup
1/26 Wonton soup + sesame balls from Lobster Wok
1/28 Chipotle and Green Juice
2/14 Cafe Sushi Valentine's Day TREAT BOX
3/3 A latke
3/4 Lobster Wok Dumplings and Chicken Wonton Soup
3/5 LeDu Pad Kee Mao and Papaya Salad
3/30 LeDu larb and tom soup (trying desperately to taste SOUR), sticky rice with condensed milk
4/3 Le's Extra Large Beef Noodle Soup, Fresh Limeade
4/9 Shan a Punjab butter chicken, naan, masala tea
4/17 Hen Chick Rice (half and half)
4/24 Rod Dee 2 crispy Chicken pad thai, thai iced tea, pad kee mao noodles
4/28 Hen Chicken Rice: The Mix, Thai Iced Tea, the mango, daikon soup
5/7 Shake Shack Burger
5/14 Birthday Super Fusion 2 – rolls, tamago, shumai, and crab rangoon!
5/15 Gustazo Ropa Vieja
5/27 Oppa Sushi (chirashi special; tamago, egg, fish); Gong Cha Milk Tea
6/10 Ethiopian Cafe: Meat Combo (and a side of Kung Fu bubble tea)
6/16 Pho O Sha: Bun Grilled Beef
6/20 Dim Sum Jumbo takeout: salt and pepper squid, turnip cakes, steamed U-choy, har gao
6/23 MIDA pepperoni pizza
6/24: Kung Fu Tea: Pina Colada Slush (Devon), Thai Milk Tea
7/2 Steamers Lobster Roll and cape cod chips and pickle
7/3 Lunch – sashimi and tamago from Sakanaya
7/3 Lobster Roll + clam chowder from Legal
7/6 Ginger Exchange: Korean Beef, Mama's Homemade Dumplings
7/9 Legal Seafood: Whole Fried Clams
7/11 Chinese takeout from Dumpling Daughter for lunch with John
7/13 Thonglor! Moo gratiam and thai iced tea. VERY GOOD!
7/15 Cava Lunch after haircut
7/16 Tsurotontan: Nabeyaki Udon, 3 roll combo
7/20 Thonglor: Pad Kee Mao
7/24 Korean Tacos from Bonchon
7/29 Ate at MIDA (Amatriciana)
7/31 Lee's Burger Cheeseburger and fries
8/6 Shan-a-Punjab Butter Chicken, Naan, Gulab Jamun
8/13 First trip to Mochiko (chicken sandwich)
8/19 New Ginza Japanese takeout (sashimi bowl, salad, miso) (eh)
8/20 PEKA skirt steak takeout, ceviche, taro chips
8/22 Beach Plum lobster roll with Mom
8/30 Boston Kebab Waltham: Turkish Takeout – köfte kebab dinner, Sütlaç
9/2 Amazing Japanese bowl from Tora (Uber cost a fortune)
9/11 Hen Chicken Rice: Daikon Soup, The Ishan, Chicken Thigh
9/12 Mixed Grill, Momo, Gulab Jamun from Singhs
9/14 Mochiko kahlua pork bowl (the CABBAGE is so good!)
9/15 Vaisakhi: Butter chicken and naan, gulab jamun
9/22 Little India: Butter Chicken, Garlic Naan, Gulab Jamun, Raita
9/23 Chicken Noodle Soup – Le's
9/26 Tonkotsu Ramen – Hakata Ramen
9/27 Butter Chicken
9/30 Khao Soi + Thai Iced Tea from Thonglor
11/12 Pad KeeMao, Papaya Salad – LeDu
11/17 Grandma's Kitchen opens!! Taiwanese beef noodle; saved pork noodles for next day, beef roll, mango drink
11/29 Grandma's Kitchen – pork wontons (amazing), popcorn chicken
12/6 Grandmas Kitchen Chicken Noodle (and two stewed egg)
12/16 Cafe Sushi Weekend Box for 1 (expensive but good)
12/28 Grandma's Kitchen Wonton Noodles, side of green veg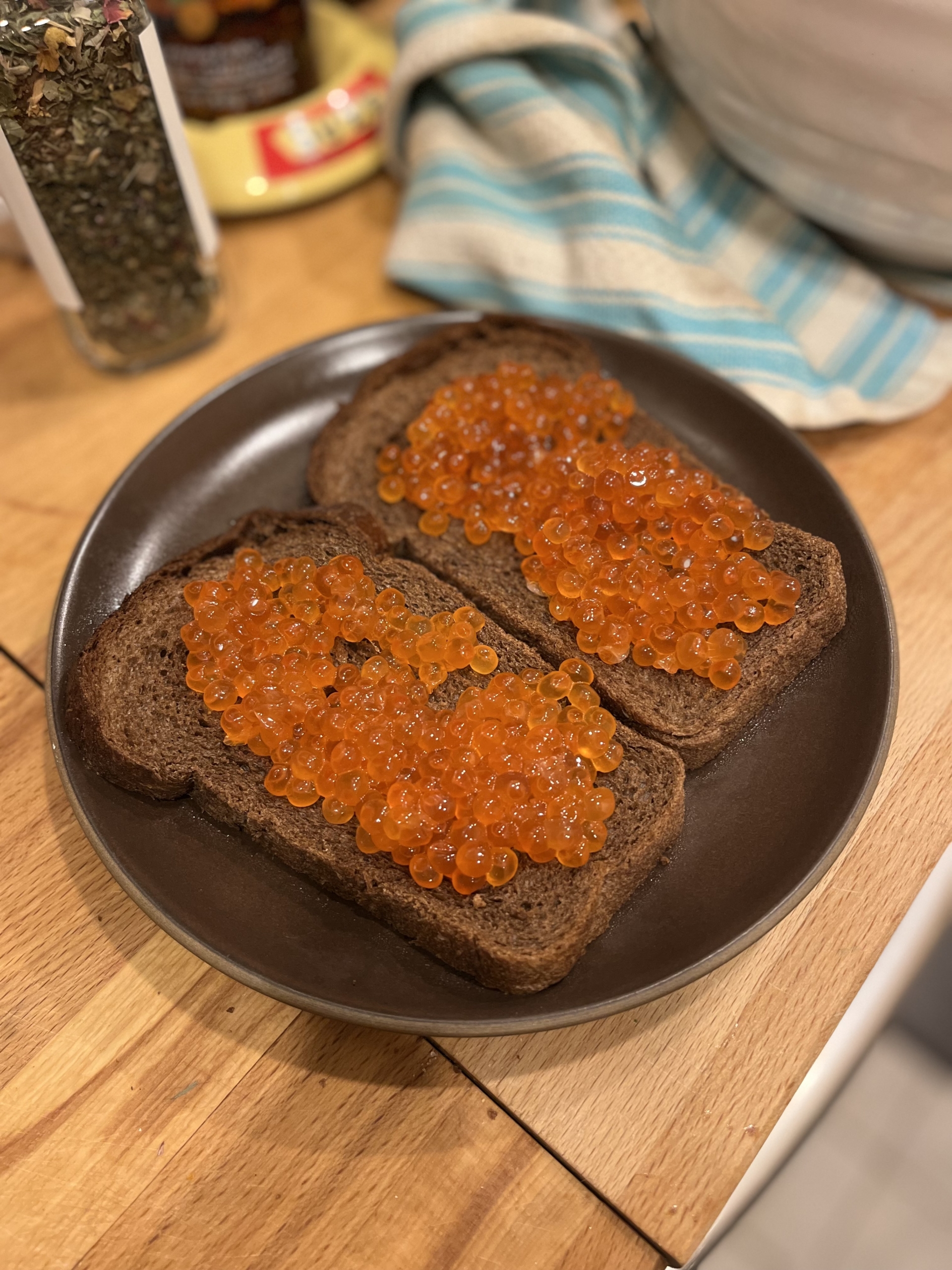 Good Treats 2022
Good Treats:

1/5 Red Caviar on Rye Toast
Amanda brought me David Lebovitz Gougeres!
Market Tiamo opens – their PROFITEROLES!
1/18 CITRUS BOX from Mark Bittman x Birite "The California Citrus Experience"
Ricotta, mini chocolate chips, clementines + amaretto
Asian Pears
1/19 Mom made miso pb cookies
1/29 Cannoli filling from the Star Market freezer
2/6 Chocolate Cherry Marzipan from Russian Market (mom's credit card)
2/12 Maple Pie from John in Montreal; Cheese St. Viateur Bagels, Romados Egg Tarts
2/17 Box of assorted cookies from Red Rover
2/20 KRAFT DINNER
3/3 Mad Mini's ice cream sandwiches
3/22 Tortilla with melted string cheese and sausage from buccees
3/22 Rancatores Chocolate Shake
3/23 Ttokboki from TJs with chicken and cheese
3/24 Nutty granola and cream; Kraft Dinner; a mango/orange McDonalds shake
3/25 Cauliflower gnocchi with pesto; a Lobster Sandwich from the Cottage
3/28 Pineapple with Tajin (can't really taste at this point); banza noodles with cheese and chili crisp
3/29 Can sort of taste the dark chocolate WeCo desserts with cream but everything is mostly gone
4/25 Toast with smoked salmon cream cheese
4/27 Momofuku noodles
4/30 Levain Cookie
5/3 Mikan juice from Whole Foods
5/4 Dunkin Donuts Corn Donut
5/13 Rancatores chocolate shake
5/14 Elephantine cinnamon roll
5/14 Mom made me a strawberry rhubarb crumble for my birthday – SO GOOD
5/16 Levain again
7/5 Caroline sends me INCREDIBLE tahini cookies and cheese crackers from Ottolenghi from her London trip
7/5 Bagel with pimento cheese
7/14 Pancakes with nutella
7/15 Bagel with pimento cheese and salami
7/20 Pimento Cheese toast and nutella toast
8/2 Lemonade at HOME
8/4 TJs Jamaican Beef Patties
8/20 Strawberry rhubarb fruit soup with yogurt
10/1 TJs sticky toffee pumpkin pudding
VOLANTE: slaw, and other good stuff, Dutton Berry Farm Apple Cider (great!) – good to know they just have really nice prepped vegetable salads of all kinds!
10/12 Roasting mini honeynut squashes
10/14 Toast with white bean dip (chopped apples from Volante)
10/21 Post Shift Pilsner
10/31 Barrio Salsa Matcha, Applekraut (eh), Not Just Salad Dressing Gochujang
11/11 Acai bowl and cottage cheese
11/11 Biscuits
11/20 TJs amazing cinnamon bun kettle corn (including a huge piece of crunchy sugar in it!)
12/7 Che Beef Empanada (very good)
12/9 Kodiak cakes; niblets and eggs
12/12 My neighbor's home made dolma
12/13 Matcha protein shake
12/13 John brings 3 black and white minis from TooJays
12/15 John brings CITRUS from Florida
12/15 Little breakfast sandwiches with stone and skillet, Canadian bacon, cheese
12/24 Christmas cookies (and brownies) from both sets of neighbors!
Shout out to Trader Joe's mini mousse desserts in the freezer section.
12/29 a perfectly ripened persimmon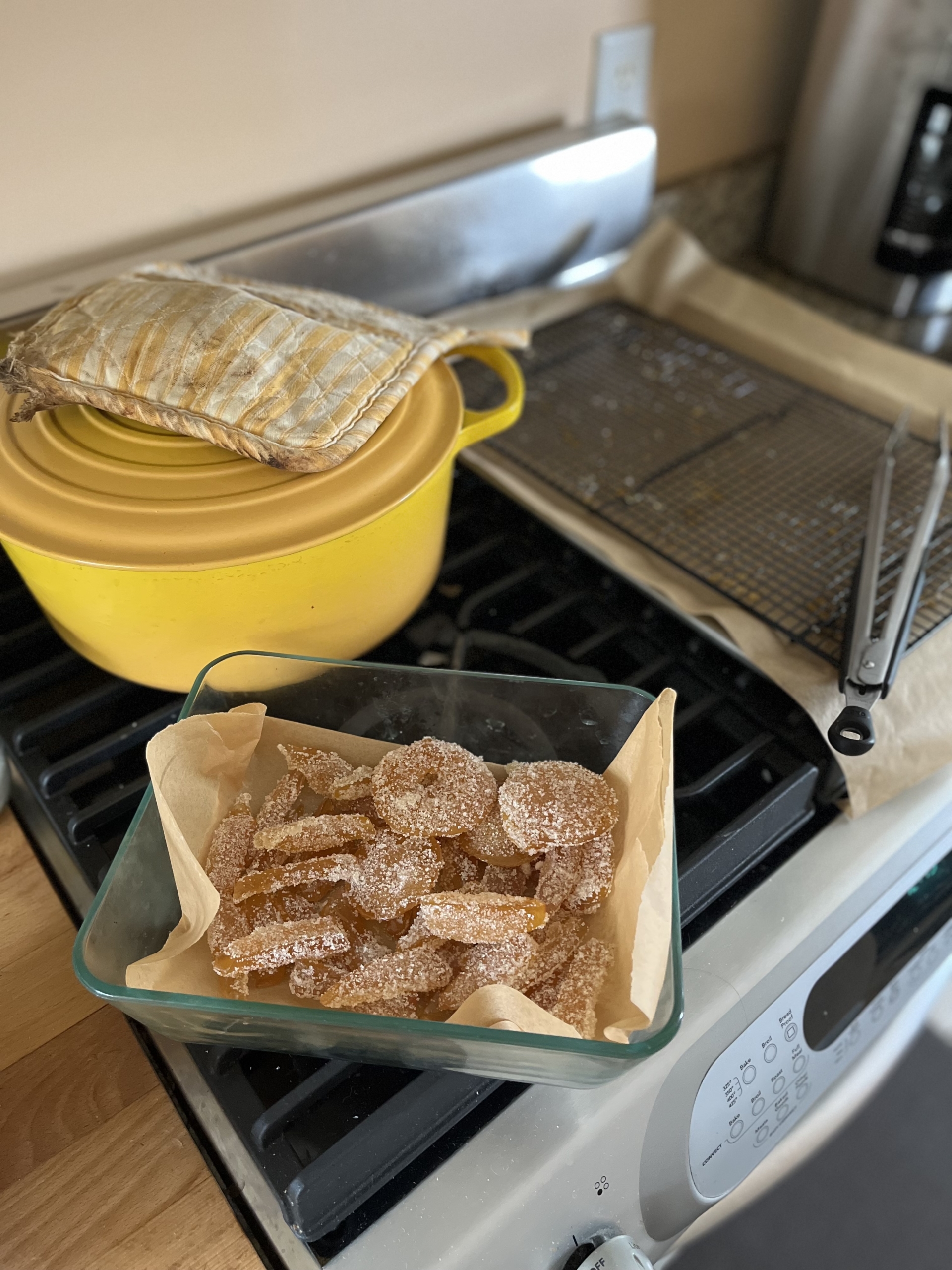 Other good food:

Prep of note: soft boiled eggs frequently, lots of bagels with cheese
Novelty: Burlap and Barrel Spice Subscriptions, Rancho Gordo Bean Club, Kishibori Shoyu Soy Sauce, Bonne Maman advent calendar
Star Market: dark chocolate cake (three layers), Crispy Lettuce, Grape Nuts, Joseph's lavash (they seem drier these days), banded cannoli cake slice
Desserts of note: Cranberry curd tart from Elephantine, apple crumble from WeCo, thin mints from freezer (2/26), Honey Pot Hill Cider Donuts (11/4) from Somchay, Trader Joe's Mini Frozen Mousse Cakes
Formaggio: Beet tzaziki, Pimento cheese dip, Big Sky Grana, Muhammara, Passionfruit Curd
Whole foods: Evolution chocolate cake slices, their oreos, Naan Toastie (okay), Iggy's Francese Bread, Shrimp Cocktail, bang bang shrimp bowls, pb tofu, Superfrau!
Trader Joe's Items of Note (Not my favorites list*): kahlua pork things (okay), bread cheese, limeade (although my palate is shifting on this one), oven baked cheese bites, gluten free cinnamon muffins, cacio e pepe gnocchi, taiwanese pancakes (air fryer), lamb vindaloo and cottage cheese for lunches, vanilla bean paste, gingerbread cookie sandwiches
Cottage cheese with things: cottage cheese, soft eggs, olive oil (and ripe tomatoes in the summer)
Rancho Gordo: All the beans.

Volante Apples of Note: Topaz!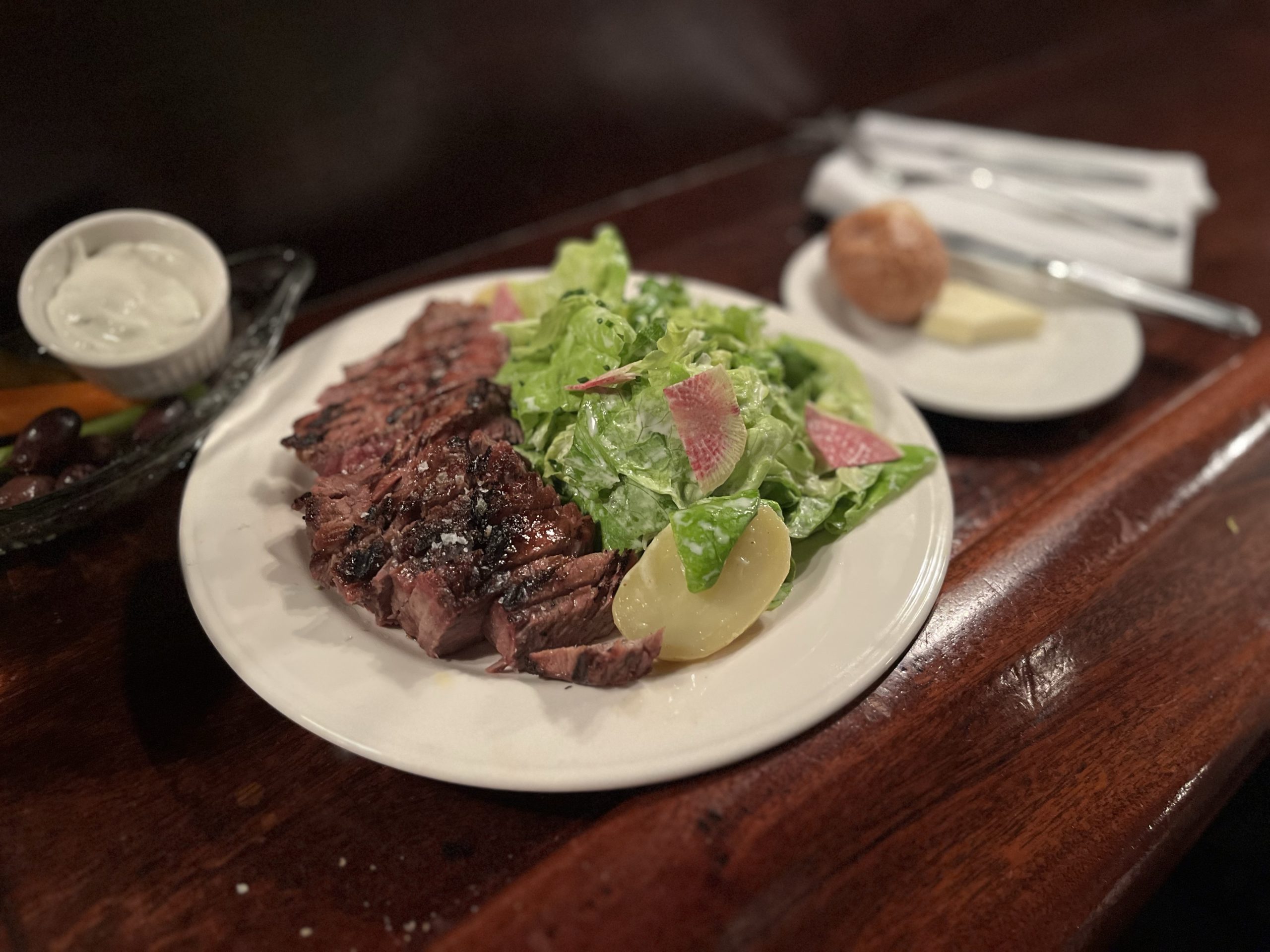 2022 Amazing Travel Meals
The final category: I generally speaking avoided restaurant meals in person unless I was traveling. Some notable favorites:
Texas (2x):
Kolache Shoppe – the perfect bacon egg and cheese
Golfstromen – the best bite of dark bread and smoked butter
Tiny Boxwoods – an excellent burger
Buccee's – Jerky and Sausage on a Stick
Le Colonial
New York City (2x):
Le Privé – Steak Frites, asparagus with white anchovy
Magnolia Banana Pudding
Spanish Diner – Patatas Bravas, Pan con Tomate, Lettuce with white anchovy, Flan
Zabars – bagel with Smoked Salmon, Sable, Gazapcho
Keen's (at the bar) – Steak Salad (best deal in New York!)
Sip + Co – great breakfast sandwich on a bap
Wellesley Staycation:
Eataly, Breakfast Sandwiches at Tatte, Alta Strada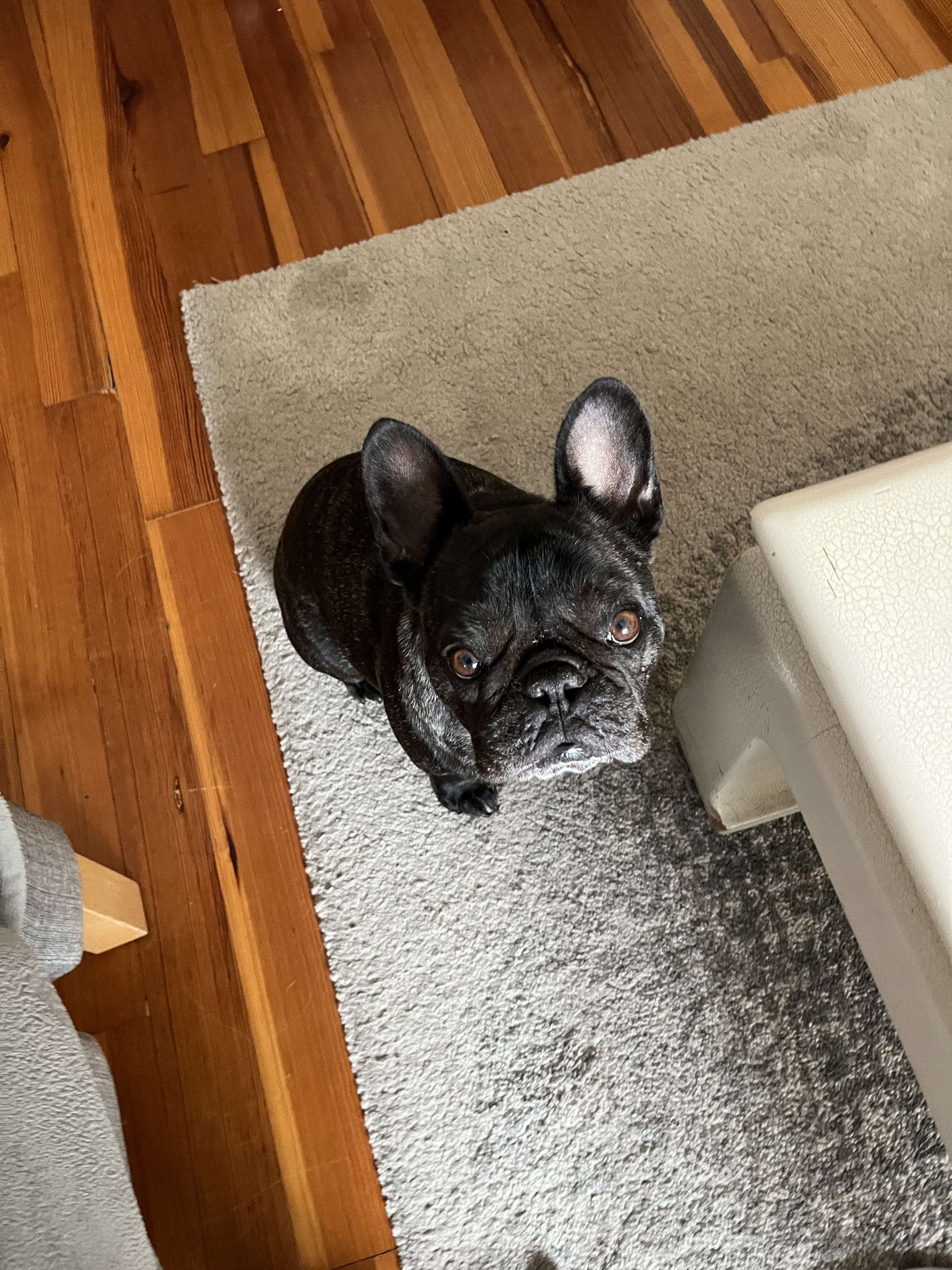 Bertram's Treats of Choice
Bully Sticks (odor or non-odor; 12 inch)
Polka Dog Bakery Snacks
Chicken Strips from Trader Joe's (crispy)
Treats at the Beer Store
Treats at the Bank
Treats at the Toy Store
Bacon from Mochiko*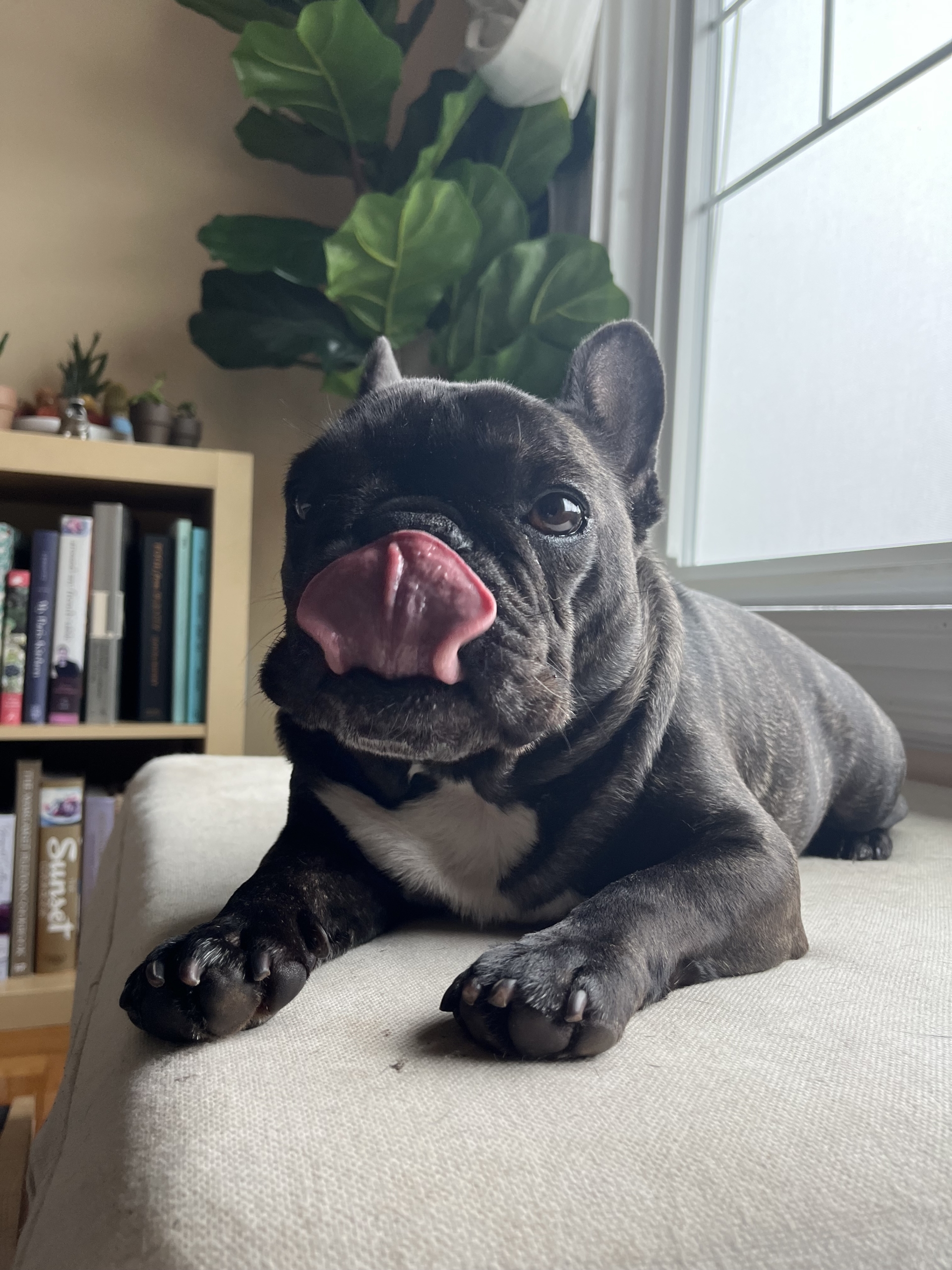 Here's to more great meals in 2023!
xo, Sam