Every year, I complete a fussy year long review that takes me a few weeks of compiling – a pages long list organized by category, which I find particularly cathartic, even – or particularly – in difficult times (and this year was full of truly great things, but also particularly shitty for me, losing my dad, one of my number one eating partners in crime.) I write about my full process here.
For some folks, a review of a year that is complicated or traumatic (hello, most of us in a pandemic) isn't particularly appealing, but I find it to be one of my most satisfying activities. In part, because a full 50% of it is my re-living of my meals – the things may be going down in flames, but "at least, I ate!" approach. And ate, I did.
Here is my non-exhaustive list. Honestly, there was more than this, but I may have forgotten to snap a photo, or it really wasn't worth eating. These are loosely organized, but the whole thing is a little chaotic. I can't say that all of these things were great, but I'll bold some of the things that I'd recommend.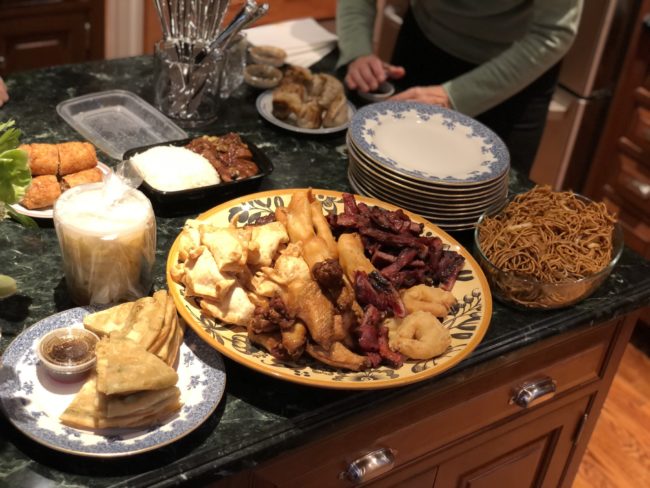 Good Cooking
Items I cooked at home, either from recipes (I'll link those I have) or ideas. Also, items cooked by friends.
In rough order that I ate them:

New Years' Black Eyed Peas with Coconut Milk and Ethiopian Spices (Marcus Samuelsson)
Sicilian Swordfish Stew (ATK)
Honey Aleppo Pork Tenderloin and roasted cauliflower
Chicken Tacos
Farfalle pasta with Rao's and parm and chicken
Corn Chowder
Greek Corona Beans (and poached eggs)
Alta Strada Night at Home! Ricotta with sage, frisee, ramen "chitarra" with shrimp and Rao's. (A Wellesley Zoom)
Orzo salad with tomatoes and scallops
Bok choy with lentil soup and ham
Epicurious Kale Salad with Dates, Parmesan, and Almonds (perennial favorite)
Orzo with pesto and tomatoes
Shucking Fresh Island Creek Oysters! (Thanks, Somchay! Thanks, Janet!)
Cauliflower Egg Curry
Broccoli with walnuts and gorgonzola
Hearty mountain eggs from Saffron in the Souks
Rice Bowls of all kinds: usually fish; soy-ginger skate over vinegar rice
Mac and Cheese, generally Annie's (with extra pasta shapes)
Corn chicken: cucumber, Trader Joe's Mexican corn, chicken thighs
Made falafel from Trader Joe's with tahini sauce, cucumber, tomato
Cauliflower Gnocchi Deconstructed "Manti"
Breaded Haddock from Reds with asparagus, tartar sauce, and cocktail sauce
Frozen Döner (hope I get the real thing again soon!)
Chicken Flageolet Soup with Farfalle

May 2 – cooking an amazing steak in Rye Beach, with mashed potatoes and peas; John's Key Lime Pie
Chuletas de Puerco Recipe from the Versailles Cookbook
Broccoli with blue cheese and pancetta
Frozen okra gumbo
Pork chops and tomato eggs
Mom's Peach Cardamom Upside Down Cake (Zesty South Indian Kitchen)
Mom's stuffed peppers and tomatoes
Gail Hendryx's Bouillabaisse (August 26th) for Caroline's birthday and good salad, figs in ginger syrup and mascarpone, 2015 Seven Stones Cabernet (and the description on the insert.)
Gail Hendryx's Kemah dinner – Soba noodle salad with shrimp, Bluebell Ice Cream peach with gingersnaps
Gail Hendryx's Breakfast Tacos
Grilled Eggplant Fatteh from Saffron in the Souks
Beef, taco seasoning, and fire roasted onions and peppers
Macaroni and cheese with cauliflower and pancetta
Oct. 30th some sort of chicken with mayo and carrot salad (I can't remember; it was the longest week)
Corn Chowder (added fish) with Old Bay biscuits
Thanksgiving: Ore Nell's barbecue extravaganza with the fam
Hannukah pork chops (shhhh..) salad, latkes with sour cream
Chicken and Daikon soup (Thanks, Tim!)
Food from particular places, or quick items by theme
Other good food:

The Zahav Shortrib extravaganza in February from Goldbelly in NH with fam
Matzoh Ball soup with a massive matzah ball (Zahav)
Stone and Skillet English Muffins

As: egg sandwich; or with chicken liver pate, or with salmon caviar

Favorites From the Farm Share (Farmers to You – a consortium of small farms and food companies in Vermont who deliver to the Boston area – let me know if you want a referral discount!):
Favorites from Star Market (over the Mass Pike!): dark chocolate cake (three layers), Cape Cod Cafe Pizza (hands down the best frozen pizza!!), Bubbe's passionfruit mochi, Stouffers stuffed peppers (don't knock it), CRISPY LETTUCE
Wegmans: California Rolls (why are they so good?), bacon cheddar sliders on arugula salad, pumpernickel rye bread (with caviar!) or chopped liver!
Desserts of note: Roasted chestnuts with rum from Silvia downstairs – topped with rum, oatmeal chocolate chip cookie from Great Harvest; apple fritter from Love Bird, cinnamon roll from Formaggio; citrus from formaggio, sticky toffee pudding – sticky toffee pudding, co., and the warm chocolate pudding; sutlaç; macerated strawberries with oats and ricotta and brown sugar; meyer lemon and marrionberry ice cream from Red Rover Creamery
Favorites from Formaggio: robiola incavolata, old favorite Cabot Clothbound, Big Sky Grana (dear lord!), the Passionfruit curd, beet tzaziki, Fly by Jing Sichuan Chili Crisp, an overpriced emergency bottle of Kewpie
Favorites from Eataly: saffron and black pepper cheese 'guffanti piacentinu di ena', a perfect promotional melon – "buy prosciutto, get a promotional melon" (August 24th)
Smoothies and protein shakes of note

Blueberries and chocolate and spinach
Key lime: vanilla protein powder, cauliflower, pineapple, lime juice, coconut milk**

Whole foods: popcorn chili shrimp bowls; thai peanut tofu, elevation cake slice; pesto, cinnamon coffee cake, chicken scallopine (good!)
Trader Joe's Items of Note: Hardwood Smoked Tuna, Kung Pao Chicken, Peppermint Hold the Cones; Mochi Cake; honey aleppo sauce; grainless granola; kibbeh; green goddess dip; kung pao mochi; plantain croutons; just chicken (ate a lot, sometimes convenience wins over quality); chicken drumellas, Calabrian tomato soup; spicy lentil wrap; Cacio Pepe pasta – with lobster! (or brussels sprouts!) Bambino Pizza (thanks, Danielle!); frozen salmon including bbq plank, cauliflower gnocchi; bazaar mix; Saag Paneer; shrimp burger; meatloaf; crispy champignon mushroom snack; chicken piccata, frozen Mexican corn; fermented bomba (on Josephs' lavash with cheese and egg), peanut udon noodles; french fries; Portuguese egg tarts; seafood cioppino; chicken sausage egg burrito things; Matcha Green Tea Japanese Noodles; southern peach crisp ice cream; cooked octopus; strawberry-oat ice cream bars; tangerine cream bars; fish sticks; ube mochi pancake mix; corn and cheese arepas; chickpea masala with pickled vegetables; cheese crisps; SPINDRIFT, bbq chicken, thai chicken kabobs, organic vanilla bean paste, breakfast egg frittatas, korean cinnamon filled pancakes (Hotteok), Gingerbread Coffee, Shade Grown Espresso Blend
Cottage cheese with various things

blueberries; oats, maple
passionfruit curd from Formaggio
olive oil, salt and pepper
on an OMG english muffin
peaches and cinnamon sugar

The Air Fryer! (Ninja 4 Qt. Would Recommend!)

Air fryer fish over "sushi rice" with furikake; tomatoes
Cauliflower
Red's Calamari with Cocktail Sauce
Cheesy bagels; bagels with butter
Meat: Cubed ham; Perfect pork chops; TJ's shawarma beef
lots of chicken strips
Chickpeas
An entire roasted chicken

Scottie dog shortbread
Rancho Gordo Bean Share: BEPS, Coronas (twice), pintos with honey, Popcorn, yellow eye beans, black lentils with onion (and red wine vinegar) – need to really start eating down the stash.
Hot cocoa with mini marshmallows
From John, specifically: Aldi goat mac and cheese, Elephantine Easter Lemon Curd tartlet, LEVAIN COOKIES (coming to Boston and I'm IN TROUBLE), Indian Pudding Ice Cream from Lagos, Poppyseed cake, from Zabars, lots of good things from Elephantine, Eggs and Maple from White Gate Farm
Tahini Faux-reo from Sofra
Turkish greek beans
The Starbucks Oatmilk Brown Sugar Latte (2) – I normally drink only black coffee?
Star Market Sushi (…not good, but I ate more of it than I'd admit)
Costco Bibigo dumplings
Overnight oats, particularly: Peach Overnight Oats; Cookie Dough
Skate Picatta
Hoisin Chicken and Asparagus
April 22nd stew of some kind with potato (no idea!)
Marinated lamb with cauliflower and tomato salad
Ikea Fish Balls (so easy!)
Frozen Passionfruit at Whole Foods
Baked beans and bbq jackfruit with cheddar
May 7 in Rye Beach: Roasted Chicken and Manti
Rasbpberry/Lemon Pucker Upper Sorbet and Limeade slushie

Baked Potato with sour cream
Michael Twitty's Okra Soup from High on the Hog
Monkfish poached in wine, cucumber salad, beet hummus (eataly)
June 29th – One Rancatore's Chocolate Dinner Shake
Tiki Slam Boulevard Brewing (from my favorite peeps at Craft Beer Cellar Newton)
Macaroni and cheese with scallops
Texas: hatch chile chicken, with amazing eggplant and pita with tahini sauce and pomegranate (the pomegranate was a FAIL that tasted like rotting fish)
Breakfast taco at Caroline's house with bacon and egg and HEB tortilla

A waffle FISH with matcha and red bean ice cream at Seaport at Taiyaki
Hello Fresh Southwest Pork Tacos, cabbage slaw, sour cream
Mostly Local Takeout
Good Takeout

NYE Sushi dinner from Super Fusion 2 (With Tamago!)
Sakanaya Bowl
Shake Shack Korean chicken sandwich
LeDu Pad Kee Mao and Green Papaya Salad; crab rangoon***
Shan a Punjab Butter Chicken with Masala Chai; kheer and bubs licking the container (5 times)
Sandwich shared with my sibling from Monicas
Lunar New Year: date Nian Gao + 8 Treasure Rice, sweet sesame balls (Feb 12), lo mein, and an orange (sent in cold hands for my walk home)
Lazuri Cafe – Iskender Kebab and Sutlaç
Cottage Lobster Sandwich and Burger
Shake Shack (more Shake Shack)
Chicken and Rice Guys (that garlic sauce!)
Vietnamese Bun (from pho-1 Brighton) – it's no Pho So 1 Boston!
May 28th: Thistle and Leek
June 4 – Taqueria Mexico
June 6 – first Lobster roll of season at Beach Plum (10 oz.)
June 17 – Carriage House with Mom
June 19 – Eataly with Lizzy, Sofra, Legal Seafood, Rye Beach Lobster Rolls, Pho So 1 Boston
Lakon Paris – Thai Tea and AMAZING chocolate chip hockey puck thick cookie
McDonalds Pineapple Mango Shake (post-workouts)
A very good Chile Verde burrito from Los Amigos
August 21 end of season lobster roll in NH
Hugo's Restaurant Week (Houston), with Julia, Hector, and Caro
Kolache Shoppe breakfast kolache
Sushico ($50.. for a tiny chirashi bowl; but decent. Would be WAY better in house)
Mr. Kim's – meat and kimchi on rice with a fried egg, and papaya salad, and noodles, cheesecake with blueberries and lemon meringue (and a noodle kugel from mom)

October 24th. [Celebrate Dad's Life] Barnacle Billy's Steamers and Chowder
Dragon Star: HUGE AMOUNTS OF FOOD after the private funeral – pupu platter, etc.

Wild Willy's Burgers
Cafe Sushi and Boba Milk Tea from next door
Zheng Garden Beef Noodle Soup

The chicken sandwich in Springfield from Granny's Baking Table with pimento and jam
Clover Lunch (x4) – new around the corner from my house!
Tatte (with Caroline): egg sandwich (and she had mushroom shakshuka)
Cake from Cake Boss (don't judge.)
Christmas Eve: Lobster Wok – wonton soup (amazing!) crab rangoon, shrimp lo mein
Max and Leo's – Pepperoni Mushroom
Cranberry Curd Tart from Elephantine
A small bowl of ham bone soup from Somchay
Fresh Oysters from Island Creek
Take-out Adjacent:
During the months of September and October, I had the worst two months™️ as my dad was dying of cancer. I needed to feed myself, and wasn't doing a good job of it. I also didn't have the energy or desire for most takeout. So I went for a few prepared options, that were truly my saving grace during a hard time. I chose Diane Sanfilippo's Balanced Bites meals for my freezer – high protein, high quality ingredients. My favorite meals were the spaghetti squash bolognese, egg roll in a bowl, and sloppy joe chili. And for a local delivery option, ordered from WeCo Hospitality, a few times a week.
WeCo Hospitality – started at the beginning of October, and so many great meals. Some of the standouts include:

Shrimp scampi fettuccine: lemon + garlic marinated shrimp in white wine + butter sauce with blistered cherry tomatoes and torn herbs; hand cut fettuccine, shaved parmesan, roasted broccoli
Soba + Dumpling Bowl: edamame + roasted shiitake dumplings, buckwheat soba noodles, miso-marinated eggplant, pickled carrots + ginger and roasted sesame dressing
Roasted Eggplant and Farro Bowl (top!): roasted eggplant with black garlic + wood ear mushrooms over poached farro + barley with blistered cherry tomatoes, fresh basil, field greens, feta cheese and meyer lemon vinaigrette
Salt Roasted Beet and Burrata Bowl**: salt roasted Applefield beets, watercress, golden quinoa, toasted pistachios, tarragon dressing and creamy burrata
NY Strip Steak Au Poivre: peppercorn crusted marinated strip steak, four peppercorn + cognac sauce; paprika roasted yukon potatoes, black truffle parmesan butter, blistered broccoli with smoked garlic honey + pickled shallots

Pumpkin Soup
Curried Orzo and Braised Chicken Thigh
Roasted Carrot Salad

Roasted Chicken Ramen: soy marinated roasted chicken breast with hoisin + ginger glaze; shiitake mushroom + spring onion broth, spicy miso paste; spring beans + peas with curry leaves + wilted spinach, fresh wavy noodles, scallions, pickled mushrooms and marinated egg
Foragers Bowl: shredded duck confit over barley with roasted mushrooms, rehydrated pickled mushrooms, roasted asparagus, carrots, and pesto
Roasted chicken biryani: yogurt + curry marinated chicken breast, basmati rice cooked in shorba with saffron, onion, mustard seed + coriander; sweet potato korma braised in coconut milk with chiles + spices; cucumber + red onion raita with mint + dill, naan

Oolong Tea Braised shortribs with charred alliums, sichuan peppercorn honey jus, toasted farro with maitake + oyster mushrooms, dried cherries + tahini brown butter; roasted cauliflower + broccoli with sweet chili garlic crunch, charred kale + arugula salad with torn herbs + candied orange; matcha vinaigrette

Baja Shrimp Tacos: citrus poached shrimp with guajillo-agave glaze, fresh mango salsa, pineapple-chipotle mayo, cilantro-lime rice, crunch napa cabbage slaw with shaved veggies + citrus, pickled red onion + lime
Desserts of note: Cranberry + Apple Crumble with pecan brown butter crumbs, Weco COOKIES, Carrot Cake, blueberry cheesecake with oat crumble
What's next?
Here's to great eats in 2022! I'd love to hear your favorite 1-3 recipes or meals. I'll add them to my list for next year!