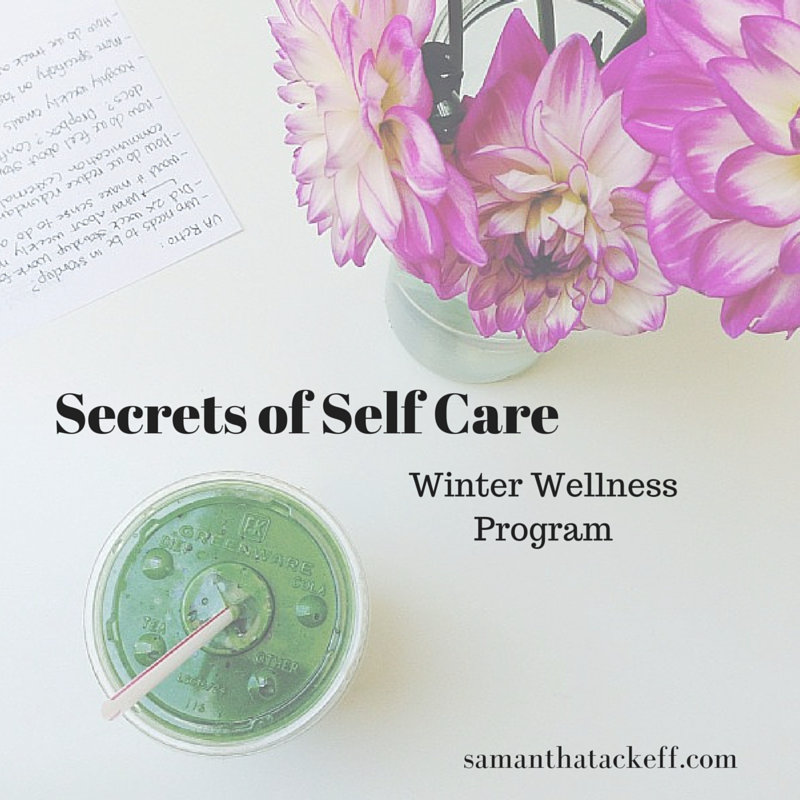 Second Lunchers! A quick post tonight to let you know that my next 4 week wellness program starts on January 11th, 2016. I'd love to have you a part of it! 
Secrets of Self Care is a 4 week program for those who have been focused on career, family, or business, and lost themselves a little in the process.
Are you lacking inspiration to make simple, healthy, and seasonal meals?
Are you feeling tired with the change of seasons?
Does your energy wane in the early afternoon?
Do you find yourself making sub-optimal food choices when you don't have better options?
Do you feel like curling up on your couch with a cup of tea, and not leaving?
Join me for this adventure in which we'll focus on being kinder to ourselves, supporting our needs and desires, and nourishing our bodies.
What you get:
Daily weekday emails providing journaling and action prompts.
Supportive online accountability
A personal coaching consultation with Sam (via Phone, Hangout, or Skype)
Additional email support for the duration of the course
What we cover:
goal setting and mindset training
gratitude and journaling practice
meditation and (non-traditional meditative practice)
adding more joyful movement into our lives
building better eating habits (and cultivating an abundance mindset)
and much more!
Here's how it works:
The winter session of Secrets of Self Care starts on January 11th.
Participants are expected to put in the work! Accountability is the name of the game – the more you put in, the more you get out.
Participants will be added to an online accountability group with other vibrant and kind women!
The cost of the course is $179 for the 4 weeks, including a 1-1 personal coaching session.
We start Monday – I'd love to have you join me – we'll be thinking, writing, dreaming, and bringing good things to life, and I'll be doing the work right along side of you!