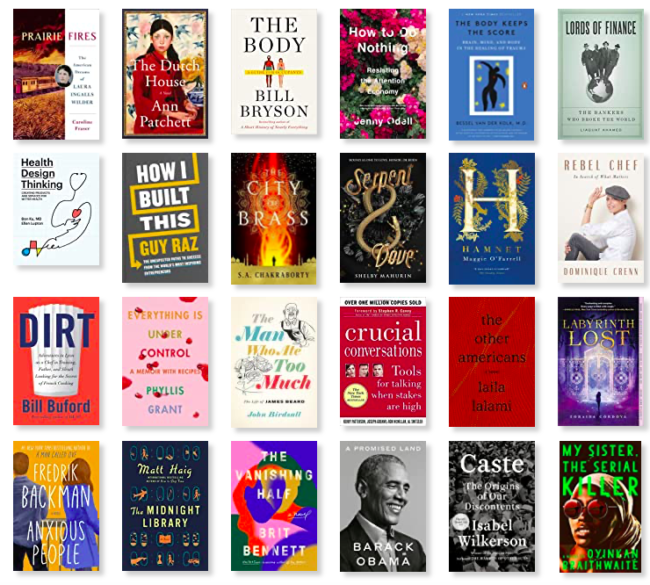 After a great 2019, and a middling 2020 for reading, I'm back with a renewed sense of enthusiasm for books in the new year. Having a reading list helps me make decisions about getting in quality reading without falling into decision making slumps.
I aim to have a large percentage of my reading written by women, POC, and international writers; and typically read a handful of Man Booker short list titles. I typically make a list of my favorite categories, and then will supplement or swap as I find reading that calls out to me. I make room for the synchronicity of just picking up any random title, but I always have a backup!
A few notes and observations:
Audio Books: yes, I definitely count audiobooks as reading. I process information better when on my walks and runs, and thus prefer listening to memoirs or non-fiction this way. It's also easier for me to stay engrossed and follow along while I'm moving physically.
Don't forget FOOD! For the past two years, I read almost zero food memoirs, literature, or history – some of my favorite topics. So I made this one of my kitchen resolutions this year! (Again.) I'm also re-reading cookbooks.
The library is your friend. While I always try to support local book stores – I'm also a huge fan of my local library – grabbing things off the Speed Read Shelf is my jam – I'm happy that our library is still open to grab things.
As always, still working my way through my list of Personal Leadership Development Books, and the BBC Big Read. I also read quite a few business books for work – whatever I need to expand my ideas and sharpen my skills. Last week was our engineer Danielle's first week of work, and she asked if we could have a shared reading list in our team knowledgeable. 🙂
January:
I'll be kicking off a round of The Artist's Way with a group of friends.
Anxious People by Fredrik Backman (read!)
Caste by Isabel Wilkerson
The Other Americans by Laila Lalami (Wellesley Book Club Book)
The Midnight Library by Matt Haig
Crucial Conversations by Kerry Patterson
Stand Out by Dorie Clark (re-reading with a friend)
Categories to choose from: (I often choose outside these, but I find that when I'm in the mood for a particular feeling, it breaks down by this type of category.)
Food Writing:
The Man Who Ate Too Much by John Birdsall.
Everything is Under Control by Phyllis Grant.
Yes, Chef by Marcus Samuelsson.
Dirt by Bill Buford.
Rebel Chef by Dominique Crenn.
Gripping / Thrilling / Literary:
My Sister the Serial Killer by Oyinkan Braithwaite
The next in one of my Scandi crime series of choice.
Hamnet by Maggie O'Farrell
The Vanishing Half by Brit Bennett
YA fiction
VE Schwab – what have I not read?
Serpent and Dove by Shelby Mahurin
The City of Brass (The Daevabad Trilogy) by S.A. Chakraborty
Labyrinth Lost by Zoraida Córdova (Brooklyn Brujas)
Leadership / Business / Finance:
How I Built This by Guy Raz
Health Design Thinking by Bon Ku and Ellen Lupton
Lords of Finance by Liaquat Ahamed
Fitness and Health / Mindfulness / Brains
The Body Keeps the Score by Dr. Bessel Van Der Kolk
How To Do Nothing: Resisting the Attention Economy by Jenny Odell
The Body, A Guide for Occupants by Bill Bryson
Audio Books:
The Dutch House by Ann Patchett (been half read for a while!)
A Promised Land by Barack Obama
Prairie Fires – by Caroline Fraser
What's on your next up list?
xo, Sam