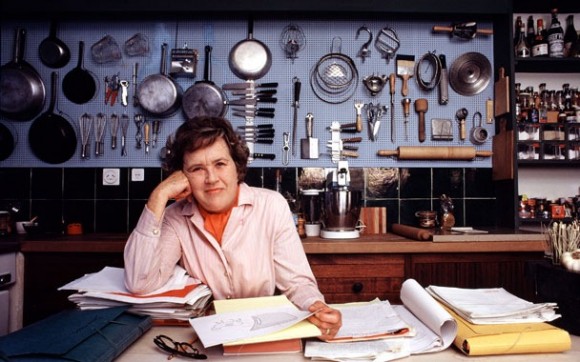 Julia Child, photographed in her Cambridge, Massachusetts kitchen, June 29, 1970. By Arnold Newman/Getty Images.
I love this photo of Julia, because it reflects a level of organization that I aspire to – a sort of chaotic organization where everything is in plain view and accessible. And we all know that Julia Child got stuff done. 
Kitchen Resolutions, 2012:
I keep lists all year long, but January is a nice time to share them because everyone else seems to be sharing theirs, and it makes me feel a little less crazy to have a moleskin filled with thousands of bullet points. Here is my current kitchen list, in no particular order. I call them my "Kitchen Resolutions" because it has a nice ring to it. Some of these I do already, some I'm just starting, and others I'm working towards.
:: Take time each weekend to plan meals for the week. The goal here is to avoid the inevitable laziness that happens when I'm starving and haven't thought of ideas for a meal. The main benefit is that it saves money and time, and it allows me to actually plan out new things to cook in advance.
:: Stock the larder with home made goodies. Once a month (at least) I like to make a new condiment. I've been working lately to put together a "condiment calendar" with ideas for each season.   
:: Wash all dishes and wipe down counters before going to bed each night. I'm too often guilty of leaving things until the next day. A clean slate makes life infinitely easier in the morning, and I feel even better when I have my coffee mise en place ready to go to avoid confusion during my morning grogginess.
:: Keep a running Kitchen Journal. I usually record what I eat in loose notes anyway, but I'd like a more concerted effort to put together a real kitchen diary that I can look at in the future, and maybe even pass on as a keepsake.
:: Take stock of what is in my pantry. J. Kenji Lopez-Alt has this ridiculous spreadsheet that I admire immensely. I'm pretty good at itemizing and knowing where things are, particularly with my large cookbook collection, but keeping better track of spices, expiration, etc. is the way to go.
:: Make a list of easy pantry meals. In addition to my meal planning, I'm working to compile a list of easy pantry meals to make if I'm really tired, or just don't want what I've planned. Having this list will make things easier, and help me to avoid my standby spaghetti nights.
:: Start more food traditions. I love traditions. Maybe pizza night? Sunday brunch? I haven't quite figured out one that works best for our household, but I'd love to find something.
:: Sign up for a few cooking classes. I learn a lot out of cookbooks, from cooking shows, videos on the internet, but hands on in the way to go. I'm particularly interested in Thai, Japanese, Filipino and Persian food at the moment.
:: Work on my "Things I'd Like to Cook List". I'm working on my life list, but this one goes in tandem. So far I've been adding just a few things at a time to my Pinterest board.
:: Assess and update kitchen for efficiency. The kitchen needs some more love. I'd like ideally to get some metro shelving, maybe a peg board, and figure out the best layouts to move smoothly in the place.
:: Identify and celebrate my kitchen rituals. David Tanis and Nigel Slater (two of my favorite writers) have written so well about ritual – those little private moments in the kitchen that remind us why we love the place so much. Morning coffee, heating oil to re-cure my cast iron pan, afternoon tea, frying eggs, using my Microplane to zest, and making oats are some of my favorites, but I always love discovering new ones.
What are your kitchen resolutions? Do you keep a list?