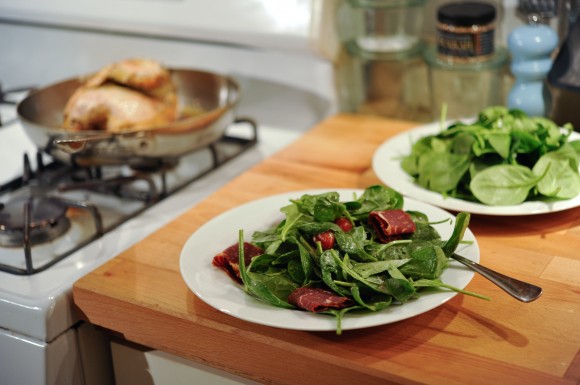 Why, hello! Has the first day of this new year treated you well?
Our celebrations were quite low key last night because we've both been a little under the weather. We started out with the movie Haywire, but despite my serious strong-girl crush on Gina Carano, the film committed the cardinal sin of bad action films: it was boring. So boring, in fact, that I turned it off after twenty minutes. We salvaged the evening with pizza, ice cream and several episodes of MI-5, and made it (reluctantly) until midnight.
Once we realized that the world wasn't ending, we passed out and slept in until 10. Glorious!
Today we gathered ourselves and ventured out into the world. Devon needed snow boots, and I hadn't left the house for a while. We drove to the L.L. Bean outlet, ate lunch at the salad bar at Whole Foods, and came back to work on a few new projects, draft some more resolutions, and think about my word of the year. For dinner, I thought I'd set us straight with some salads and roast chicken.
This is one of my favorite meals because it's simple, light, and relatively foolproof. Which of course means that I had my first kitchen failure of the year – I started my chicken skin side down in my greased pan, but the skin decided to stick nearly entirely to the pan when I flipped it over. Alas! Good thing that rosemary and oregano infused chicken minus the skin still tastes good!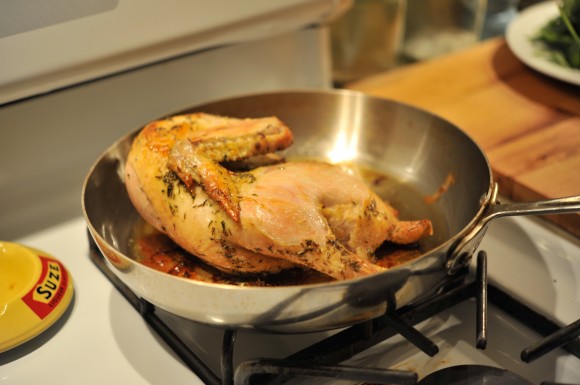 I topped my salad with some tomatoes, a few baby mozzarella balls, good black olives, and some rolled up slices of pastırma, a Turkish cured meat. I made a dressing with some of the pan drippings, some of the olive oil that I keep my black olives in, and a little bit of sherry vinegar. It was a solid start to the year!
After dinner, I grabbed all of our bones and put them in my little workhorse Crockpot to make a light stock overnight. I'll probably use it for some soup lunches through the week. Nothing fancy, but you can never have enough chicken-water in the house. Meat tea!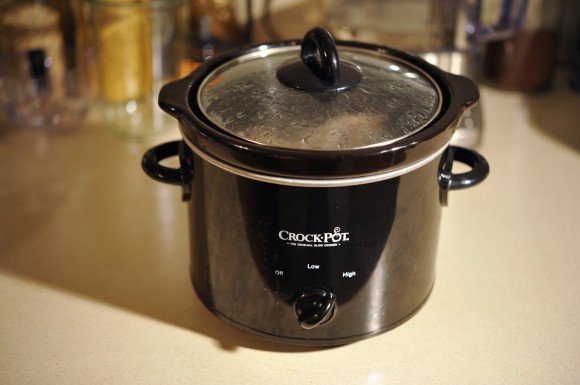 To top it off, we had kazandibi, a sweet Turkish dessert which means "bottom of the pot" and features a lovely layer of caramelization over a rich thickened milk pudding. In Turkey, pudding is by far one of the most popular forms of dessert, and pudding shops are more ubiquitous than pastry shops.
I picked up a few of these at Sevan in Watertown, and since they aren't the easiest to make well at home, they were a real treat. Traditionally you'd top them with a dusting of cinnamon and maybe some ground pistachios, but since I'm impatient, I ate it cold from the fridge with nothing on it.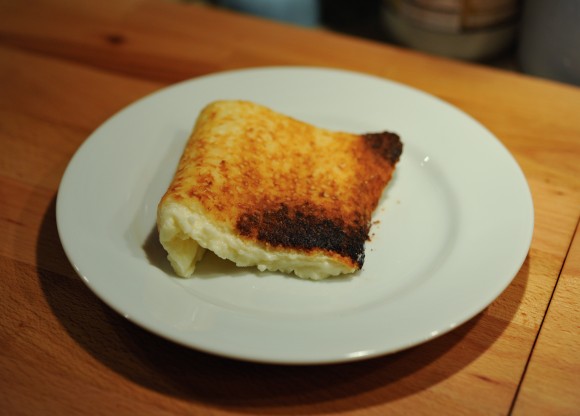 After dinner, I set to work making one of my favorite kitchen resolutions happen: wash all dishes and wipe down counters before going to bed each night. Nothing like waking up in the morning to a clean kitchen and feeling ready to start the day on the right note!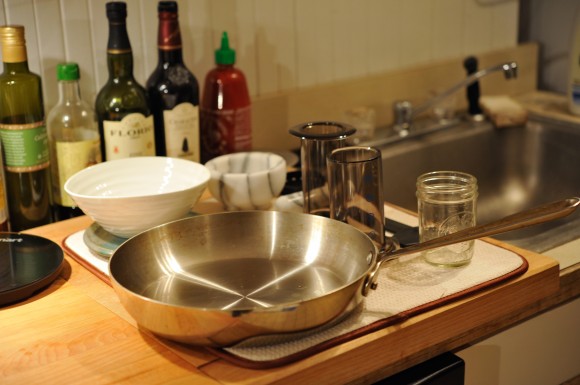 Here's to a wonderful new year ahead of us!