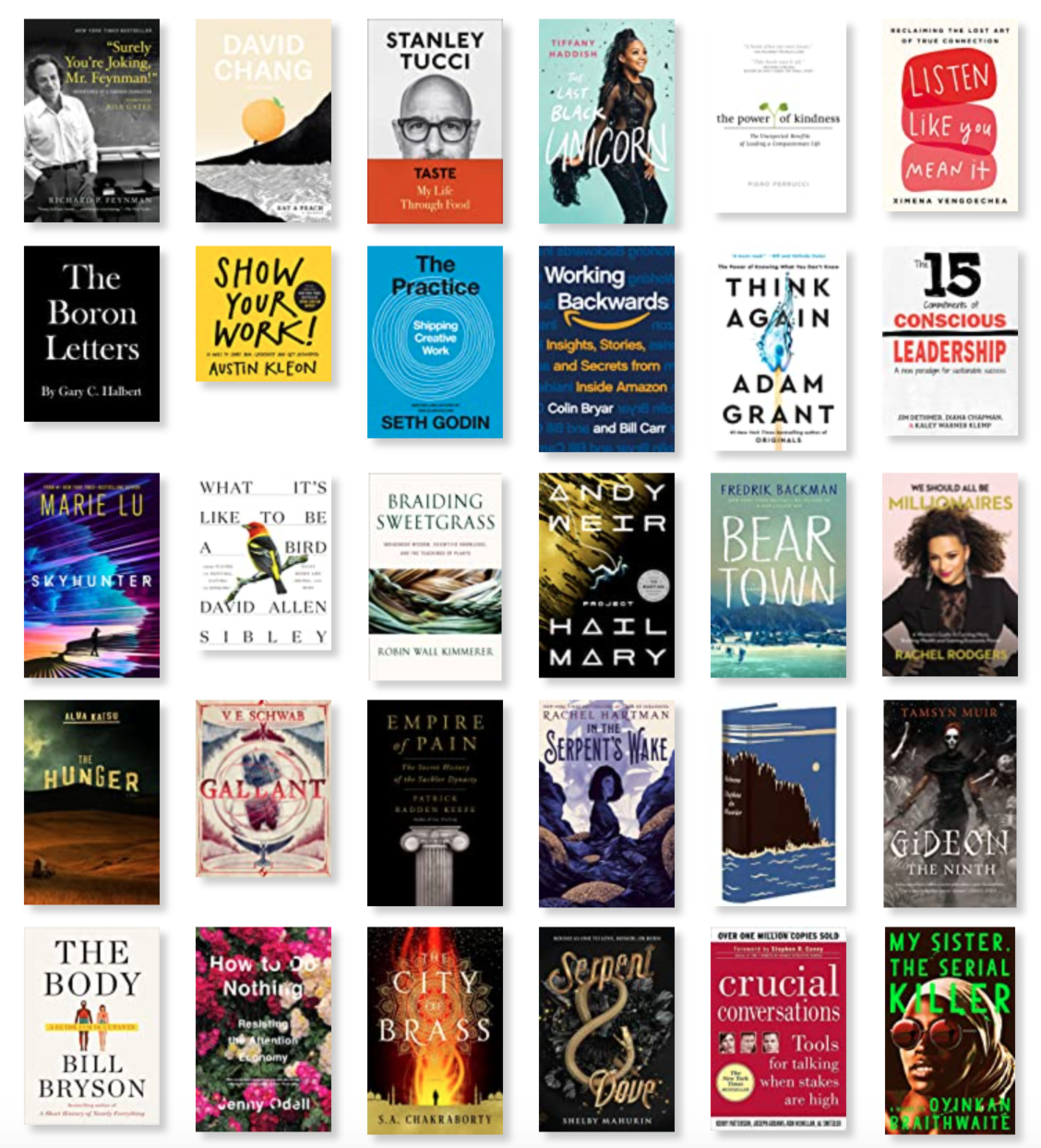 After a great 2019, and a middling 2020 for reading, and an even worse 2021 (lots of half read books with my attention as shot), here I am with my renewed sense of enthusiasm in the new year!

Having a reading list helps me make decisions about getting in quality reading without falling into decision making slumps. I aim to have a large percentage of my reading written by women, POC, and international writers; and typically read a handful of Man Booker short list titles. I typically make a list of my favorite categories, and then will supplement or swap as I find reading that calls out to me. I make room for the synchronicity of just picking up any random title, but I always have a backup!
A few notes and observations:
Audio Books: yes, I definitely count audiobooks as reading. I process information better when on my walks and runs, and thus prefer listening to memoirs or non-fiction this way. It's also easier for me to stay engrossed and follow along while I'm moving physically.
Don't forget FOOD! For the past several years, I read almost zero food memoirs, literature, or history – some of my favorite topics. So I made this one of my kitchen resolutions this year! (Again.) I'm also re-reading cookbooks
The library is your friend. While I always try to support local book stores – I'm also a huge fan of my local library – grabbing things off the Speed Read Shelf is my jam. Plus you can leave with a large stack and it always feels like I've won something.
As always, still working my way through my list of Personal Leadership Development Books, and the BBC Big Read. I also read quite a few business books for work – whatever I need to expand my ideas and sharpen my skills. Our team has quite a few readers, and an up and coming leadership book club has us reading (me re-reading Brené Brown's Daring Greatly, next.)

January:
Re-read Atomic Habits by James Clear; Tiny Habits by BJ Fogg (done!)
Rebecca by Daphne du Maurier (done!)
We Should All Be Millionaires by Rachel Rodgers (in-progress!)
Beartown by Fredrik Backman
Project Hail Mary by Andy Weir
Gideon the Ninth by Tamsyn Muir
Re-Read: Dare to Lead by Brené Brown (work book club)
Braiding Sweetgrass by Robin Wall Kimmerer
What it's Like to Be a Bird David Allen Sibley
Categories to choose from: (I often choose outside these, but I find that when I'm in the mood for a particular feeling, it breaks down by this type of category.)
YA fiction or Fantasy
Gallant by VE Schwab (March 1 Release)
Serpent and Dove by Shelby Mahurin
The City of Brass (The Daevabad Trilogy) by S.A. Chakraborty
In the Serpents Wake (Tess of the Road #2) by Rachel Hartman
Skyhunter by Marie Lu
Leadership / Business / Finance:
Crucial Conversations by Kerry Patterson
The 15 Commitments of Conscious Leadership: A New Paradigm for Sustainable Success by Jim Dethmer, Diana Chapman, Kaley Klemp
Think Again by Adam Grant (in-progress!)
Working Backwards by Colin Bryar and Bill Carr
Writing and Creating:
The Practice: Shipping Your Creative Work by Seth Godin
Show Your Work! by Austin Kleon
The Boron Letters by Gary Halbert
Fitness and Health / Mindfulness / Brains
Listen Like You Mean It: Reclaiming the Lost Art of True Connection by Ximena Vengoechea
How To Do Nothing: Resisting the Attention Economy by Jenny Odell
The Body, A Guide for Occupants by Bill Bryson
The Power of Kindness: The Unexpected Benefits of Leading a Compassionate Life by Piero Ferrucci
Gripping / Thrilling / Literary:
My Sister the Serial Killer by Oyinkan Braithwaite
The Hunger by Alma Katsu
Memoirs / Non-Fiction Reporting
The Last Black Unicorn by Tiffany Haddish
Taste by Stanley Tucci
Eat a Peach by David Chang
Empire of Pain: The Secret History of the Sackler Dynasty by Patrick Radden Keefe
"Surely You're Joking, Mr. Feynman!": Adventures of a Curious Character by Richard P. Feynman
Books to Finish (technically there are many more half-reads over the past few years):
The Body Keeps the Score by Dr. Bessel Van Der Kolk
Dutch House (Audiobook?)
Caste by Isabel Wilkerson
Circe by Madeleine Miller (may switch over to Kindle)
Under the Whispering Door by TJ Klune
What's on your shelf this year? What's up next?
xo Sam