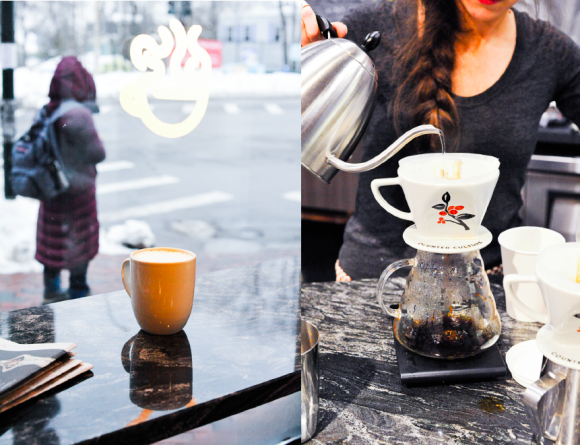 Hello from the impending blizzard zone! Yes, more snow. More Snow. Snowwwww. Why do I live here? This week I've been braving the weather to try out some new places, head to some food events, and even squish in a few races! Last we left off, I was making a game plan for January: lots of braising, healthy salads, meal planning, and gym going. Lofty goals. I knew it was going to be bad on January 5th, a coworker mentioned that I had been posting a lot on my blog. "That's not going to last, is it…." ah, votes of confidence. Thanks. Of course he was right – it's been a long, cold, month, and I didn't think that anyone would want to hear my complaints about the MBTA. There was a lot of bitterness and salty language. California, I miss you. (You too, California friends.)
This month I've done little to drag myself out of the house. It's been a lot of pathetic pantry meals. A few too many take out meals. And a whole lot of sitting on the couch. So last week after getting some energy back on my trip to Portland, Maine, I decided to get myself out, visit the new super shiny Whole Foods South End (it's great), run a race, and meet up with some bloggers. Some of my favorite activities!
Of course, life is better caffeinated. With my dwindling coffee supply – both fresh beans from Portland, and my shameful comfort coffee (Trader Joe's Gingerbread) being done for the season, I decided that I'd try out the new Fleck Coffee right at the Newton Highlands T-stop, because they were giving away free coffee this weekend…. and… free coffee! They brew Counter Culture, and I'm all for local coffee shops! They officially open on Monday, and keep hours of 6am – 4pm daily.
On the fitness front, I decided that I needed to "train" for my upcoming Hyannis Half marathon, so on a whim I signed up for the Super Sunday 5k and 5 miler, and ran it with my friend Matt. How do you dress for a race that has a real feel of around 5? Like a ninja. My super secret trick is to treat myself to hand warmers in my gloves for a cold winter run. I hoard hot hands like I'll be living in the polar vortex for all time. This race was fun, cold, and flat!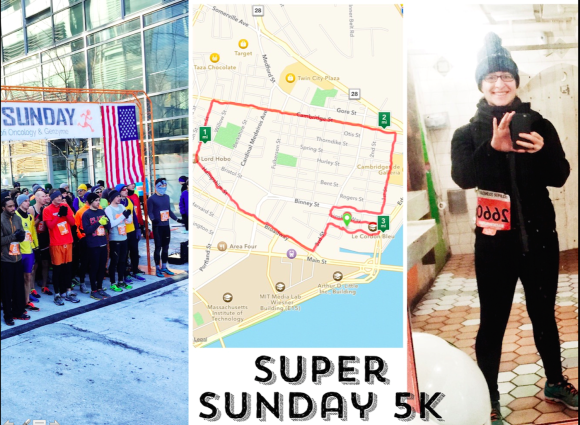 The other reason that I signed up on a whim for a freezing cold race is that I was heading to a Boston Brunchers blogger brunch at Beat Hôtel (Beat Brasserie), and needed to work off some of those calories before eating ALL OF THE FOODS. The fine print: Boston Brunchers events come with free brunch (although generous tip is always provided), and provide me a comfortable space to take as many photos of my food as I want, without any of my dining partners judging me.
Beat Hôtel is in the old Tannery space in Harvard Square, and despite it's convenient location, I really don't get out all that much, and hadn't been there yet. It's the same team behind the South End's Beehive, and they have jazz brunch on the weekends. The space is big and airy, and they have large tables for groups of friends. Another thing to note, I was a little out of it after running my race, and after rushing in to say hi to folks, I didn't actually notice that the music was live until I turned around to look at the glowing purple stage (I mention this because, one, the live band was very good – and two, the acoustics are very well set up for the room – somehow I was sitting directly next to a drum kit and could still hear my dining partners conversation.)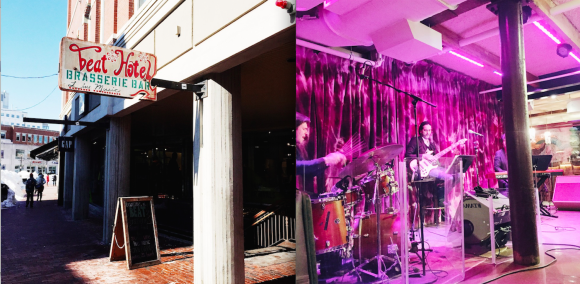 We managed to get a good sampling of their brunch fare – starting off with the Bohemian Platter (hummus, dips, salads, cheese, pickled vegetables, and olives) – the photo in the top right. It was a plentiful platter, but the star for me was this really brilliant pickled radish. Yep, a superlative radish. The absolute winner of brunch was the Buffalo Cauliflower with blue cheese dipping sauce. This being Super Bowl Sunday, one of my dining partners actually took home an extra order, and I regretted not doing the same.
For our meals, we tried quiche, a few Benedicts, and I ordered the Shakshuka with merguez. Now, I do have high standards for Shakshuka, and while this didn't make my top two of all time (my own, and the Shakshuka from Sofra), it was good! The merguez was neither here nor there, but it came with wobbly eggs served over this wonderfully creamy polenta. Plus, extra points for a beautiful presentation. (Bottom left.)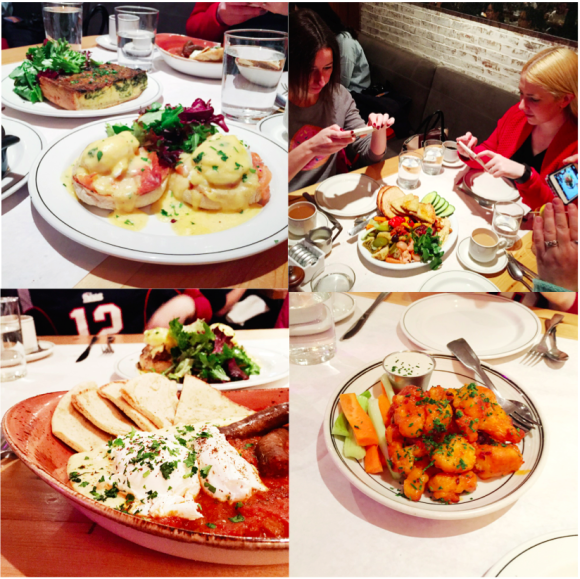 If you go to Beat Brasserie, please order the Buffalo Cauliflower. I will be returning specifically for this dish.
Before I leave you, here's my meal plan for the week:
Sunday: lamb shanks with Ranch Gordo beans
Monday: chicken with cauliflower potato curry
Tuesday: deconstructed shepherds pie (Cook Smarts)
Wednesday: Shakshuka
Thursday: chicken soba noodles
Friday: Out
New Englanders, best of luck tonight in the storm.