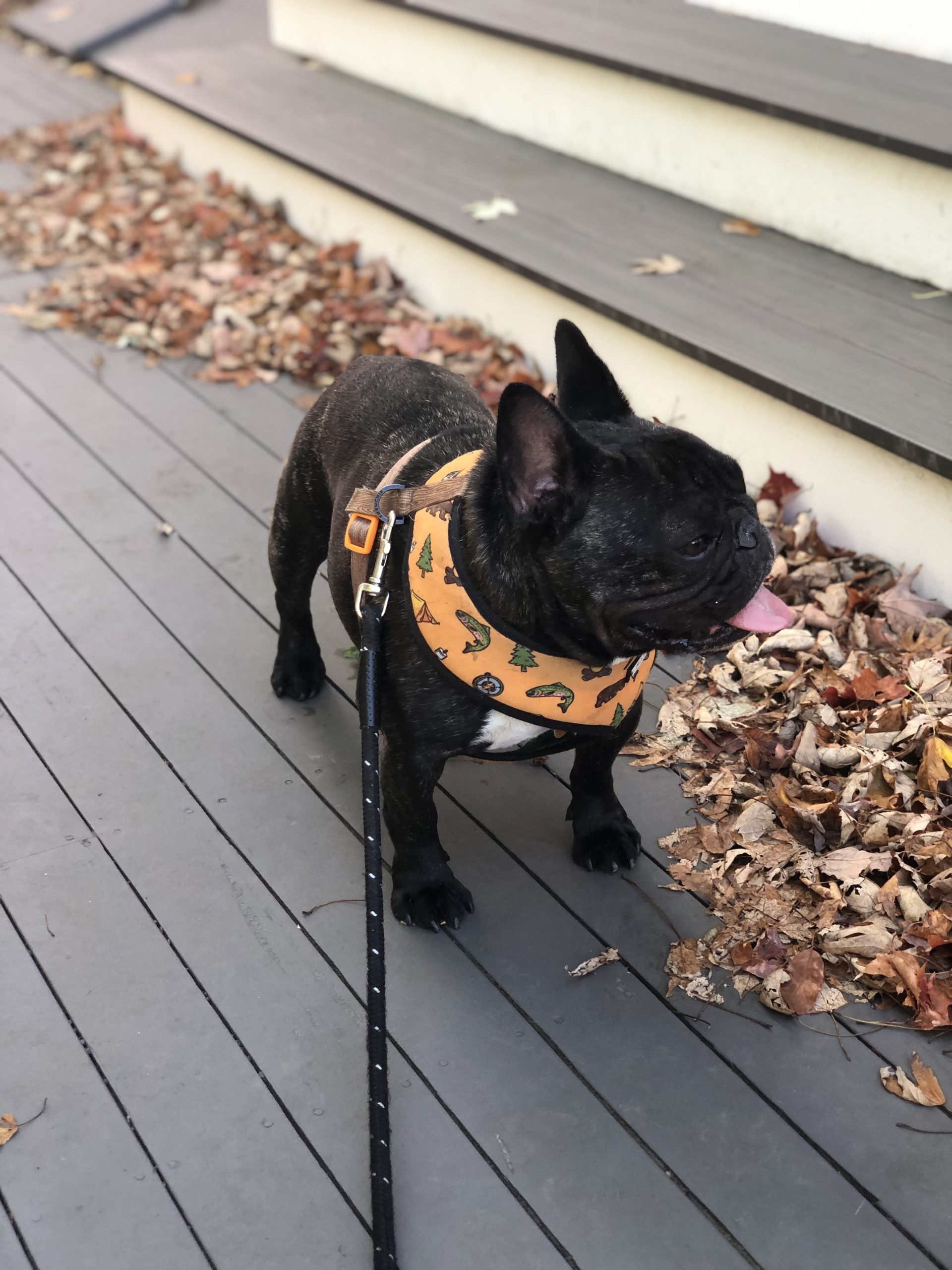 I've been leaning into fall. You'll see quite a bit of New England fall situation in this post. Leaves. Flowers of changing colors. I've begun to roast things for the season. And I broke down and bought myself an air fryer. I'm busy air frying crispy potatoes at the moment while I pause to recap my week and the good things in week 42! (how?) of 2020. 
Before we get into last week, I'll just note that my culinary highlight this week was helping Samin Nostrat today find a specific thing in a slightly obscure cookbook – Ada Boni's Italian Regional Cooking – to fact-check for an article. I happened to have on the shelf just two squares over from her own book, Salt, Fat, Acid, Heat. Quick culinary adventuring to the rescue on Twitter! 
Fall notes, shall we? My neighbors have some exquisite gardens still in bloom. I managed to clean up and prune some of my slightly-neglected front porch plants, and I have a few tomatoes still hanging on their last legs before the frost.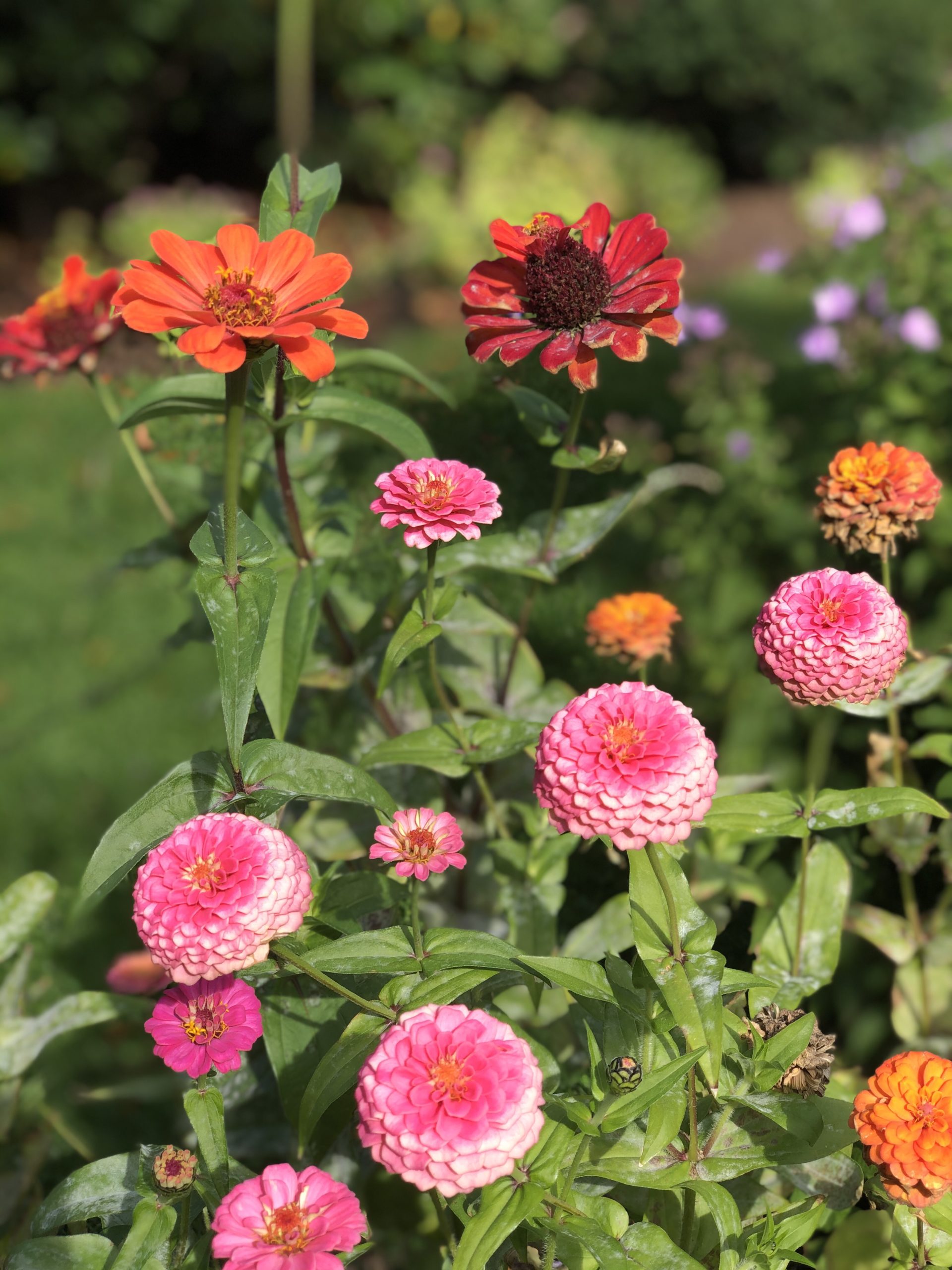 Last weekend, I opted for a virtual run of the Boston Women's 10k – making this my NINTH year in a row running this race (you can see my first race recap here!) I contemplated running the race course, but opted to safely run through my neighborhood, where it's a little more hilly and a little less crowded.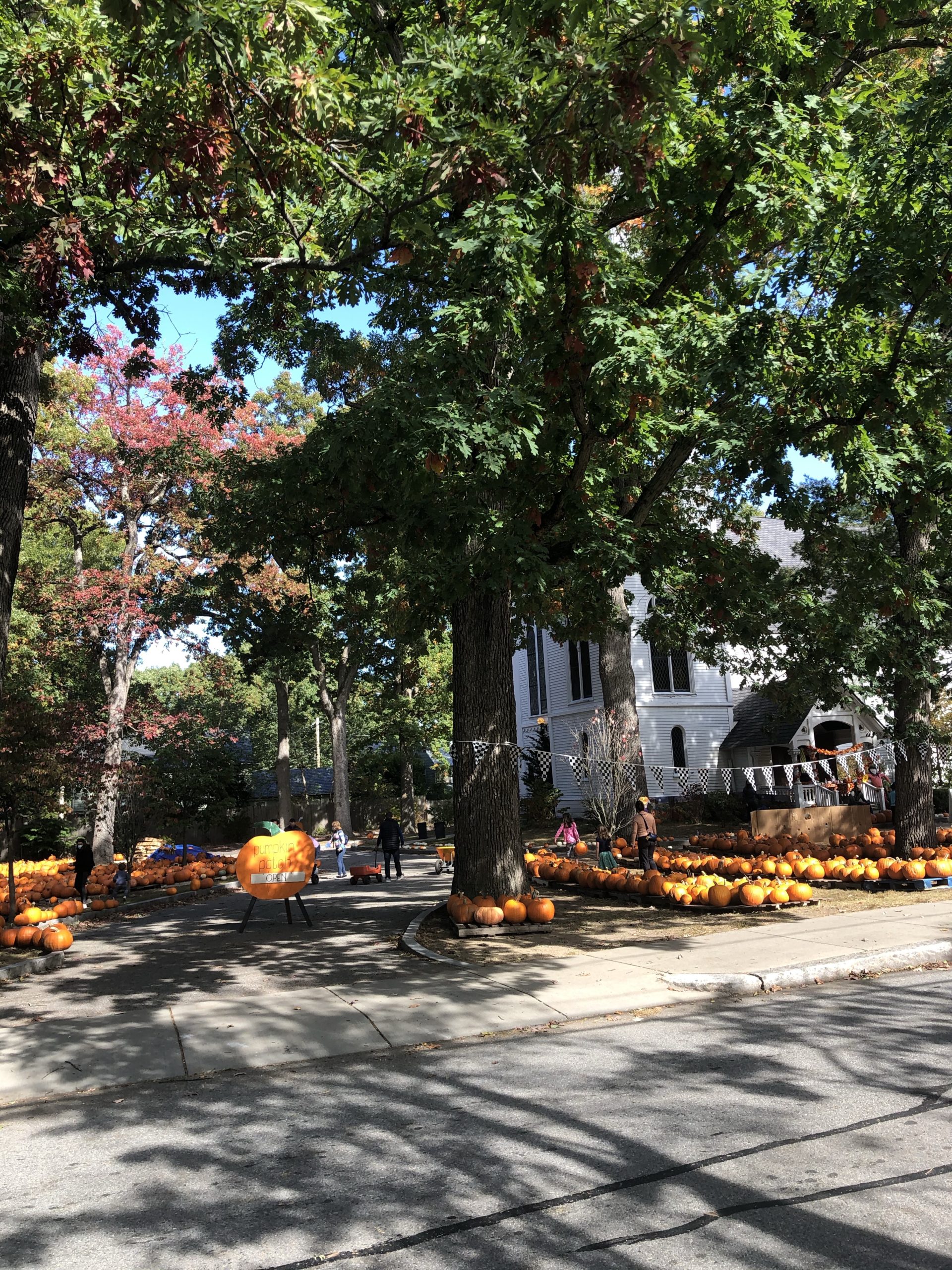 I was not running this race to "race" it – but opted for a comfortable run, breathing through my nose, listening along to a Peloton marathon training run (thanks, Matt Wilpers!) – and somehow in the last .4 mile looked down at my watch for the first time in the run and realized that I would be technically PRing the race course itself had it been run officially. At which point I decided I might as well hustle a little bit. Turns out that a 1275 mile summer four month base training – is a STRONG BASE! I'm a little disappointed not to be doing "real" fall racing right now!
Repping my shirt and my lack of pandemic haircuts: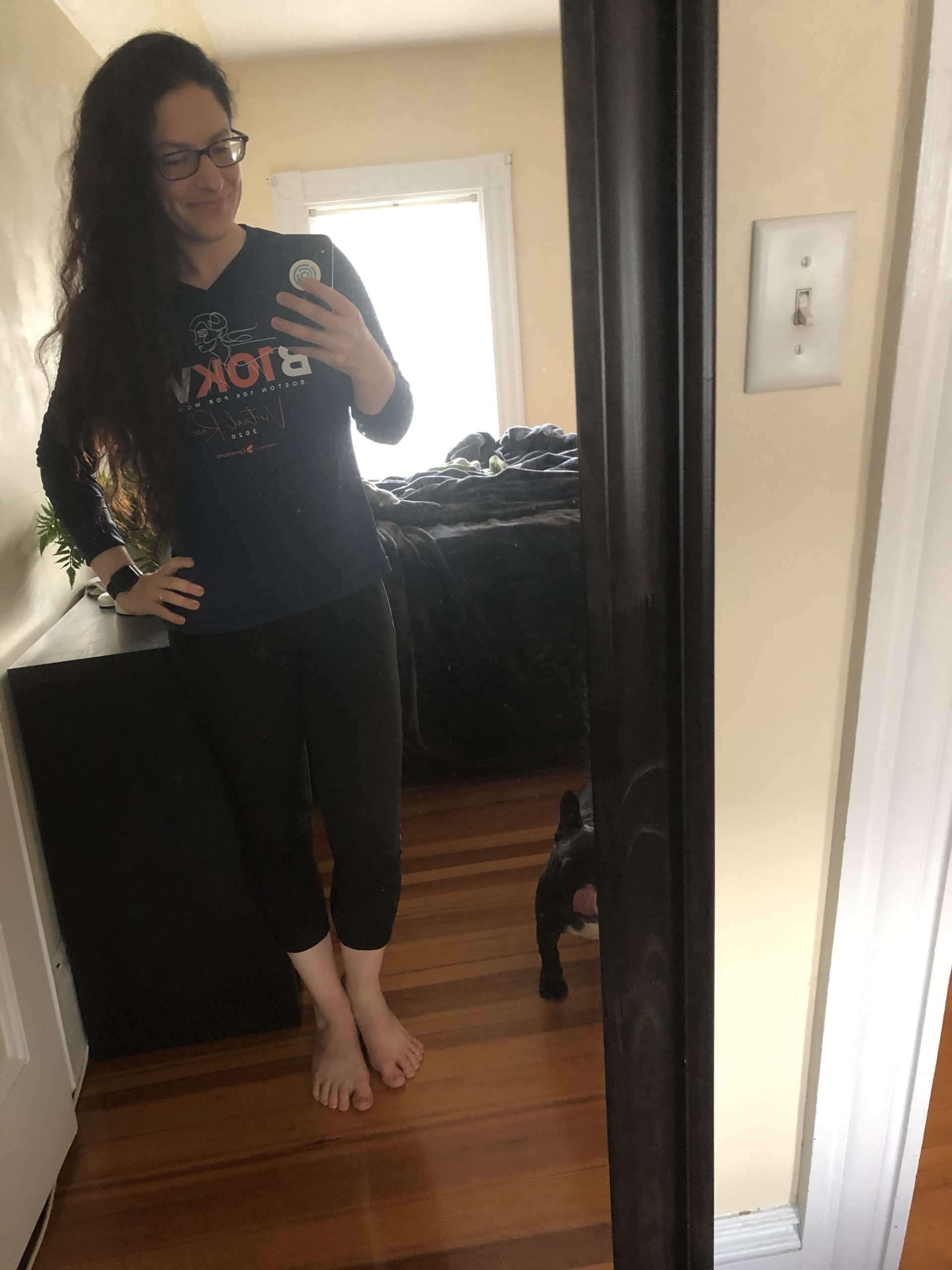 Next up in my "lean into fall!" plan was my first chili of the season. I go through chili phases. The simplest chilis I make are sort of "hack" chili. The "recipe": I cook up some ground meat – in this case, turkey, with cumin, salt, and chile powder, add a bag of frozen peppers and onions, dump in a can of diced tomatoes with green chiles, and a jar of salsa – in this case pepita salsa from Trader Joe's. 30 minutes on low for flavors to meld, and everything is better after a night in the fridge.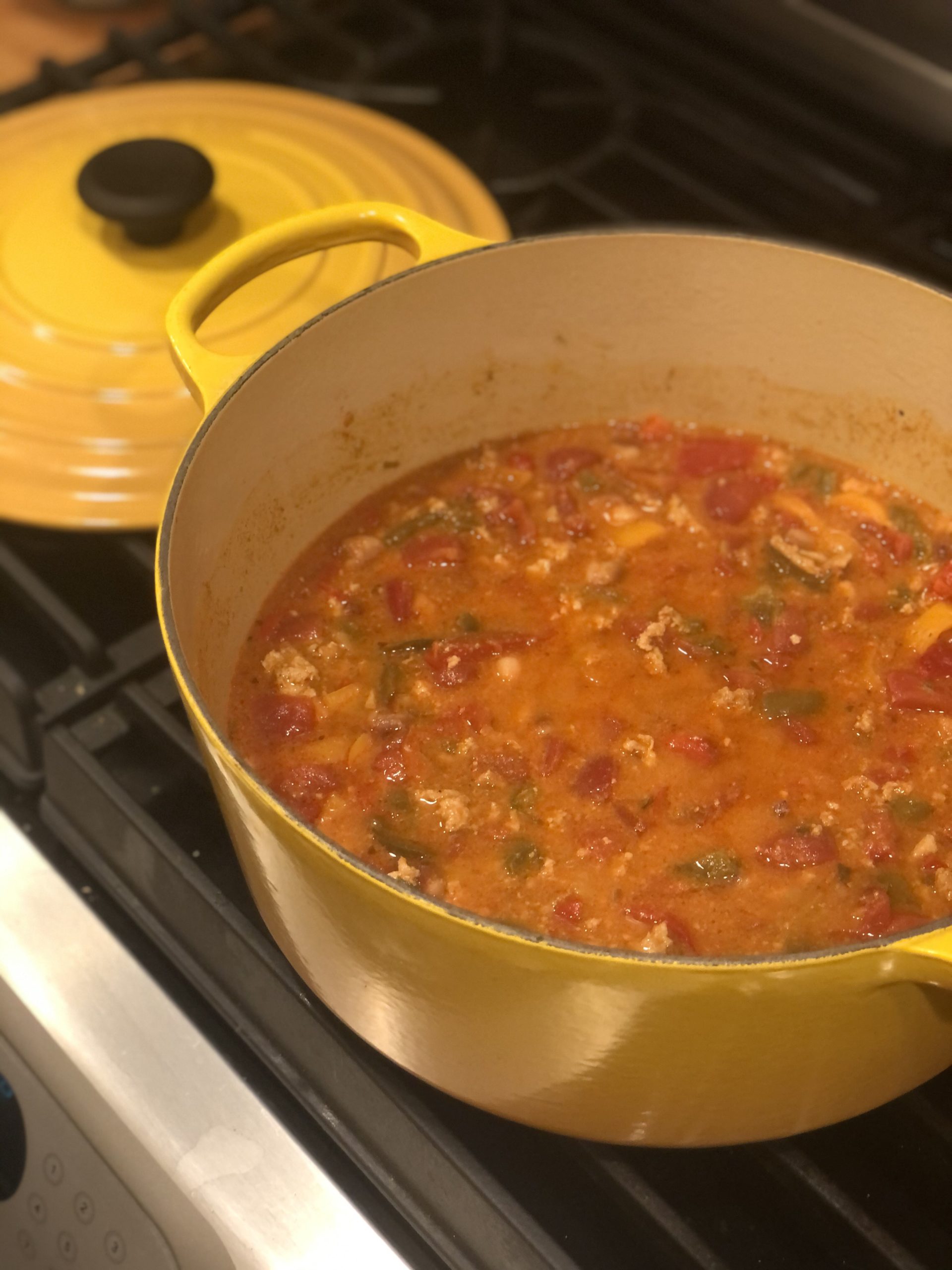 One stroke of genius I had in the middle of the night one night was to order emergency cheese. Each week as part of my Circumpolar Race Around the World, I set about organizing a small research email for my team members about the cities and towns that we are running through.
Given that it's me, a good portion of the email is devoted to local ingredients, recipes and specialties. We'd been traveling the past month down the Eastern Coast of Mexico, through Tamaulipas, Veracruz, and Chiapas.
I'm now hungry daily for seafood, filled tamales, and good cheese. What started as a search for Queso de Bola de Ocosingo online (you can't get it imported, alas), led me to Carlos Yescas' interview in Cuture Cheese Magazine – shouting out Mozzarella Co. and founder Paula Lambert (sold many of her cookbooks at Omnivore! – which led to a 1am emergency order of her "South of the Border" cheese sampler. Which I do not regret one bit.
So far, I've made my way through the goat cheese wrapped in hoja santa leaf, and the Queso Oaxaca.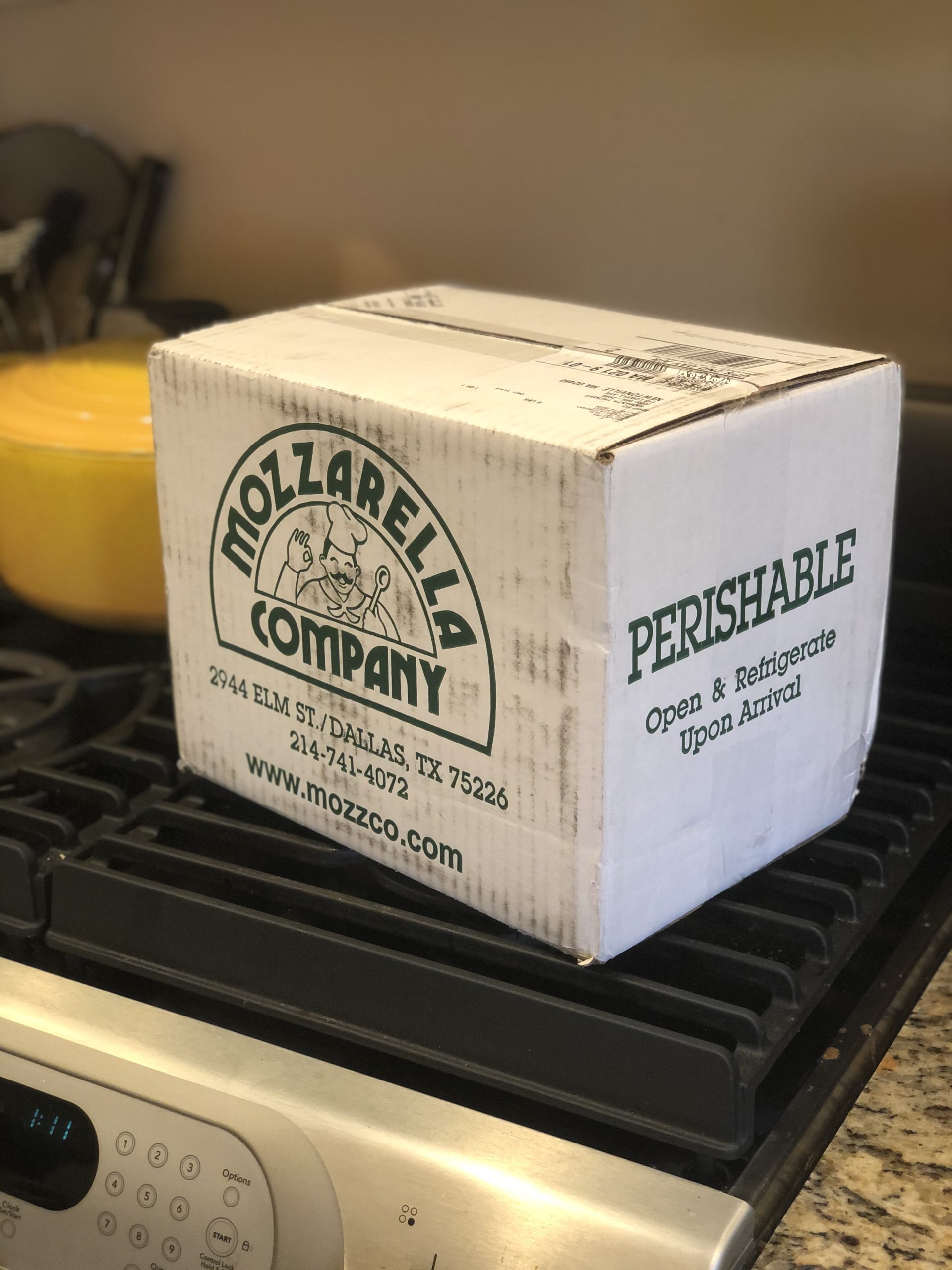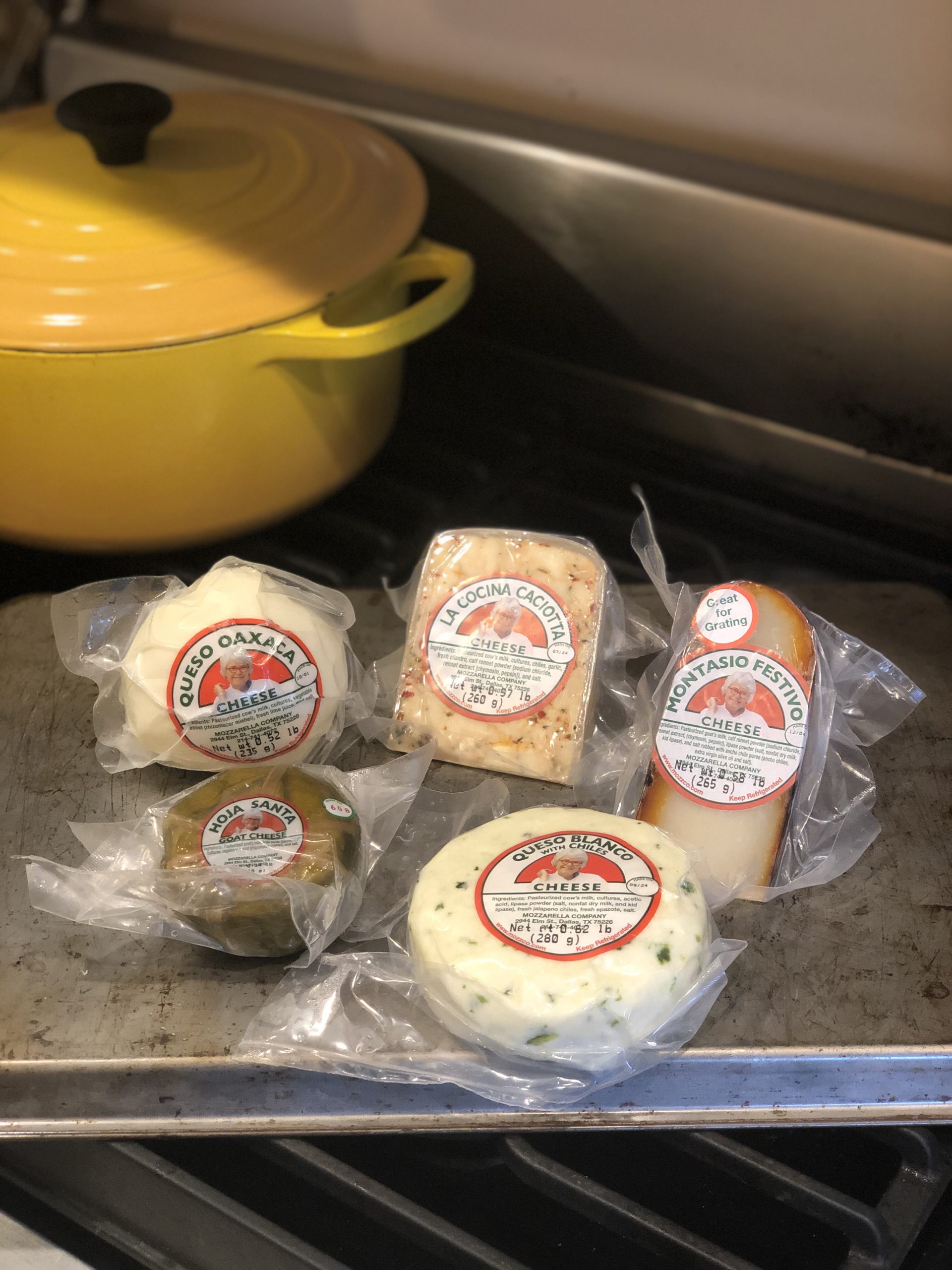 In other small comforts, inspired by the vast amount of corn dishes I've been reading about as we head down through Mexico and Central America, I've been craving good corn things. The easiest of which: I've been eating the occasional popcorn with good things on it. Or just plain with some salt.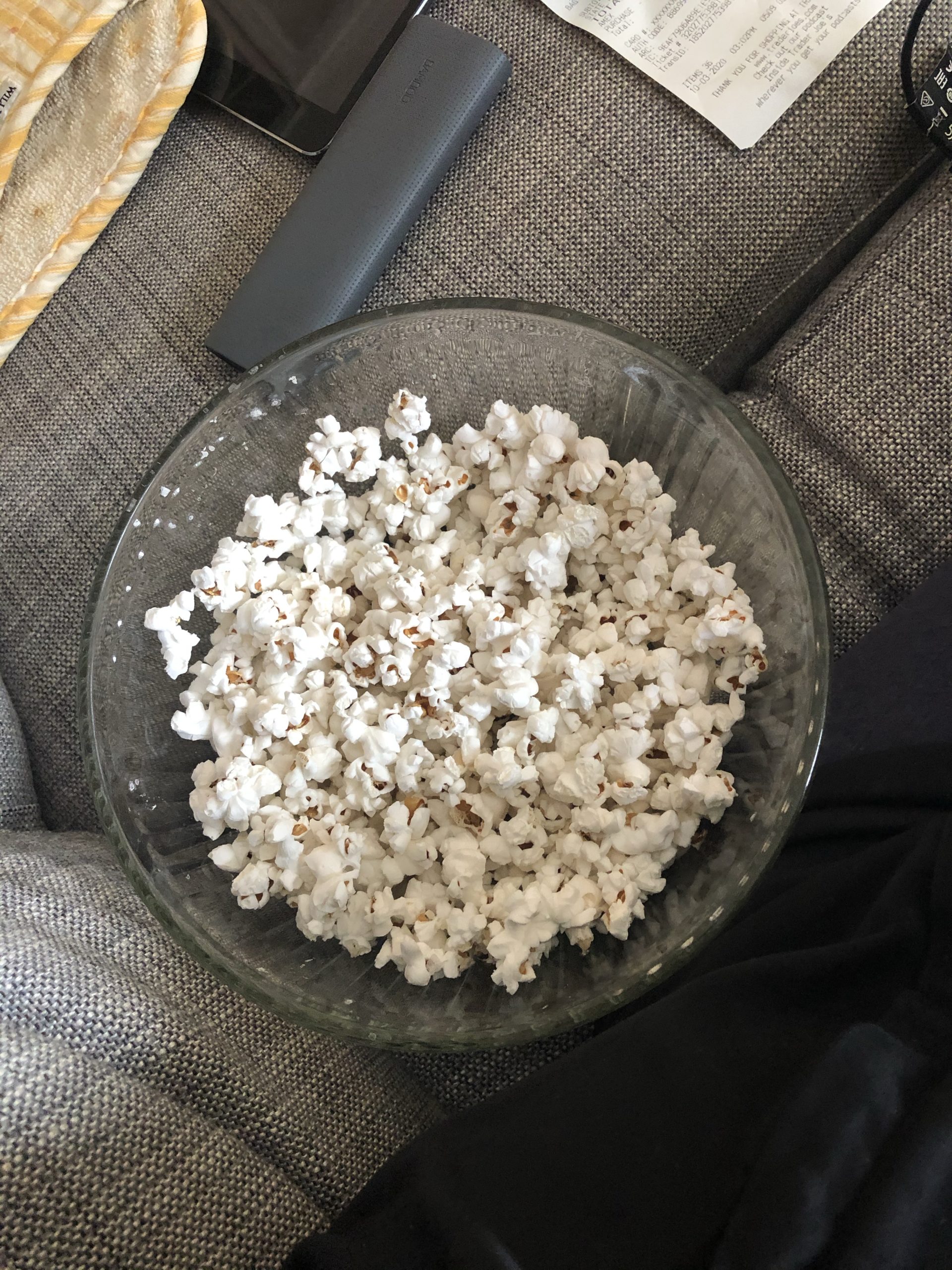 My other emergency comfort food is doctored Annie's Mac and Cheese; and given that this is the month leading up to the election I've found myself needing some of that too. Here's a bowl topped with braised honey aleppo chicken thighs.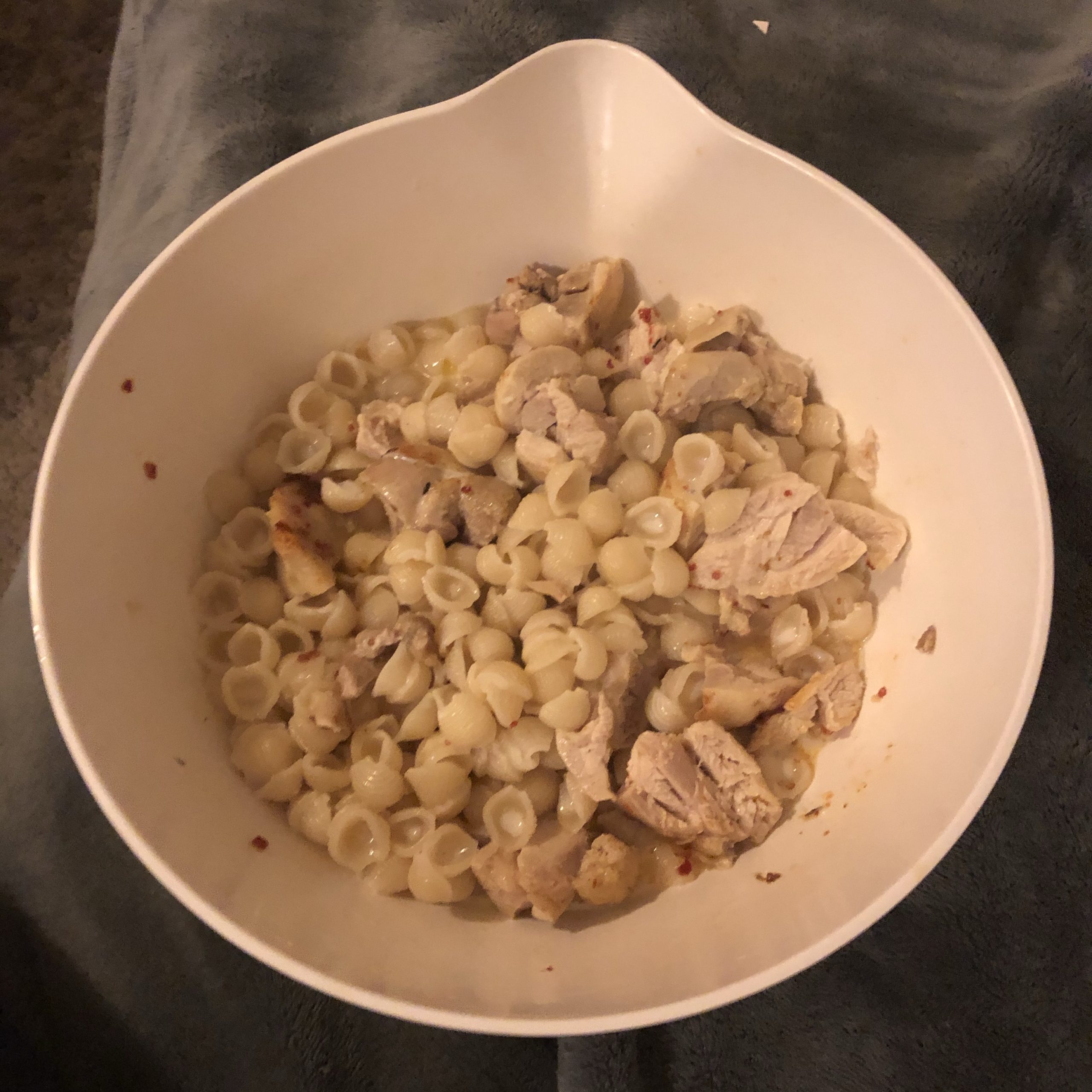 Fortunately, my comfort-dog has been doing extra good work.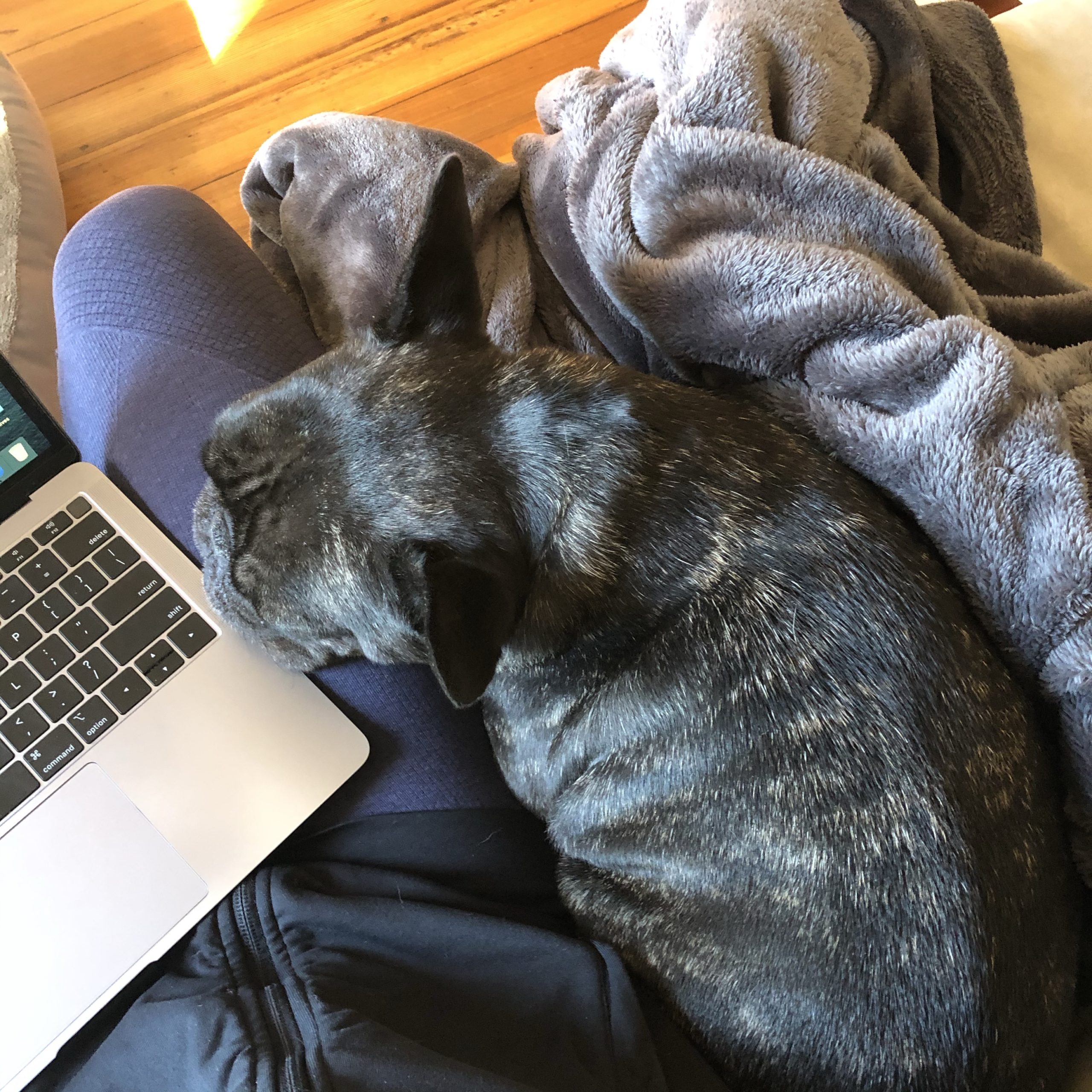 Here's a few more good things, dinner-wise: I've been a long time subscriber of Cook Smarts (affiliate link); a meal planning service. Although meal planning is one of my favorite personal activities, I always love inspiration from different places. I found myself savoring two excellent Cook Smarts meals this week.
Lomo Saltado: a Peruvian dish that is cooked like a stir-fry. Seared marinated steak, peppers, and onions, tossed with tomato, served with crispy fries. I made only one small edit; realizing mid-cooking that I didn't have a tomato, I stirred in a spoonful of Tomato Achaar.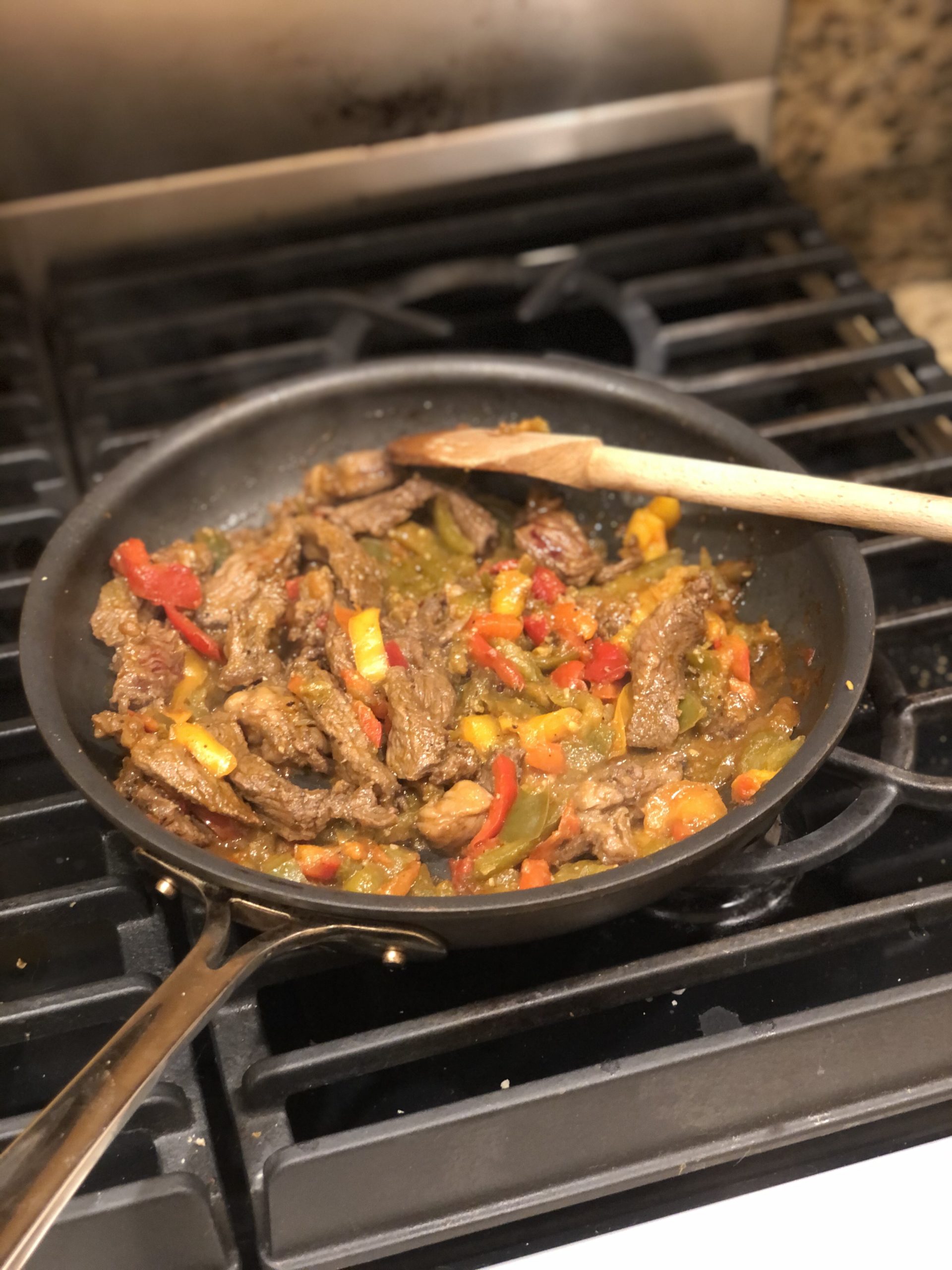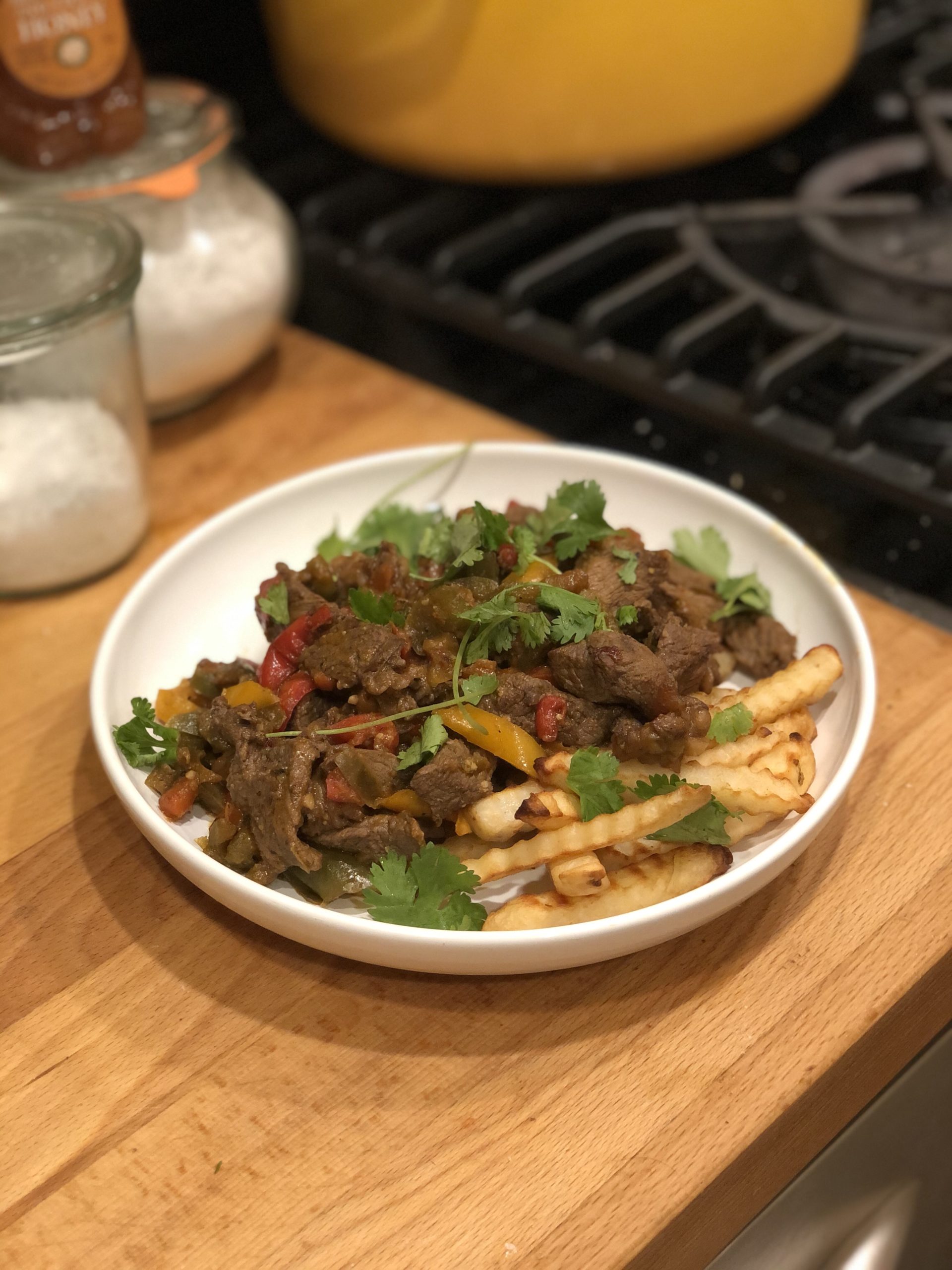 On that note, I had fries twice, as my Air Fryer arrived mid-week. So far, it's been a success!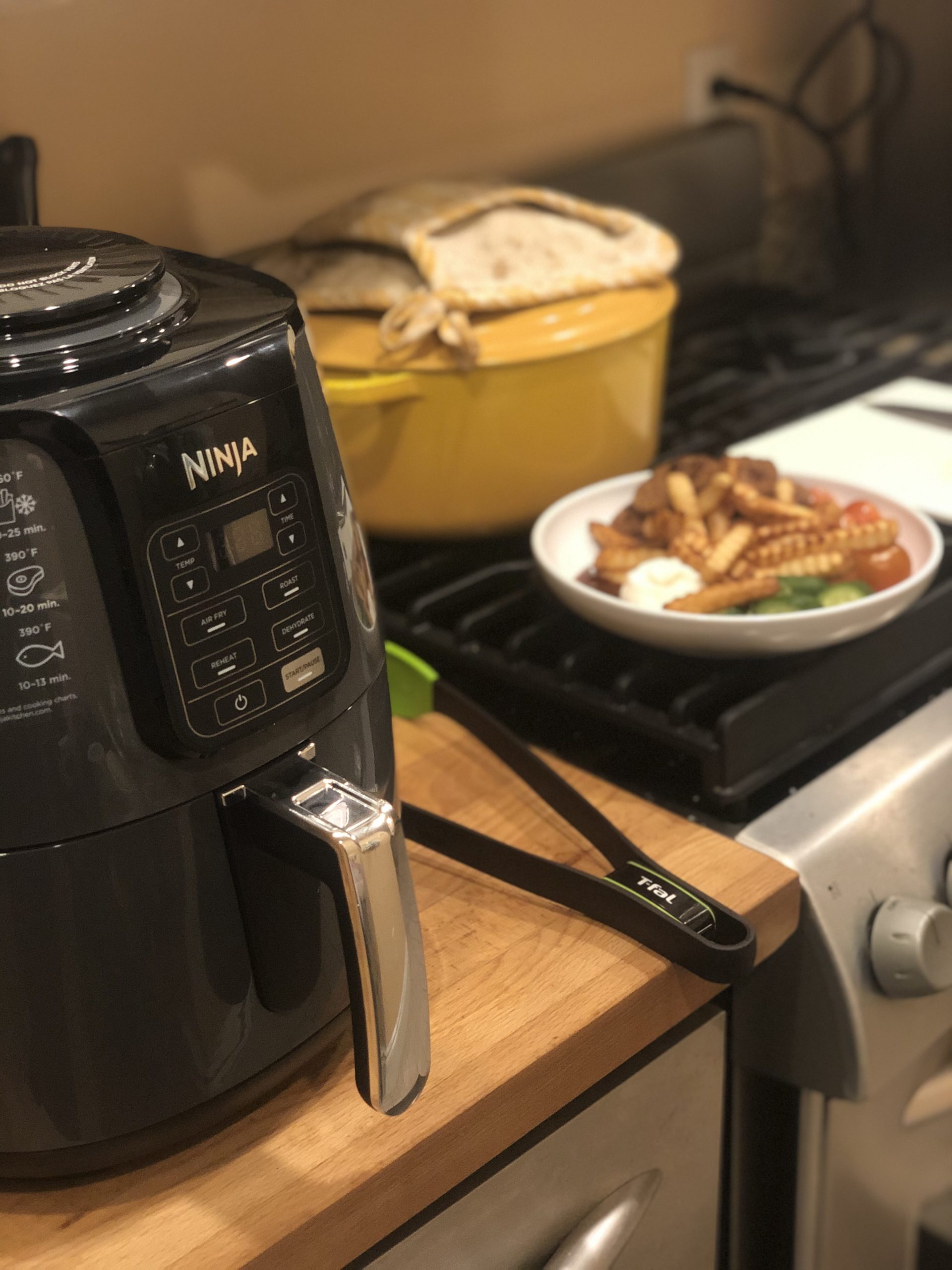 The second meal was more of a riff on the idea: Vietnamese Pork Chop
with spicy pickled cucumbers, roasted asparagus, and ginger rice. Also delicious.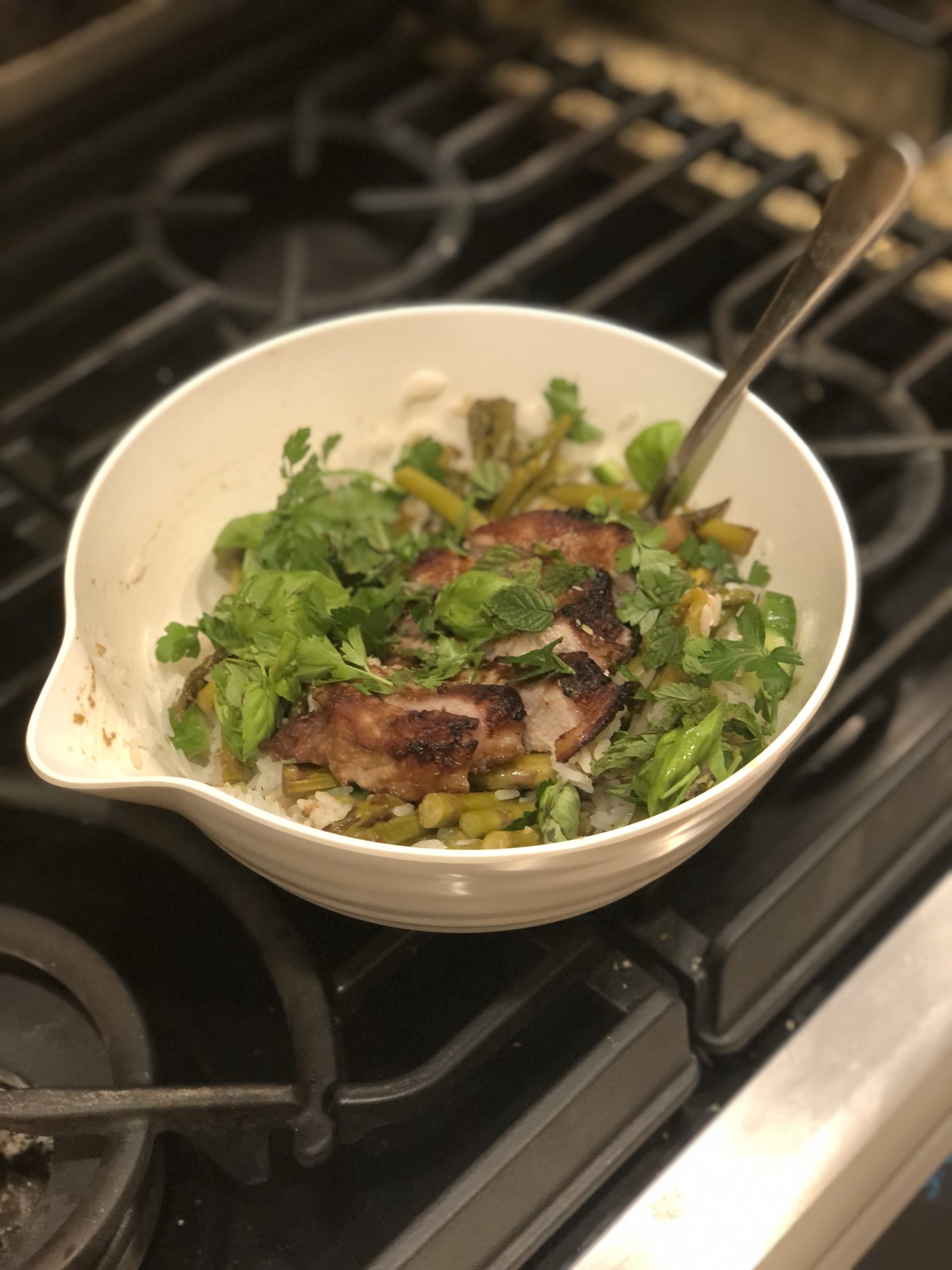 The rest of my meals were a whole lot of un-photogenic bowls of things, but I'll note them: leftover Yom Kippur mix and match foods, savory herb chicken and roasted cauliflower with yogurt, a sweet chili shrimp bowl from Whole Foods, shrimp and avocado with cucumber and peanut noodles; roasted harvest veggies with pork tenderloin; a bowl of chicken and rice. Oh, and a bowl of cauliflower gnocchi with crumbled shrimp burgers and sweet chili sauce. UGLY delicious. 
Oh, and challah french toast: made in five minutes with two eggs, some half and half, cinnamon, and sugar. Perfection. 
I leave you with a seasonal parting shot of Bertram, and some entertainment recommendations: Indian Matchmaker (Netflix), The Left-Handed Booksellers of London (Garth Nix – book), and one of my favorite Ompractice classes of the week: Yin Yoga with (Dr.) Yasmene Mumby on Tuesday nights at 8pm Eastern. 
And if you'd like to HATE-watch something, I highly recommend last weeks episode of Great British Baking Show… where they attempt and FAIL to make brownies.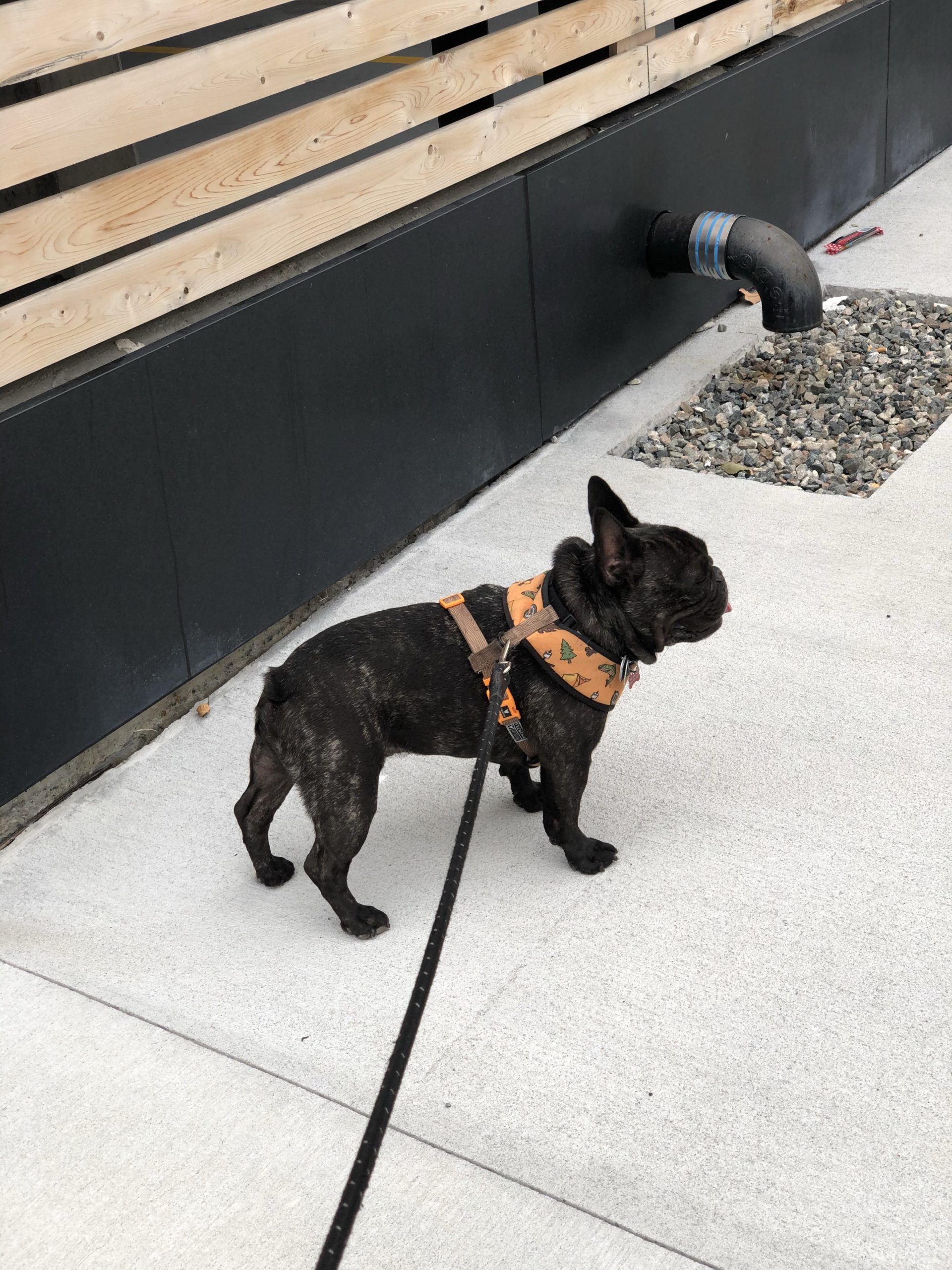 Until next time!
xo Sam