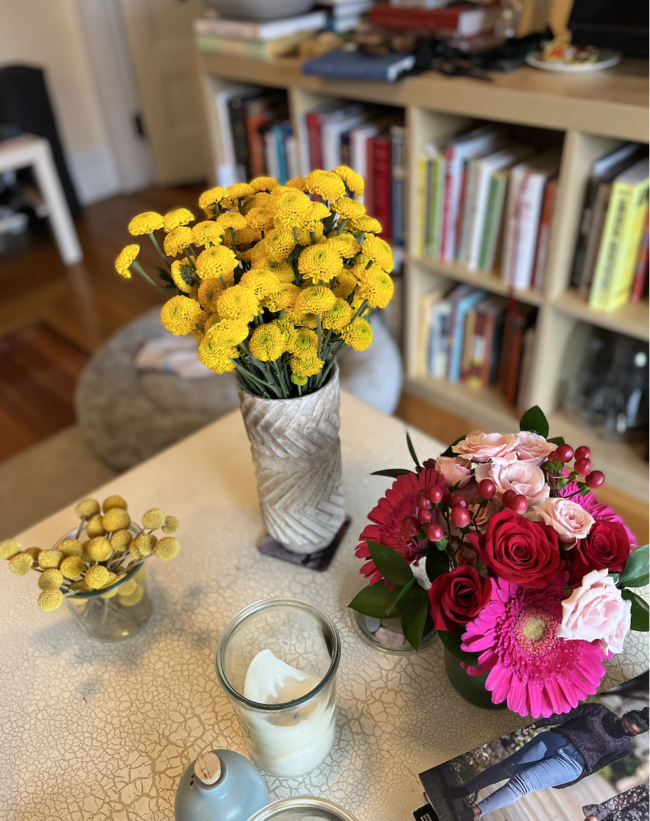 Happy weekend!
A few of the things that I've been very consistent at in the new year: going to bed with a clean sink and setting the coffee maker, and meal planning for the week.
I picked up a few extra bouquets of yellow flowers to surround myself with COLOR today. Two bunches from Trader Joe's. The pink bouquet was from a delightful zoom flower arranging class with Alice's Table.
⚡️ This week, I've been thinking about activation energy. Specifically, it takes me a disproportionate amount of effort to get started on things, even if I *desperately want* to do them. So cutting down any steps at the beginning of doing something, and making the first one or two steps I do simple to focus on action is key.
For tidying dishes, for instance, if I think about the effort to wash them, my brain overwhelms. Instead, I shift the focus to the first small step: turn on the water and let it get warm. This is enough to get the whole process going, and stay consistent with it.
Weekly Meal Plan 2/19/22
Next week I've outsourced most of my meals to WeCo, a local food delivery service. Why? Because much of my focus is going to be on working on our platform re-launch at Ompractice! The past several months have been low on energy. And WeCo meals are delicious, and the kind of food I enjoy cooking for myself, so I don't feel deprived of the thing that brings me joy. (They've now expanded to New Hampshire!)
Dinners:
Sat: WeCo sweet chili shrimp + rice bowl sweet chili shrimp, brown rice, pickled celery + cucumber and kimchi + ginger slaw with sesame garlic vinaigrette
Sun: Turkish Spinach and Meat (although this might get swapped!)
Mon: Canadian Blue Box Kraft Mac and Cheese (thanks to my sibling crossing the border for food two weeks ago.)
Tue: WeCo Carnitas Burritos (will freeze half) citrus-braised pulled pork carnitas; saffron + tomato rice; black beans; pico de gallo; chipotle lime crema; flour tortillas; Mrs. Chips chili lime chips; smoky-sweet tomatillo salsa verde
Wed: WeCo butternut brown butter + pumpkin ravioli pumpkin ravioli; roasted butternut squash brown butter; marcona almonds + sage; whipped ricotta with truffle honey; chicories with shaved fennel + mint; maple dijon vinaigrette; fig + balsamic focaccia
Thu: WeCo shrimp fajita bowl adobo marinated shrimp, sauteed peppers + onions, saffron + paprika rice, black beans, guacamole
Fri: WeCo hot oil udon noodle bowl – udon noodles with miso-roasted greens, charred broccoli with fried garlic, torn herbs and chili oil for pouring on top!
Sat: WeCo grilled cheese + tomato soup the classic! griddled white bread with cheddar and creamy tomato soup on the side… and a pickle because why not!
What's on your plate this week?
xo, Sam
PS: Next Retro workshop is up and live for next week. It's a 90 minute *Do The Thing: Monthly Review – we'll work together on a monthly review for the month of February on Sunday morning.