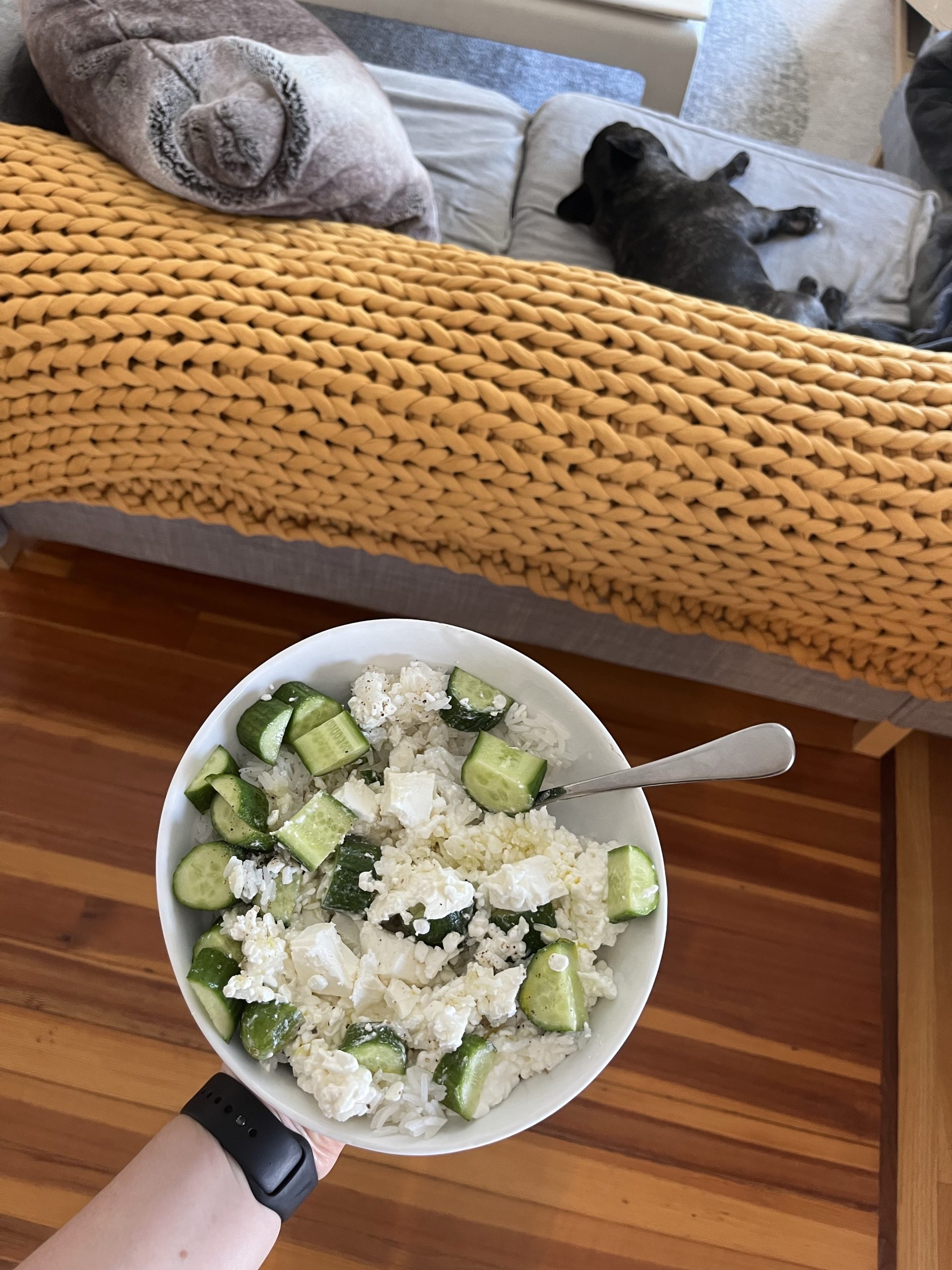 Here we are in mid-summer! I've been working off a "Joy in July" list which includes things like "eat a lobster roll", "sit by the water", visit museums, and hiking, etc., to focus on experiencing good things in what has been an otherwise mildly stressful summer.
Yesterday I found myself making it to Farmers Market for the first time this season (only a month late!) and was overjoyed to find myself actually inspired with vegetables and fruit for the first time in a while. My summer meals are a lot of assembled salads, and I keep Mark Bittman's standby Summer Express 101 Simple Meals Ready in 10 Minutes or Less from the early 2ks bookmarked.
I was pleasantly surprised to find how much I could get at Farmers Market at a reasonable price in these times of inflation, and ended up coming home this week with lettuce, a boatload of tomatoes, peppers, broccoli, a bunch of zucchini, fresh basil, peaches, and raspberries. Grabbed some of the very good OMG English Muffins. Our farmers market has a great fresh fish vendor, too, although I was an hour late for the variety! I grabbed some of the last of the local haddock, which was delicious.
Weekly Meal Plan – 7/24/22
For the past few weeks, I've been having trouble with decision fatigue around food – and most other things – so this week's meal plan includes more detailed options for lunches and breakfasts as well. I always feel comfortable swapping out if I'm craving something in particular in the moment, but having *something* planned helps me from stalling out on on my eating an actual meal.
Sat: Crunchy Slaw with peanut dressing, poached haddock, sliced tomatoes
Sun: Bonchon tacos (I've been hearing about these for weeks. Big decision will come down to bulgogi or chicken)
Mon: Red Sox Game – eat at the park!
Tue: WeCo roasted chicken ramen soy marinated roasted chicken breast with hoisin + ginger glaze; shiitake mushroom + spring onion broth; spicy miso paste; spring beans + peas with curry leaves + wilted spinach; fresh wavy noodles; scallions + pickled mushrooms + marinated egg
Wed: Smitten Kitchen grilled zucchini ribbons with pesto and snowcap beans
Thu: WeCo SHARK-cuterie board! 6 jumbo shrimp with WECO red cocktail sauce, Matiz organic mussels in olive oil & vinegar, Squailly's bluefish paté, piquillo jam + pickles and a sleeve of Ritz crackers
Fri: gnocchi cacio pepe (new! from Trader Joes)
Sat: Fresh catch fish, boiled potatoes, steamed greens, a bunch of lemon
Lunches include: a pot of Rancho Gordo snowcap beans, Trader Joe's Lamb Vindaloo, and Spicy Lentil Wrap, tomato and cheese sandwiches, some adobo seasoning chicken thighs, and assorted vegetables.
What's cooking this week for you?
xo, Sam