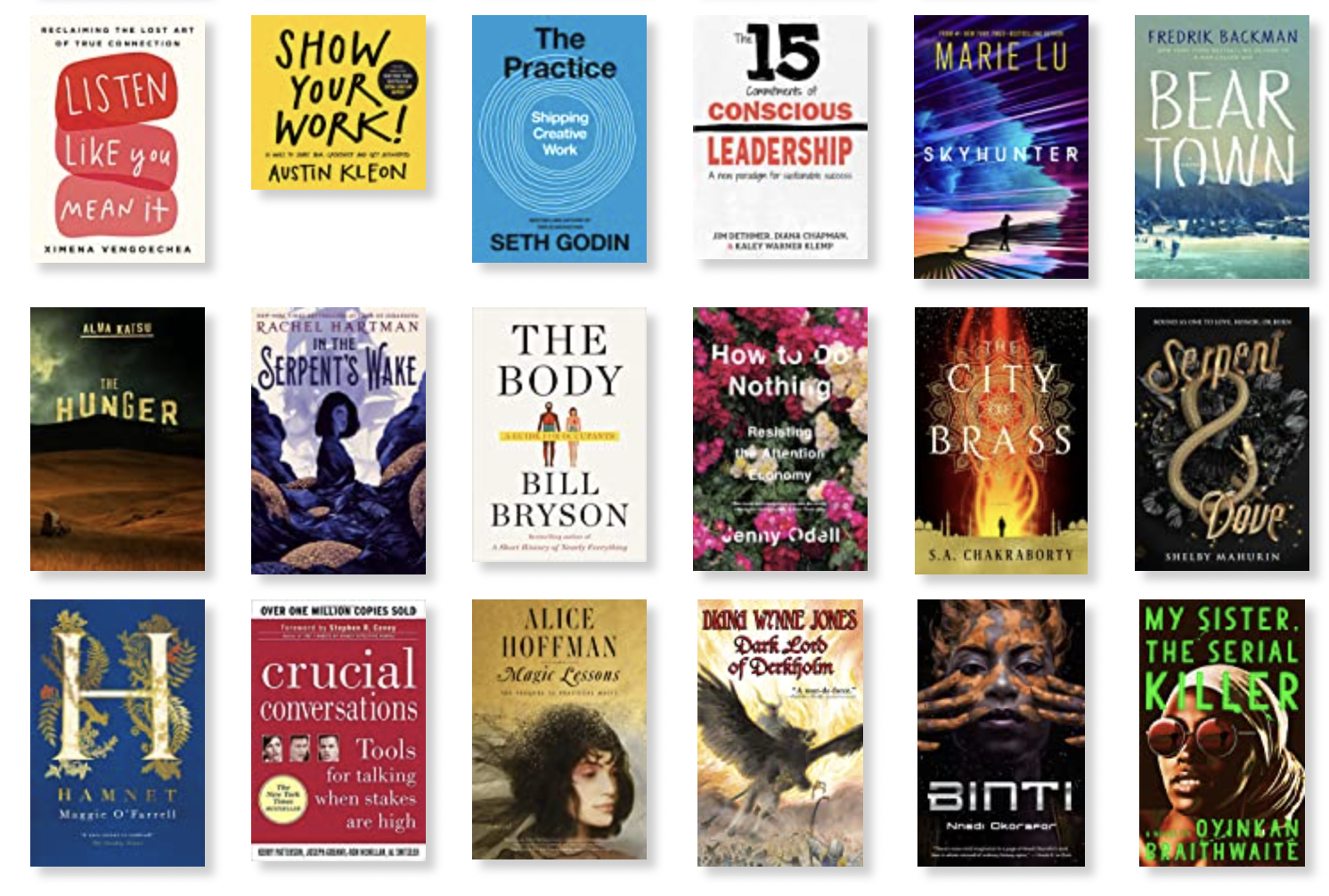 Let's get reading! Sitting down this weekend to update my current reading list, see where I'm at for the year so far, and make adjustments for fall reading season!
I started with a shortlist of questions to check in:
How's it going?
How has my reading been so far in 2023? According to my GoodReads, I've read 34/52 books (just two behind schedule) although I have quite a few half read books.
Are my categories the right ones? I still love reading YA, Scandinavian Noir, captivating non-fiction (true crime or thrilling history), fitness and health, mindfulness, brains and science, social and emotional learning, nature, creativity, and food writing.
Are the length of books the right ones? The worst is when I find myself stalled by a long book where I've lost my attention span. I've been trying to have a healthy dose of fast reads to move the ship along.
Have I gotten stuck anywhere? Usually I'm only stuck when I start reading too many books at once.
What can I improve?
How do I make sure I'm learning in the areas that I want to be known for: Longetivity, Good Things, Social and Emotional Learning? Who are the top five authors in the fields that I work in?
Are there noticeable gaps in my reading? I always find that I'm more inspired by memoirs and biographies, but don't read them enough!
Do I have dedicated reading time? My evergreen quest: read more, scroll less.
It's here! I've been doing a quarterly reading list for the past several years that has somehow turned more into a book list for the whole year. (I have a lot of holdovers from last year that I'm keeping on here.) You can take a look through previous years here: (2022) (2021) (2020) (2017) (summer 2010) (Summer 2014) (Fall Cookbooks 2011)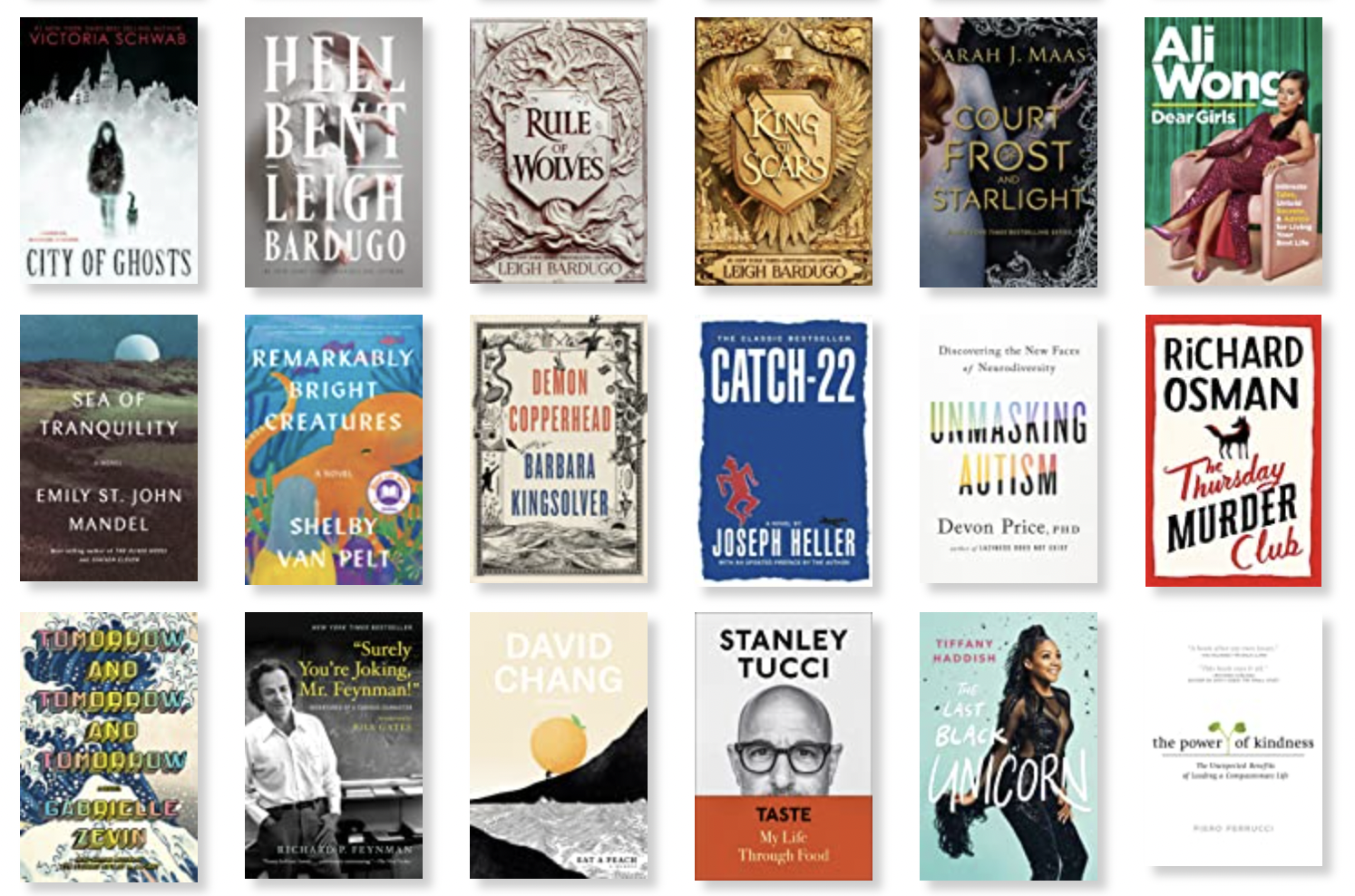 Why have a reading list? This helps me make decisions about getting in quality reading without falling into decision making slumps. I aim to have a large percentage of my reading written by women, POC, and international writers; and typically read a handful of Man Booker short list titles. I typically make a list of my favorite categories, and then will supplement or swap as I find reading that calls out to me.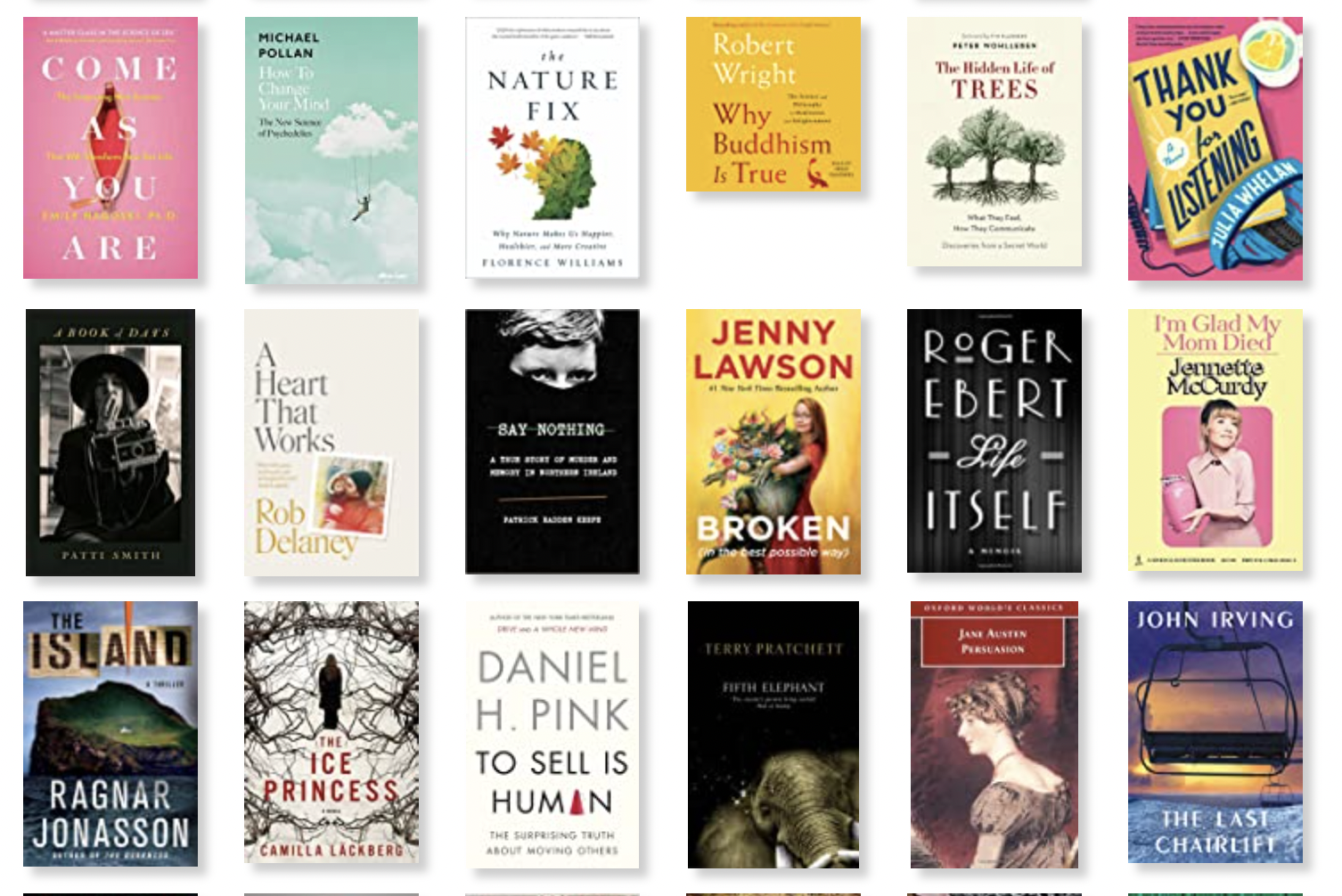 What if you just want to read something new and exciting? I make room for the synchronicity of just picking up any random title, but I always have a backup! 
The Marvel Effect: it's easier to pick up a new book in a series than start something completely new. One thing that I've learned after a lifetime of reading: it really helps me to have series that I can blow through – long books that don't require me to continuously learn about a new world and a new set of characters, as well as a smattering of very easy read books (usually middle grade fantasy, or RomCom) – things I can read reliably for a half hour or hour before bed even after an exhaustive day.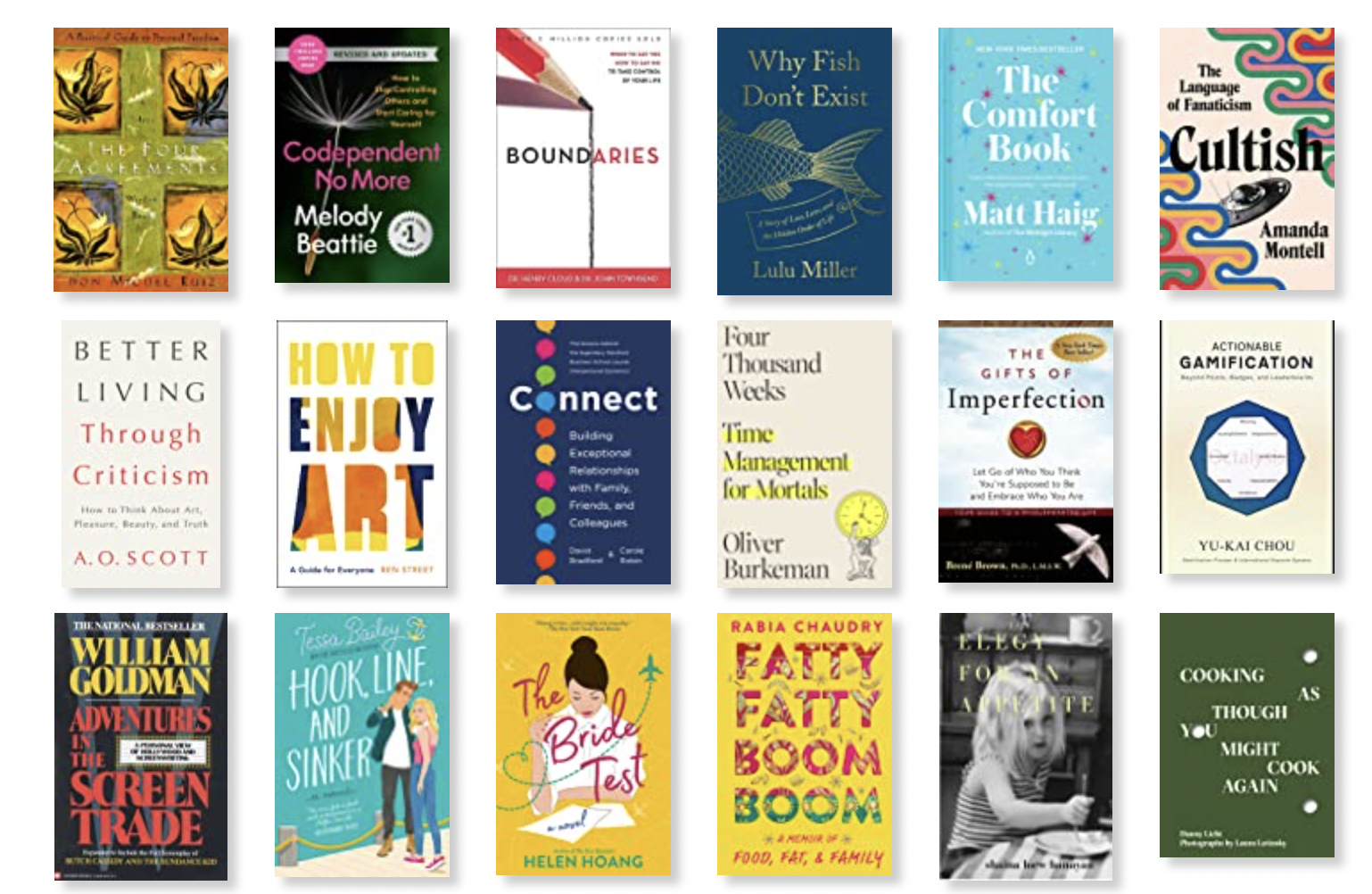 A few notes and observations:
Audio Books: yes, I definitely count audiobooks as reading. I process information better when on my walks and runs, and thus prefer listening to memoirs or non-fiction this way. It's also easier for me to stay engrossed and follow along while I'm moving physically.
Don't forget FOOD! For the past several years, I read almost zero food memoirs, literature, or history – some of my favorite topics. So I made this one of my kitchen resolutions this year! (Again.) I'm also re-reading cookbooks.
The library is your friend. While I always try to support local book stores – I'm also a huge fan of my local library – grabbing things off the Speed Read Shelf is my jam. Plus you can leave with a large stack and it always feels like I've won something. (You can also get Kindle books from the library through Libby. Having a list allows me to put more things on hold, because sometimes there's a longer wait.)
As always, still working my way through my list of Personal Leadership Development Books, and the BBC Big Read. I also read quite a few business books for work – whatever I need to expand my ideas and sharpen my skills.
I'm always interested in reading things that stoke great minds. I read for entertainment, to rest, to inspire, learn, and to stoke my curiosity. Whenever I listen to a podcast episode, I'm always curious about what kinds of things the guest is reading (particularly when the book is completely outside of their topic, or very niche in their topic.)
New: I'm trying to engage with my reading more by reading criticism, and more importantly, writing.
Categories to choose from: (I often choose outside these, but I find that when I'm in the mood for a particular feeling, it breaks down by this type of category.)
Book Categories I Enjoy:
Fantasy (Adult, YA Fantasy, Middle Grade)
Scandinavian Crime (or Noir crime in general)
Fiction (catch all)
Memoir (particularly: comedy, leadership, business or political)
Non-Fiction (Psychology, philosophy)
Nature (and generally Science Writing)
Creativity
Work (Product Management, People Management, Sales)
Food Memoirs
Relationships (Hard Conversations, Boundaries, Joy)
Fantasy, YA fantasy or Children's Fantasy
Tess of the Emerald Sea by Brandon Sanderson
The Fragile Threads of Power by V.E. Schwab
Bookshops and Bonedust by Travis Baldree
Fall of Ruin and Wrath by Jennifer Armentrout September 12th
A Fire in the Flesh (Flesh + Fire 3) by Jennifer Armentrout October 31st.
The Harbinger Series by Jennifer Armentrout (Storm and Fury, Rage and Ruin, Grace and Glory)
Hell Bent by Leigh Bardugo (2023, 496 pages)
King of Scars (2019, 527 pages) /Rule of Wolves (2021, 592 pages) by Leigh Bardugo
Fourth Wing (The Empyrean #1) by Rebecca Yarros
Serpent and Dove by Shelby Mahurin (2019, 513 pages)
The City of Brass (The Daevabad Trilogy) by S.A. Chakraborty (2017, 544 pages) – own on audible
In the Serpents Wake (Tess of the Road #2) by Rachel Hartman (2022, 503 pages)
Skyhunter by Marie Lu (2020, 371 pages)
Binti Series by Nnedi Okorafor (2015, 96 pages)
Mistborn Series Sanderson (will this be the year? 7 books)
✅ The Very Secret Society of Irregular Witches by Sangu Mandanna
✅ Legends and Lattes by Travis Baldree
✅ Seasparrow by Kristen Cashore (great!)
✅ Derkholm #1 and #2 by Diana Wynne Jones (and Howl's Moving Castle #2) (2003, 328 pages)
✅ Tomorrow, Tomorrow and Tomorrow by Gabrielle Zevin (2022, 401 pages)
✅ A Court of Frost + Starlight by Sarah J. Maas (2020, 272 pages)
✅ City of Ghosts Cassidy Blake #1 by Victoria Schwab (2018, 272 pages), Tunnel of Bones Cassidy Blake #2, Bridge of Souls Cassidy Blake #3
✅ A Wizard's Guide to Defensive Baking (YA kids)
✅ ADDED: Jennifer Armentrout Soul of Ash + Blood, Shadow in the Ember, A Light in the Flame
Look out for new:

Kristen Cashore
Jonathan Stroud
Tamora Pierce
Deborah Harkness
VE Schwab / Victoria Schwab
Phillip Pullman
Sarah J. Maas
Zoraida Cordova
Tomi Adeyemi
Naomi Novik
Fiction, GENERAL:
Holly by Stephen King
Demon Copperhead by Barbara Kingsolver (2022, 560 pages)
The Last Chairlift by John Irving (2022, 889 pages)
Persuasion by Jane Austen (1818, 249 pages)
Terry Pratchett – a few last Discworlds I haven't finished – Fifth Elephant #24 (464 pages)
Catch-22 by Joseph Heller (BBC Big Read; I think I've read before) 453 pages
Sea of Tranquility by Emily St. John Mandel (2002, 255 pages)
In the Lives of Puppets by TJ Klune
Magic Lessons by Alice Hoffman (and Practical Magic) (2020, 396 pages)
✅ Fairy Tale by Stephen King
✅ Thursday Murder Club #1 (Series) by Richard Osman (2020, 382 pages)
✅ The Dutch House by Ann Patchett
Look for new:

Susannah Clarke
Erin Morgenstern
Stephen King
TJ Klune
Crime / Thriller / Gripping and/or generally Scandinavian
Hidden in Shadows by Viveca Sten (Are Murders #2) – Dec. 5th
The Ice Princess by Camilla Läckberg (2010, 393 pages)
The Island by Ragnar Jonasson (2019, 336 pages) – 2 in the series
My Sister the Serial Killer by Oyinkan Braithwaite (2018, 226 pages)
The Hunger by Alma Katsu (2018, 368 pages)
Death Notice (book 3, if they publish the translation) by Zhou Haohui
Beartown by Fredrik Backman (2016, 432 pages)
Pick a book by:

Henning Mankell
Jo Nesbo
Arnaldur Indridason
Viveca Sten (but I just read the newest in Dec.)
Lucy Foley
Memoirs / Non-Fiction Reporting
✅ Killers of the Flower Moon by David Grann (great!)
✅ Empire of Pain by Patrick Radden Keefe
✅ Cultish by Amanda Montell
The Last Black Unicorn by Tiffany Haddish (2017, 288 pages) (own)
Dear Girls by Ali Wong (own) (2019, 240 pages)
Broken by Jenny Lawson (2021, 275 pages)
Taste by Stanley Tucci (own) (2021, 304 pages)
Eat a Peach by David Chang (2020, 306 pages)
"Surely You're Joking, Mr. Feynman!": Adventures of a Curious Character by Richard P. Feynman (1985, 356 pages)
I'm Glad my Mom Died by Jennette McCurdy (2022, 320 pages)
Life Itself by Roger Ebert (2011, 346 pages)
Say Nothing by Patrick Radden Keefe (2018, 518 pages)
A Heart that Works by Rob Delaney (2022, 196 pages)
A Book of Days by Patti Smith (2022, 410 pages)
Thank You for Listening by Julia Whelan (2022, 423 pages)
Nature and Science:
The Hidden Life of Trees by Peter Wohlleben (304 pages, 2015)
Why Buddhism is True by Robert Wright (have on audio) (2017, 336 pages)
The Nature Fix by Florence Williams (2017, 226 pages)
How to Change Your Mind by Michael Pollan (2018, 482 pages)
Come as You Are by Emily Nagoski (2015, 400 pages)
How to Do Nothing: Resisting the Attention Economy: by Jenny Odell (2019, 257 pages) (on audible)
Tracking the Wild Koomba
Food and Cooking
Note, I don't keep cookbooks on this list, but I try to choose memoir-ish cookbooks as much as possible.
✅ Cooking as though you might cook again by Danny Licht (2021, 78 pages)
Elegy for an Appetite by Shaina Loew-Banayan (2022, 88 pages)
Fatty Fatty Boom Boom by Rabia Chaudry (2022, 352 pages)
Romance/RomCom:
Bride Test by Helen Hoang (Book 2 – 2019, 296 pages), The Heart Principle (3)
Hook, Line + Sinker Tessa Bailey (2022, 365 pages)
Lessons in Chemistry by Bonnie Garmus
✅ Happy Place by Emily Henry
✅ A Cowboy to Remember by Rebekah Weatherspoon
✅ The Bodyguard by Katherine Center (2019, 282 pages – done)
✅ Red, White + Royal Blue by Casey McQuiston (2019, 318 pages – finishing)
✅ ADDED The Matzah Ball by Jean Meltzer
Anything new by

Emily Henry
Rebekah Weatherspoon
Jasmine Guillory
Jennifer Armentrout
Leadership / Business / Finance:
✅ Traction by Gino Wickman
✅ 10x is Easier than 2x Dan Sullivan and Dr. Benjamin Hardy
Adventures in the Screen Trade by William Goldman (1983, 301 pages) – own on audible
✅ 4000 Weeks: Time Management for Mortals by Oliver Burkeman (2021, 129 pages)
✅ Automate your Busywork by Aytekin Tank
Crucial Conversations by Kerry Patterson (2002, 273 pages) (book and audible)
The 15 Commitments of Conscious Leadership: A New Paradigm for Sustainable Success by Jim Dethmer, Diana Chapman, Kaley Klemp (In-Progress 2015, 377 pages)
Connect by Carole Robin, David L Bradford (2021, 203 pages)
The Gifts of Imperfection – Brené Brown (2010, 208 pages)
To Sell is Human by Daniel Pink (2012, 272 pages)
Actionable Gamification: Beyond Points, Badges, and Leaderboards by Yu-kai Chou (own) (2015, 513 pages)
Creativity: Writing and Creating:
✅ Big Magic Creative Living Beyond Fear (re-read) by Elizabeth Gilbert
The Practice: Shipping Your Creative Work by Seth Godin (2020, 274 pages)
Show Your Work! by Austin Kleon (2014, 225 pages)
Steal Like an Artist by Austin Kleon (160 pages, 2012)
How to Enjoy Art by Ben Street (2021, 160 pages)
Better Living Through Criticism AO Scott (2016, 282 pages)
Look for new:

Cal Newport
David Epstein
Fitness and Health / Mindfulness / Brains
✅ Cultish: The Language of Fanaticism by Amanda Montell (2021, 291 pages)
✅ Outlive by Peter Attia
✅ How to Keep House While Drowning by KC Davis
✅ Adult Children of Emotionally Immature Parents by Lindsay Gibson
Built to Move by Kelly Starrett + Juliet Starrett
Listen Like You Mean It: Reclaiming the Lost Art of True Connection by Ximena Vengoechea (2021, 337 pages)
Unmasking Autism by Devon Price (2022, 304 pages)
The Body, A Guide for Occupants by Bill Bryson (2019, 491 pages) owned on audible
The Power of Kindness: The Unexpected Benefits of Leading a Compassionate Life by Piero Ferrucci (2007, 354 pages)
The Comfort Book by Matt Haig (2021, 231 pages)
Why Fish Don't Exist by Lulu Miller (2020, 256 pages)
Boundaries: When to Say Yes, How to Say No to Take Control of Your Life by Henry Cloud and John Townsend (1992, 324 pages) (updated version on Audible)
Codependent No More by Melody Beattie (1986, 278 pages)
The Four Agreements by Don Miguel Ruiz (1997, 163 pages)
Look for new:
And that's a wrap! Will I get to all of these? Absolutely not. Will I try to expand on the diversity of my thought and add things along the way? Yes indeed!
What's on your shelf this year? What's up next? Here's to a year of good reading!
xo, Sam