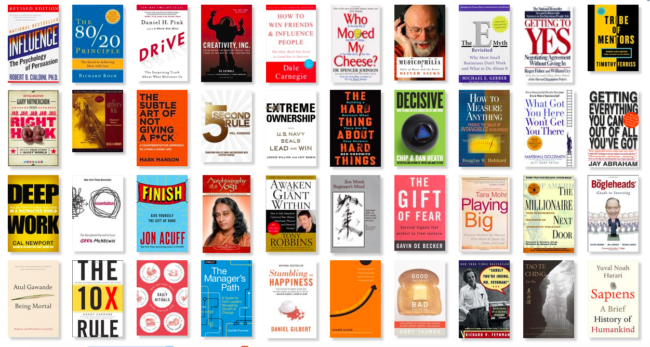 Every morning before I start work, I devote an hour to personal development (largely non-fiction) reading while I let my cup of coffee do it's magical work. Reading is the best way to kickstart my workday – it's flipping the switch: from brain fog to focus. Sometimes I need a mere 15 minutes, other times, I take the whole hour if I'm enjoying what I'm reading. (On the flip side, I read fiction and cookbooks in the afternoon and evening to wind down.)
Here's [version one] of my personal development reading list for 2018. I'll be supplementing this with plenty of fiction (usually YA novels, sci-fi,and fantasy), and other books as I see fit. I typically write out a quarterly reading list that is a little bit more robust with variety, but I wanted to work through these as a starting point. Some of these books I've read before, and I'm looking to read with a new lens to apply to my current work. Many are books that I've had on my list for years, and feel like I'm at the right moment to actually get what I want out of them.
How did I pick the books? When I sit to create lists like this, I'm interested in hitting on different aspects of "whole being development" so I try to fill up with a series of business, life, psychology, health, financial, self-help, creative and inspirational reading. I find biographies and history particularly stimulating – if anything, reassuring that you don't have to have it all together to succeed in life…Also, it's usually a criteria that they don't suck. If I really hate the book 50 pages in, I can quit.
Next steps for this list: I try to keep my lists updated as I work through them – there's no hard and fast rule to sticking to what I've added on here. I also want to cross check and make sure that I'm reading a good amount of books written by women, POC and global voices. Already this list is skewing a little too male for my preference. Other things notably missing: I'm a little low on health, wellness, and fitness reading – I've had trouble finding great books that have come out in the past decade. (Suggestions welcome here!) I'll update the list as I make adjustments and read through these.
I'm taking any and all suggestions – do you have a favorite I should read? Anything on here that I shouldn't waste my time with?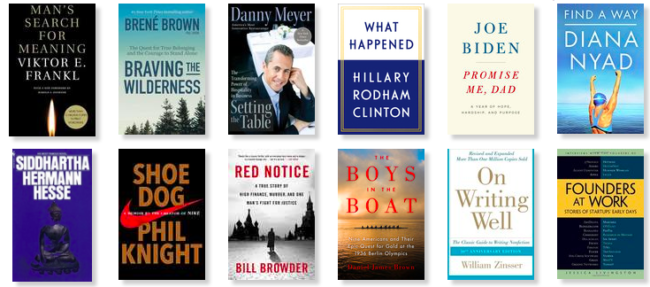 These categories are… loosely organized here. Several of these books fit into more than one of these categories; the top of the list are one's I'm going to likely start with in the new year.
Starting Here:
[ ] Tribe of Mentors – Tim Ferriss
[ ] Jab, Jab, Jab, Right Hook: How to Tell Your Story in a Noisy Social World – Gary Vaynerchuk
[ ] The Artist's Way – Julia Cameron
[ ] The Subtle Art of Not Giving a F*ck: A Counterintuitive Approach to Living a Good Life – Mark Manson
[ ] The Five Second Rule: Transform Your Life, Work, and Confidence with Everyday Courage – Mel Robbins
[ ] Extreme Ownership: How U.S. Navy SEALs Lead and Win – Jocko Willink
[ ] Creativity, Inc.: Overcoming the Unseen Forces That Stand in the Way of True Inspiration – Ed Catmull
[ ] Autobiography of a Yogi – Paramahansa Yogananda
[ ] Awaken the Giant Within: How to Take Immediate Control of Your Mental, Emotional, Physical and Financial Destiny! – Tony Robbins
[ ] The Manager's Path: A Guide for Tech Leaders Navigating Growth and Change – Camille Fournier
[ ] Founder at Work: Stories of Startups' Early Days – Jessica Livingston
Classic-ish Business:
[ ] How to Win Friends and Influence People – Dale Carnegie
[ ] Influence: The Psychology of Persuasion – Robert Cialdini
[ ] The Hard Thing about Hard Things: Building a Business When There Are No Easy Answers – Ben Horowitz
[ ] Decisive: How to Make Better Choices in Life and Work – Chip and Dan Heath
[ ] How to Measure Anything: Finding the Value of "Intangibles" in Business – Douglas Hubbard
[ ] The E-Myth Revisited: Why Most Small Businesses Don't Work and What to Do About It – Michael Gerber
[ ] What Got You Here Won't Get You There: How Successful People Become Even More Successful – Marshall Goldsmith
[ ] Getting Everything You Can out of All You've Got – Jay Abraham
Productivity:
[ ] Deep Work: Rules for Focused Success in a Distracted World – Cal Newport
[ ] Essentialism: The Disciplined Pursuit of Less – Greg McKeown
[ ] Who Moved My Cheese? – Spencer Johnson
[ ] Finish: Give Yourself the Gift of Done – Jon Acuff
[ ] The 10x Rule: The Only Difference Between Success and Failure – Grant Cardone
[ ] Daily Rituals: How Artists Work – Mason Curry
[ ] On Writing Well: The Classic Guide to Writing Nonfiction – William Zinsser
[ ] The 80/20 Principle – Richard Koch
Psychology
[ ] The Gift of Fear – Gavin de Becker
[ ] Playing Big: Find Your Voice, Your Mission, Your Message – Tara Mohr
[ ] Drive: The Surprising Truth About What Motivates Us – Daniel Pink
[ ] Getting to Yes: Negotiating an Agreement Without Giving In – Fisher, Ury, Patton
Finance
[ ] The Millionaire Next Door: The Surprising Secrets of America's Wealthy –Stanley and Danko
[ ] The Bogleheads' Guide to Investing – Taylor Larimore
Self–Care/ Better Living:
[ ] Being Mortal: Medicine and What Matters in the End – Atul Gawande
[ ] Zen Mind, Beginner's Mind: Informal Talks on Zen Mediation and Practice – Shunryu Suzuki
Happiness:
[ ] Stumbling on Happiness – Daniel Gilbert
[ ] The Happiness Advantage: The Seven Principles of Positive Psychology That Fuel Success and Performance at Work – Shawn Achor
Health, Wellness, the Body:
[ ] Good Calories, Bad Calories: Challenging the Conventional Wisdom on Diet, Weight Control, and Disease – Gary Taubes
[ ] Musicophilia: Tales of Music and the Brain – Oliver Sachs
Biography or Autobiographical
[ ] What Happened – Hillary Clinton
[ ] Promise Me Dad: A Year of Hope, Hardship, and Purpose – Joe Biden
[ ] Find a Way – Diana Nyad
[ ] Shoe Dog: A Memoir by the Creator of NIKE – Phil Knight
[ ] Red Notice: A True Story of High Finance, Murder, and One Man's Fight for Justice – Bill Browder
[ ] The Boys in the Boat: Nine Americans and Their Epic Quest for Gold at the 1936 Berlin Olympics – Daniel James Brown
Other:
[ ] Surely You're Joking, Mr. Feynman! Adventures of a Curious Character – Richard Feynman
[ ] Tao Te Ching – Lao Tzu
[ ] Sapiens: A Brief History of Humankind – Yuval Harari ; THEN Homo Deus
[ ] Man's Search for Meaning – Viktor Frankl
[ ] Braving the Wilderness: The Quest for True Belonging and the Courage to Stand Alone – Brené Brown
[ ] Setting the Table: The Transforming Power of Hospitality in Business – Danny Meyer
[ ] Siddhartha – Hermann Hesse
Other people's lists of note which I used for some inspiration while putting together this list:
A few other notes:
On Application: I think it was Darren Hardy who mentioned – you are better off reading one business book and applying it fully than binging on business books and not acting on what you've learned. To this end, every book I read I try to apply a portion if not multiple aspects to my work. Most people read and don't apply what they've learned… and that's a shame. To push myself towards doing more of this, I've started taking notes in my books (GASP!), testing and applying.
But sometimes I just read for the sake of reading. One thing that I've learned in the past few years is that one of the best results of reading non-fiction is actually just a simple context switch and brain shift in order to get myself going in the morning. So I try to use reading as a multi-purpose tool.
On Writing: The past few years I've been trying to commit and re-commit to sharing what I've learned from my reading (as opposed to hoarding knowledge.) Each year I try to write more than I did the last. It takes a bit of a mind shift from reading for one's self, to reading with the intention of sharing the knowledge and learnings. Friends, hold me to this! (Yes, I give you permission to guilt and shame me for not writing about what I'm reading.
Do you have a 2018 reading list? Have you ever done a reading challenge? I'd love to hear about it.