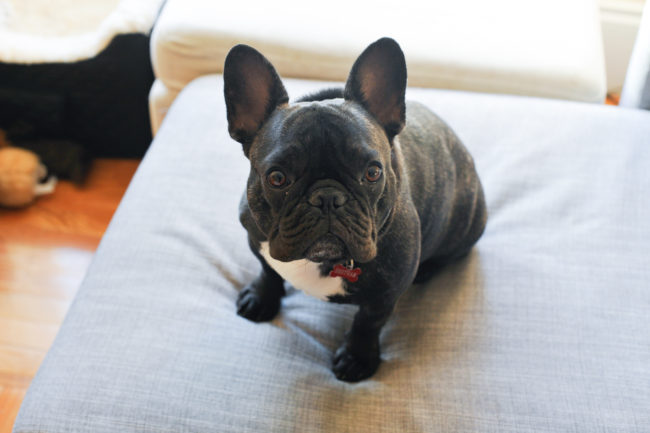 This weekend, we drove into Boston to take Bertram to the French Bulldog Meetup at Peter's Park, and hang with my friend Melissa and her pup Bentley. If you haven't seen dozens of French Bulldogs having a total snort fest; well… it's an experience! What I lack in extroverted-ness, this little dude makes up for as quite the social butterfly. He makes human and canine friends pretty much every where he goes.
Aside from my role as Bertram's human, life these past few months has been overwhelmed by business ownership work-mode, a big family loss (my grandmother passed away), and the general craziness of spring time. It's been hard to sit down to make time for reading, but in a re-commitment to self-care, I made a concerted effort to do so. Here's a snapshot of my weekend reading.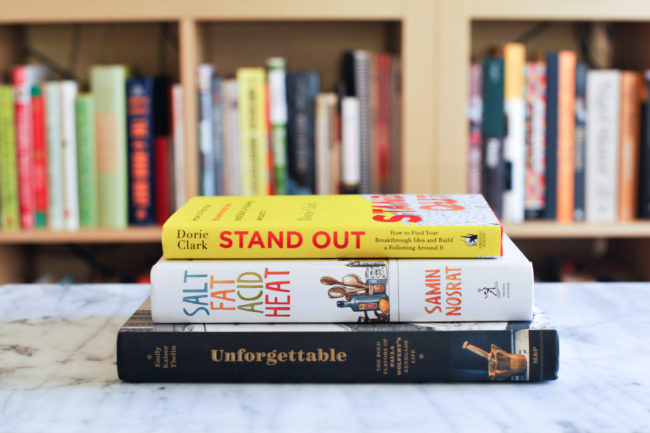 My friend Traca turned me on to the author Dorie Clark, and I've been diving into her writing on marketing, branding, and thought leadership. She's highly prolific on the internet, but I'm a fan of hardcover, so I picked up her 2015 best seller – Stand Out: How to Find Your Breakthrough Idea and Build a Following Around It. I have a bit of an elevator pitch problem as a Jill of All Trades, and have been trying to improve my own messaging around what I do and who I can help – lots of nuggets of wisdom in this one to set me further down the right path.
Truthfully it has been more than a few months since being able to really curl up and dive into a new cookbook, but I've been lucky to read my way through two incredible ones over the past few weeks that I can't not mention here. Both fall into the long-anticipated cookbook category, and neither have disappointed.
The first – Unforgettable: The Bold Flavors of Paula Wolfert's Renegade Life – is an incredible team effort by Emily Thelin, featuring Paula's incredible life story and recipes, compiled by Toni Tajima, edited by Andrea Nguyen, and shot by Eric Wolfinger. Over a year ago I backed the project on Kickstarter, and had been waiting patiently for it to arrive. (In the mean time, in anticipation, I managed to score a dozen or more Turkish cookbooks from Paula's own collection which she's been paring down on eBay…)
Part biography – part recipe book greatest hits; Unforgettable is my favorite type of cookbook – one that I can sit down and read like a novel, featuring tried and true dish inspiration that connects deeply with time and place. The biography gripping – as a pioneer of middle eastern and mediterranean cookbooks, Paula has long been one of my heroes. Her cookbooks are almost all on my shelves, and yet in each page of Unforgettable I learned so much more – from her persistent reinvention, to her struggles with early onset Alzheimer's. Truly thankful to Emily and team – this book is a gem. (As is Paula – if you aren't following her on Twitter, you should be!)
The second – is Samin Nosrat's Salt Fat Acid Heat: Mastering The Elements of Good Cooking, which I've been waiting patiently for since she'd come bounding into Omnivore around seven years ago telling me all about how she was going to write this cookbook, scheming, and dreaming.
Now, I'm actually fairly certain we had one such conversation in November of 2010, right around the time that I was working with my friend Karen on her cookbook Can It, Bottle It, Smoke It because in that conversation I was so amazed by her energy and enthusiasm that I distinctly remember going home feeling empowered and writing the ENTIRE outline, syllabus, and recipe index for my Turkish cookbook. Which.. of course is sitting in my Google Docs.. and hasn't been written yet. Alas, c'est la vie!
But I mention this not to feel sorry for myself, but because seven years is quite a long time to wait for a cookbook, but this book does in fact, live up to the wait.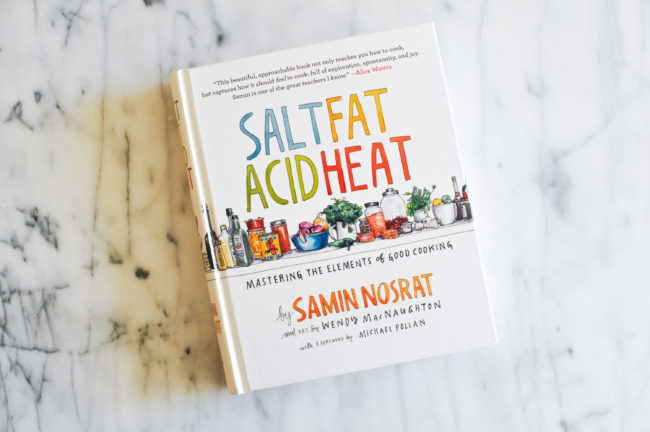 Salt, Fat, Acid, Heat is part textbook (in the best way possible), part master recipe guideline and inspiration. And filled with Wendy MacNaughton's cheeky hand drawn illustrations. The entire first half of the book is Samin being Samin – an incredible teacher and guide, with infectious enthusiasm for food, good cooking, and good eating. While I consider myself an adept cook, each section was filled with new easy ways to think about cooking – written in a manner that would teach and inspire novice and expert alike. How she *actually* manages to pull this off, I have no idea – this is so hard to do and it's brilliant. (You'll likely want to grab a copy, and go ahead and buy a second one to give to someone as a gift.)
And most importantly for me it provided a wealth of inspiration for this week's meal plan! The best reminders from the book this week – the power of salt – and how important it is to salt your food early. In two weeks, it's changed my habits completely – and the food all tastes more delicious.
:: The Weekly Meal Plan : Week of May 21st, 2017 ::
This week's prep: hard boiling eggs for snacks. I bought myself a new gadget – despite committing to avoiding the purchase of uni-tasking – a bright turquoise Dash Go Egg Cooker. Cute, no?
Fitness and nutrition: I'm heading into week 4 of my online fitness bootcamp; going strong! We follow a carb cycling plan, which focuses on timing meals to match our training days to ensure we are eating enough to support our fitness levels to allow for both fat loss and muscle gain. It's a more mindful way of eating to support athleticism.
Sunday: Braised beef, tiny baby potatoes, and sprouts. This meat and potatoes dinner is the ultimate comfort food. (Cheat sheet: buy the Braised Beef with Demi Glace from Trader Joe's. It's divine.)
Monday (low carb): Samin's citrus salmon, avocado salad, and steamed broccoli. I get wild salmon, either frozen sockeye, or if the fresh catch looks good and is on sale, treat myself to King salmon.
Tuesday (low carb): Samin's glazed five-spice chicken + bright Asian slaw. I'm always a sucker for five spice.
Wednesday: Turkish taskebab with tomato rice. This is a family favorite – a meaty tomato-ey braised stew.
Thursday: Jamie Oliver's Aegean Kakavia. Fish stew from his travels cookbook. As we creep onto summer, I find myself consistently craving Mediterranean food.
Friday: I have a credit to Sweetgreen; I'm likely to pick up a salad; but honestly, I'm treating Friday like a free spot this week.
Saturday: out! We'll be at a wedding. Bonus, they'll have Middle Eastern catering, which is pretty much my jam.