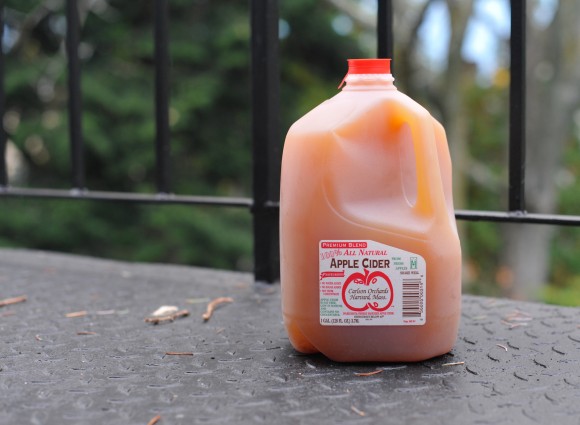 Fall foods. I decided today that I needed to write a list of fall foods so I wouldn't miss them. Because it seems like we're on the cusp of winter already, and I haven't had my fill of cider donuts and delicate and baked apples. Usually I think of seasonal foods too late, and then I become bitter and cranky. And nobody likes that.
Speaking of bitter and cranky, first, a complaint. The Pumpkin Spice Latte. The pumpkin spice donut. The pumpkin spice pretzel. The pumpkin spice soap. The pumpkin spice dishwashing detergent. (Just kidding, that doesn't exist…. I hope.) So yes, I just don't understand it. Peppermint mocha? Okay, I get those. I like the idea of spiced drinks and nostalgia, and feeling homey, but the majority of the PSL's I've tried – not purchased, but obligingly sipped from those who say imploringly "I swear you'll love it, just try it one more time!" – have been cloyingly sweet, almost metallic tasting. Not to mention the whole zero-pumpkin thing for most of these drinks. The pumpkin spice latte just isn't for me. But what about warming beverages? I'll take coffee, tea, chai, or even cider spiked with spiced rum. It's a thing I "invented" on Thanksgiving one year at the open bar. Yep, that's a drink I can be on board with.
I've been trying to get my fill of fall foods that come (mostly) from nature. Here are some of my favorites:
1. Delicata squash, reigning supreme varietal of squash. I like mine sliced, tossed in coconut oil, with chile, cumin, and salt. Sometimes I add sweeter warming spices, like cinnamon, mace, and clove. Roast, roast, roast.
2. The other squashes: butternut squash, acorn squash, spaghetti squash. Okay, these squashes, well, they just aren't delicata. I still like 'em anyway.
3. Apples. I didn't go apple picking this year. I know there is still time, but I'm not sold on having bags and bags in my fridge taken up by one type of food. That said, I did go through about a dozen varietals from Volante Farms, and managed to sample another dozen more. I like them fresh, in salads, and baked – stuffed with walnuts and dark chocolate, and doused out of the oven with a hint of cream.
4. Boiled cider. Here's how you make it – take fresh cider (not the boozy kind), and simmer down as long as you can, until reduced by half, or if you can wait long enough, by 3/4. This took me a little under an hour for a half gallon. Take resulting cider, and spoon over apple cake, vanilla ice cream, granola, oatmeal, yogurt, and more. When you are sick of it with sweet things, use some to marinate and bake a pork tenderloin.
5. Apple cider donuts. My longstanding favorite have been from Applecrest farm in Rye, warm.
6. Chili. I've been waiting all summer long to have my chili back – it's not that I don't like eating it in the summer time, it just didn't feel right to cook something low and slow in my own house until the temperature dropped below 65.
7. Parsnip Fries. Parsnips in general. Sure they look like white carrots, but they don't taste like carrots at all!
8. Pumpkin whoopee pies. The winning whoopee this season has come from Volante Farms in Needham. Preferably cream cheese frosting.
9. Turkish pumpkin dessert. Pumpkin braised in a simple syrup with coconut and nuts. I haven't made it this year, but when I do, I'll post the recipe.
10. Persimmons. Oh, how I miss these in San Francisco, where you could find them ripe, and they didn't cost $3 a fruit. (It's true you can get them for cheaper on the East Coast, just never ripe.)
11. Pumpkin chocolate chip bundt. This recipe. My absolute favorite fall food. Tastes good warmed for breakfast. Tastes great at the end of a long hike.
Of course there are many more – cranberries, cabbage, every type of braise. I'll have to keep on thinking, and get started on the eating!