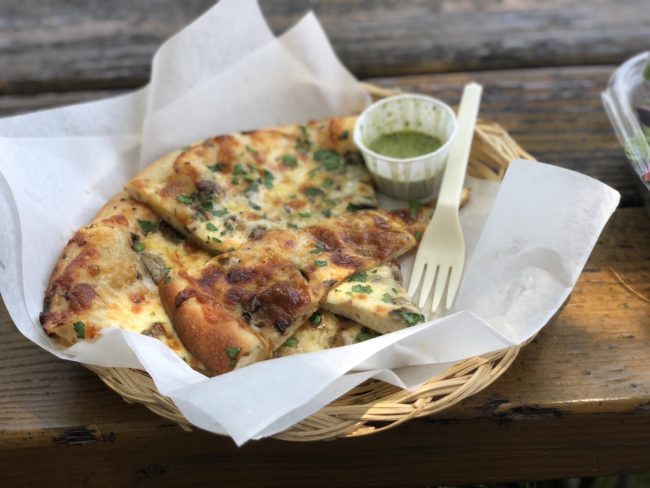 I'm back from a week in California, and food is lingering on my mind. This was a quick, intense work trip for my client in San Mateo, sneaking in under the radar (sorry, friends!!) While the focus of my time was very much on the job at hand, I was thankful that many client meals ended up being over good food, and I was able to sneak in a few meals across different parts of the bay.
Beyond the food, the weather was absolutely beautiful, and San Mateo had some great short trails for me to get in both my daily mile and some restorative long walks.
:: Meal Notes ::
My first meal off the plane was brunch at Plow (although depressing, as I went exclusively for the biscuit, which they ran out of while I was waiting in line.) I ordered "the Plow", and a side of hollandaise. Scrambled eggs, crispy potatoes, a few rashers of Neuske's bacon, and lemon ricotta pancakes. Next time, there'd better be a biscuit, and I'll try their BLT if it's still on the menu.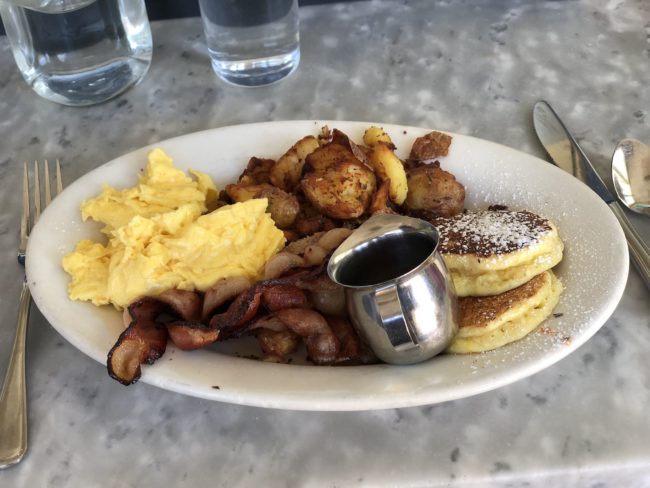 With the office in San Mateo, I ate several meals in the South Bay, including In Burlingame, where I imbibed an excellent virgin Paloma at Barrelhouse – grapefruit, lime, syrup, salt and seltzer. I've been craving citrus and it didn't disappoint. Dinner at Limon Rotisserie: rotisserie chicken, Lomo Saltado, a ceviche trio – pulpo camaron, pescado, and camarones, yuca fries and tacu tacu (rice and beans).
There was a disappointing visit to Draeger's (I remember it being more exciting?) where we stocked up on salad material, in contrast to a fulfilling one at Rainbow later in the week,where picked up some date balls, black tahini, a cashew chocolate caramel, and a glorious grapefruit. Meals at home included summer salads with chicken sausage on the grill, fresh parsley, mint, avocado and blue cheese. In California fashion, we also stocked up on good coffee, goat yogurt, raw sauerkraut, and a box of Its'-Its. One of my compatriots acquired a $25 bottle of mango cream coconut yogurt from the coconut cult – I won't lie, it was delicious and I'd probably get another.
Admittedly while I love my morning Nespresso these days, the thing I was looking most forward to was my coffee routine at Philz. Usually an iced Tesora, either black or with a splash of cream before heading back to the office. They have a new mobile ordering system through their app which makes ordering reasonable. (Otherwise you don't go to Philz in the morning if you don't have time to kill…)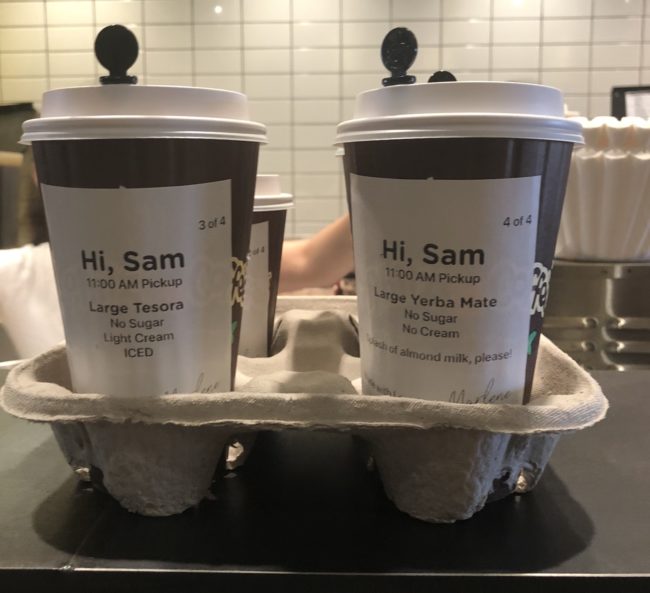 Mid-week office lunches included:
The Egg and Okra curry and tea leaf salad at Best of Burma. We don't really have great Burmese food in the Boston area. (Nor Nepalese, or Filipino, a few more of my favorite cuisines living in SF.)
At one point, I rolled into the office with $200 dollars worth of tacos from Los Primos – barbacoa, al pastor, camarones, veggie, pescado, chicken, a few stuffed quesadillas, and a large container of refried beans. I ended up eating leftovers for a few days.
For an office happy hour we headed at Attic, with perfect crispy and salty sweet potato fries, lumpia cigarillos (double the length of normal lumpia), brussels sprouts with bonito flakes, oysters, and deviled eggs. I ordered a virgin "Calamansake" with soda water, muddled ginger, calamansi syrup and lime juice which hit the spot.
I organized an outing to Takahashi Market, an asian and Hawaiian market that has been open since 1906 (four generations!) where I picked up kalua pork with cabbage, spicy spam musubi, haupia, and a lilikoi cheesecake. (The cheesecake was saved for the following evening after a late night out.) I was given a large cardboard box to tote back my haul.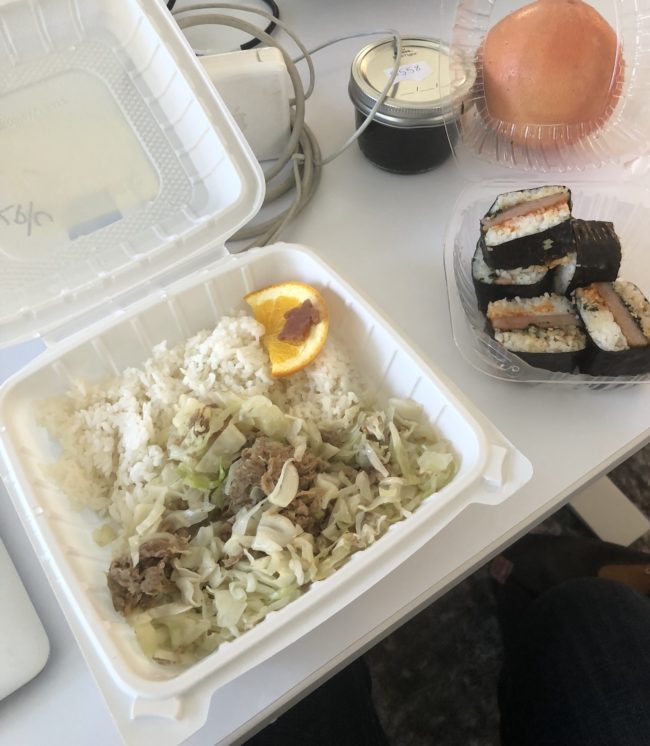 Most mornings I woke early, made a cup of coffee, pulled out my notebook, wrote and planned the day hours before going for a run and then heading into the office. This was the view. That astroturf was actually soft and stayed clean – by the end of the week I was praising them for their brilliance.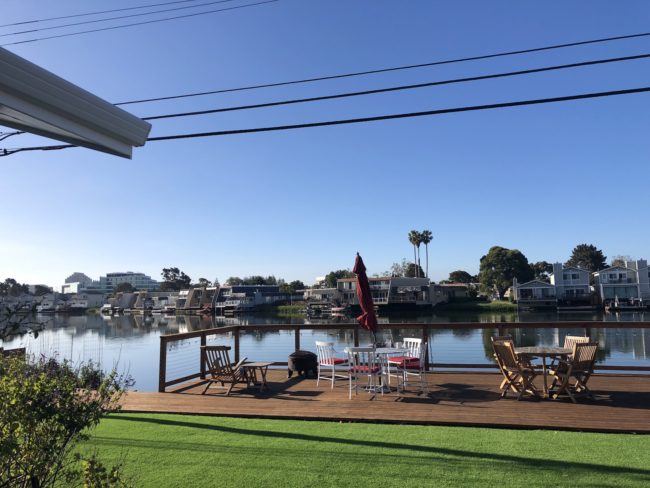 My walks were equally as beautiful in the morning and the evening, and my running route had me going past a dog park every day.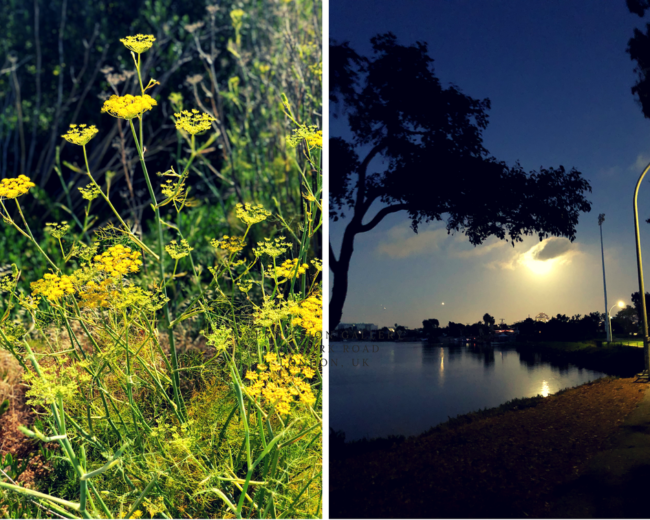 On Tuesday I made it into the city for a dinner at Hawker Fare which exceed expectations given the mixed reviews of friends. I had Thai iced tea, blistered green beans, crispy rice ball salad, pork laab, sticky rice, barbecue chicken (gai yang). Kat ordered a cocktail in a cat cup, and it came with an umbrella. Behold the fabulousness.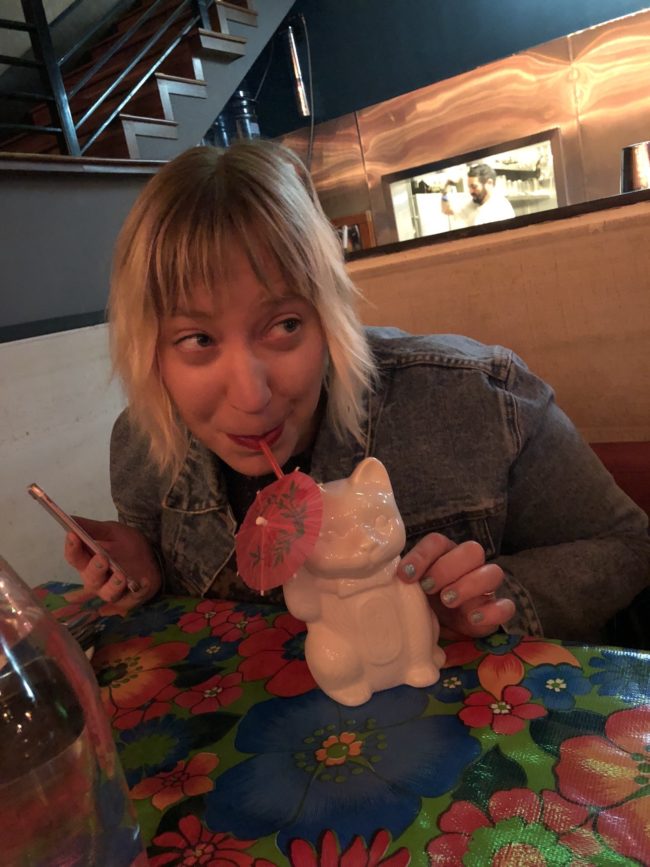 Before the evening was over, we hopped in a Lyft to head for dessert: a scoop of olive oil rhubarb ice cream at Humphrey Slocombe, including a nostalgic celebrity sighting (BD Wong). While I was looking forward to a scoop of Secret Breakfast, I have to admit I found most of the flavors much sweeter than I remembered after so many years.
On Thursday, we had an excellent dinner at Foreign Cinema – starting with my first cocktail of my week – the Felicity – Hennessey VSOP, passionfruit liqueur, dry amaretto, fleur de sea, lemon and lime juice. I couldn't resist. Kat, one of my dining partners who is also a stylist, gave me a side part, and a dark lip, which managed to stay perfectly through an entire evening of food and drink. I think I'll keep it up.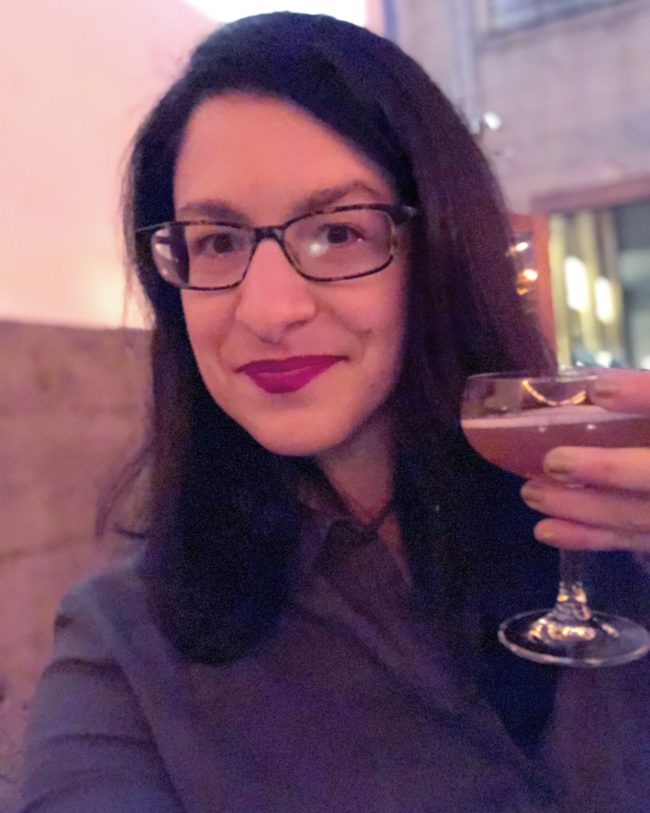 For dinner: the lavender baked goat cheese; the plancha with calamari, clams, and mole rojo; Ceviche; pasta with corn; the sesame fried chicken; and a steak with corn and peppers. Dessert was similarly blissful – a chocolate pot with a thumbprint cookie; and the standout – rose meringue with cherries, sorbet, vanilla almond cream. The film was Splash, but regretfully I was sitting right under the big screen, and my only comfortable view was that of the rest of the diners.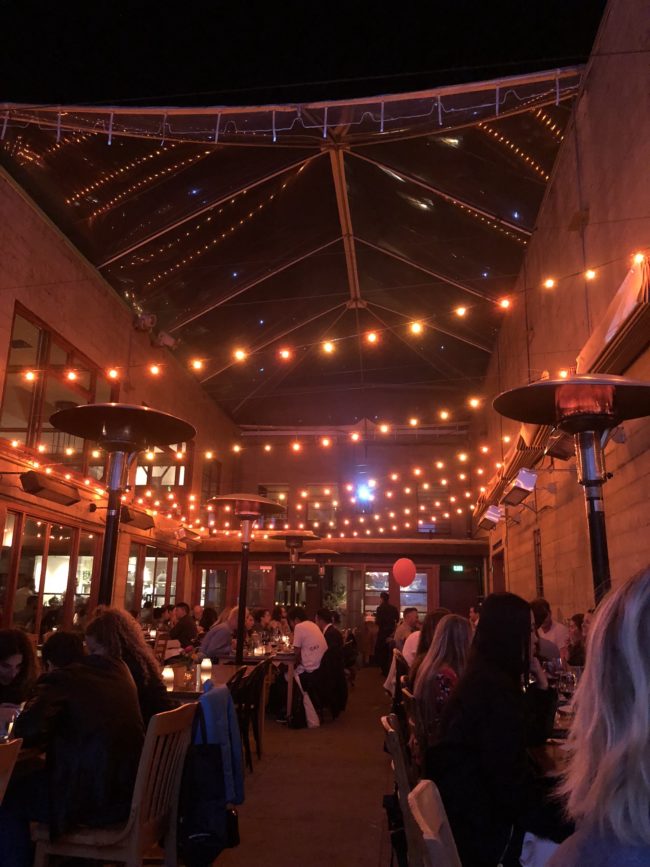 To extend the evening – we headed to the Make Out Room, where the DJ was playing a mix of Cumbia and early 00's favorites – enjoyable until someone came up to us to ask if we were having "mom's night out" (Who says that as a pick up line?? Also, so what if we were??), at which point he was escorted out of our eye-roll zone, and a round of tequila was ordered for the group. Our evening progressed – five minutes in a completely empty Double Dutch, and then wrapping up the night over quiet conversation at Casanova.
The next day: a plate of pasta with spring vegetables and tomato cream sauce at Merchant Roots (very good!), as well as a slice of warm carrot sandwich. I headed over to the Rothy's show room to try on a multitude of sizes, but alas, determined that none were a perfect fit.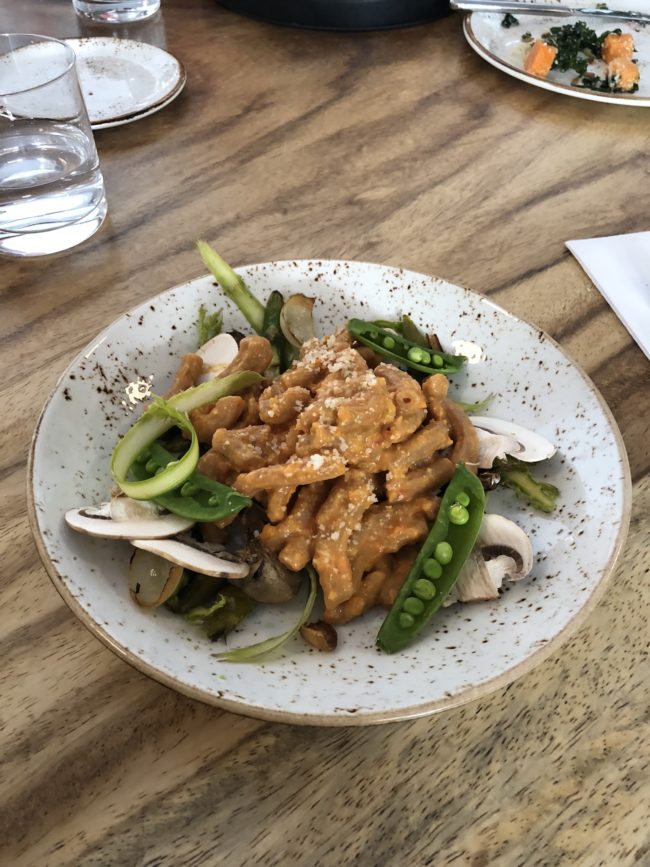 For my parting dinner, I had a reservation at Boulevard. I'd never been, despite long admiring Nancy Oakes, and so many of the accomplished chefs that have come up in this kitchen. We shared Spanish octopus; Sea Scallops, and a plate of salad with burrata. We shared the pork chop (the meat was perfect), and a steak; dessert was a peach tart and the summer berry buckle. My observation: classic, California, nothing flashy, just all executed well and the taste of the season.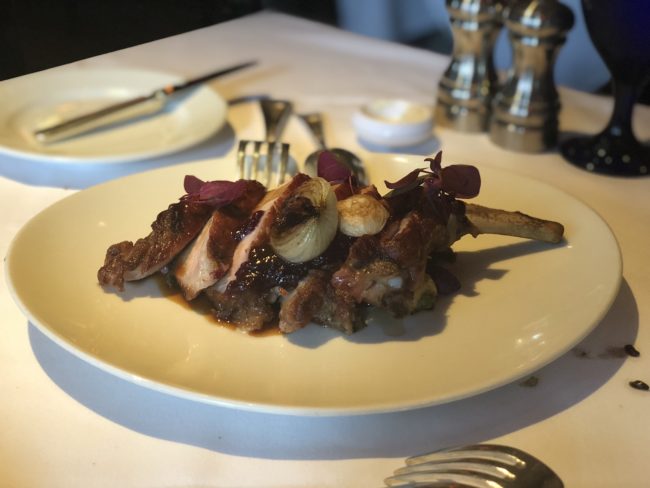 For my final morning, work people all packed up and headed their separate ways to the airport, and I had the house and the trails to myself for a final few hours.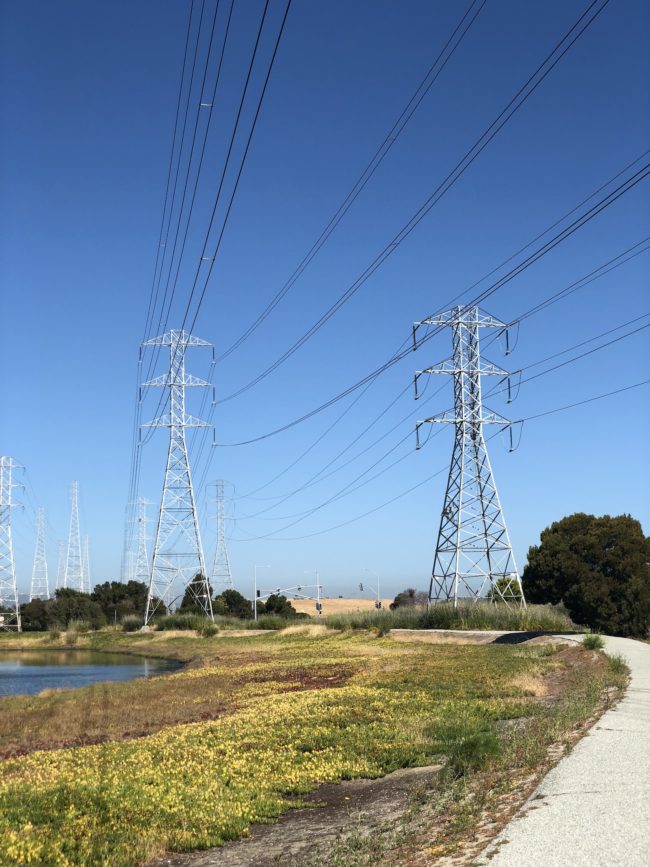 Before heading home, I made one completely out of the way trip I couldn't miss: I packed my bags, and took a Lyft from San Mateo to Berkeley for one last perfect bite.
Finally, two slices of always delicious Cheeseboard pizza, and a salad with yogurt and mint dressing. A last iced mocha Tesora at Philz, and then despite giving myself well over an hour to commute back to the airport, I barely made the airplane, arriving nearly 25 minutes after the plane had started boarding. I made it on the flight, waved out the window, and spent the trip listening to my audiobook. So long, Bay Area, I'll be back before you know it.
PS: California, you are weird sometimes.