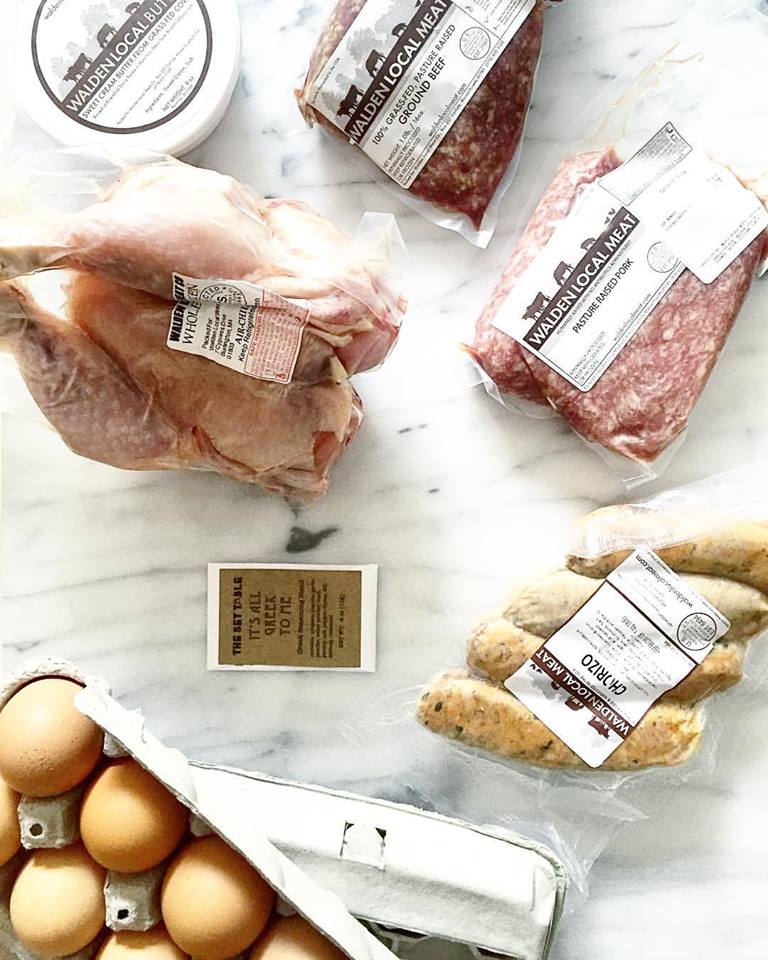 Summer is here, and we are feasting! Each summer, I get a good percentage of my food from my two CSA's – our summertime farm share, and our meat share. The rest I supplement from local farmers markets, Trader Joes, and Whole Foods.
Our meat and eggs are from Walden Local Meat Co. – if you are interested in trying out a meat share, you can get a $20 referral discount to Walden this month (and through August 30th) by leaving my name – Sam Tackeff or thesecondlunch – as your referral! They do home and office deliveries in the greater Boston area, and the small packages start at just under $50 a month.
Life is just better when farm season has started. We had the first farm pickup of the season last week, and I headed out on Friday afternoon to get my bounty. It's actually quite a schlep from home – over an hour – to get to the farm, but I've been a sharer at Stearns Farm CSA since I went to college at Wellesley, and it's definitely one of my happy places! We get an alternate share, so I only go once every two weeks.
:: June 17th produce at Stearns Farm CSA ::
To pick: 1 quart strawberries, and I snuck a small handful of mint and thyme.
Pre-picked: a large head of escarole, three heads of lettuce, lots of bok choy, a pound of spinach, a bunch of radishes, and garlic scapes.
If you are overwhelmed with your own share, or curious how I organize: here's a post I wrote for tips for organizing my CSA share. I have a great system down!
:: The Weekly Meal Plan: Week of June 20th, 2016 ::
This week's prep: hard boil eggs and pre-peel some of them, defrost and cook another piece of meat from my meat CSA (chicken thighs, chicken sausage, pork chops), Cook down bok choy with cubed pancetta and sherry.
Sunday: beef arepas with pickled onion, avocado, and radishes. This was a Blue Apron meal that I ended up modifying for our taste – didn't make the arepas, but added green beans to the beef, cut the onions, and pickled the radishes instead.
Monday: roast chicken and potatoes with green beans. This ended up being a bit of a dud, because somehow I managed to overcook the potatoes and the green beans because I wasn't paying attention to them. Whomp!
Tuesday: chicken Italian sausage from Walden and a green salad with a green herb tahini green goddess dressing. I started getting some great chicken Italian sausages in my meat share, and requesting them every month. I chopped up them up and tossed them in some sauce. The salad had fresh lettuce from the farm!
Wednesday: Turkish stuffed peppers with rice and currants – my mom actually made these, but when I make them myself, I usually use a riff on this recipe. Yes, that's a bit of a blast from the past. I was trying! http://www.thesecondlunch.com/2009/04/summer-stuffed-peppers/
Thursday: wild cod and potatoes with fresh herb aioli over salad – keeping dinner light, but I've been loving some fresh herb sauces with a little bit of home made mayo or even just an olive oil slurry. Simple and summery!
Friday: out. Alternately, I have some defrosted pork chops that need eating! We'll either do takeout from one of our favorite places or I'll finally get some propane for the grill!
Saturday: Ottolenghi's chicken and cardamom rice. I've been craving this one for weeks!
Sunday: shakshuka (eggs in tomato sauce) – it's been far too long since we've had eggs braised in tomato sauce, and I have some extra sauce left in the kitchen from this week's sausages. I also have a surplus of eggs that need cooking – I get three dozen a month from Walden as an add on to my share.
What's cooking on your table this week?