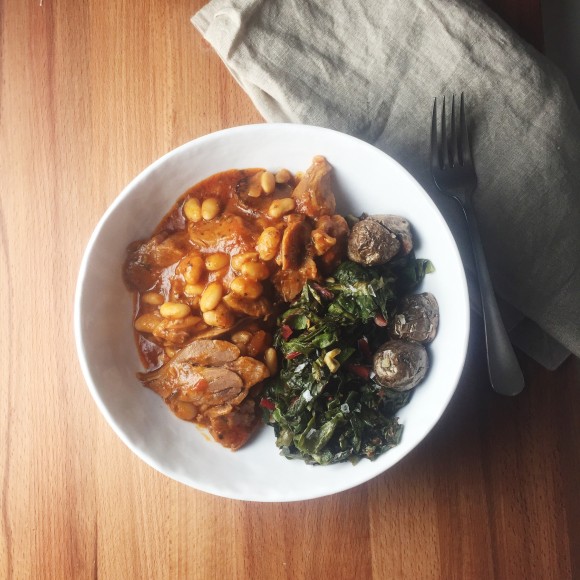 Disclaimer: when I started blogging, my goal was to get out and eat on a regular basis, and I tried to hit up any event that would have me. I got into this game to eat, and now, I'm boring and more of a homebody, so I try to only say yes to things that I know in advance that I'll love. So take this at face value – this isn't sponsored, but I wittingly got myself into a situation where I acquired free Australian lamb, and then ate said lamb.
A few weeks ago, I headed to an industry event in the South End, at Andy Husbands' Tremont 647 – a spring campaign for Australian lamb. (This was a total treat. Andy Husbands has been a lynchpin of the food community in Boston for a long time  – there aren't too many restaurants that have been around for two decades under the helm of one person.)
After braving the then Hoth-like roads of the Greater Boston area, I managed to find parking in the South End less than 100 feet from the restaurant (this was at the tail end of the multiple storm situation, and parking was in short supply), and walked into the warm comfort of Tremont 647 on a pajama brunch morning. I was immediately give coffee (praise all that is good), got cozy at a table with Bianca, William, and Dan, and the gingerbread mini muffins, rosemary cornbread muffins, and sticky buns which were put right infront of me.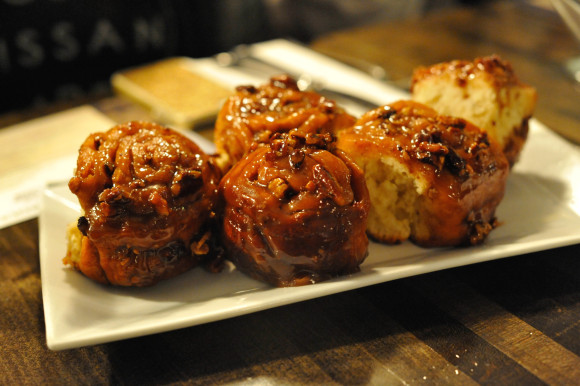 As Dan tried to tell me about Snapchat, the demo got started. [A brief note, I have now downloaded snapchat. After realizing a bot had taken my moniker that I use on every form of social media, I became deeply distressed, and have not opened it again since. It makes me feel old and crotchety.] For our demo, we watched Master Butcher Doug Piper expertly break down the back half of a lamb. And by expertly, I mean, to a level of skill that made me uncomfortable. His knife was outrageously sharp, but I'm pretty sure with his abilities, he could have done it with a dull blade, and mind control.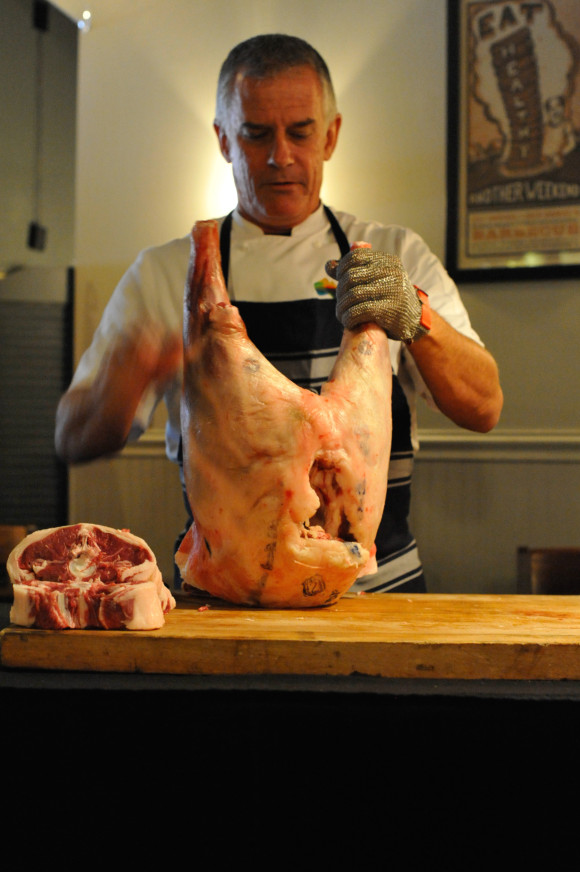 While we watched, and discussed the taste, environmental impact, and general topic of Australian lamb, we also got to eat it. Everyone got some lamb pastrami on toast with mustard and sauerkraut made of brussels sprouts (smart!). We each got to choose our meals, and I went with the Tremont 647 classic Huevos Rancheros, while Bianca ordered the lamb sausage breakfast sandwich right across from me.
After filling ourselves to the gills, we were each sent home with a cooler bag of lamb. I've been eating lamb all winter with my meat share, and largely been doing the same thing each time: braising it in a jar of Rao's marinara. It's truly the best sauce on the market. I buy it in quantity any time I see it on sale at the store. The recipe is another two ingredient deal – lamb and sauce, three if you add garlic. You can gussy it up, of course, sometimes I'll add beans at the end, or some carrots and potato.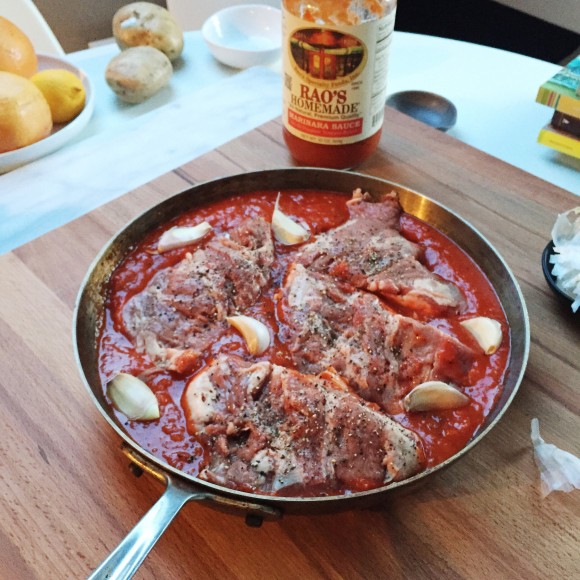 It goes particularly well on a vegetable noodle – I've been on a kick lately, as you may have noticed. (As a side note, Inspiralized, the book, just came out, and I'm currently reading through my copy.)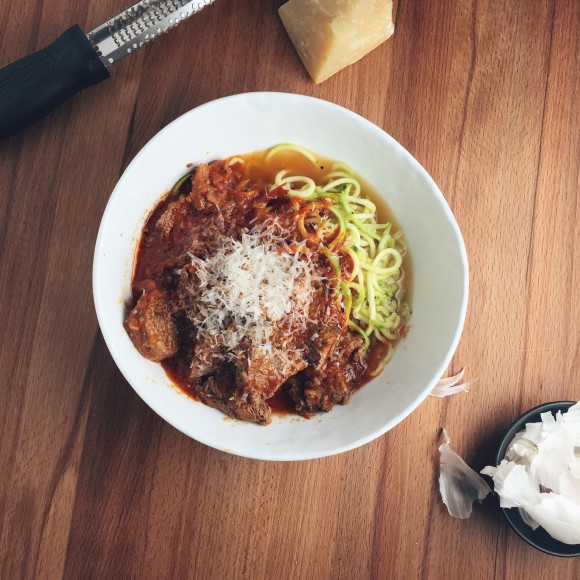 Tomato Braised Lamb
This recipe is how I cook lamb the most often – nestled in a tomato sauce. You can make it with thick braising cuts of lamb, or lamb stew meat, but I most often make it with lamb shanks, which I'll cook, and then strip off the bone before serving. I reserve the bones and marrow for myself as cooks treat. Like all braises, it tastes best when you let it rest after cooking overnight in the refrigerator, remove the hardened fat once cooled, and reheat it the next day for dinner. I like it plain, served over zucchini noodles, or sometimes I'll add a can of cannelini beans in the final half hour of cooking.
assorted lamb pieces, 2 – 5 lbs.
1 large jar Rao's Marinara, or your favorite sauce (32 ounces)
several cloves garlic
salt and pepper
Generously season your lamb with salt and pepper.  I like my meat to come to room temperature with the seasoning on it before cooking, but if you are in a hurry, and want to cook right out of the fridge, that's fine. In a large skillet, pour half of the marinara sauce, and nestle the seasoned lamb into the sauce, pouring the rest around the pieces. Nestle in several cloves of garlic (as many as you'd like). On medium high heat, bring the skillet to simmering, cover, and turn down to just under medium. Cook the lamb for at minimum 45 minutes for small pieces, up to a few hours for large steaks and shanks, until the meat is tender. If I'm cooking shanks, or larger pieces, I'll flip the pieces a few times during cooking, about every 45 minutes.