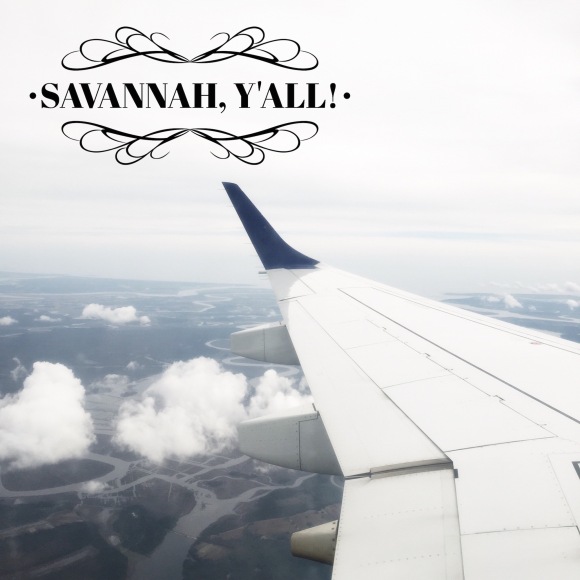 Well hello from warm Savannah, Georgia!
Usually I don't blog while I'm actually on a trip, but I'm here for five days for the marathon, and judging from how much we've done on day one, I thought I'd start keeping a log here now, otherwise I'm never going to keep up!
Our flight was an otherwise smooth one from Boston, despite a little bit of turbulence. I happened to be sitting in a window seat, where both my front and back neighbors decided that the windows that shared a crack with their seats should be closed immediately, leaving me windowless for most of the flight. That left me with plenty of time to finish reading Laurie Colwin's Home Cooking, and get started on a new book: Cowboys and Indies, a so far captivating history of the music industry.
We arrived to an airy southern airport, and shared at taxi to downtown. It ended up being a little steep $39 (they tacked on $5 for each extra person, and I wasn't looking to haggle on my first day here.) We drove through strip suburbia, saw an air force base. When I travel I'm always on the lookout for interesting fast food chains, or other local specialties, but the ride from the airport wasn't the most busy.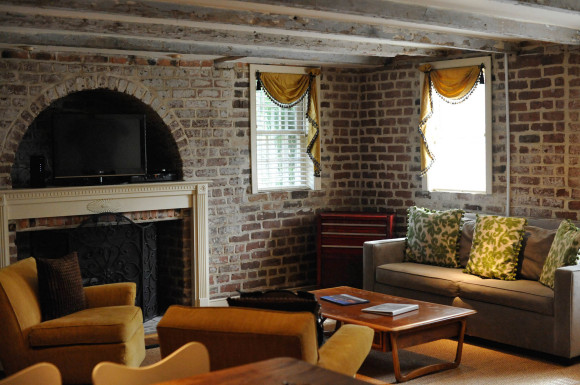 Instead of staying in a hotel, we decided to rent an apartment, which ended up being both more affordable, and really adorable! After getting settled, we immediately headed to our first meal of the day: Zunzi's, a local sandwich shop with a following. (It's one of the most reviewed places on Yelp in general, but several locals recommended it to me. After hearing the guy behind the counter selling the African tea to the woman in front of me, I accepted the sample … which tasted like sweet lip gloss. I actually really like sweet tea, but when you are expecting unsweetened, and you get what will put someone in a diabetic coma, it's a shock to the system.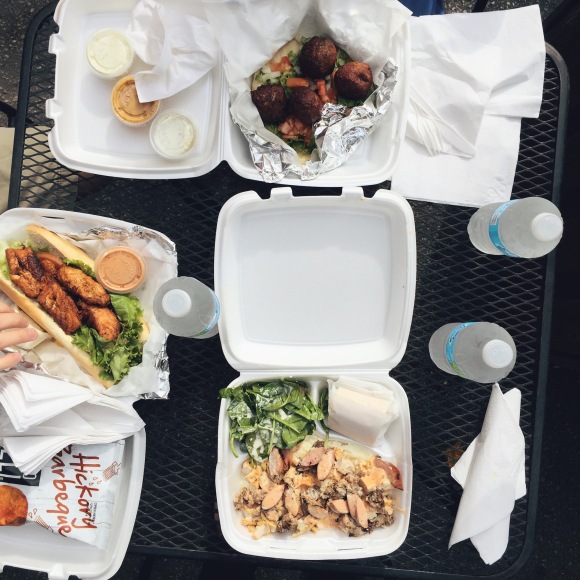 Rebecca had the falafel, Matt ordered a salmon sandwich, and I went with Oliver's lunch: a bed of mashed potatoes with chopped grilled chicken, and chopped house made sausage and smoked sausage. And a roll. And a spinach salad that I ended up passing on. It was quite a meal to start the day! Here's a close-up of Oliver's Lunch: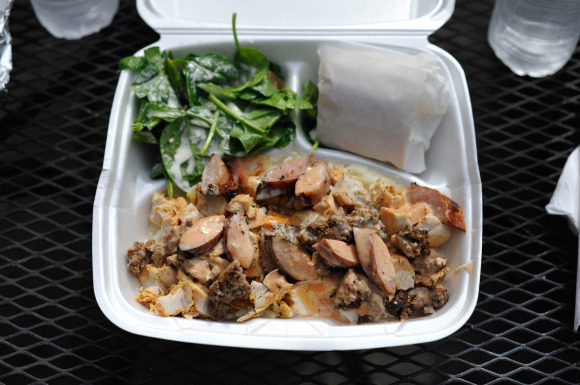 After consuming much of the meal, we headed for a good long walk down Broughton Street, one of the main drives. We popped into a handful of shops, with so many cute details. Here's one from a gift shop called Sylvester & Co that had a coffee shop in the back.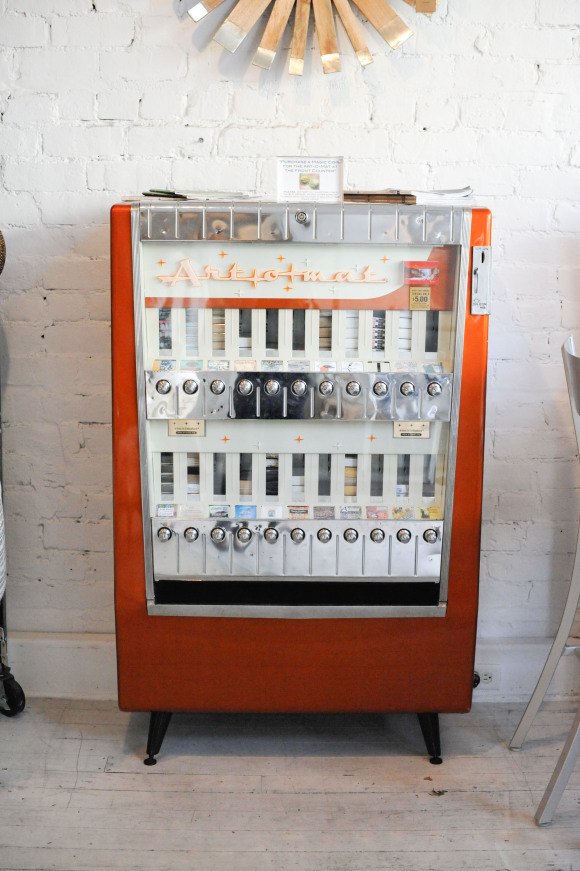 And here are a few photos from the lower level of Paris Market & Brocante, a shop primarily with gorgeous French housewares and gifts, with some delightfully bizarre decorations around each and every corner. I should have taken more photos, the place was gorgeous, but as usual, I'm drawn to the weird.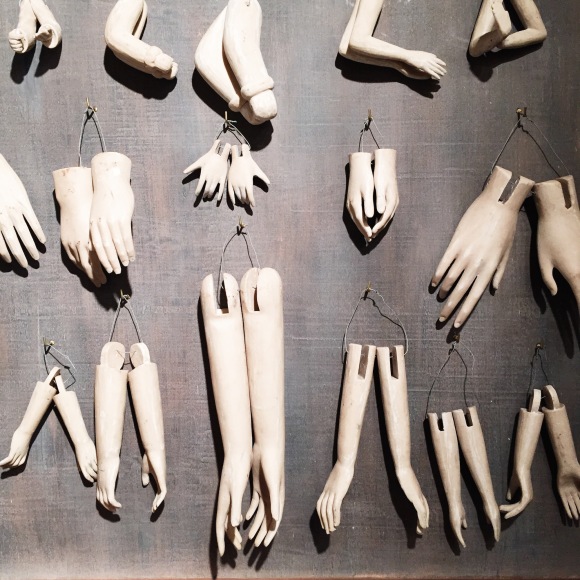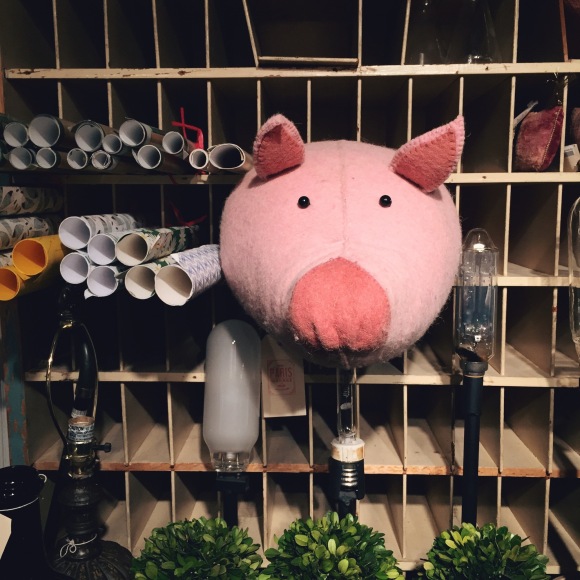 Near the end of Broughton, we stopped into Chocolat by Adam Turoni, seduced by the wafting scent of chocolate that they were tempering in house, and crafting into individual truffles. I absolutely loved this quirky looking chocolate shop, and will be heading back for more before I leave. I had a single blood orange Grand Marnier truffle that was the perfect bite.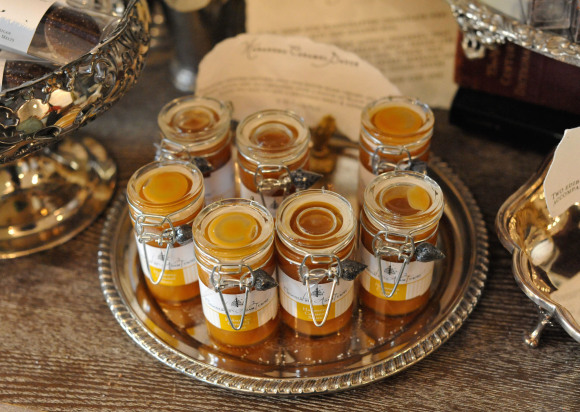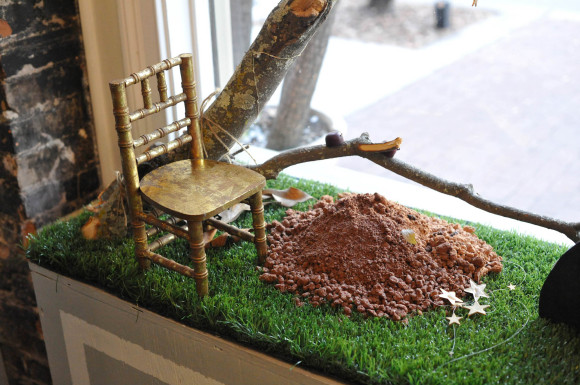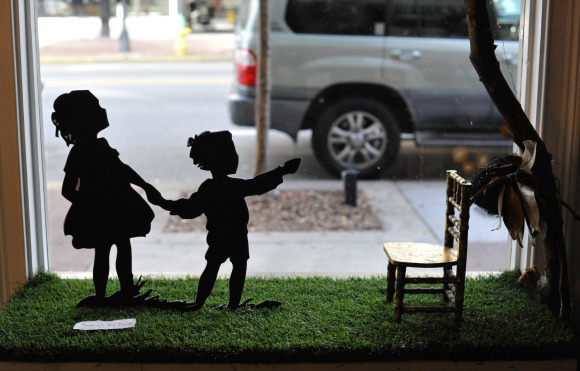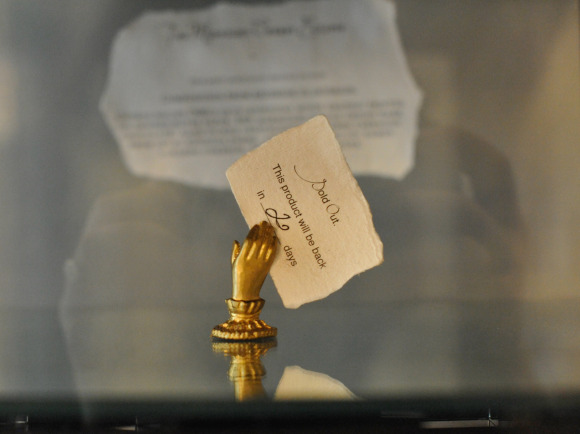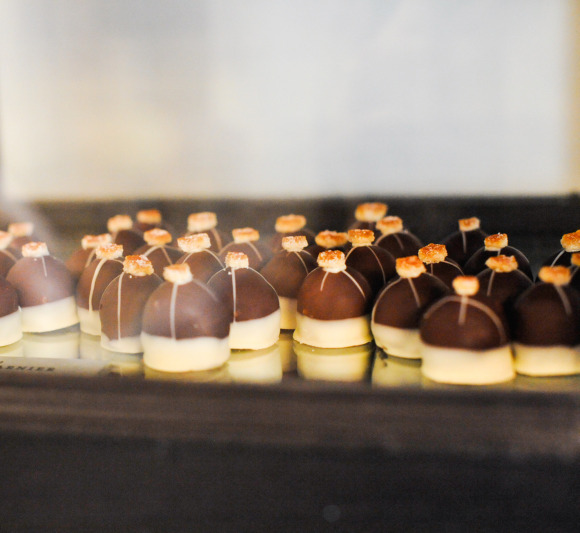 Of course, by late afternoon, we needed to fortify ourselves again, so we headed to Leopold's for some good old fashioned ice cream. Rebecca went for the historically significant "chocolate chews and cream" flavor, Matt got pistachio, and I had a perfectly done butter pecan. We then took ourselves on a walk, down by the waterfront, and then back up to Colonial Park Cemetery. I'll take more pictures before we leave, but the cemeteries here are so interesting!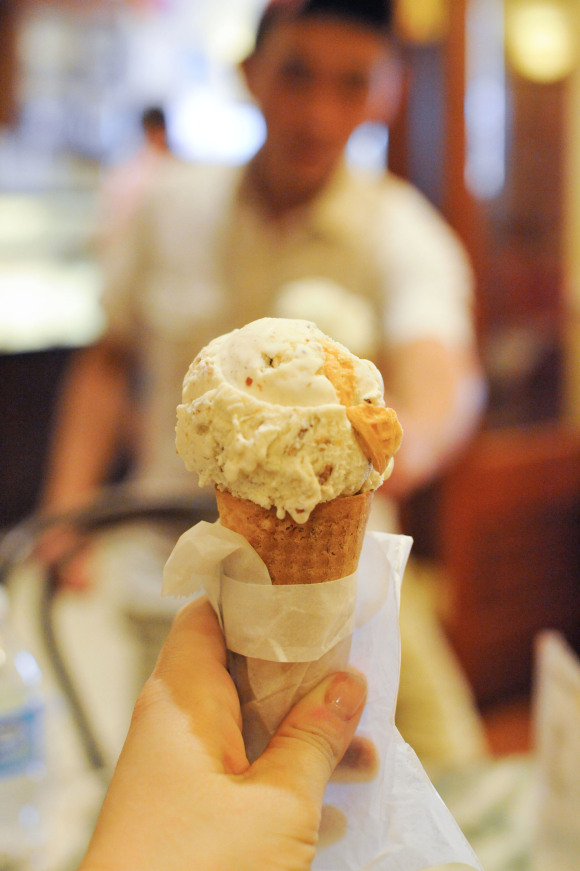 And then we did more walking, so we had to caffeinate. We stopped into The Coffee Fox, a coffee shop owned by a Texan (I couldn't help but notice the kolache in the case). I drank espresso with milk, Rebecca had a cortadito (sweetened, cuban style), and Matt got the "eye-opener" nitro milk stout with a shot of espresso, yep, coffee and beer combined. Magic!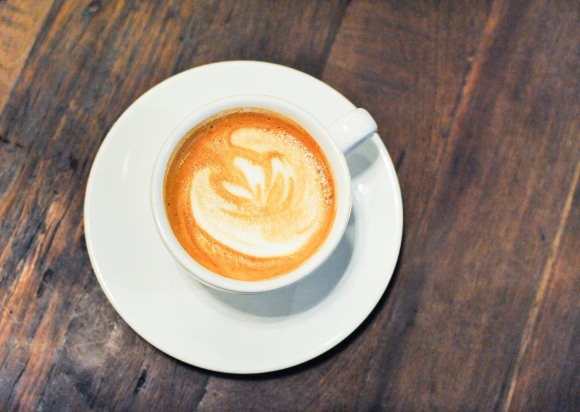 Finally, after resting for a few hours in our apartment, we headed out for a good Southern meal at The Olde Pink House. How could we not? I must admit, I was a little skeptical, but when good friends (including one who went to school in the south and hit up the Kentucky Derby this year) recommended it, I knew I'd have to keep it on my list.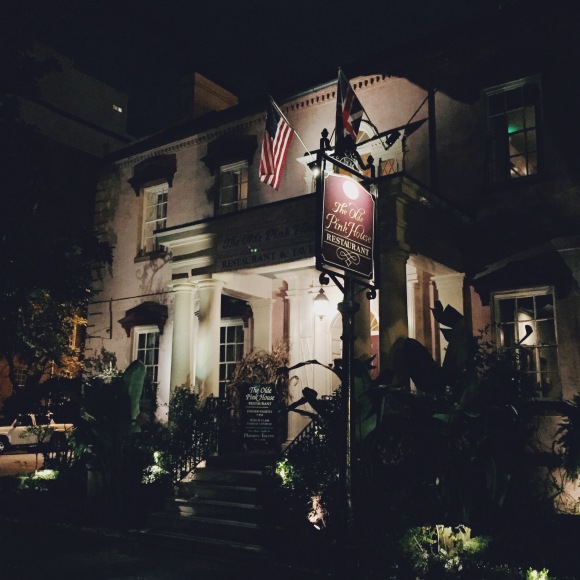 The Olde Pink House is exactly that – but possibly it should be called The Olde Very Large Pink House with lavish rooms that made me feel like everything was magical.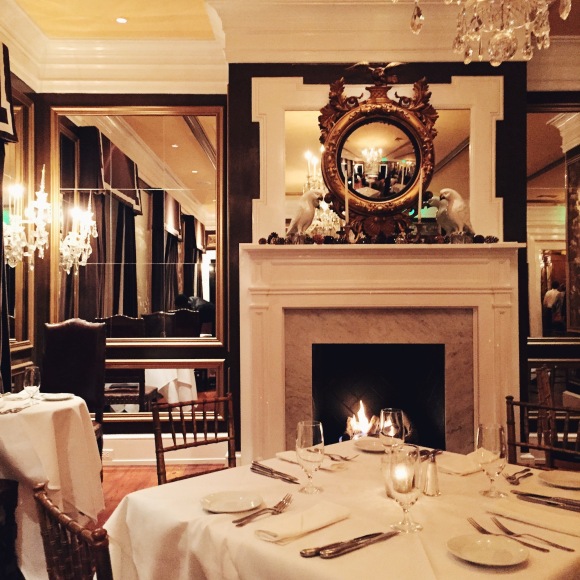 We all ordered beers from Georgia, and gorged on their cornbread and biscuits. The room was lively, filled with people, and one of the hostesses was going from table to table, breaking into song.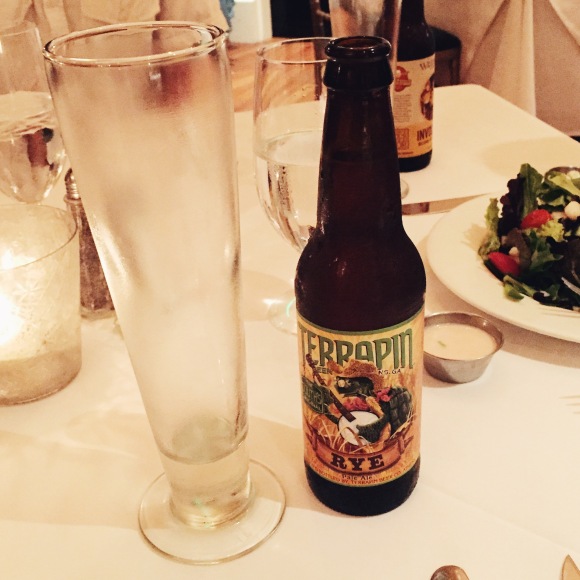 Rebecca prudently started with a salad, while I went for the she crab soup, which was similar to a clam chowder, but smooth, silky, and rather elegant. To my utter delight, the waitress asked me if I'd like some sherry *sherry!!* to stir into my soup, to which I could not possibly refuse. It makes the crab sweeter – and she was so very right.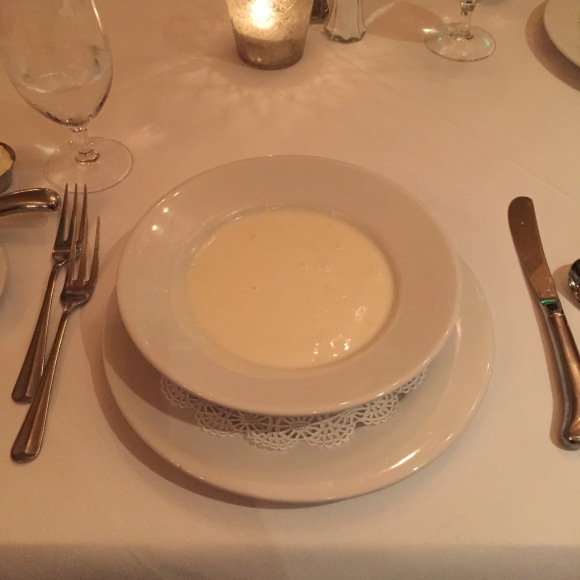 For dinner, Matt ordered the deep chicken pot pie, which came with a splendid buttery crust, and Rebecca had the sweet potato ravioli, with oyster mushrooms. For my meal, I knew I had to go bold, and not look back: deep fried chicken livers with grits and fried spinach. (Actual fried spinach!). It was rich. It was delicious.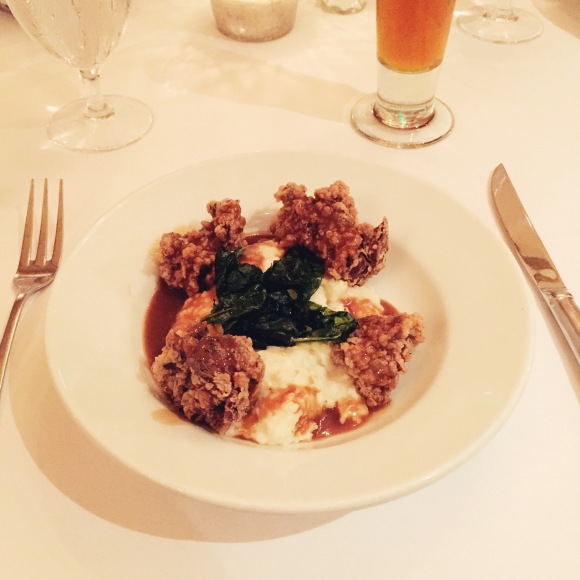 I wish I could tell you of the pecan pie, or key lime we devoured after dinner, but wisely we decided to tap out early. We went for a very long walk to counter the meal, found everything closed (including CVS… they close at 9pm, apparently), and now we are back. Sleep soon, there will undoubtably be so much more tomorrow!