For the past week, I've been participating in a month long writing challenge on Twitter. Each day, we write a 250 or so word essay on a graphic. My topics are free flowing, but I'm generally writing about Startups and Entrepreneurship, Brain Productivity, Mindset, and Self Care, and Food (of course!).
So far I've written about routines and habits, giving gratitude a rebrand, how to read better stuff, the secret sauce is people, creating a Swipe File, overcoming writers block with haiku, an essay "What am I inviting in?", and notes from Reggie Hubbard's Ompractice workshop: the Embodied Practice – Yoga of Service. The full series is here.
Tonight I sat down to write out my June Intentions, which reminded me that I am long overdue for some time writing here as well. The graphic I created is below (and I'll write out the text below in case the image doesn't come through well, or you are reading on a reader; as alt text doesn't allow for the full character length.)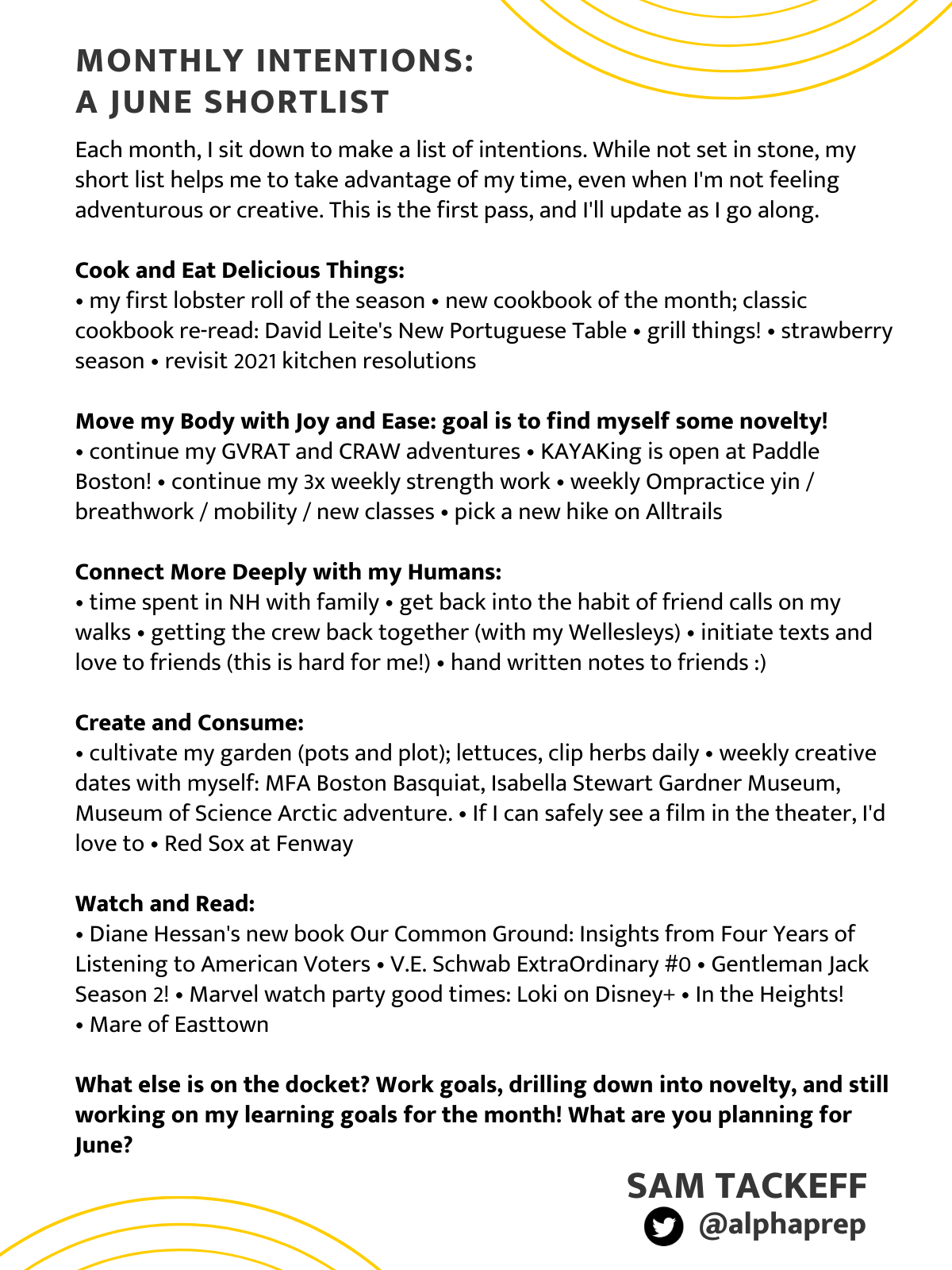 Monthly Intentions: A June Shortlist
Each month, I sit down to make a list of intentions. While not set in stone, my short list helps me to take advantage of my time when I'm not feeling adventurous or creative. This is the first pass, and I'll update as I go along.
Cook and Eat Delicious Things:
my first lobster roll of the season
new cookbook of the month; classic cookbook re-read: @davidleite New Portuguese Table
grill things!
strawberry season
Move my Body with Joy and Ease:
continue my GVRAT and CRAW adventures
KAYAKing is open at Paddle Boston!
continue my 3x weekly strength work
weekly Ompractice yin/breathwork/mobility/new classes
pick a new hike on Alltrails
Goal is to find myself some novelty!
Connect more Deeply with my Humans:
time spent in NH with family
get back into the habit of friend calls on my walks
getting the crew back together with my Wellesley bffs
initiate texts and love to friends (this is hard for me!)
hand written notes to friends 🙂
Create and Consume:
cultivate my garden (pots and plot); lettuces, clip herbs daily
weekly creative dates with myself: MFA boston Basquiat, Isabella Stewart Gardner museum, Museum of Science Arctic adventure.
if I can safely see a film in the theater, I'd love to
Red Sox at Fenway
Watch and Read:
Diane Hessan's new book Our Common Ground: Insights from Four Years of Listening to American Voters
V.E. Schwab ExtraOrdinary #0
Gentleman Jack Season 2!
Marvel watch party good times: Loki on Disney+
In the Heights! 🙌
Mare of Easttown
What else is on the docket? Work goals, drilling down into novelty, and still working on my learning goals for the month! What are you planning for June?