:: Summer is here! ::
To mark each season, in practicing what I preach, I've been making a new Self Care Bingo board to print out and complete. I thrive on gold star stickers and crossing things off the list; and if I don't plan to do it, I don't do it! So much of self care is really fitting in the little things – day to day activities that bring calmness, clarity, and joy to life.
If you want to play along, download your summer self care bingo board (just click that "I Want It" button; it's free), get yourself a pack of gold star stickers, choose your own adventures, and make yourself a priority! Bonus points if you cross out every single box – I'd love to see your completed boards!
:: This week in food ::
I've been on a potted herb buying spree, and have put myself together a nice herb garden – theoretically to cut costs on herb buying – although, I think I've probably been a little overkill in my plant acquisitions. I have multiple types of basil, thyme, oregano, parsley and cilantro, lemon verbena, and dill. Don't mind the over-exposure, there's far too much sunshine out today!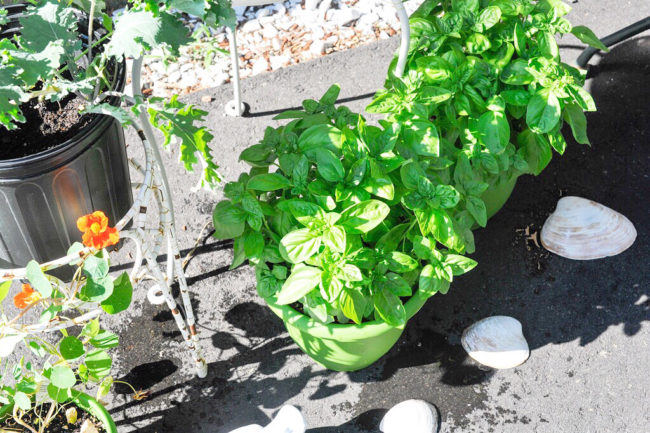 I was ahead of the game with my meal planning this week, and my absolute favorite shopping is on holiday weekends when everyone has theoretically already shopped for the weekend and the aisles are totally empty. The store was practically blissful, and the samples plentiful. Here's my meal plan for the week.
:: The Weekly Meal Plan : Week of July 3rd, 2017 ::
This week's prep: I roasted a chicken on Sunday, and popped the carcass in the slow cooker overnight for stock. I still have to hardboil more eggs, but I'll likely do this mid-week.
Fitness and nutrition: I finished Amanda's FasterWay bootcamp (the new session starts on July 10th and it's almost sold out!) and have moved on to training for the Falmouth Road Race (7 miles; near the end of August). I'm still trying to stick with some of the carb cycling and IF from the Faster Way (Amanda's program) because it works well for me.
Sunday: Nom Nom Paleo's Damn Fine chicken, Jamie Oliver's extra crispy roasted potatoes, green beans. I was hoping for the grill, but for some reason the ignitor stopped working on me and it was too hot out to troubleshoot. The green beans I steamed in an inch of salted water on the stove for about 7 minutes, and tossed with olive oil and lemon juice.
Monday: cod with bright herby sauce, mashed potatoes, roasted cauliflower. I've been getting frozen wild cod pieces from Trader Joe's for the times when I'm not likely to pick up something fresh at the market. These are cheaper, and I could care less about eating big pieces. I'll make a bright sauce (like a chimichurri) with some of my fresh garden herbs, and serve with mash, and golden roasted cauliflower.
Tuesday (4th of July!): hot dogs, baked beans, and steamed broccoli. We aren't going anywhere for the 4th, so it's staying home and eating some comfort foods. I have some strawberries and whipped cream and if I get my act together, some shortcake biscuits.
Wednesday: taco salad and enchiladas. We don't eat too much processed food in this house, but Amy's cheese enchiladas are a universal favorite. Somehow they are SO good!
Thursday: takeout – likely Chipotle! It's a full day of meetings and errands, so I'll likely pick up some Chipotle on the way home.
Friday: Turkish ground meat and zucchini. With fistfuls of my grandmother's Istanbul spice mix, dill, parsley, and yogurt.
What's on your table this week?