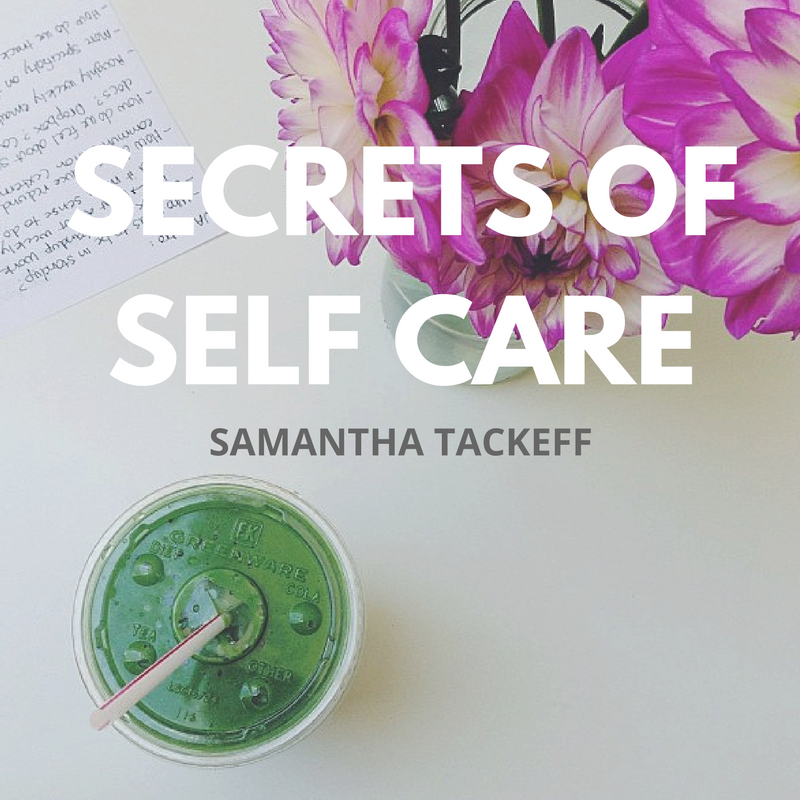 Secrets of Self Care is a 30 day E-Course designed to kickstart healthy habits
Have you been focused on your career, family, or business, and lost yourself in the process? The Secrets of Self Care is a guided course focused on work-life balance, personal development, and living well to help you thrive.
Are you lacking inspiration to make simple, healthy, and seasonal meals?

Are you feeling bored and overwhelmed?

Does your energy wane in the early afternoon?

Do you find yourself making sub-optimal food choices when you don't have better options?

Do you feel like curling up on your couch with a cup of tea, and not leaving?
Join me for this adventure in which we'll focus on being kinder to ourselves, supporting our needs and desires, and nourishing our bodies.
Participating in Secrets of Self Care was a way to make each week sparkle a little bit more. Getting the posts from Sam was like receiving a little gift, like opening a little something that you knew would be good for you and make your day/week better. The more you participate and keep on track, the richer the experience. I would recommend it especially if you have that sense that you are just on the verge of change or transition. – Betsy H. 
What you get:
Daily weekday emails providing journaling and action prompts.
Additional email support for the duration of the course
What we cover:
goal setting and mindset training – think SYSTEMS!
not your average gratitude and JOURNALING practice
MEDITATION and (non-traditional meditative practice)
adding more joyful MOVEMENT into our lives
building better EATING habits (and cultivating an abundance mindset)
and much more!
Here's how it works:
Sign up to take this E-course any time, you'll be enrolled to start the following Monday

Participants are expected to put in the work! Accountability is the name of the game – the more you put in, the more you get out.
Be prepared for 20-45 minutes of daily ACTION
The cost of the course is $149 for 4 weeks of emails, homework, and inspiration
*E-Course PLUS!
Looking for a little bit more guided support? Choose this option for the upgrade – the guided course + a free 20 minute initial consult, and an hour long coaching session over Skype or Hangout. Email sam at thesecondlunch.com for more information, or schedule a free consult now.
I'm looking so forward to working together!
cancellation policy //  money back if you are not satisfied within the first week of the course
The week or so after I started [my new job], I signed up for an online course with Sam, a self-care consultant. A new job and all that comes with it were certainly exciting, but also stress-inducing. Sam's daily prompts and her very helpful one-on-one coaching session helped me think about ways to keep that stress in check through exercise and meditation. She also reminded me to take time to do things I enjoy (reading, baking). I admit that I've been spotty in my meditation practice, but I'm always glad when I take the time (just 10 minutes!) to do it.    – Lori G.