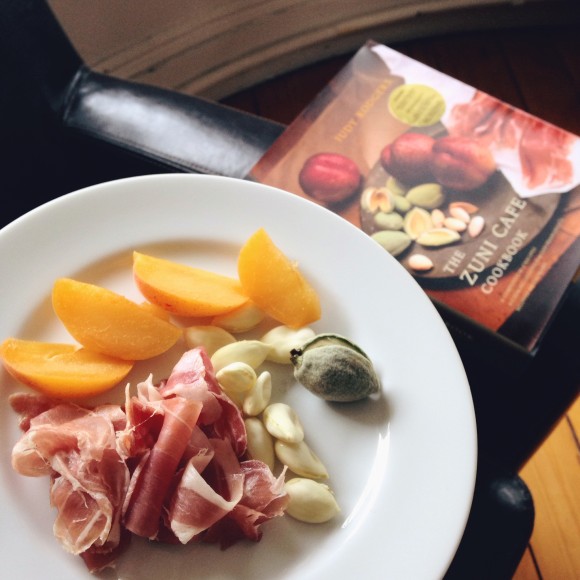 Yesterday at Formaggio Kitchen I noticed a basket full of green almonds, but passed them over while gorging myself on cheese samples because the $6/pound price tag made me cringe. Yes, they're shipped from California, but boy is that a markup – in California you might see them for a few dollars a pound. Today I went back, with clearer perspective, to pick up a small bag for snack – some seasonal items with short windows are worth paying a premium for just in case you can't find them somewhere else for cheaper before they're gone.
Green almonds are tart fuzzy pods that contain almonds in their earliest stage of maturity– a springtime treat that you can often find in Middle Eastern markets.  You can eat the pods whole doused with a little olive oil and salt, or  you cut them open with a little paring knife down their center groove and eat the white almonds that haven't yet hardened. The pods are crunchy, and filled with a clear citrusy jelly substance. Unlike the mature nut, they are soft, fresh and verdant – more plant-like than nutty in taste. In the Middle East, they are often pickled, sometimes fried, and sometimes featured in stews, such as the Persian Khorest-eh Chagaleh Badam, with beef, parsley, and mint. Usually, they are just eaten plain, accompanied by a cold beer, but also taste delicious sliced into spring salads.
Today I took a cue from the masterful Judy Rodgers in her Zuni Cafe Cookbook, and stole the pairing right off the cover photo: green almonds, stone fruit and prosciutto. If you happen to see these cheerful orbs, grab them quickly, before they are gone.