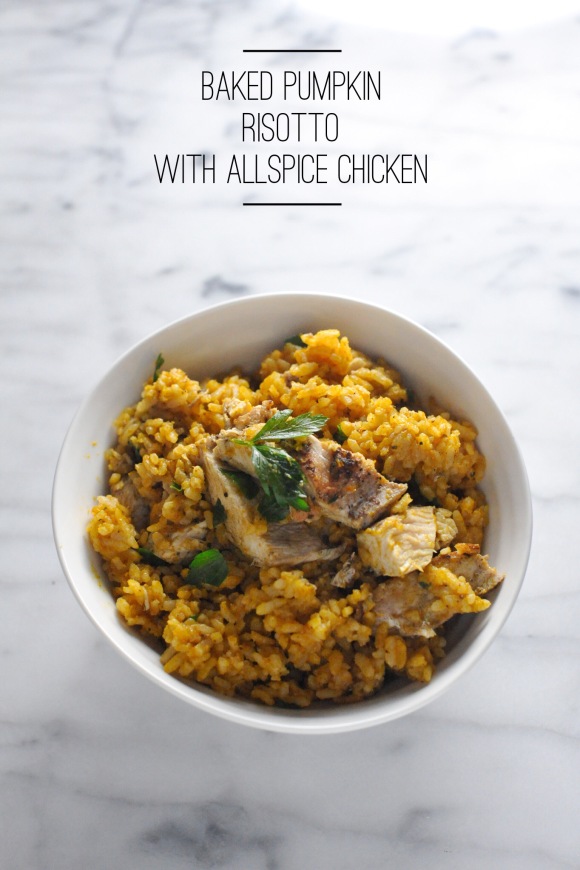 It snowed today. The first snow of the season, but I'm not ready for winter. I always get a touch of the SAD – winter is long and cold in New England, and despite growing up here, it never really gets any easier. I spent the day trying to convince myself of the joy that snow brings – thinking back to boarding school days, where it was always wonderful to be on campus when the first snow arrived. Suddenly, a common occurrence was a brand new marvel: you'd see the snow through the eyes of students who had grown up in warm climates, delighted in those large white flakes for the very first time.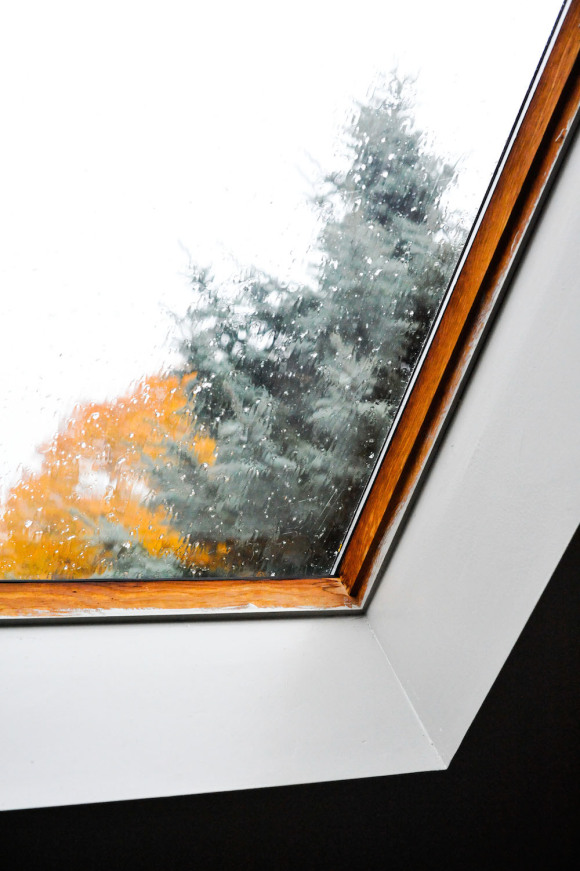 This day, however, was colored with my own melancholia, as I had a last lunch (soup and grilled cheese in front of a fire) with my friend Alexann, before driving her to the airport to fly away to Denver. I came home, made myself a cup of tea, and wrapped myself in a blanket. This never gets easy.
By evening, the sky was clear, and we were treated to a beautiful sunset.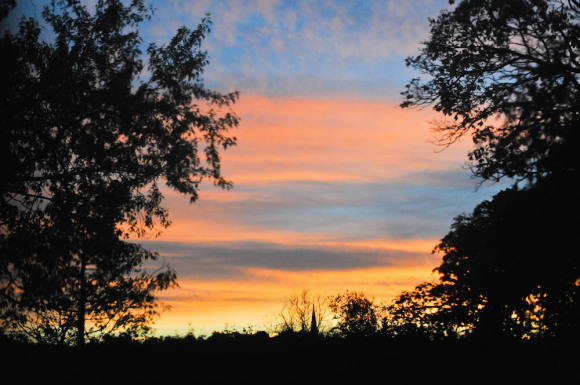 For dinner, I knew that I wanted to make something with my defrosting chicken from my Walden Local Meat share. I had two large boneless, skinless breasts, which isn't what I usually cook with – I'm a bone and skin gal – so I wanted a dish where they'd stay moist, and something a little bit rib-sticking for this cold fall day.
With the Patriots game in the background, I looked through my Eat Your Books bookshelf, to find which of my cookbooks have recipes for chicken breasts and pumpkin. I found myself flipping through a Donna Hay – and liked the look of her 'baked chicken and pumpkin risotto', but wanted to make it with pumpkin puree rather than the chunks of pumpkin she calls for, so I adapted the recipe to my own liking. It's probably sacrilege to call this a risotto, but the dish calls for arborio rice, so I can justify it to myself. Italian purists, please look away, or consider the alternate title: "Pumpkin Rice with Allspice Chicken".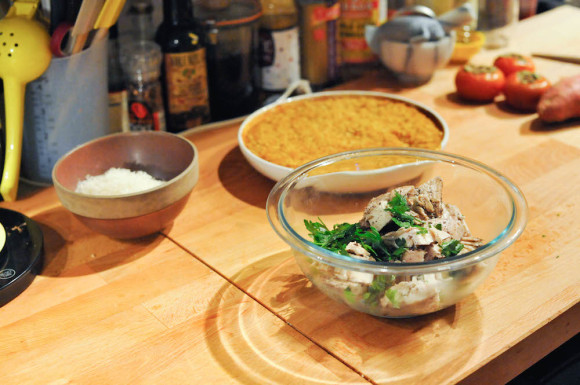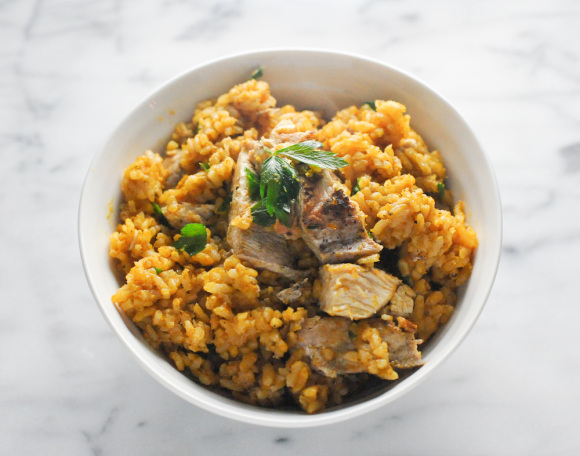 Baked Pumpkin Risotto with Chicken
This recipe served two (very generous) portions. For four, I might double it, and you'd have leftover lunch for one, the next day. If you'd like a little bit soupier rice, I'd add a touch more chicken stock at the beginning.
1 cup arborio rice
1 15 oz. can organic pumpkin puree
2 oz. butter, melted
1 cup chicken stock
salt and pepper
pinch of nutmeg, pinch of allspice
olive oil
2 chicken breasts, preferably organic and free range (about 1/2 lb. each)
salt and pepper
a tablespoon allspice
1/2 cup grated parmesan
2 tablespoons chopped parsley
In a bowl, stir together arborio rice, pumpkin, melted butter, and chicken stock. Add a good pinch of salt, a few twists from a black pepper grinder, a pinch of nutmeg, and another pinch of allspice. Stir, transfer to a shallow baking dish, cover with foil, and bake at 400 for 35 – 45 minutes until rice has cooked through. (This batch, for whatever reason, took me almost an hour.)
While rice is baking, heat up a frying pan with a little olive oil on medium. Season chicken with salt, pepper, and a generous coating of allspice, and cook in pan, about 4-6 minutes on each side, until cooked through – it might take an extra minute or two on each side if your chicken is thick. Take off the heat, let rest for a few minutes, while you chop your parsley and grate your cheese. Then chop, the chicken, making sure to reserve the juices.
Once rice is done, put in a large bowl, season with salt and pepper, and stir in the chicken and it's juices, parsley, and parmesan, making sure to stir well, until creamy. Serve warm.