Yesterday was a long day. I tried to avoid the television, but the tweets and messages and blogs of my friends remembering 11 years ago were sobering. I made the mistake of turning on NPR while in my car, and choking up while driving and listening to the short memorial stories.
And then I met my mom for a walk on the ocean. The air was the warm end of summer air, the sky was bright. The Atlantic was flat and deep blue, and seemingly endless. We talked about life, food, her first day of preschool. This walk – the same one we've gone on since I was a small child – always puts me in a better place.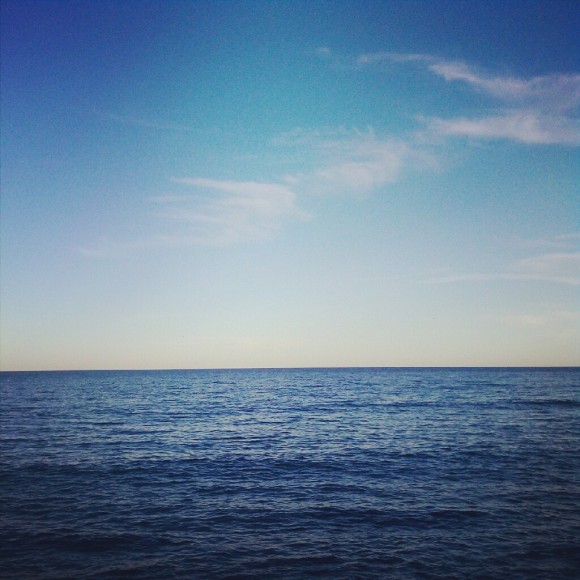 Reluctantly, I came home again to an empty house, and although it'll be the two of us again tonight, it was lonely. It was also late, and I was tired. My mom had given me several ripe tomatoes from her garden, and some fresh parsley, so I set to work putting together a riff on Turkish menemen – scrambled egg with peppers and tomato. Because I was pepper-less, I just added an extra tomato. I find that you can never eat too many tomatoes at the end of summer, because soon they'll be gone, and you'll regret your missed opportunities.

This is one of those dishes that I come back to again and again, the type of food that I eat alone. It's dead simple, cooks up quickly, and works just as well for dinner as it would for breakfast. It also, for the record, tastes great when you come back at 2 am after a long night out.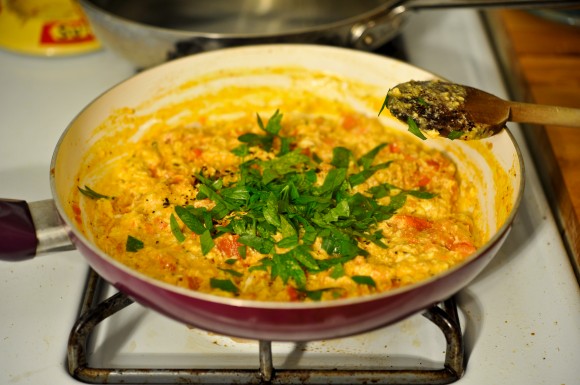 Turkish Tomato Eggs
serves 1
1 tablespoon olive oil (or 2!)
2 or 3 ripe tomatoes, chopped or grated
salt
pinch of chile flakes (Such as Urfa Biber or Piment D'espelette)
pinch of thyme
3 large eggs, whisked
small handful of chopped parsley
In a non-stick skillet over medium heat, pour a generous amount of olive oil (a tablespoon or more if you can rationalize it). Add the chopped tomatoes to the pan, and season with a little bit of salt, a large pinch of chile flakes, and a small pinch of thyme. Stir, and let it bubble for three to five minutes.
In a bowl, whisk three eggs with a small pinch of salt. Pour the egg mixture over the tomatoes, and let it set for a bit, and then stir gently for a few minutes. This dish is fairly soupy, and not dry, but you are looking to cook the whites. When cooked, add a large handful of chopped parsley, and eat right away.