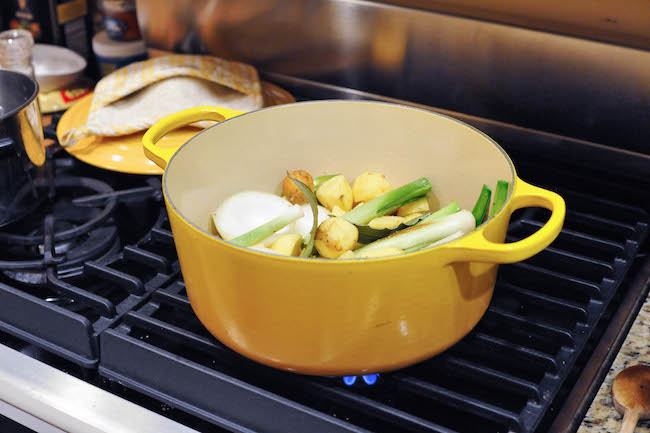 At some point a few weeks ago I realized that my camera had been sitting in a drawer for weeks on end, and I hadn't shot any photos other than selfies with my dog on my terrible front facing phone camera. So I've been trying to remedy that – here's to taking at least a photo a day in 2016. (I also had to download a fresh install of Lightroom on my computer to edit them and now I'm scrambling to find the original box with the serial. I refuse to pay for a monthly creative cloud membership… Grrrr… Where is that box?!)
Given that it's winter, and you might be looking for something warming and relatively healthy after the holidays, may I suggest potato leek soup as a good option to cook this weekend? I had a large pile of leeks, onions, and potatoes on my counter from my winter farm share, and needed to do something with them before they died completely. The leeks were already getting dry on the outside and I was too ashamed to provide photographic evidence. Another resolution this year is to make sure I don't let produce go to waste. Soup is an excellent remedy!
My kitchen helper is also on duty to provide quick response clean up to any floor mess I create. I'm still a little nervous that he's chosen the spot directly in front of the stove to curl up, but if I'm cooking anything that might splatter, I use the back burners.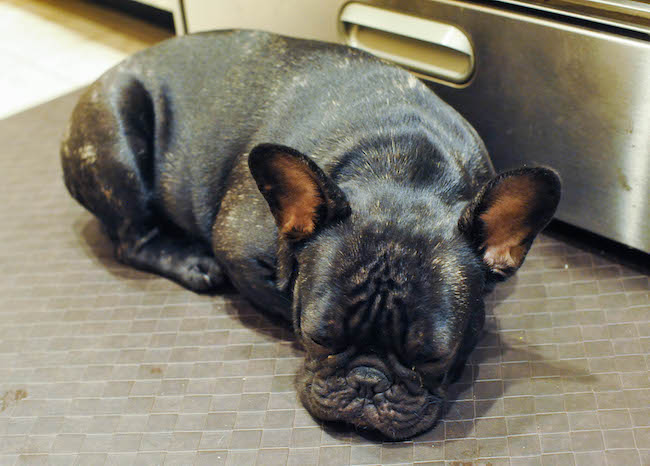 Right, the soup. You'd think this has become a puppy blog. I've been eating this for breakfast for the past few days. Have you ever done breakfast soup? It's actually quite satisfying.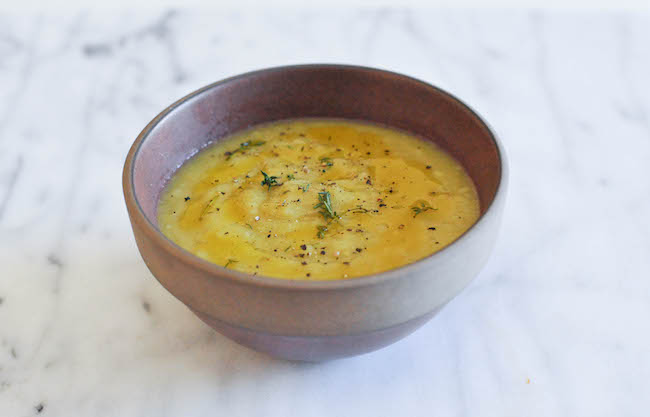 Potato Leek Soup (for allium lovers)
I recommend that you make this a day in advance. Like almost all soups, a night in the fridge gives the chance to mature into a more robust flavor. Soups just taste better when you make them in advance.
Here's the thing about this soup. I don't bother chopping the vegetables. I just boil them mostly whole, and the puree with an immersion blender. Admittedly, the potato gets a tiny bit gluey when you do this.
A better way would be to patiently chop the vegetables in sort of bite size or inch long pieces before putting them in the pot. And then use a masher at the end to get a nice texture. But I'm a little lazy. So I don't. But do what you wish. If you have guests coming, don't take the short cut?
a knob of salted butter (a few tablespoons), or olive oil
a pound of leeks, chopped
two yellow onions, chopped
3 cloves of garlic
a pound of potatoes, cut into large cubes
2 bay leaves + a few sprigs of thyme.
a quart of very good tasting chicken stock
two cups of water
salt + pepper
In a large pot, melt your knob of butter over medium high heat, and cook the leeks and onion until soft but not brown. Add the garlic, potatoes, bay leaves and thyme. Cover with a quart of your best chicken stock, and add a few extra cups of water if everything isn't yet covered. Season with salt and pepper. Bring to a boil, and then turn down to a simmer, and let the pot go for about half an hour, until the potatoes are soft and the onions are meltingly tender. Turn off the heat and mash with a potato masher, or do as I do, and blend until the big pieces are broken down with an immersion blender. You can eat it right away, but it's better after a night in the fridge.
Things to stir into your soup at the end: A little bit of cream or buttermilk, but it doesn't really need it. To serve, swirl around a little slick of olive oil, and a sprinkle of thyme or chopped chive.