October 1st. Before we go on, please click this excellent piece from McSweeney's about decorative gourds, and read it when you are done with my rambling. Or you can just go ahead and read it now. Yes, go ahead, I'll wait.
Today I took several quite excellent morning still life shots of my coffee, my banana and my morning reading. Without the memory card in my camera. The last time this happened was when I sat with my mother to divvy up the first installment of our Year of Beans from Rancho Gordo. Hundreds of beautiful shots that exist only in my own memory.
To console myself, I headed out on a morning run. My almost always trusty Garmin was having trouble with the overcast sky reading satellites, so I started the timer without the gps, and turned on my Runkeeper app on my phone. Almost as soon as I headed out, I got a call from my mom who was on the way to buy new sneakers at one of my favorite running shops. Having never actually run while talking on the phone, I was surprised to find out that this was a good way to pass the time, and that my Runkeeper app worked beautifully coaching me as I chatted away. Until, of course, my phone just shut off completely. Upgrading to a new phone is looking more and more exciting.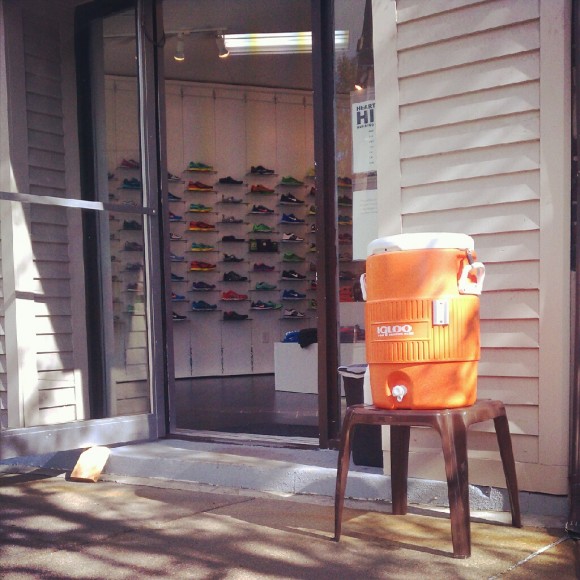 Fortunately, I had arrived at Heartbreak Hill Running Company, which was almost exactly 2 miles away. I stood outside drinking from their igloo cooler for runners, and then wandered in to pick out something to reward myself with when I complete my very first 10k on Monday! New shoes? A foam roller? Cold-weather gear? I haven't decided.
Speaking of heartbreak, I noticed this on my way back. This is spray painted on someone's driveway. Actually, I don't even want to talk about it. I'll say this – I may have never been so excited for the start of basketball season in my life.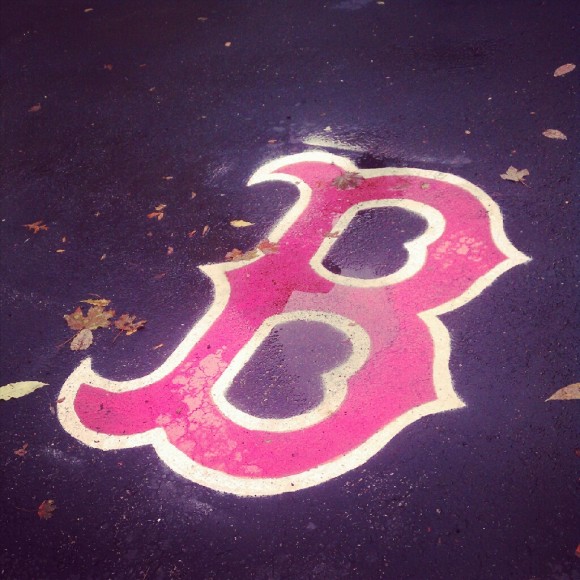 My run ended up being 4 miles in just over 45 minutes, and an extra half mile of walking in order to get the 30 consecutive minutes on my Runkeeper to make my gym-pact.
Lunch ended up being extra good. I seasoned some fresh ham steak (from M.F. Dulock) with salt, pepper, and Herbes de Provence, heated up some roasted butternut squash, and served it with a salad of mixed baby greens and lemon juice. It took 10 minutes to put together, and felt mighty fancy.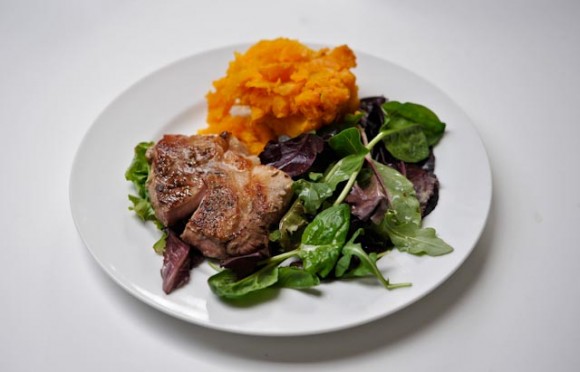 In the evening, Devon and I had a date night at Target. This is a close second to our other favorite date – IKEA. Except IKEA has Swedish meatballs, dollar cones, and sofas we can sit on and pretend we are relaxing in our own home on. There we were, milling about minding our own business… Romance! And then I saw this: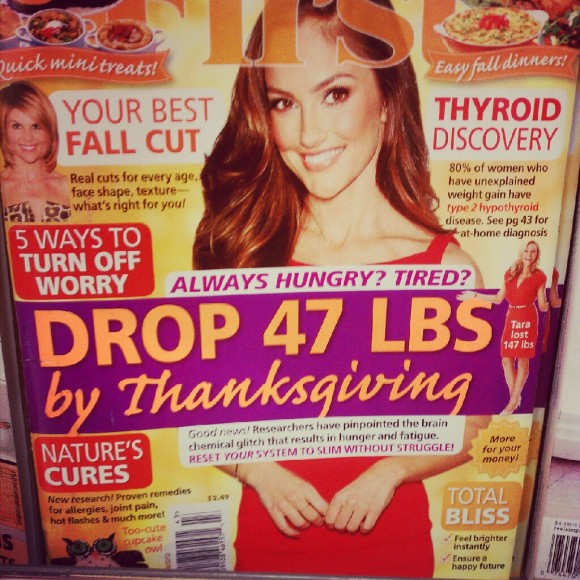 I mean, I thought I'd seen it all before. "Lose 20 by New Years!" , "Lose 10 pounds this month!" but 47 pounds by Thanksgiving? I feel like we all have to say a collective prayer for humanity. 
For the record, after having a near tantrum of disgust in the store, I went home to look up this magazine, and I found this on their Facebook page. "FIRST for Women is a national consumer magazine that delivers positive info on everything from health and nutrition to beauty and fitness to home and family. Look for it at the grocery store checkout and in superstores like Walmart." I call bull-shit.
Moving on to happier things. Like this dinner.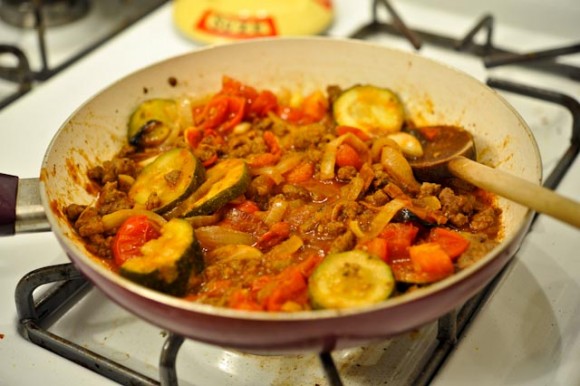 Ground beef with cumin, chile, a tomato, and some zucchini/garlic/tomato/onion from the Whole Foods salad bar again topped with some tomatillo salsa I picked up at Trader Joe's. I ate mine with half an avocado, and Devon got his with some re-fried beans.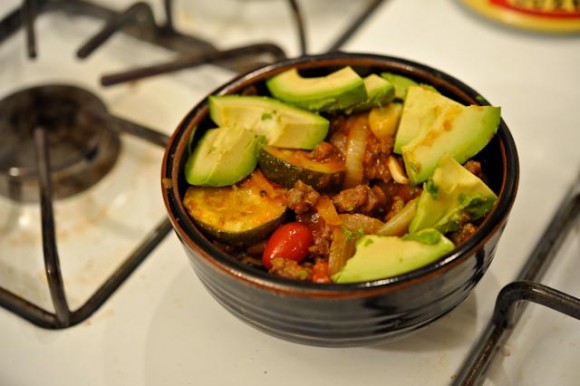 After dinner we lounged around watching Breaking Amish on TLC, and reading before bed. I won't lie, after assuming that this series would be exploitative and cringe-worthy, I've found myself impressed by what seem to be a bunch of (mostly) thoughtful and likeable young men and women tackling big life questions. On that note, remember when the Real World used to be a good show on MTV? It's been a while.