Lately this middle of the night thinking has been getting me into trouble. Last week, before running my very first 5k, my aunt suggested that I should run the Tufts 10k – she had run it a few years back, and loved the camaraderie (all women!) and the very flat course.
10k? 6.2 miles? Me? Ludicrous. Insane. 
And then I woke up in the middle of the night yesterday and thought to myself… Can I do it? I bet I can do it. But… can I really do it? This went on for about two hours, until I had sufficiently sleep deprived myself by the morning to become irrational enough to attempt this feat.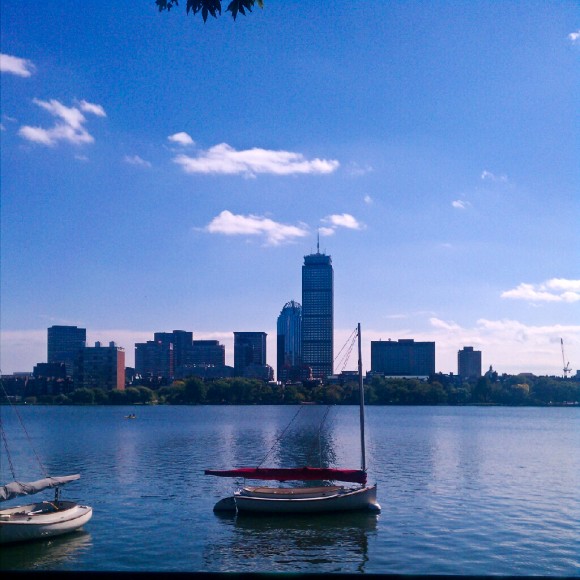 I set myself a goal. I'd run it slowly and comfortably, with a target of 75 minutes, about a 12 minute mile pace, including regular walk breaks. If I finished in that amount of time, and didn't feel like death at the end, I'd sign up immediately for the race. My idea was, if I can do it well, I can shave 8-10 or more minutes off my time on race day, based solely on the energy of the crowd, and I'd have a time I was happy with.
My second goal was to see if I could run without music or a podcast. I'd never done this before, and was half-convinced that I'd not be able to make it listening to the sound of my own footsteps.
So I set about running. The race course is beautiful – you start at the common, run down Beacon towards the Mass. Ave. bridge, head over the river, run down Mem. Drive one way, and then the other, come back over the bridge and then down Comm. Ave. back to the park. I altered the course slightly to avoid crossing too many major streets, but this is what it looks like on the map.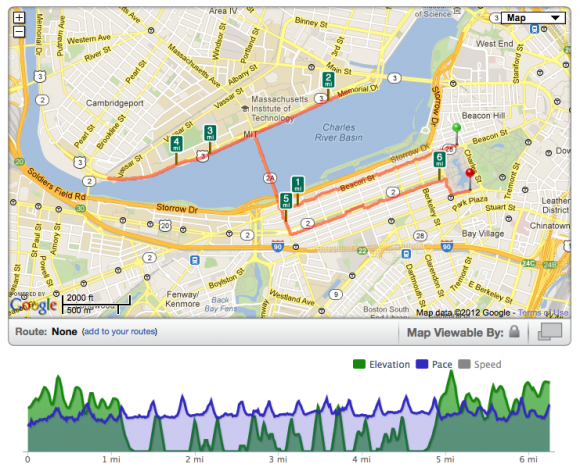 I ran, and ran, and ran. Slowly. 
The first mile I could feel the banana and nut butter from breakfast. I breathed through the stitch, and slowed down some more.
My splits were 11:42, 12:20, 13:01, 13:56, 13:12, and 12:59, although each of these included a few minute long walk breaks, and a few stops at streetlights to avoid getting run over by a car. I made it to mile 5 without music, at which point I put on a podcast because I was a little bit bored with the "Can I do it?… I guess I can do it? … I'm doing it!" loop in my head. At the end I finished not in my goal of 75 minutes, but in 80.
So that was it I thought, I'll just wait until I get faster. Maybe the end of the fall. 
And then I thought about it.
I just ran 6.2 miles. That's about 3.1 miles more than I was doing before.
My body isn't distraught. My legs feel…fine.
Why the hell wouldn't I run in this race? Because I don't think I'll run it fast enough?
Bad excuse, Sam.
This is how people miss out in life, assuring themselves that they'll do it at some point in the future. Why not do it now, when I already know that I can do it?
So… the moral of the story is, I'm now registered to run my first official 10k race. In 9 days. It was nice knowing you.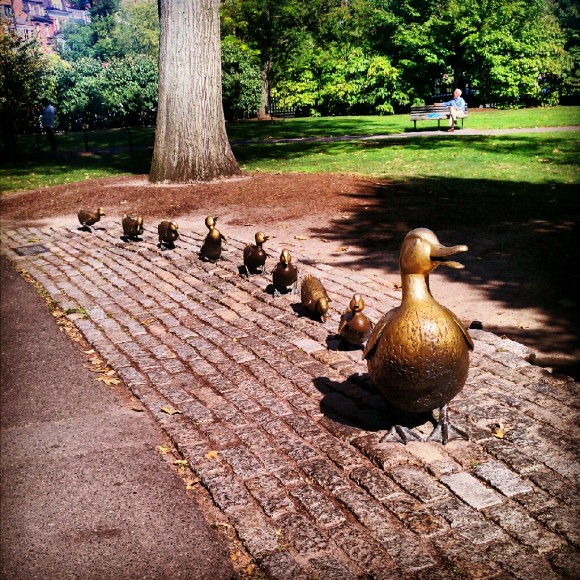 After tackling my adventure, I grabbed myself an iced tea at Starbucks (right by the Make Way For Ducklings!) before heading back home. This tea might be the worst vice I have going on right now.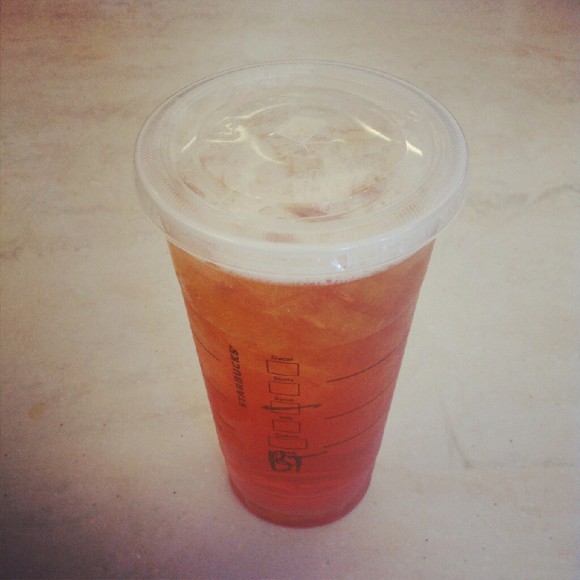 Lunch was a salad of my favorite Trader Joe's product: sardines in olive oil! I made a huge plate of spinach, sardines, bell pepper, carrots, avocado and homemade mayo, with a good squeeze of lemon.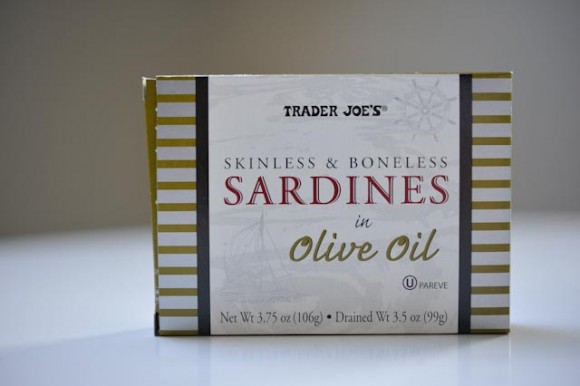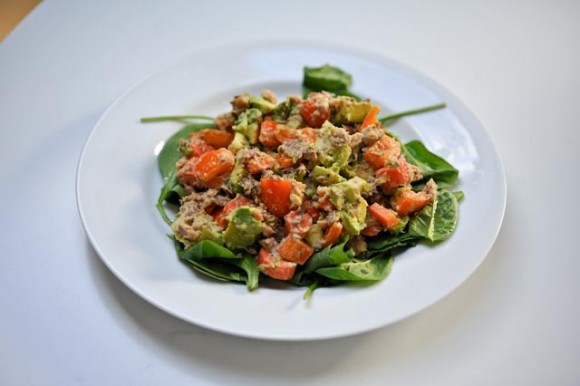 For dinner, a friend mentioned that I had eaten beef the past three meals in a row. I wouldn't notice these things if not for the blog (I had to go back and check), so I went to the store and picked up some Dover Sole. I love fish but forget how easy it is to make. I cooked this simply in some olive oil, with a sprinkle of salt and pepper, and some Turkish fish seasoning from Formaggio Kitchen, which as far as I know contains sumac, rosemary, peppercorns, and some other mystery spices. It goes great on pretty much everything.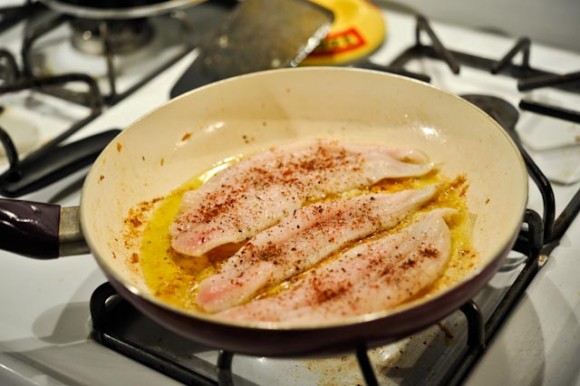 Because it was late, sides came from the Whole Foods salad bar – mashed potatoes for Devon, and butternut squash and Italian zucchini for me. Here's my dinner: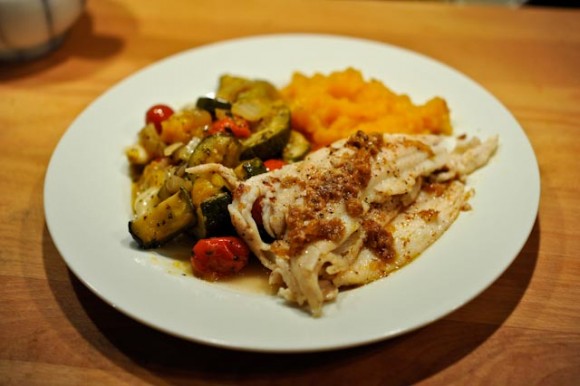 Because I was still hungry, I inhaled a spoonful of coconut butter as my "dessert". Virtuous, I know. After dinner we watched the final episode of Top Chef Masters, where my very favorite contestant won the show. Well, well deserved! I was thrilled!
Have you done something ludicrous lately?