I'm not sure I can explain how I got here. A month ago, I was up at midnight and signed up for a 5k race on a deranged whim. My first 5k race. Having not actually run more than 200-800 meters at a time over the previous several months, my training consisted of five 3.1 mile "runs".
And then, two weeks ago I ran that very first race, the Charles River Center 5k. It was terrifying, exciting and a whole lot of fun. It would end there, I had assumed. I'd run the race, and that was it. Maybe I'd run another 5k at the end of my gym challenge to see if I could improve. But then I did better than I thought I would. And then I got that nagging feeling that racing could be a thing that I do. What if I could do more? Before even racing my first 5k, my aunt had suggested the Tufts 10k, and I thought that she was nuts. But in my head I could hear invisible people cheering "10k, 10k, 10k", and it started getting annoying. And then a week after the race, I began to think seriously, what about a 10k? Could I do a 10k? So I tested out my theory. And I missed my goal time by five minutes. And then I signed up for the race anyway.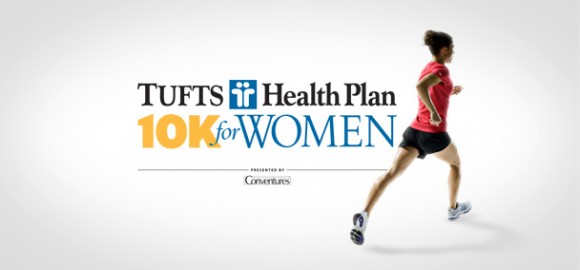 My training for this race consisted of the test run, a 4 miler, a 5k, and a "run-heavy" day at CrossFit. By run-heavy, I mean, about a mile total, sandwiched in between intervals of 500m of rowing. And then this weekend was here.
On Sunday afternoon I headed to City Sports to pick up my race packet. The line was quick, and all around me women were talking excitedly about how many decades they had been running this race. Things were starting to get real. I picked up my long sleeved tech-t, my swag bag, and my bib number (4848). Devon got himself some gym gear with my discount and we headed home so I could start getting anxious. Things were going my way though, and I slept well.
In the morning, I had to figure out breakfast. Having only attempted at 10k distance once, I was unsure of what to do. On that run, I had eaten my banana and nut butter, and suffered a stitch the first mile or so. But having not tried to run on heavier protein which is my usual breakfast (eggs), I decided to stick with what I know. Banana and almond butter, and a cup of coffee, three hours before the race start.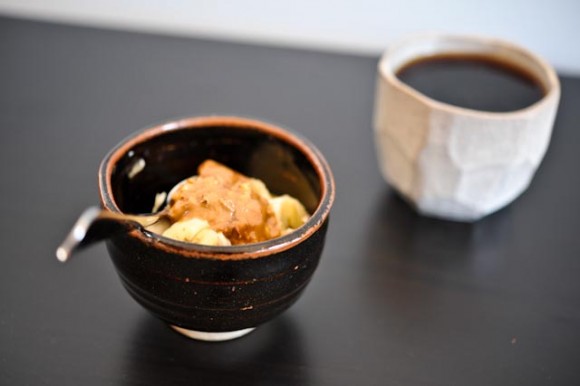 We left the house a little after 9:30, and got downtown hours before the race started to a very empty Boston Common. It was also really cold, and I was feeling a little bit under the weather. So I walked around in my hat and jacket, praying that it would heat up before the race started. We popped into Starbucks to pick up Devon a drink and so that I could go to the bathroom. Yes, Starbucks. I didn't want to brave the port-o-potties multiple times in a row, and considering how often I patronize their establishment, I did not feel bad utilizing their bathroom without a personal purchase.
We then went around checking out the vendor booths. There weren't too many sponsors that I was interested in – Luna Bars, Dole, and Powerade aren't really my thing, but they were all giving out samples. I probably should have headed over to the Bliss Spa (at the W) table to put my name in to win something, but it looked like they were mobbed.  I entered my name into a raffle at Reebok, looked wistfully at the coffee from Equal Exchange, and tried to determine whether or not Ford was raffling away free cars. D'Angelo was providing an entertaining sandwich intervention (free sandwich coupons) and giving away t-shirts – my favorite being the "Microwaves Kill Sandwiches", although "High on Flavor" was a close second.
We then ran into Morgan and Solomon from my gym, and it was stretch time! We grabbed yoga mats and did some warming up with Tara Stiles. (I definitely need to do yoga more often. Ouch!)

By 11:30 they started calling out for people to line up. I rushed over to the line of port-o-potties for a last quick trip. The lines were long, and the port-o-potties disgusting. But I got through it. My next concern:
Where do I seed myself? I figured I could run the first several miles between a 9-10 minute pace, so I set myself at the back of the 9-minute milers. Given how long it took the crowd to get through, I could have likely moved up quite a bit.
Lining up with 8000 women was exciting!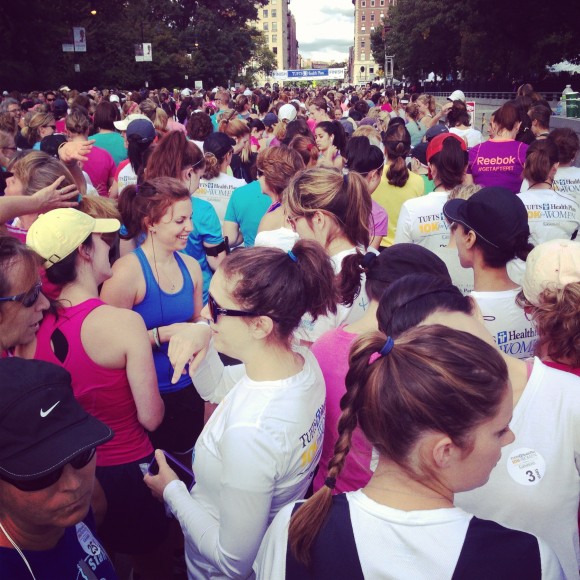 It was here that I became a little nervous. No turning back. So I decided to take a picture of my Mizunos.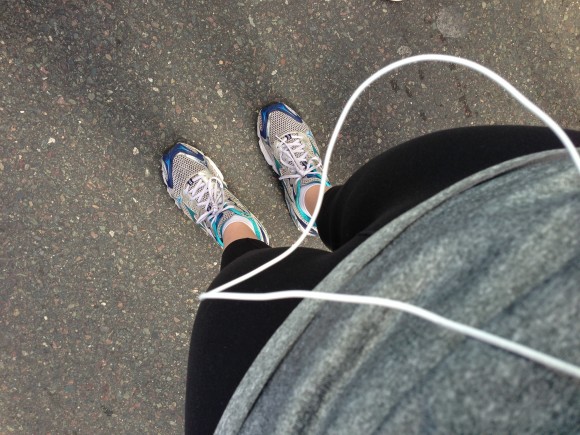 And then a picture of the folks in front of me. I was behind these tutu ladies at several different points of the race. Put a permanent smile on my face!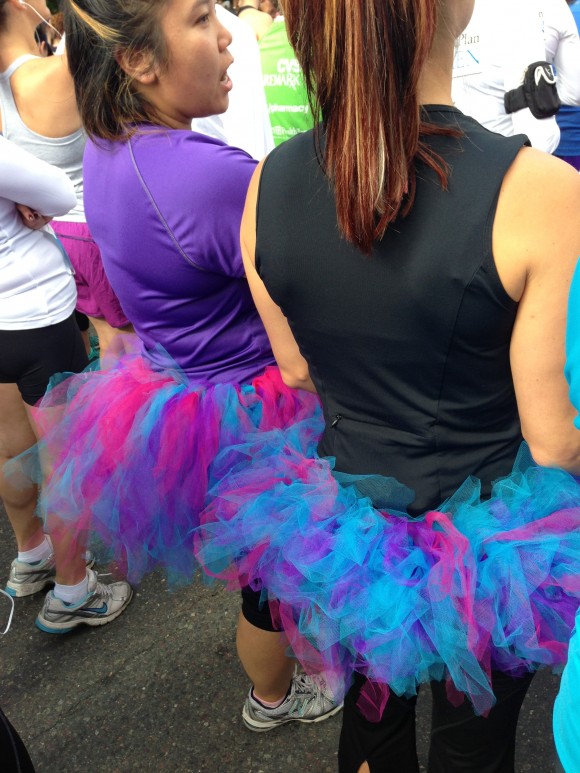 And then we were off!
Moving to the starting line took about 3 minutes, and then I set my Garmin and my Runkeeper. (I also had my beloved Fitbit on, you know, just to make sure that I was tracking enough data.)
Here's my race via Runkeeper!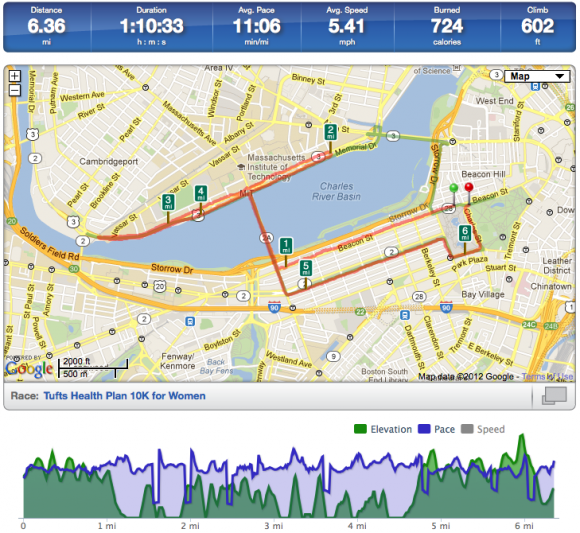 My goal was to take semi-regular walk breaks, and my secret goal to finish in 65 – 70 minutes.
Mile 1 – (10:34): We started out slowly because there were 8000 women running this race. I had to dodge lots of people to even get close to a quick clip. Near the end of Beacon, I started getting a bad stitch in my side, and did my best to try to stretch and breath it out. This happened on my previous week's attempt of the same run, so I just prayed my body would figure itself out and I could keep going.
Mile 2 – (11:30): The second mile over the bridge was also rough. I managed to take the water break, and set about finding well-paced people to run behind. (I settled behind a woman wearing a shirt that said "Try to Keep Up" on the back.)
Mile 3 – (11:16): Finally, I started to hit my stride. It was at this point that I looked down at my Garmin and realized that I wasn't running much slower than my 5k race. I got to the 5k in just over 34 minutes, about 4 minutes faster than when I ran the course on my practice run. This was good news! I was hoping to run a little faster in the second half of the race (negative splits), which meant that I might be able to actually meet my secret goal! I then ran into the tutu women again, and followed them for some time. (I was also passed by a woman with her two very fit 9 year-olds running all together like machines. Teach them young!)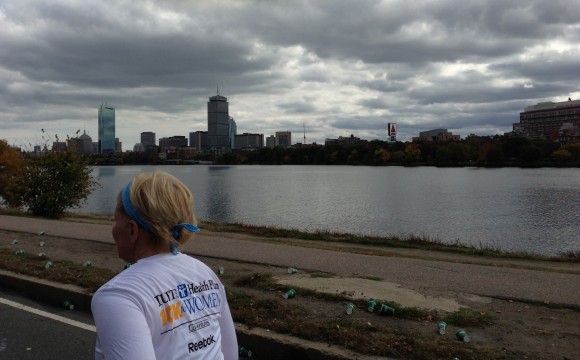 Mile 4 – (11:17): Approaching the Mass Ave. bridge, I snapped this photo from across the Charles. It was at this point that I was getting really excited – 4 miles meant… I'm almost done!
On my trip back over the bridge, I got snapped by the paparazzi. (Photo via Jim Rhoades.)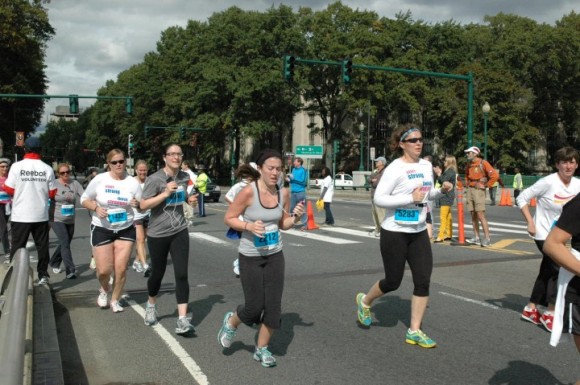 At this point I nearly ran over a dead crow, which was an unexpected emotional tipping point. (I hate, hate, hate, dead birds.) There were very few people around me, so I managed to quickly call Devon and let him know where I was, and see if he could meet me. I had assumed that the race would make it impossible to pick people out of crowds, but I realized that it would be fairly easy to actually run by him and say hi. (He had just finished having a burger and ice cream sample from Ben & Jerry's. Lucky!) Fortunately, he was walking up and down Newbury, and so had no trouble heading over to the race course.
Mile 5 – (11:30): Devon met me at Exeter and Comm. Ave. I was so thrilled to see him, flagged him down, gave him a high five, and kept running. Except apparently I was a little too emotional, because at that point I almost burst into tears and had to take 20 seconds of meditative breathing to avoid an asthma attack.
Mile 6 – (10:39) : Around mile 6, I noticed a very tall gentleman handing out water. (And then I realized I had met him through a mutual friend half a decade ago, and screamed something intelligible in his direction as I grabbed the water and ran by.) It felt like a happy coincidence, so I pushed a little harder.
Afraid I'd overtax my legs, I took a final walk break as I reached the public gardens in order to finish the race fresh. With point two-five left to go, I decided that I was going to sprint it. Smiling!!
Both my Garmin and Runkeeper had me at 6.3 miles for the total race course (and a 10k of 1:08:46, but alas, I'll go by official time for my PR.)
Official Time: 1:09:55/ 11:16 pace. MADE MY GOAL! *At the time the race results first came out, I was #4000. Apparently in the past day I've been demoted to 4003. I'll survive. AND DO IT AGAIN!

This is me after the race:
Sweaty, a little confused, pretty excited.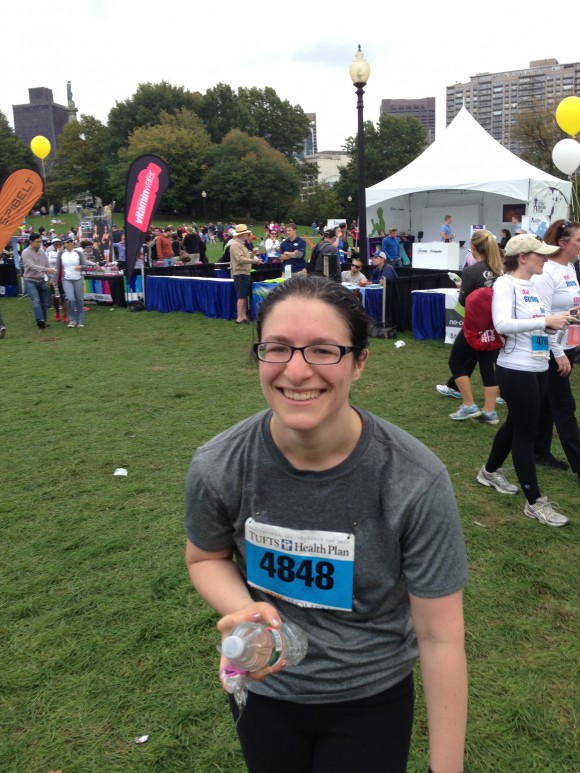 After crossing the finish line, I actually missed the banana table, but grabbed a water. On my way to the Ford tent to find Devon, I came across some kids powering through burpees and air-squats at the Reebok mini-WOD, and decided to spin the wheel. Who am I?! I was assigned an AMRAP-1 of pushups. The record was something like 57, but I won a pair of socks for my chest-touching-the-ground good form of 30.
In the car, I finally was able to eat something – my LÄRABAR Coconut Cream Pie. This might be my favorite flavor.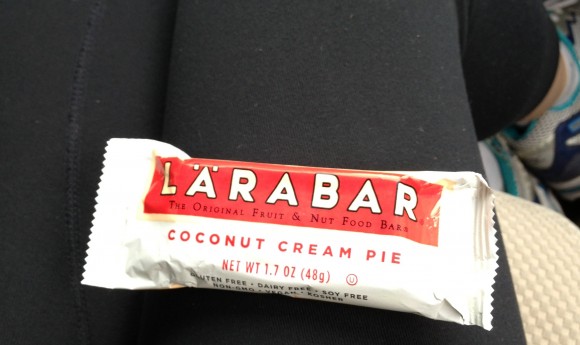 We got home and I took a long hot shower.
For the next couple of hours the idea of more food was just not doing it for me, but we ended up eating an early dinner of Chipotle to make up for it, which apparently is my traditional post-race celebratory meal. Carnitas, barbacoa, lettuce, a double scoop of pico de gallo, a scoop of red tomatillo salsa, and a generous portion of guacamole. Delicious!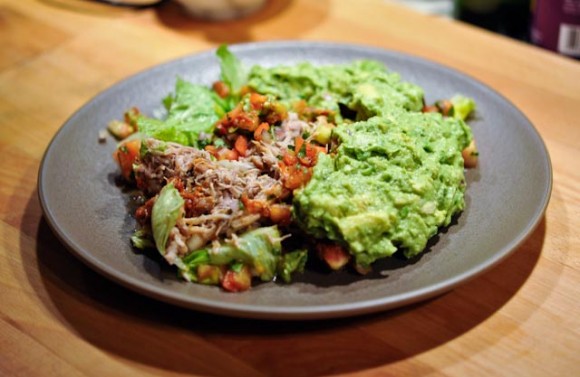 After dinner, we relaxed watching one of my favorite movies of all time, Ratatouille! If you haven't watched this in a while, please, please just watch it again.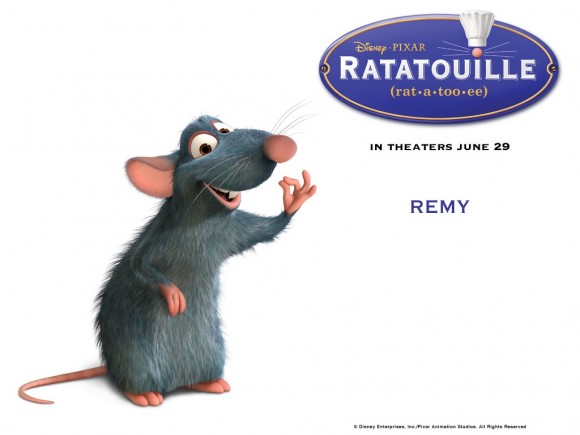 So that's it, the story of my very first 10k. I'm looking so forward to racing again!