After my first triathlon this summer, I decided to try giving up music while running outdoors. During the triathlon, where headsets are prohibited by the USATF, I managed to get through nearly two hours of swimming, biking, and running, without it, and found myself really enjoying the quiet time. Without music you can listen keenly to your body and your surroundings. I find that I'm slower, but I think that really it'll help me continue to build up my fitness, and more importantly, my mental fortitude. When you have nothing to listen to other than your thoughts, you have to make a conscious effort to fill your head with positivity in order to keep going strong. Last weekend I went for my longest run of marathon training so far, 13.1 miles on the coast, with nary a song nor podcast to keep me company. I did, however, have this view: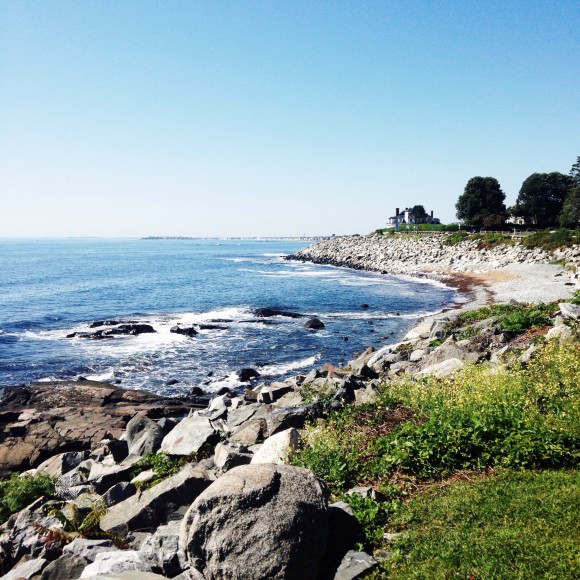 Now, about that positivity. I wouldn't exactly say that marathon training is going smoothly, but it hasn't been abject failure. My long runs have all been *excellent* learning opportunities – specifically what NOT to do when running. 10 miles without food? Bad idea. You will be tired and crabby. Forget your water bottle? Good thing you brought some cash. Thank you kind people of Starbucks. Chafing under your left arm? Next time, there's body glide. Yeah, I don't quite know how that happened either. Fortunately, I've been tweaking as I go along, and each part of this adventure has me itching to continue. That's really my ultimate goal with this marathon training: work hard toward something new, and have fun doing it.
I've also been doing it my own way: plenty of cross training in the mix, and as many new ways to challenge my body and mind as possible. Last Wednesday I woke up before dawn to head out to Harvard Stadium for a full tour with November Project. Stadiums are a challenging mental exercise. You head up the big steps, down the little ones, and work your way up and down, again and again, until you've worked your way around 37 sections. It has that hamster wheel feel to it, although working out with hundreds of other people at once makes it a spectacularly fun form of torture. My "carrot" was a 6 month old piglet named Phoebe, who was waiting to play at the last section of the day if you got your best time. My kind of motivation, and you bet I got to play with her!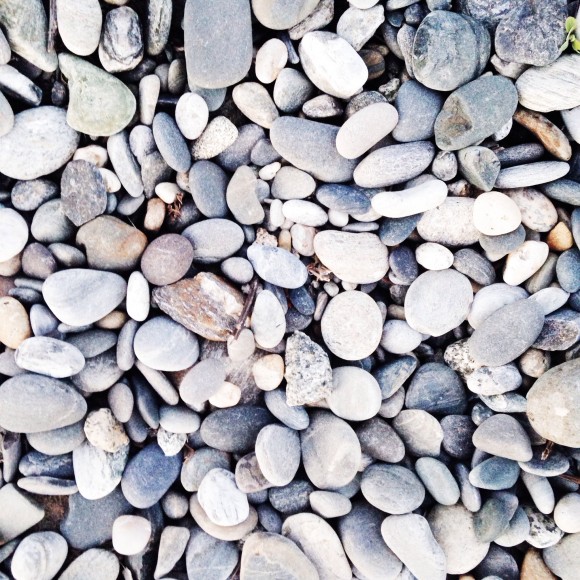 Another major piece of this marathon adventure has been fueling my body with delicious (and nutritious) foods. Here's some brutal truth about endurance training: many people gain weight while training for a marathon. I did not want to do this! A large part of training is learning how to effectively feed yourself on long activities, as well as during your every day life. It's easy to get into the habit of rewarding yourself with food post workout, but I've long tried to avoid this, because usually it's a hard habit to kick when you reduce your milage and energy expenditure. Instead, I've been rewarding myself with home cooked dinners and packed lunches.  Yep, very wholesome of me. Here are a few of the best last week, re-shared from over on my Instagram.
Breakfast for Dinner. Cooked up some ground beef and onions with salt, garlic powder, and cumin. Added chopped potatoes, browned for a few minutes then added some chicken stock and covered the pan so the potatoes would cook through. Added a few extra eggs, and dinner is served!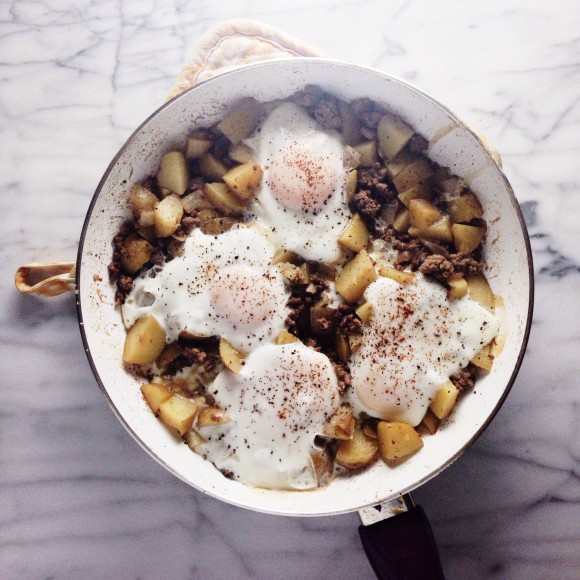 Seafood Mixed Grill.  King salmon, monkfish, and sea scallops, and beautiful dry farmed tomatoes I picked up at Formaggio Kitchen.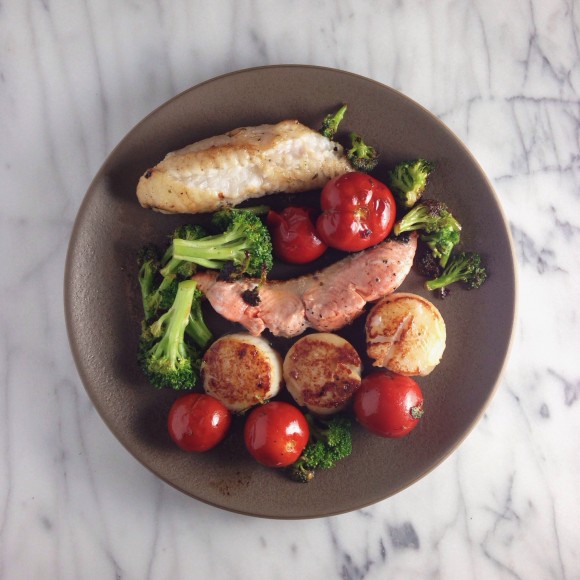 Zucchini Noodles with Meat Sauce.  I shred, and then salt zucchini generously in a colander for 20-30 minutes. Give them a good rinse, and I usually try to wring out all the excess liquid. Usually I'll pat with paper towels. If you have time, you can put them in the fridge for an hour to further the drying. And then just cook for 1-2 minutes in a good hot pan, and I'll season and coat with a little olive oil. Topped with meat sauce made with Rao's marinara.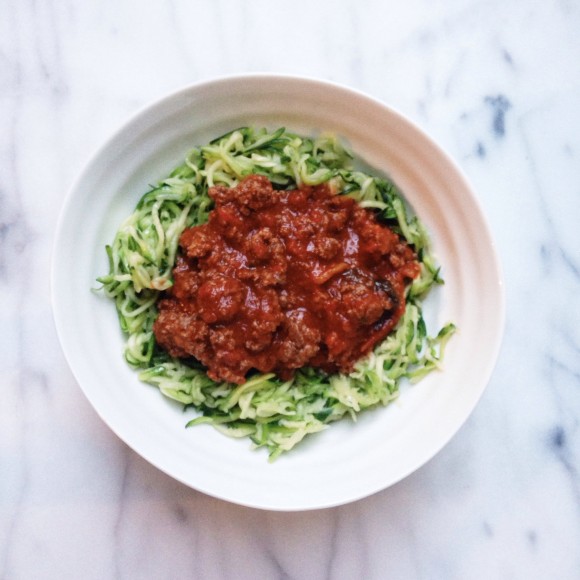 Dinner, Island Style. Pork chops, seasoned with salt, allspice, and garlic powder. Cooked in a little coconut oil on medium high, about 7 minutes on each side. Salad: cabbage, mango, and mint, with a dressing of lime, fish sauce, a little coconut oil for sweetness, and water.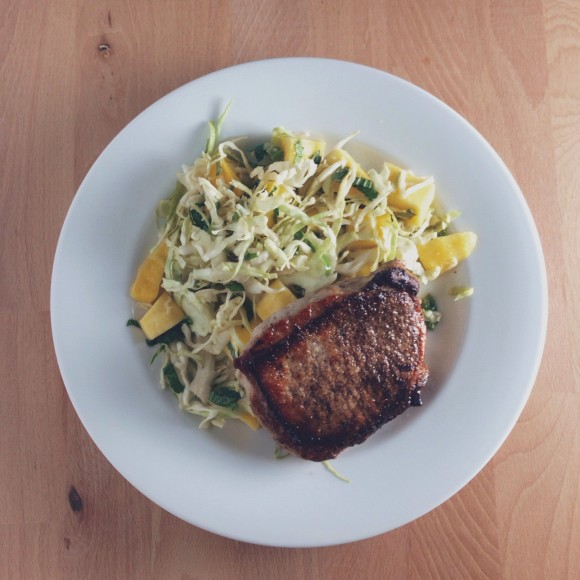 Crispy salted chicken leg with a carrot, tomato, cucumber and avocado salad with cumin dressing. Quick tip: to cut lots of cherry tomatoes, put away the knife, and take out your kitchen scissors!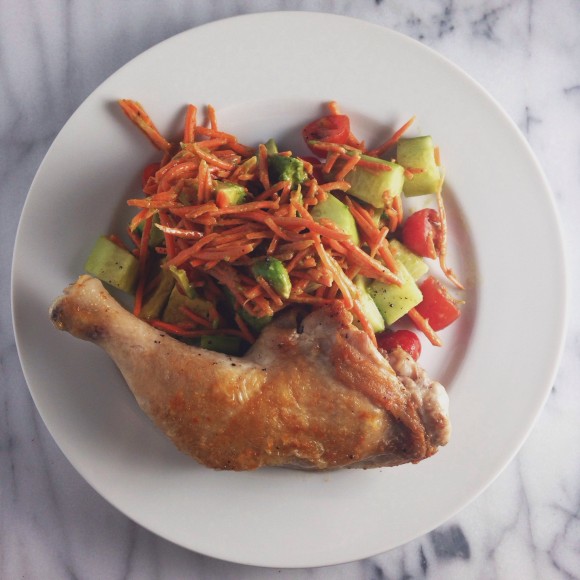 What's on your table this week?
Are you training for any particular events this fall?