[First there was 'Tuesdays With Dorie', where each week food-lovers across the internet united to bake a recipe from Dorie Greenspan's 'Baking: From My Home to Yours'. And now Dorie is out with a wonderful new cookbook 'Around My French Table' where she shares her favorite French recipes, and I've decided to cook along. Check out French Fridays with Dorie if you'd like to join the fun.
This week's recipe is 'Marie-Hélène's Apple Cake' . Dorie describes the recipe as "rather plain, but very appealing in its simplicity". The recipe was shared by her friend Marie-Hélène Brunet-Lhoste, a wonderful hostess (and a top editor of the Louis Vuitton City Guides in Paris).]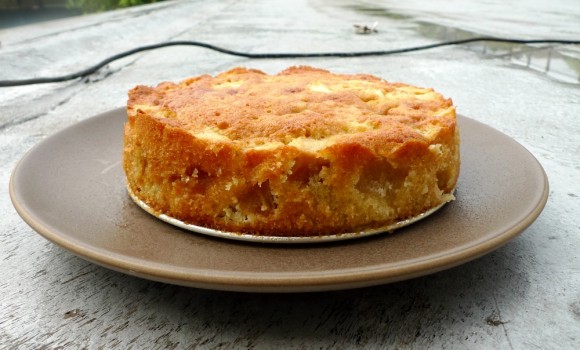 One thing that I particularly miss from my childhood are the spectacular falls in New England.
There is nothing quite like taking a long walk in the woods, and breathing the cool earthy air. Admiring the foliage: the leaves turning golden, auburn and brown. Noticing the way the light reflects on the water, the colors vibrant and saturated. And then coming back into a warm home the first evening you light the fireplace, and drinking a mug of steaming hot cider…. and watching football. Sorry for the break in romanticism there – GO PATS!
Fall is the reward for long hard winters, and sticky-hot summers.
New Hampshire is a state rich in history. The pilgrims made a home for themselves here, but rather than puritan beliefs, religion has more to do with perseverance and braving the long winters. Our motto: "Live Free or Die" says a lot about the people who live in New Hampshire. To this day it is populated by good folk of hearty stock, rewarded for the climate by both beautiful fall weather, and the perfect location – countryside surrounded by Maine, Massachusetts and Vermont – seven miles of coastline, a short drive to the mountains, an hour away from Boston, and just four from New York.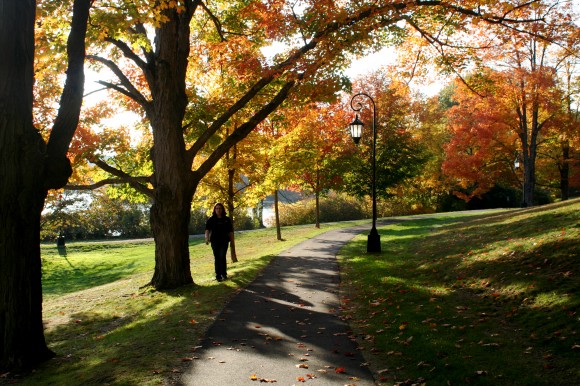 Fall is a time of appreciation. Fall is about getting in the last of your fun before the air turns frigid.
Fall is also when you get your apple on. Each fall we picked apples at Applecrest farm, took hayrides, ate sugary cider donuts, and drank copious amounts of apple cider.
After moving to San Francisco, I found myself skipping fall rituals all together. One moment it is freezing here (summertime, of course), then a flash of heat, and the next moment  we have more winter. And then rain. So, in order not to skip out on the things that I hold dearly, I began a fall to do list. There is something deeply satisfying in list making: part reflection, part aspiration for your future. Here is mine:
:: Fall To-Do List ::
1. Bake a Pumpkin Chocolate Chip Bundt.
2. Go apple picking; make desserts – a tarte tatin and caramel apples.
3. Find fall foliage, drive north through Napa.
4. Make a big pot of pumpkin turkey chili.
5. Fall care packages to friends and family.
6. Clean out refrigerator, straighten pantry. Go through spices, restock, and replace old ones.
7. Flush drains with boiling water.
8. Start thinking about Thanksgiving.
9. Clean out my closet, consign or give away things that don't fit.
10. Go through catalogs and magazines to recycle, debate new subscriptions.
11. Eat Rancho Gordo Beans. (Use as many beans as possible to make room for more.)
12. Read: biography, motivational, history + pulp fiction. Sookie!
13. Hike the Dipsea Steps.
14. Raw Brussels Sprouts Salad/ Roasted Sprouts with Bacon
15. Give back to my high school, and college, and make a list of donations for the year.
16. Start amaryllis and paperwhites to enliven the house.

While I have yet to go apple picking, I have become over-run with apples. Some from my farmbox, and others from Celia's tree in Tomales. It was fortunate that this weeks 'French Friday's with Dorie' had an apple cake on the docket: Marie-Hélène's Apple Cake.
The recipe is perfect for an afternoon where you are cleaning the house or doing errands, because the cake batter whips together in just a few minutes, and then bakes in the oven for an hour. That's the key really to some of the best fall foods – they require minimal work, and you cook them low and slow while getting fall chores done. By the time the food has finished cooking, you've earned it.
The ingredients are minimal: just flour, baking powder, salt, eggs, sugar, rum, vanilla, butter and apples. Using multiple varieties of apples gives both textural and flavor contrast to the cake, and the rum adds a wonderful depth without tasting "boozy". Not that that would be a problem…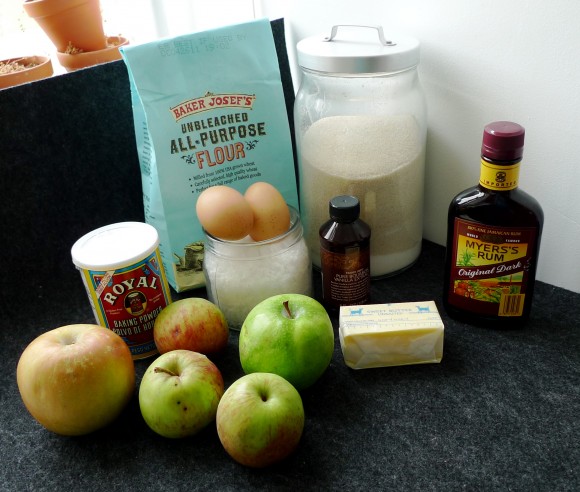 The steps are quite simple. You whisk together the dry ingredients in a small bowl. Then you peel, core, and cube the apples. Then you whisk the egg and sugar together. Add the vanilla and rum, then you alternate pouring the flour mixture and the melted and cooled butter into the eggs. Fold in the apples, pour into an 8-inch springform, bake for an hour, and voila!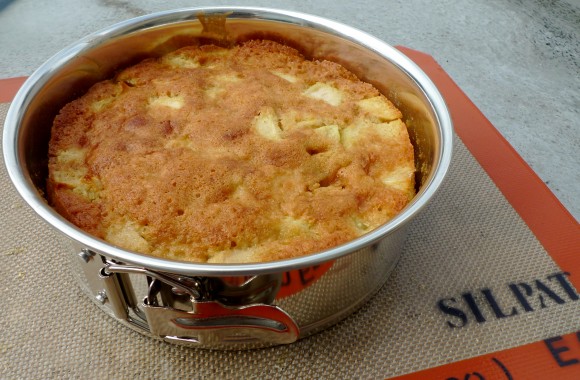 Like Dorie says, this cake is simple, but that is the beauty of it. The apples are the stars. The only additions that would make it better are Dorie's own suggestions of either a dollop of whipped cream or a scoop of vanilla ice cream. My only problem with this cake? I didn't bake two.
Recipe:  Marie-Hélène's Apple Cake
In accordance with 'French Fridays With Dorie' rules, I'm not posting the recipe – you must buy Dorie's book to get the details. But believe me, it will be money well spent.