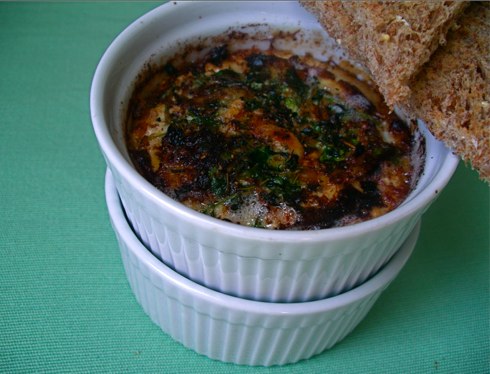 This weeks Barefoot Blogging backtracks to a recipe that I wasn't around for – Ina Garten's Herb Baked Eggs. Barefoot blogging is a group effort of those of us who absolutely adore the Barefoot Contessa, and are cooking our way through her recipes. It's great fun.
I thought these eggs would be a perfect way to inaugurate my new ceramic ramekins, and use the broiler that I couldn't figure out how to use – it's one of those pull out drawers under the stove that I always thought was just intelligent storage space for baking pans.
The recipe couldn't be simpler, and makes a really great breakfast to serve for company or just yourself in a matter of minutes. And it looks so pretty! I ate mine with some really fantastic bread from Alvarado Street Bakery.
Ina Garten's Herb Baked Eggs
serves 2
Ingredients
– a half clove of garlic, freshly minced
– 1/4 teaspoon of minced fresh thyme leaves
– 1/4 teaspoon of minced fresh rosemary leaves
– 1 tablespoon of minced fresh parsley
– 1 tablespoon freshly grated Parmesan cheese
– 6 extra large eggs
– 2 tablespoons heavy cream
– 1 tablespoon unsalted butter
– Salt and Pepper
Method
1. Preheat the broiler for 5 minutes and place the oven rack 6 inches below the heat.
2. Combine the garlic, thyme, rosemary, parsley, and Parmesan and set aside. Carefully crack 3 eggs into each of 2 small bowls or teacups (you won't be baking them in these) without breaking the yolks. (It's very important to have all the eggs ready to go before you start cooking.)
3. Place 2 individual gratin dishes on a baking sheet. Place 1 tablespoon of cream and 1/2 tablespoon of butter in each dish and place under the broiler for about 3 minutes, until hot and bubbly. Quickly, but carefully, pour 3 eggs into each gratin dish and sprinkle evenly with the herb mixture, then sprinkle liberally with salt and pepper. Place back under the broiler for 5 to 6 minutes, until the whites of the eggs are almost cooked. (Rotate the baking sheet once if they aren't cooking evenly.) The eggs will continue to cook after you take them out of the oven. Allow to set for 60 seconds and serve hot with toasted bread.