I'm going a little bit blind guys. Actually, I've been quite blind for most of my life, but pretty much every one of the hundreds of photos I took were blurry yesterday. Forgive me.
*             *             *
The morning started like nearly every morning around here, with a nice dose of caffeine. This time I headed out for my daily treat, to get some George Howell from Formaggio, dark roast. Black, even though I'd much prefer it with cream. I also miss dipping those little turbinado sugar cubes in the warm coffee until they soak through, and pop them into my mouth. I'm probably better off having kicked that habit.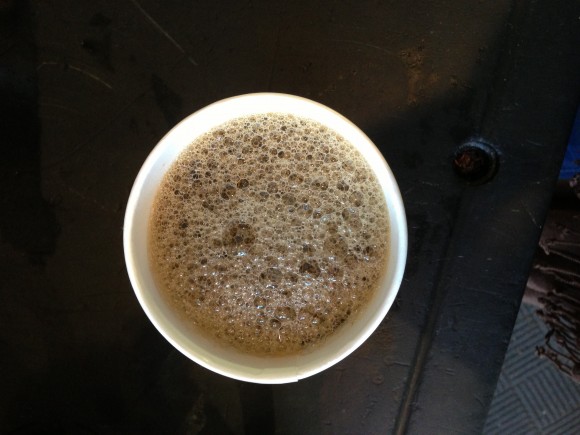 For lunch, I came home and decided to dose myself with greens. I sauteed large strips of kale until the stems were tender.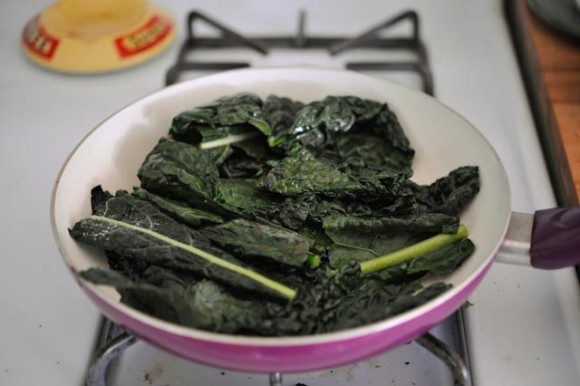 I then topped them with leftover chili, which, as promised had become even better after a night in the fridge.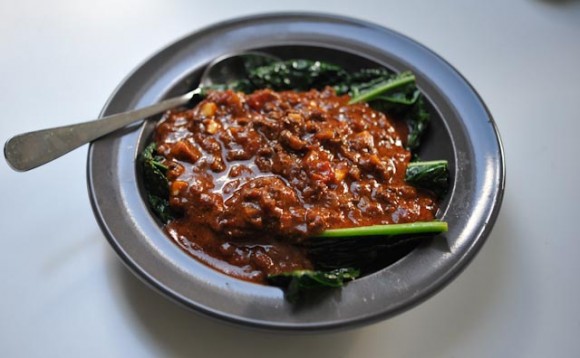 After lunch, I treated myself to dessert – a cappuccino LÄRABAR. I can't say that this was my favorite flavor, something about the whole coffee bean flecks seemed off and a little bitter.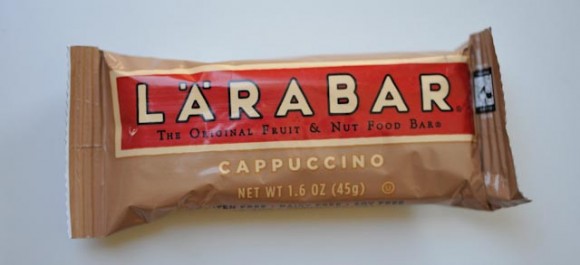 Before dinner, I took a 45 minute walk around the neighborhood, and treated myself to some squash topped with sunshine sauce.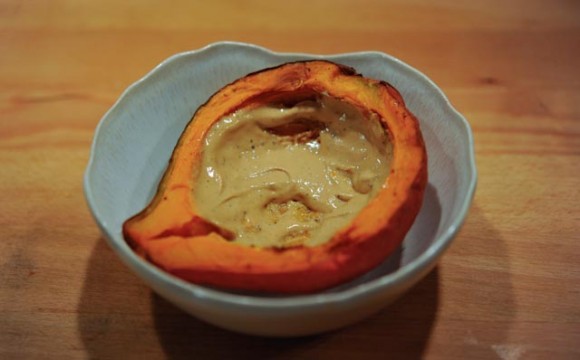 I then set to work on our dinner: Sous Vide Pork Chops. I seasoned the pork chops with salt, pepper, and mushroom powder.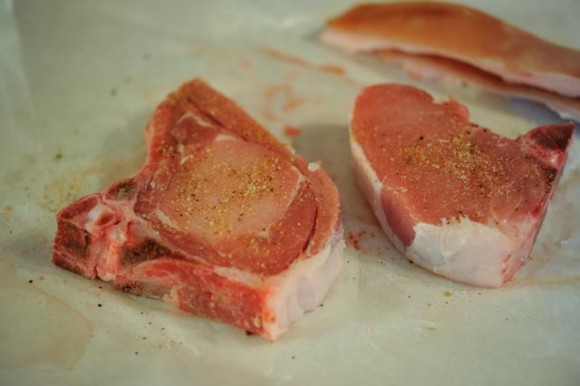 And then vacuum sealed them with my Foodsaver. I just have a regular one, but if you were in the market for a hunting themed vacuum sealer, they make this horrific and amazing version called the GameSaver in "Mossy Oak". (You should really click the link.)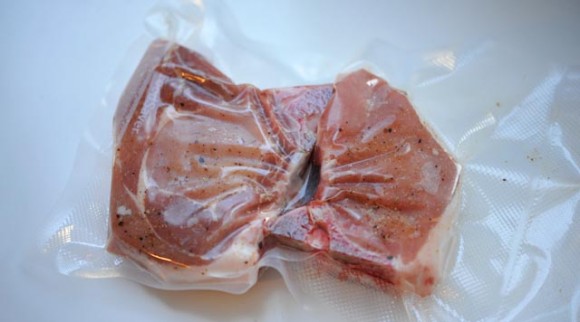 While I certainly envy those with a Sous Vide Supreme, I've been making do with the next best thing – an Igloo Cooler filled with hot water. My cooler drops only 5-10 degrees over 2 hours, so it does the trick at keeping the meat at a fairly stable temperature.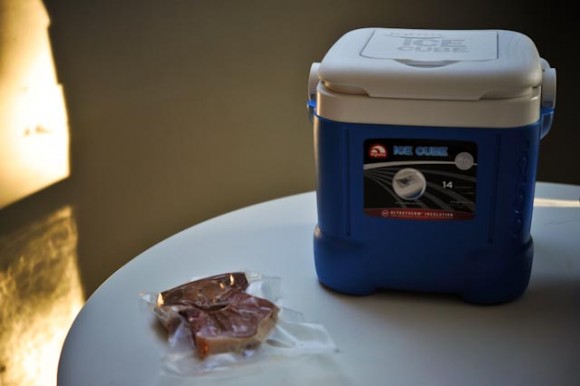 I filled it with water around 140 degrees, and dunked the pork chops in the bath for two hours, making sure to check that the temperature was between 135 and 140.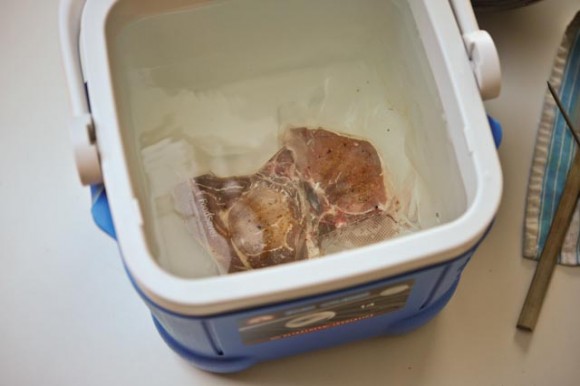 After two hours the pork chops were perfectly cooked, but had a pallid unappealing color.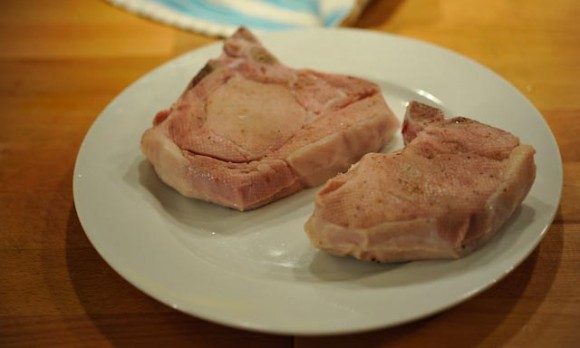 So I heated up some lard and seared off the pork chops for about a minute on each side as I finished up our side dish: red cabbage with prosciutto and cider vinegar.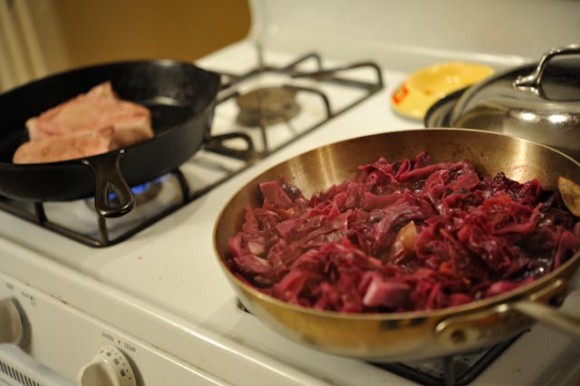 Mmm…. beautiful!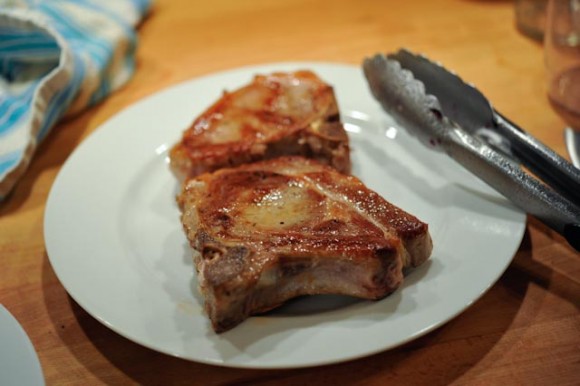 I served my plate with the small chop, the bone off of Devon's larger chop, and a side of guacamole.