The rains have come. This is, I assure you, better than the snow we could be having in October. But not by much. I took advantage of the day by staying cooped up, working from home, and getting many, many errands done.
My morning coffee was Trader Joe's Pumpkin Spice again, in one of my new Miya boulder mugs. I picked these up at Abodeon in Cambridge last week. I love the matte earthy tones and cozy shape of each of these mugs – they make for new happier mornings! (Miya also makes them in jewel tones here.)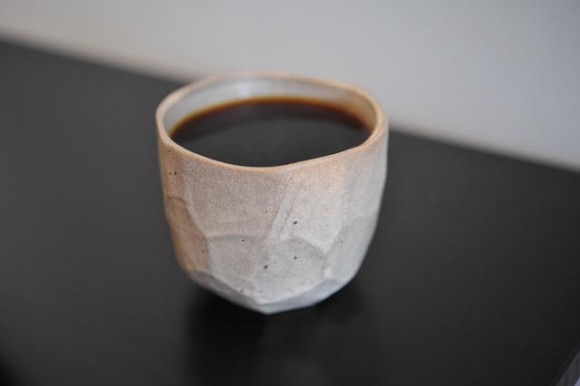 Mid-morning I made breakfast. Two eggs with the leftover vegetables from my slow cooker beef stew. I was busy playing with my phone, and thus didn't notice the eggs overcooking on the stove. Shame on me!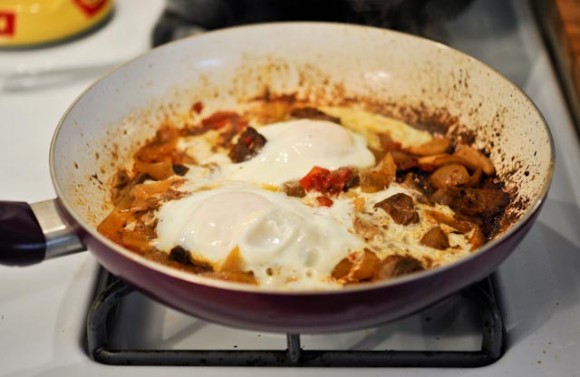 In the afternoon, I took out my trusty stick blender to make some of Mel's Sunshine Sauce from her cookbook Well Fed, which I love! Think of Sunshine Sauce as peanut sauce without the peanuts. The ingredients are lime juice, garlic, crushed red pepper flakes, coconut aminos, powdered ginger, rice vinegar, sunflower seed butter, cayenne and coconut milk. You blend and then you are done.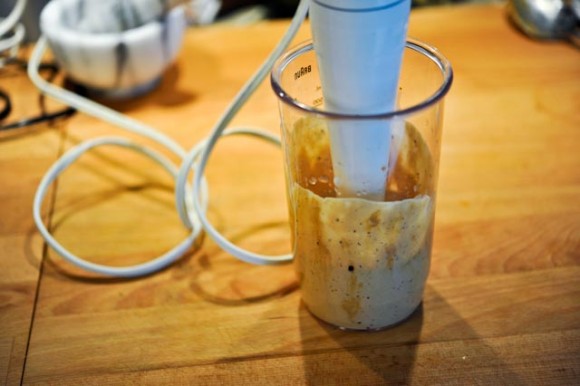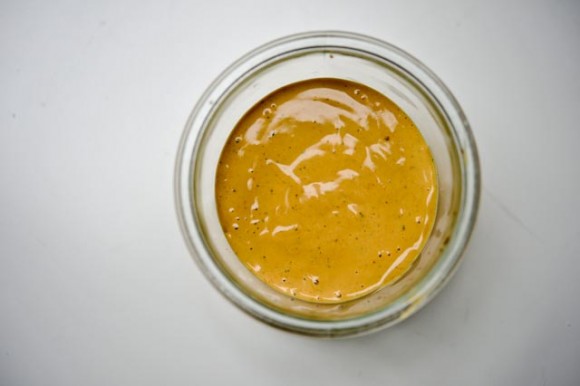 For lunch, I cooked some ground turkey and spinach, served it over the leftover spaghetti squash, and poured on a good amount of sunshine sauce. Yes, it looks odd, but again, delicious! Actually, shockingly delicious.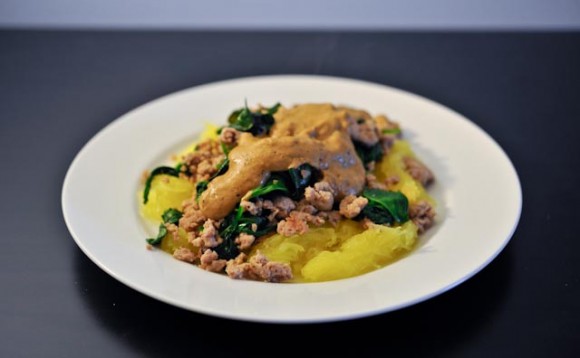 In the evening, I listened to podcasts and set to work building our new IKEA Expedit bookshelf in birch. This was of our IKEA pieces I was most sad to give up when we moved from San Francisco (the other being our soft and comfy Tylosand couch), and my books have been sitting in boxes for way too long. It took me about an hour and a half of slow and steady work, and I practiced my Olympic lifts by getting it upright and in the next room by myself.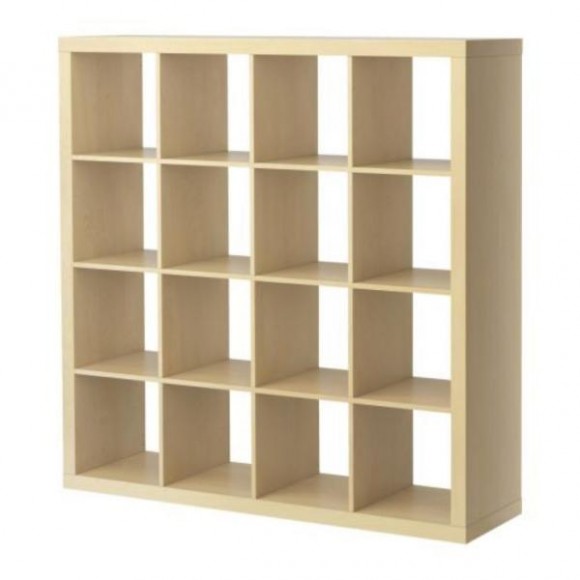 For dinner, I had to figure out what to do with the tiny lean eye of round I had purchased from M.F. Dulock. When I asked what he'd do with it, the butcher replied "probably sell it to someone else". I probably should have listened.
I seasoned it with mushroom powder, and seared it off in a hot pan. My plan of attack to was to crank up the oven to 500, cook it for about 10 minutes, then turn the heat off and let it cook in the residual heat for about 2 hours. (This wasn't quite as foolproof as I'd have liked. At the end, terrified that I had poisoned us by not cooking it enough, I seared it off again to make sure it was cooked through.)
While resting, I cooked some shredded brussels sprouts with some pancetta, salt, pepper, and a good swig of apple cider vinegar.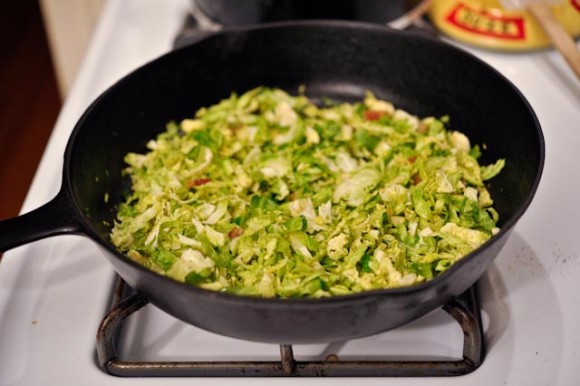 When I cut the meat, I have to say I was pretty surprised at how moist it was in the center, despite a slightly dry exterior. I'll definitely choose a fattier cut of meat next time. Devon got his with a big scoop of mashed potatoes from Whole Foods, and I got mine with some of their zucchini and tomatoes. (I have no regrets spending $5 extra on sides at Whole Foods when I've made a mostly home cooked meal – especially when it means that we can each have a little extra of something we want without having to cook several extra dishes!)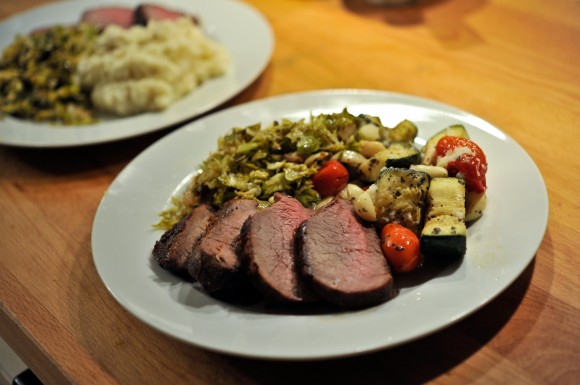 After dinner, I had planned all day to try one of these single serve microwave cakes all the cool kids are eating. I found a simple recipe – almond meal, cocoa powder, an egg, honey, salt and cinnamon.
You mix it all together,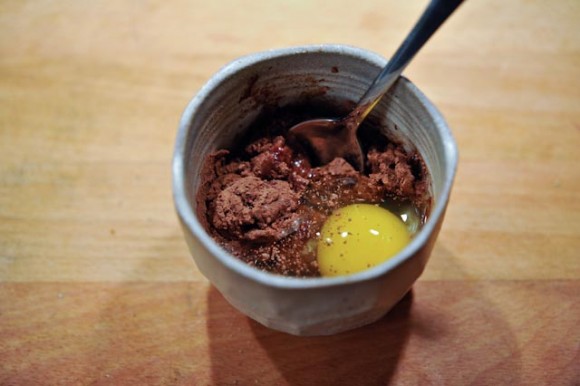 Then microwave for a minute and a half.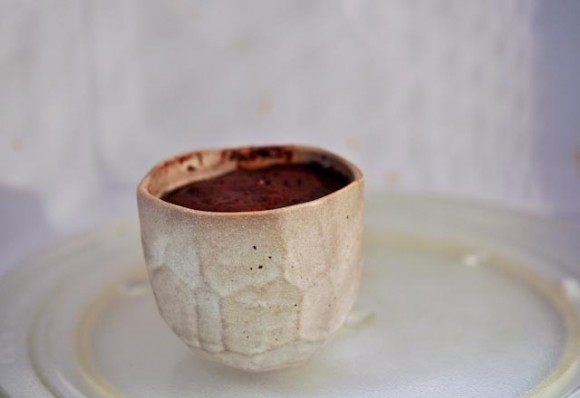 And then pour on a splash of coconut milk (or cream if you can eat it).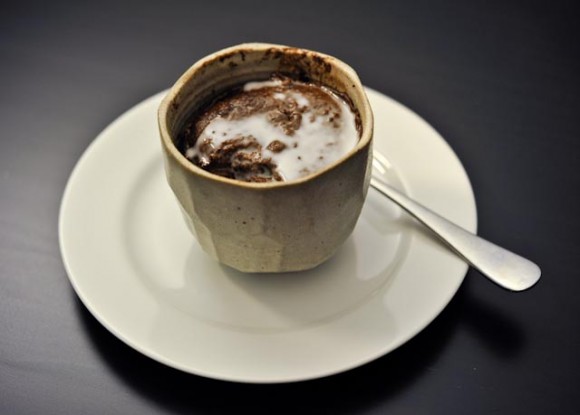 And devour.
It was almost perfect.
A little too sweet (I'll put less honey next time). A little dry (I'll add a bit of coconut oil and maybe some coconut milk to the batter, and microwave less.)
When I perfect it, I promise I'll share.
But after a month of nearly no dessert, it certainly hit the spot.