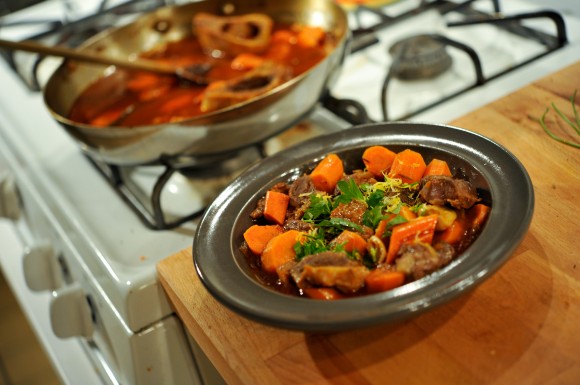 Waking up to the whistle and hiss of old metal heaters in our house just starting to kick in, I've been thankful these past few nights for my L.L. Bean comforter. Summer has left us, and we are on to crisper weather and shorter days. Fall necessitates comfort, warm sticky stews, roasted root vegetables, bowls of mashed potatoes, spice breads, and poached fruit.
Around this time of year I start thinking of cooking traditions again, after exploring out and about all summer long, I long to be home in the kitchen, the oven filled with roasting vegetables, or the rising batter of my favorite pumpkin chocolate chip cake. One of my favorite fall dinners is my mom's Osso Bucco (braised veal shank). When she cooked it, the house would smell delicious for hours, and the reward would be a big meaty treat in each of our bowls. We'd impolitely gnaw down to the bone, and loudly suck out the wobbly marrow.
When chilly air hits us, this is the first thing I want to make. It's a wonderful project for a Sunday afternoon, requires minimal effort and leaves plenty of time to curl up with a good book while you wait for supper. This stew is largely put together with bits and pieces in my kitchen, but that's sort of the beauty of it – you can make it how you want. I use lots of carrots, but adding potatoes would be good too. Finding quality pastured veal is difficult, so usually I'll substitute beef shanks, but you could even make this with stew meat and you'd be rewarded at the end.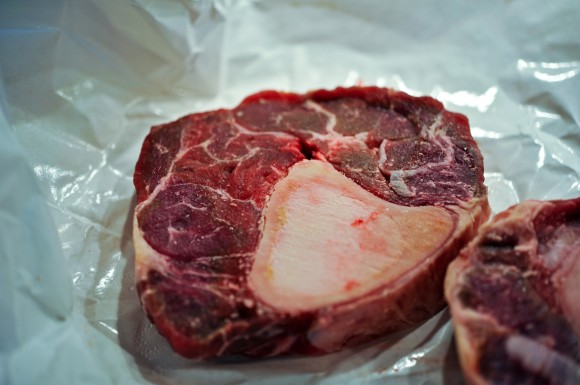 To start, I turned the oven to 350 F. These are cross-cut beef shanks I picked up at M.F. Dulock, which I seasoned with salt and pepper. I then heated up my big skillet over medium heat, and cooked some onions in a little schmaltz (chicken fat!) with some La Quercia pancetta.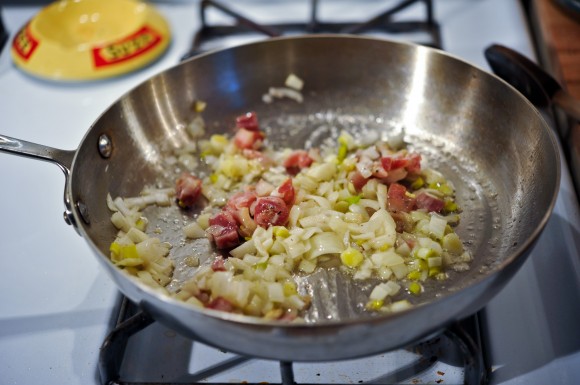 Then seared off the shanks, a few minutes on each side.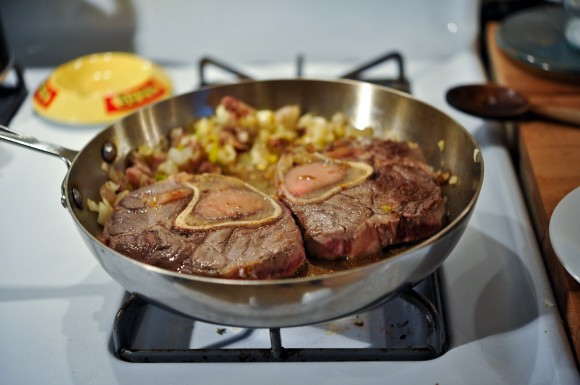 I then took out the meat, added a large chopped carrot, deglazed the pan with some stock and tomato sauce (I used Rao's Marinara), nestled the meat back in, added a handful of whole garlic cloves, seasoned it all with some dried porcini mushrooms, rosemary and bay leaves, salt and pepper, covered it, and let it cook for a few hours.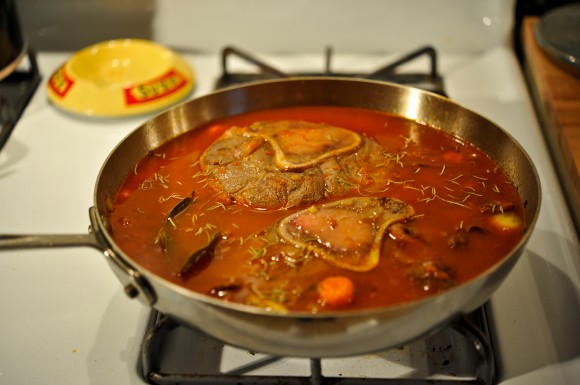 After two hours, I added some thickly cut carrots, and cooked it until they were tender, about one more hour. Devon got his served over a big bowl of mashed potatoes.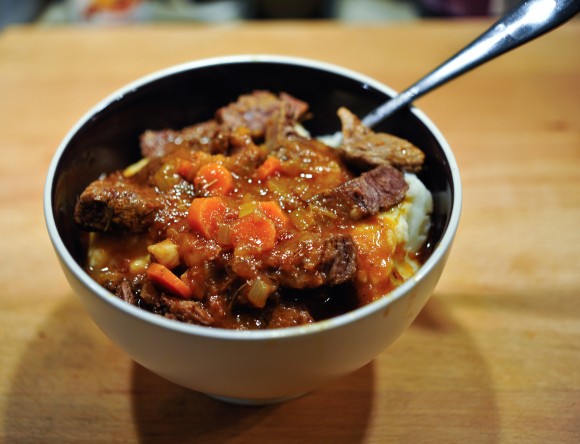 I got mine with an extra serving of carrots. To finish off the dish, I added the winning combination of parsley and lemon zest, a sort of deconstructed gremolata.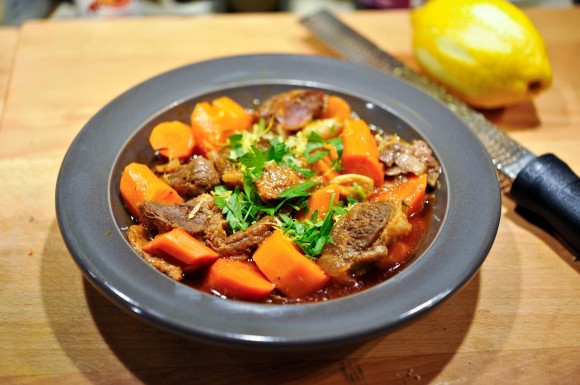 beef shank stew
serves 2 – 4
1 tablespoon good fat (I used schmaltz, you could use butter or olive oil)
1 small onion
1 ounce pancetta, chopped
2-4 large beef shanks (1 per person, 3/4 – 1 lb. each)
1 large chopped carrot
several whole cloves garlic
1 cup tomato sauce
a few cups homemade chicken stock
water (or one part water, one part red wine)
a few dried porcini mushrooms
a bay leaf
1/2 teaspoon. dried rosemary (or a sprig of fresh)
3 large carrots, chopped into coins
for the gremolata:
zest of a lemon
a small handful of parsley, chopped
Start by turning on your oven to 350 degrees. Season your beef shanks with salt and pepper, and set aside. Heat up the fat in a large heavy bottomed skillet or large dutch oven over medium heat. Chop up your onion and add to the pan with a good pinch of salt. Cook for a few minutes and add the pancetta, and a few grinds of fresh pepper from a mill if you have one. Stir about for a few minutes as you chop your carrots, and set them aside.
Raise the heat to medium-high, push aside the onions and pancetta, and place the shanks in the middle of the pan, searing them off a minute or two on each side to brown them. Then, take the meat out, and set aside. If you have four shanks, do this in batches to avoid crowding the meat to get a good sear.
Lower the heat back to medium, add the carrots to the pan, and cook for a few minutes until just slightly softened. Add the stock to the pan to deglaze all the sticky brown bits, stir, and add the tomato sauce. Put your beef shanks back in the pot, add the garlic cloves, and add a few cups of water just to make sure the shanks are almost covered.
Stir in a few dried porcinis, a bay leaf, and a 1/2 teaspoon of dried rosemary, or preferably a sprig of the fresh stuff. Bring to a simmer, cover, and pop in the oven for two hours. After two hours, add the carrot coins or other vegetables you'd like (potatoes would be good), and cook for another hour until the carrots are tender. Serve as is, or over a heaping portion of mashed potatoes. Top with a generous zesting of lemon, and some chopped parsley.
The next day, add some extra cooked meat you have on hand, or use the meaty broth to poach a few eggs in. Here's mine on day two with some crumbled pork sausage.