Saturdays are usually errand days around our house. My plan was to wake up and head into CrossFit, but I woke up at 6:00 a.m. and had my doubts. At 7:15 I contemplated making coffee but lay staring at the ceiling. At 7:45 it was pouring out and grey, and by 8:00 I had already covered my head with the pillow and that was the end of that.
Instead, I woke up late, and reluctantly walked the two miles to the bank with a podcast in order to make my gym-pact for the week. It was overcast but no longer raining, and the trees were bright enough to perk me right up.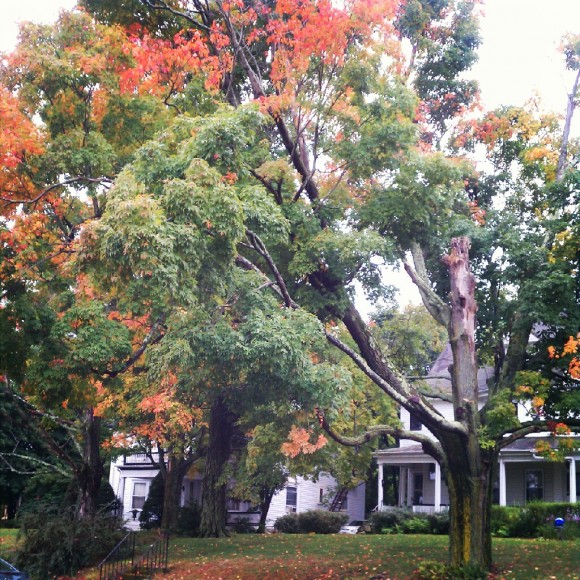 Devon met me at the bank, and we proceeded to do some semi-complicated banking while learning about how the teller was the accidental fourth child, even though her mother had been about to tie her tubes. For some reason, we inspire complete strangers to tell us the most amazing stories.
My favorite of these tell-all's was when the 20-something teller in San Francisco mentioned to us that she had recently gotten the dinosaur tattoo on her cleavage, and was excited to have a child in the future so that it would be wallpaper when he breastfeeds.
When we got home, I put together a lunch of leftover roast cauliflower with lemon, and some Za'atar chicken thighs.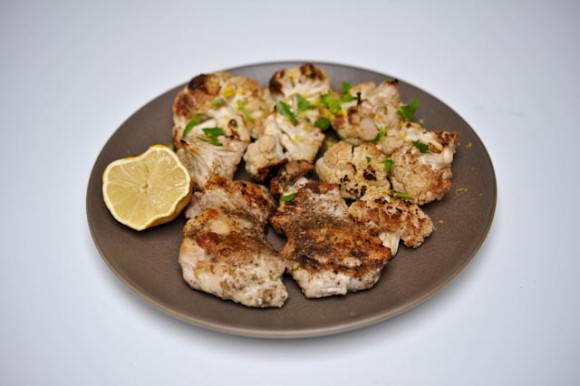 Za'atar is a wonderful spice blend from the Middle East. There is no one za'atar recipe, each family has their own special mixes, and the herbs and spices vary widely in different regions and cultures. Most za'atar blends I like have a lot of thyme and oregano, some cumin, and sesame seeds. You'll also see it with lemony red sumac, sage or mint.
I love sprinkling it on eggs, in salad dressing, baked onto pita, or liberally coating chicken thighs with the stuff before frying them up. While I've made my own in the past, I picked up this particular za'atar blend at Sofra, Ana Sortun's wonderful Middle Eastern cafe in Watertown. They sell it for $4, which, frankly is a little steep for something I can make myself, but I really do enjoy the blend.
In the late afternoon, I was hungry again, and made myself a bowl of pumpkin eggs with pumpkin pie spice, topped with almond and coconut butter. This is one of my favorite fall treats, but admittedly tastes a heck of a lot better with a large dose of maple syrup in it. (Soon!)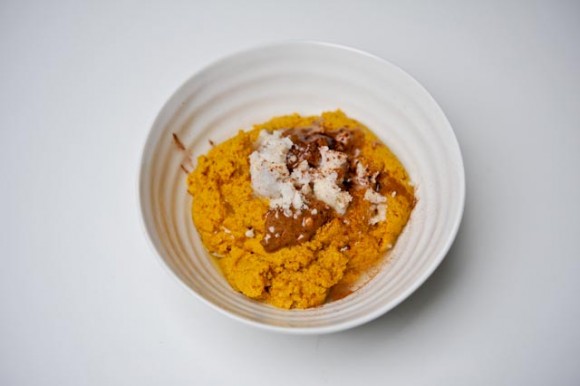 By eight, we were both hungry for dinner, but I hadn't quite gotten my act together. Leftovers to the rescue! I cooked up some fresh chorizo, with cumin, cinnamon, and a good dose of chile from M.F. Dulock, added the last bit of meaty tomato sauce and carrots from our beef stew, served it all over a bowl of steamed cauliflower, and pretended that we were in Spain.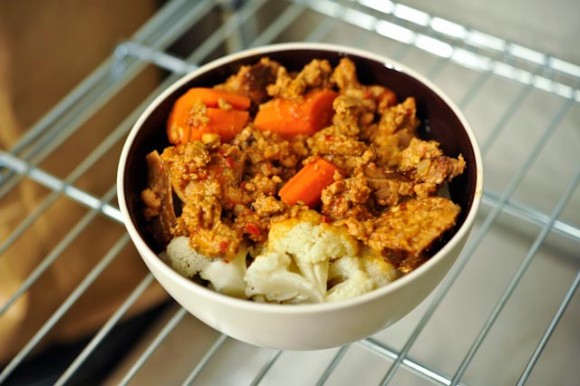 After dinner, we turned on the tv and watched the most amazing show on television – Jackson Galaxy: The Cat Daddy. You might be skeptical, but this guy is a genius.
No seriously. It's on Animal Planet, and features a tattooed gentleman who is a guitar player by night, cat behaviorist by day. He goes around with a guitar case filled with cat toys. Pretty much every episode features slightly deranged pet owners who make excuses for their pets' bad behavior. And then Jackson comes in and does his thing, and the cats turn into well-behaved, happy animals, and their owners become slightly more likeable at the end. Enjoyable, every single episode.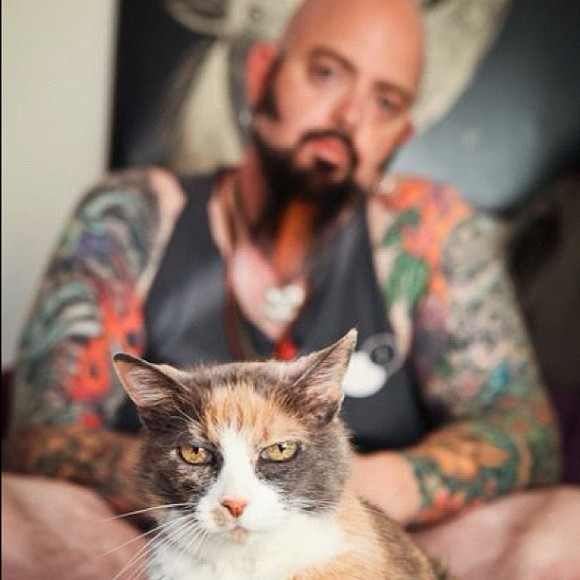 (Photo via Jackson's Instagram)