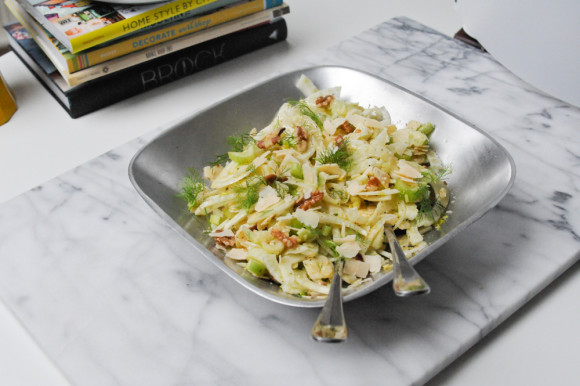 For the past several years I've done a Whole30 at the beginning of the new year, using the momentum of everyone else's New Year's enthusiasm to carry me through a month of unprocessed foods and smart eating habits. It's really much easier to be virtuous when you don't have the added stress of having to explain yourself to others when you are abstaining from office snacks and extra meals on the town. And in January, everyone is being virtuous. The Whole30 isn't a crash diet – I personally don't do it to lose weight, but rather to re-calibrate – reminding myself how much I love home cooking, adding a substantial amount of vegetables to my diet, eating mindfully, and to curb my snack habit. It's a lot easier for me to make smart choices when the decision has already been made to abstain from the bad ones, and each time that I've taken on a Whole30, I've finished with new habits that I've carried through the year with me. This January, I'm not starting with a Whole30 – truthfully, because I didn't plan – but I've committed myself to eating wholesome, home cooked food, bringing my lunches to work every day, and generally eating to support my health and wellness.
Fennel salad was one of the first recipes that I posted on this blog, and I've made it dozens of times in the years since. The base salad is one I go back to again and again when I'm feeling the need to be virtuous (or not so virtuous – this particular one has a healthy dose of cheese), so it's a perfect dish to herald in the new year on good footing. It's a versatile side dish to serve with grilled fish or chicken, and it lasts for a few days in the fridge, and in my opinion improves as it sits, so I can pack my lunches with it if I have leftovers.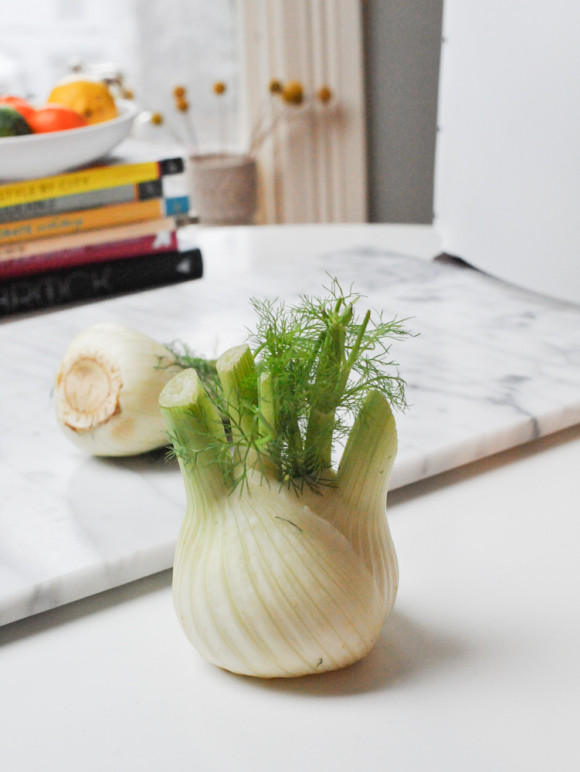 This is my usual base recipe – sliced fennel, assorted other crunchy green vegetables, nuts, and cheese, tossed with a lemony vinaigrette, but I rarely make the same version twice.
What else could you do with this salad?
There's a lot you can play with. Sometimes I'll substitute pistachios or hazelnuts for the walnuts. You can change up the herbs – parsley, mint or dill are also nice. If you'd like, you can add citrus – orange or grapefruit segments work well. As do sliced grapes. Mixed greens, and avocado make special additions, but if you are making the salad in advance (as you should!), these should be tossed in at the very end, right before serving.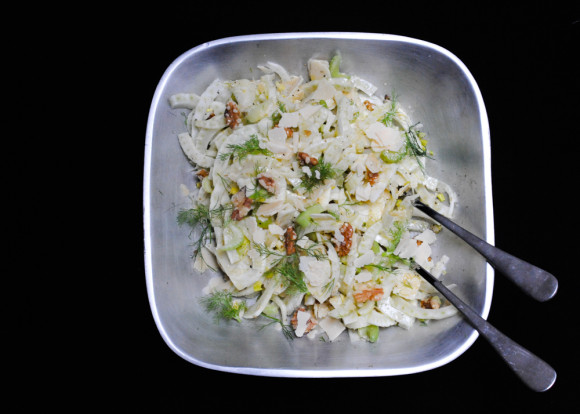 Crunchy Fennel Salad with Celery, Walnuts, and Parmesan 
serves 4 as a side
juice of 1/2 a lemon
1/2 teaspoon flaky salt
1/2 teaspoon black pepper
1 garlic clove, finely chopped (optional)
1/4 cup good olive oil
1/3 cup walnuts, gently toasted, chopped
1/2 cup Parmesan cheese, shredded
1 bulb of fennel, finely sliced, fronds reserved for garnish
3 sticks of celery, thinly chopped
Start by making the dressing: in a small bowl, put the lemon juice, salt, and pepper. If using garlic, put in the lemon juice, and let sit for five minutes before adding the rest of the ingredients so that the garlic will not be too harsh. Add olive oil, and whisk briskly until well mixed. Add the walnuts and the cheese to the dressing, and mix well.
Toss the fennel and celery with the dressing, and taste to see if you need more salt or pepper. You can make serve this salad right away, but it benefits from a few hours in the fridge. To serve, sprinkle with parmesan and the fennel fronds.