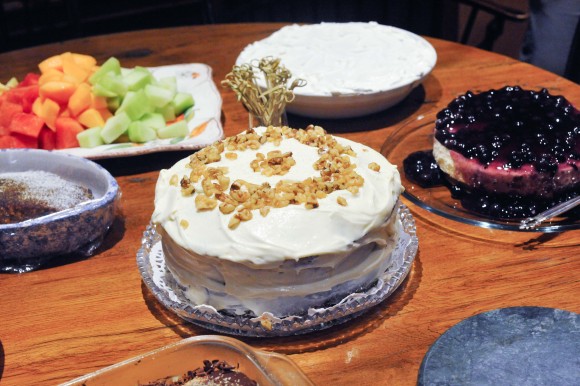 Tonight is the eve of the Jewish holiday Rosh Hashanah, so I celebrated with friends and family, and partook in some of my favorite foods: Tsimmes, a dish of braised beef, carrots, and sweet potatoes, my grandmother's potato kugel, blueberry cheese pie (what we call cheesecake), and my mom's carrot cake!
My aunt pulled out all the tricks. She always has a great wine selection (and hard liquor – clutch for any family situation.) And the evening starts with a well curated cheese board, and chopped liver for us traditionalists. Cooper, the lab, was sniffing around for crumbs, but feeling under the weather, so alas, I couldn't share with him any of my generous cracker schmears. Not that I'd ever do something like that.
We also had salmon, beef tenderloin, a deconstructed cabbage roll casserole, green beans, and vegetarian lasagna. And then dessert: the aforementioned cheese pie and carrot cake, a Venezuelan layered dessert called Marquesa, lemon meringue pie, apple crumble, and fruit.
So it's possible that I won't need to eat for a few days, but I'm still on the hook for a healthy meal Monday through Thursday this week. On Friday, I'm running Reach the Beach (a 200 mile relay through my home state of New Hampshire, so my meal will likely be some American Chop Suey served to me in an elementary school cafeteria around midnight!
Here's what's on the docket this week. The weekly cook-up, which, in addition to my dinners make up my breakfasts, lunches and snacks for the week:
– cook a large batch of greens
– hardboil eggs
– braise green beans with tomato
– make fennel salad (this holds!)
– chop peppers for snacks
– make pesto
Monday: grilled jerk chicken with fennel salad
Tuesday: pork tenderloin with pesto and zucchini noodles
Wednesday: roasted fish with sticky roasted tomatoes and garlic
Thursday: steak and potatoes with green beans.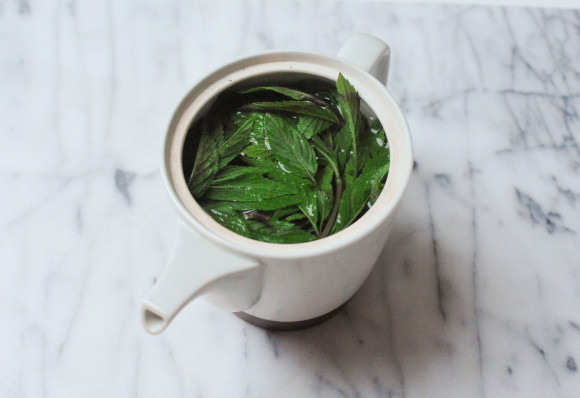 And here's a closing note for you of my favorite evening ritual: a pot of herb tea. I've been alternating between fresh mint, and dried lemon verbena. I took a good portion of my mom's plant, and have been supplementing my habit with the leaves from Stearns Farm.
What's on your dinner table this week?