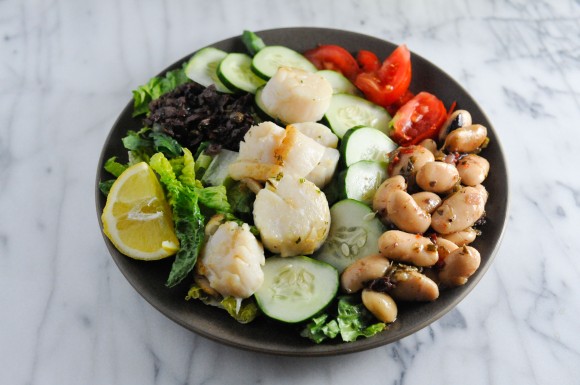 You guys, it's hot around here. It's hard not to feel sluggish. And back when I was bragging a few weeks ago that the extra air conditioners didn't raise the electric bill? Well, I lied. Or at least this month we ran them harder than ever. Today I woke up at 5:05 to make my way to November Project, and going back on my verbal with a coworker, promptly fell back asleep. The heat made me do it! I spent part of the day racked with guilt, and then got over it to go to my favorite class of the week – olympic lifting at my gym. We worked on snatch balances and power snatching. Snatches are my most dreaded lift – more reason to practice them! I'm always looking to bring power to the lift, execute an efficient bar path, and reduce my tendency of muscling up the weight, which *surprise, surprise* doesn't work when you aim to lift heavier!
When it's blazing hot outside, it's doubly hot in my kitchen, so if anything is going to be cooked, it has to be quick! Here's my dinner tonight.
Summer Scallop Salad
I'm always on the lookout for light summer salads with seafood of any kind.  Some of my favorites are Greek salad with grilled shrimp, Niçoise salad with the addition of smoked fish, and this scallop salad, which is equally good with scallops, shrimp, mussels, or lobster.
Serves 2
scallops 9 or 10 large
olive oil
tomato 1 large
cucumber 1 medium
romaine lettuce a few cups per person
assorted antipasti (optional) olives, gigande beans, crisped prosciutto, corn, feta, roasted peppers are all good!
lemon 1
olive oil
chopped fresh herbs (a handful of dill, basil)
Season scallops with salt and pepper. Heat a few glugs olive oil in a large skillet until shimmering. Add scallops, and cook over high heat until browned on the bottom, about two to three minutes. While they are cooking, go ahead and slice up a cucumber, and cut a tomato into wedges. Turn the scallops and cook for another minute, then take out of the pan immediately to avoid overcooking them! I like arranging this salad on a plate. Layer the bottom with romaine lettuce, and sprinkle on fresh herbs. Add the cucumber and tomato. Add on any extra antipasti (tonight I went for kalamata olives and gigande beans from the Whole Foods Antipasti bar). Drizzle with olive oil, squeeze the lemon wedge over top, and season, if you'd like, with a little bit of extra salt and pepper.
Some reading:
Good coaches and trainers don't let their athletes work irresponsibly through injury. Great post by Alyssa Royse on why she kicked an athlete out of her gym.
The Man Booker Long List has been released! I'm likely going to team up with some other voracious readers to work my way through the list this summer. Anyone else in?
Also:
I'm currently signed up for B.A.A. Half, and Newton Chilly Half. Should I add Hampton Rock Fest to the mix? (Home turf race!) Maybe Newburyport Half? Do I even like running??