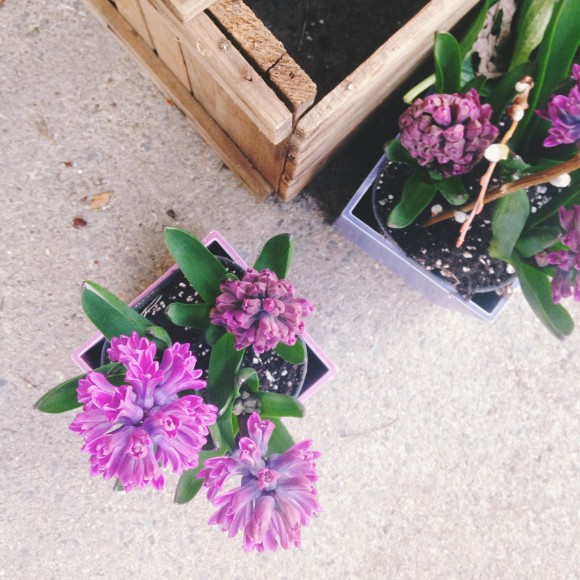 Last weekend I started sneezing. It's just allergies! I was excited for allergies, because a little sniffling is better than the food poisoning and subsequent stomach virus I was fighting for the few weeks previous. Alas, it turned out that I had developed a cold, and worked through all of the natural remedies I could think of – ginger, lots of tea with honey, all of the liquids that one can humanly consume, lots of gut-building fermented food – sauerkraut anyone? – sambucus, and more. It could have been worse. Co-workers were experiencing the same "joyous" stomach bug I had previously suffered through, everyone seemed to have a sick kid, and another was laid up with pneumonia. I at least feel like I'm on the mend.
Yesterday I went to the store armed with my meal plan, and realized in about three minutes when I saw the matzah pyramids at the end of the aisle that I'd have to rework my plans to fit in the seders and passover friendly foods. Fortunately for my sanity, what for years was a real struggle each Passover season – what, you mean I can't eat corn and soy and leavened wheat products and WHAT WILL I EAT?? – has now become fairly easy with my newfound Paleo-esque diet tendencies. Passover dietary restrictions are pretty much "primal-style", and excuse to do a Whole7 reset if you forgo the permitted dairy and matzah. Who like matzah anyway? I know, I know, there's all of those matzo crack recipes, and matzo balls, and every non-flour-based dessert known to man, but I probably shouldn't be eating that all stuff to begin with.
Two weeks in a row without a strict meal plan and I'm feeling a little bit frantic, but this week is dedicated to spring, seder leftovers, and ancient reminiscence, so I'm trying to go with the flow.
This week I will be eating, in no particular order:
chopped liver // charoset (fruit chutney) // omelettes // tomato chicken // roman braised artichokes // egg lemon soup // brisket // roasted chicken // chocolate covered apricots // sephardic date truffles // asparagus
Are you celebrating Passover? 
What's on your table this week?
Matzah, Matzo or Matzoh?