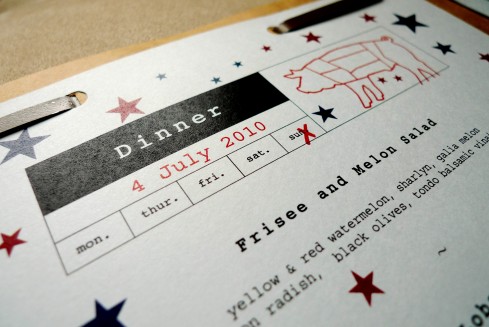 Sometimes we are creatures of habit.
We don't go out to dinner very often, but when we do, we tend to go back to Ad Hoc, Thomas Keller's down home establishment in Yountville, right down the street from the French Laundry. This time, we were there to celebrate – both the 4th of July, and Devon's graduation – a gift from my family in his honor. Lobster rolls were on the menu, and we were not prepared to pass these up.
We headed down without a reservation, and so we made a pit stop to Bouchon Bakery while we waited. Yes, imaging that – enforced waiting means that you have to walk down the street in the beautiful weather and gorge yourselves in a sugar rush "amuse-bouche".
A TKO (Thomas Keller Oreo).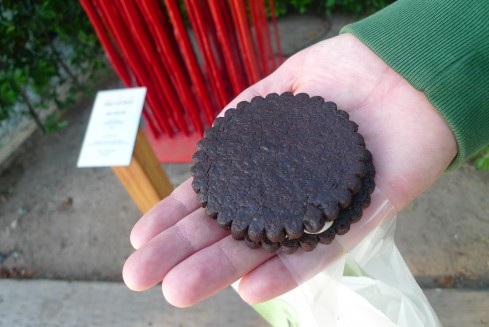 And a Bouchon: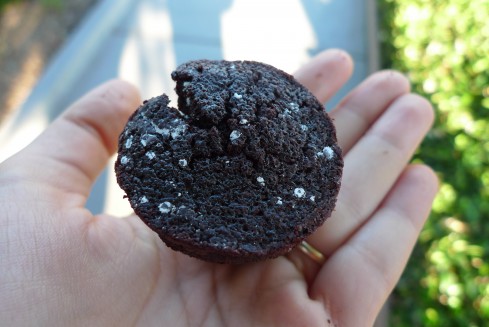 By the time we came back from our little stroll, Julia, the ever lovely beverage manager had scored us a spot at a table in the dining room. She gets so many bonus points in life for remembering my name, having not seen us since March. With a cursory glance at the menu, and assurance to our server that we indeed had no dietary restrictions, we held up our hands and said "Feed Us!!".
A small amuse arrived from the kitchen: fresh nectarine wrapped in a cured pork product. Can you think of a better way to start?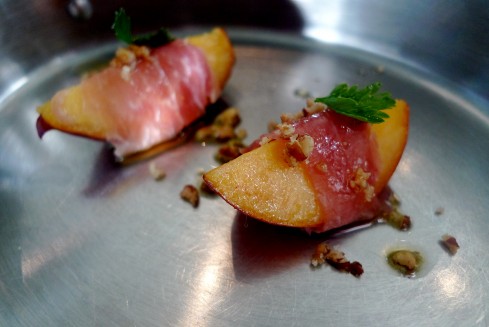 The first course was a Frisee and Melon Salad, made with yellow and red watermelon, sharlyn, galia melon, d'avignon radish, black olives, and a tondo balsamic vinaigrette. At some point, I tasted some gelatinous morsel of goodness, and the melons, I believe, were compressed? In any case, it was so refreshing to have melon served in a nice savory salad. And I must say that I was just as entranced by the Heath Ceramic bowl it was brought to us in. Covet!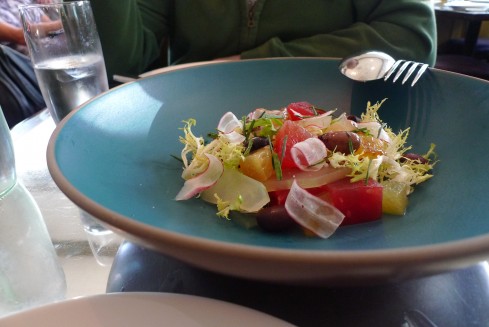 It looked like something from Michel Bras' Essential Cuisine.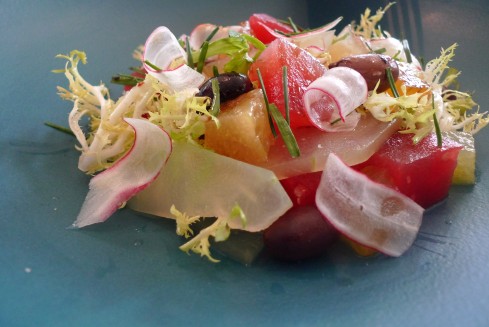 The main course were Maine Lobster Rolls, possibly my favorite food in the world. The generous lobster was nestled in these beautifully crispy buttered rolls from Bouchon bakery, and topped with pickled red onions and shaved celery. They were served with a side of refreshing savoy cabbage cole slaw, and a dish of new potatoes which had been cooked sous vide, and Brentwood corn on the cob with an outrageous amount of butter slathered on.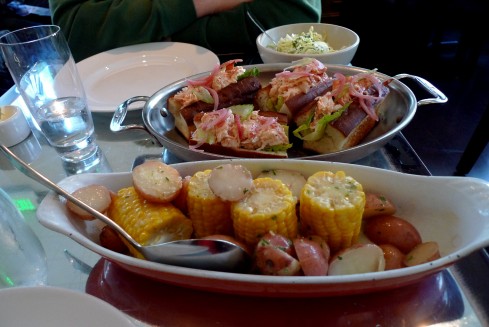 I was tempted to eat the entire contents of our table – the lobster rolls were sure to go bad if we didn't eat them right away, right? But under the sage advice of Julia, we ended up saving half of our dinner for midnight when we came home. (This is a brilliant tactic.)
And so we still had some room for the cheese course:
A slice of Wisconsin Sheep Dairy Co-op's 'Dante', served with a little salad of white nectarines, shaved endive, and toasted marcona almonds.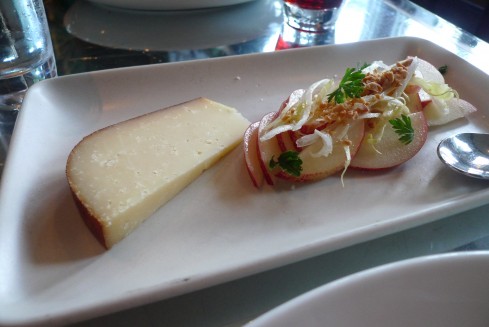 And a close-up of those nectarines.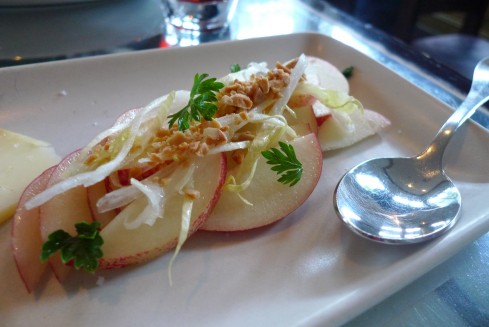 As we sat for a while to digest, I ordered a pot of my favorite Jasmine tea, and sat, blissfully, until we ended up sitting agog (yes, agog I tell you) as we listened to the table of city folks next to us argue with the server about the lack of meat option on the menu. Really folks? It's Fourth of July! The ultimate summer food, the lobster roll is on the menu! There is one menu, every day, and you are not vegetarian, or even, in this case, allergic to sea food!! It reminded me, just briefly, of the fact that I wish that I could own a rambling farm in Napa and avoid the city in it's entirety. Fortunately, dessert brought me back to my fantasy world.
Red Velvet cupcakes, served with a bowl of strawberries, blueberries, and buttermilk sorbet. We ate our sorbet and fruit, and saved the cupcakes for our impending second dinner at midnight. (Again, thanks to Julia for her wisdom and forethought!)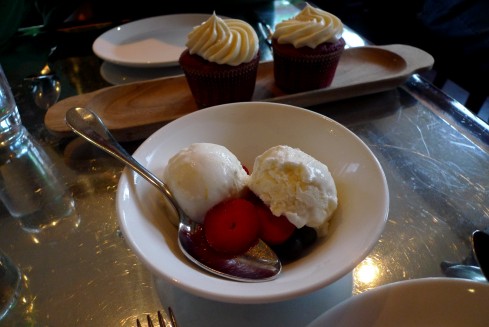 It was an agonizing wait as these babies sat in the car with us on the drive back.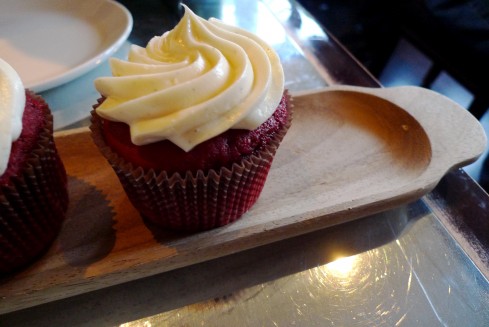 But it was worth it.
Cue up a mental image here of me stuffing this thing in my face at midnight in a gleeful frenzy.
Oh Ad Hoc, how I love thee.
Ad Hoc Restaurant
6476 Washington Street, Yountville, CA
707-944-2487
Ad Hoc has a daily pre-fixe menu, which is updated in the morning on their website.