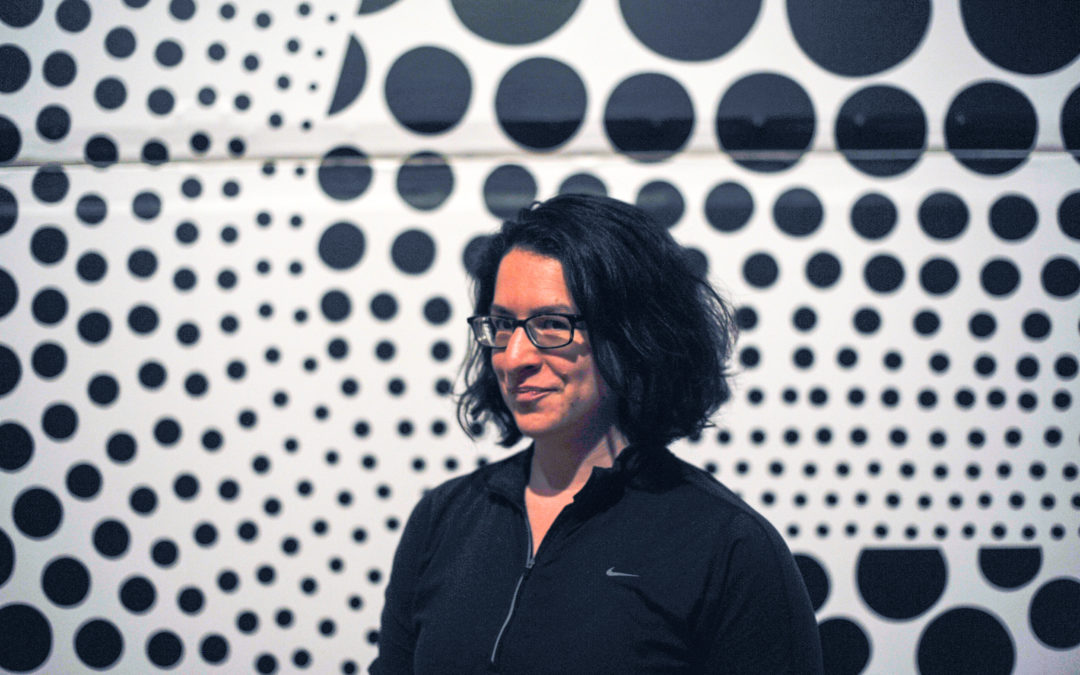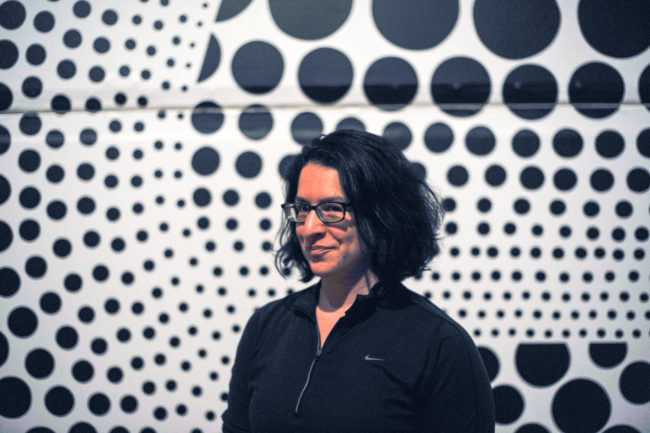 It was 7:30 am, in Seattle.
The city was just starting to wake, and there I spotted it – the line.
A very long line.
Wrapped around a building.
Let's back up a bit – last week I was in Seattle for business – for an in-person 3 month planning and strategy session with a client I've been working with for the better part of a year. The trip was a bit of a last minute affair, and beyond my work obligations, I traveled in large part without a plan. (The opposite how I usually travel, but blissfully free.)
I'd never been to Seattle before, so sightseeing and playing tourist were the goal. Home base for this part of the trip was in West Seattle, I was staying on Alki Beach.
This morning, I woefully mis-judged the amount of time it takes to get anywhere in Seattle without a car. Public transport in Seattle definitely leaves something to be desired! My first experience with transit, the 37 bus simply didn't show up at the stop. I waited an hour, hitchhiked to the water taxi stop with two women who were in the same boat (literally), and I took the water taxi in for my first day walking around the city – taking advantage of my newfound morning person status (thank you, time zones!) to get an early start around town. My first plan – find coffee.
And so, it was a that point, I came upon the line – before taking my infusion of caffeine – and it was already wrapped around the building. Having no idea what the line was for, I walked over to Pike's Place Market, hoping to grab an early breakfast before starting my day. But it was quiet, shops were still closed, and I found myself thinking…coffee can wait; you probably should get into the line. At this point I still hadn't established what the line was actually for, but I was pretty sure that I should probably just get into it.
I eyed the line. I walked to the front of the line.
And in quick succession I:
1. Determined that I was standing in front of the Seattle Art Museum. (SAM!)
2. Determined that the sold-out Yayoi Kusama exhibit was what was causing this Disney-line lunacy.
3. Asked a line-minder if there was any hope; was met with confirmation. THERE IS HOPE!
4. Realized that this was possibly my only chance to see the Infinity Mirrors exhibit, and to hell with my day, I was going to get into the line, without my coffee, at that very minute.
5. Spent the next three hours in line; with my kindle, my phone charger. Without my coffee.
Who am I?? In this narrative, I am a person who makes time for art; an avid museum goer; a conceptual art appreciator; a person who loves bright colors; and critically here – a person who has infinite patience for lines.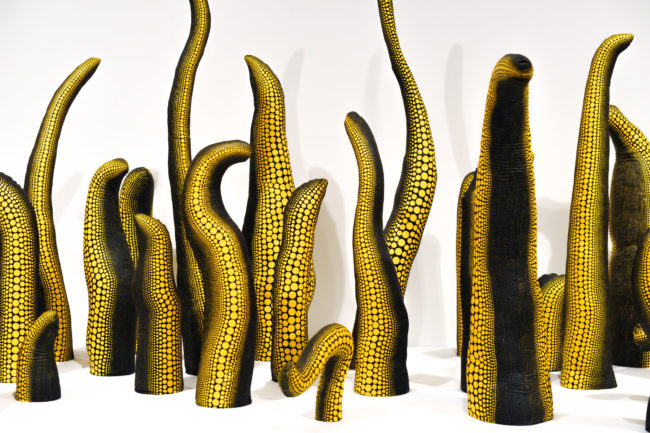 Let's talk about the line. You get into line and you wait.
Observations about the line at this point – outside the building we were met by a variety of characters as we waited for the building to open at 9:50. A man dressed as a monk (perhaps actually a monk? I'm skeptical…) came to offer prayers of peace to the couple in back of me. In a woo moment, I hear him repeat a mantra of "peace" just as my audio book starts playing at a random spot and blares the word "peace" in my ear at a high volume. An elderly Canadian couple in the line were very excited to be there, and the wife offered to get coffee for anyone who wanted some. (I declined, although in retrospect, I should have taken up her generosity.)
Around 10, we get into the building, walk through the building, down the stairs, around the corner, and the woman in front of me who has waited two hours in the line at this point, gives up to go to work. At that point I ended up behind an engineer who looked oddly like Breckin Meyer's character in Clueless. He had his laptop and was getting his sprint work done. The folks in back of me expanded as the line went on (seemingly texting more and more friends to get in line with them.) There was a woman with her two daughters, maybe 6 and 8, in front of me having a grand ole time just talking with each other without electronics. I become fascinated with the tattoos of the petite woman two steps ahead. I learn a little bit too much about my neighbors.
I should pause here and mention – if you live in Seattle, the museum membership would have SO been worth it to get both a free ticket to the exhibit and a bypass of the longer line.
And then you get up to the counter and get tickets for later in the day. By that time it was close to 11:30; having spent my morning in line, I chose to come back at 5:15 – just enough time to walk around downtown, but not stray too far. I clutched my ticket, worked, wandered, and ate.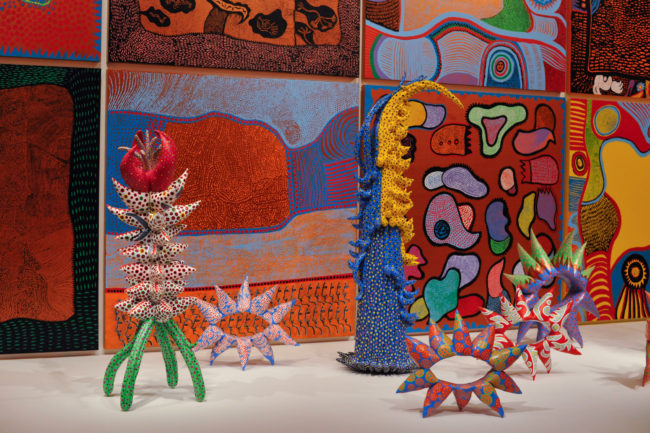 At 5:00 I came back for yet another line.
This is the line where they tell you about what you are in for.
Spoiler alert – more lines! Think the lines are over? No. You then wait in line for the boxes – individual spaces within spaces, filled with stuff. You get to the front, get 30 seconds in the box, and then you are out. You can go in as many times as you want – a few of the spaces I waited in line a couple of times to get the experience – first with my camera, then, blissfully electronics free.
Do not touch the art.
Do not lie down in the rooms.
Stay standing.
No more than three people to a room.
No photos in the pumpkin room, and you'll go in there with a minder.
I hear it's because someone fell and broke some of the art. I spent 10 minutes in the pumpkin line wondering if I could peek my phone camera out of my back pocket and then just take the photo with my Apple Watch trigger… I opted to just experience the room instead. Also, I take linguistic pleasure in the fact that her name, Kusama, sounds like Kusa – a type of squash, and that she's known, in part, for the famous pumpkin room.
And they warn you – we won't let you out if you need to pee. PEE NOW or forever hold your PEE. I saw them let someone out, so I think it's just to scare you.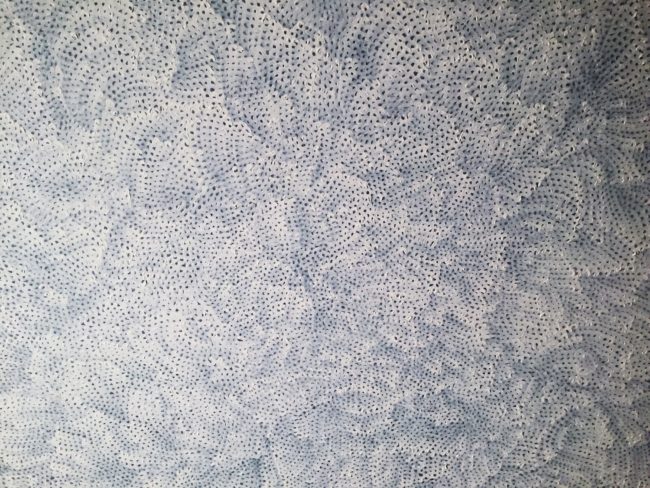 Yes, the lines, they are long, but this experience though, it's magical.
I spent two full hours in the exhibit. There were big pink balls. Stickers for collaborative art. Flashing lights. Phallic imagery; a woman explaining the phallic imagery to her pre-teens. Joy and smiles. Women wearing polka dots. A kind woman held my camera as I headed into the pumpkins; I made friends with strangers in the lines. A couple took my photo; leave it to me to find someone who was in Course 12 at MIT.
The art beyond the walls of the boxes was also delightful – possibly even more so for me than the infinity spaces – the colors were much more bright, cheerful, and so few people were really looking at it. If you go, don't forget to look at the walls!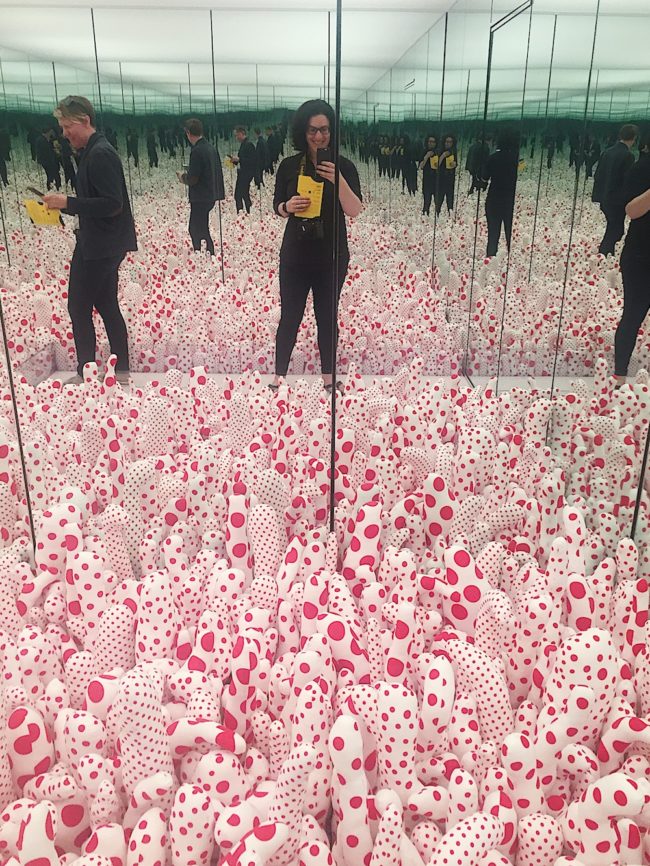 If you have the opportunity to see this exhibit, go. But maybe take a book, or a good friend you can make conversation with for five hours.
Yayoi Kusama: Inifinity Mirrors
In Seattle SAM through Sunday, September 10th
And then:
The Broad, Los Angeles, Oct 21, 2017–Jan 10, 2018
Art Gallery of Ontario, Toronto, March 3–May 27, 2018
Cleveland Museum of Art, July 9–Sept 30, 2018