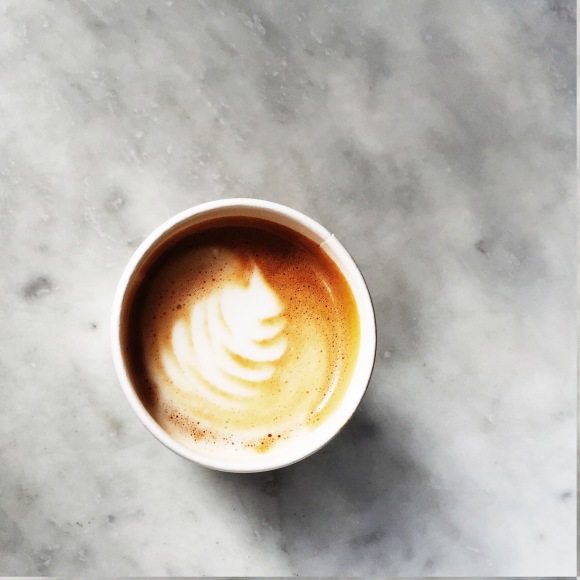 Well, hello, again, from Savannah, Georgia! I'm here for the Savannah Rock and Roll Marathon with my coworkers Rebecca and Matt, and we've had a grand time so far. (Check out my first day, if you haven't read it yet.)
Despite a late night out, I woke up before 8:30, ready to find a coffee drink and wake up for reals. Matt was still sleeping on the couch, so Rebecca and I walked for a quick errand to CVS, I had my first coffee of the day, a Flat White at The Collins Quarter, which was so good that we determined that we'd like to head back there for brunch. (I felt a little bit like I was cheating on my main squeeze, the Cuppa flat white. This was very good!)
On the way back to picking up our sleeping room mate, Rebecca gave a quick call to the apartment managers, because upon initial inspection, we noticed that our apartment didn't have smoke detectors. I'm glad that Rebecca cares enough that we don't die in a fire! They were incredibly responsive, and by the time we returned home tonight, we've been outfitted with two protective devices.
Here's the lovely outdoor tables at The Colllins Quarter: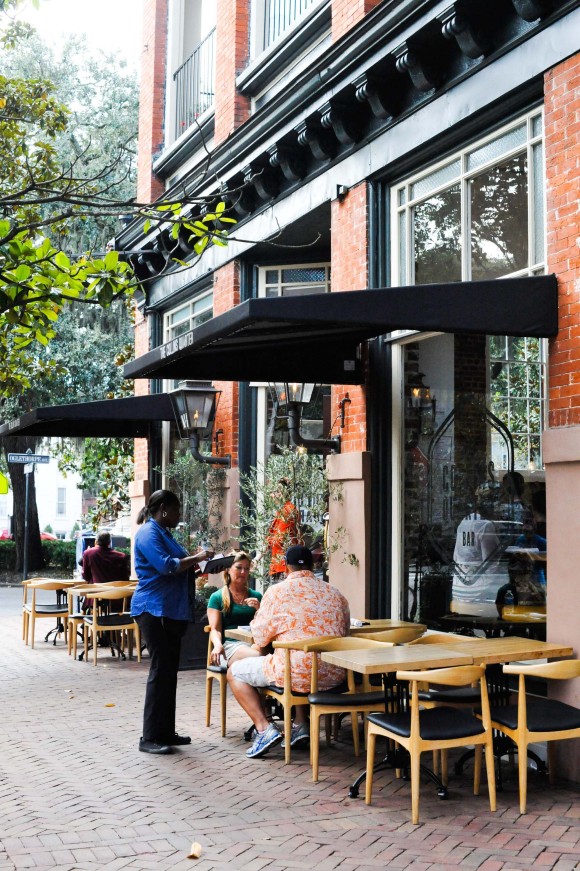 For brunch, I had the All American ($10): two eggs any style, cherry tomatoes, bacon, and Beaufort artisan toast.  It came with a little salad of fresh herbs, and was served in a gorgeous plate! Rebecca and I also ordered Iced Espresso Mint Juleps, which reminded me a little bit of my very favorite Philz Mocha Tesora with a mint leaf.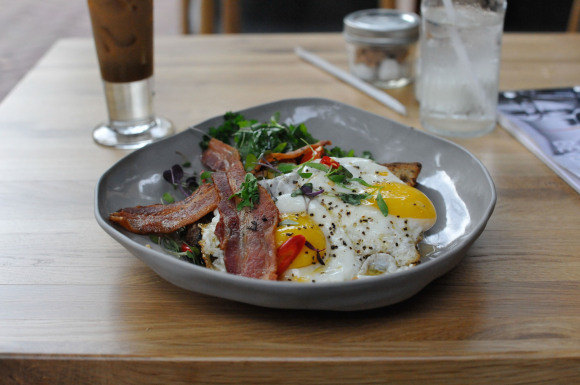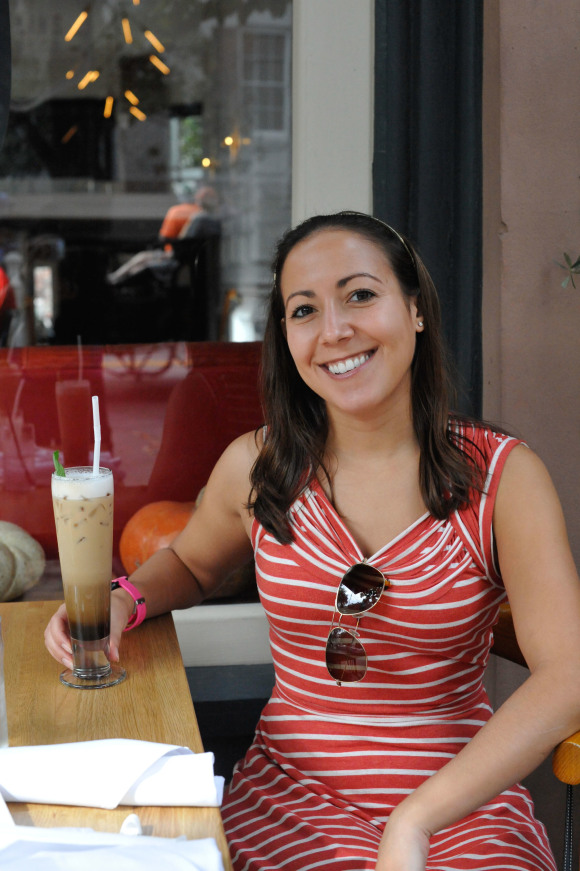 Rebecca went with the gorgeous Smashed Avocado ($10): with Beaufort artisan bakery toast, Persian feta, cherry tomatoes, lemon, micro herbs & shaved radishes, and a poached egg.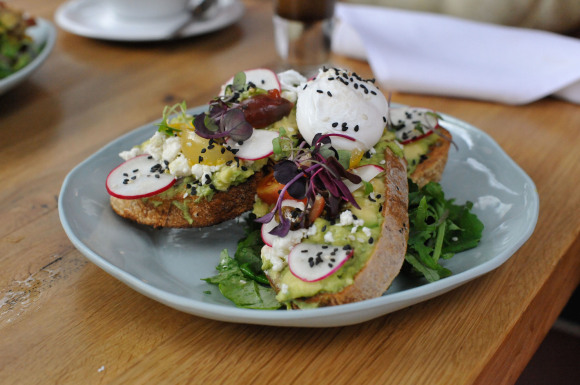 Matt went with the Niman Ranch Brown Egg Omelette, to which he added pretty much all of the fillings, and was a very happy camper.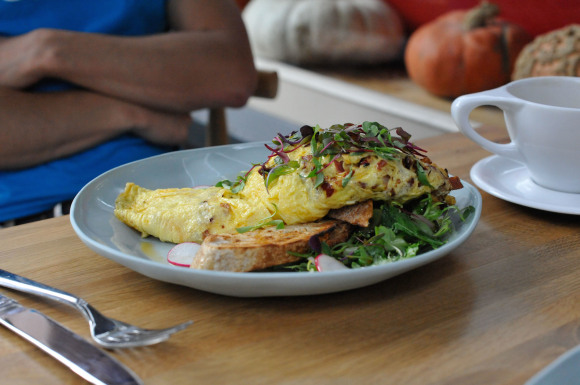 After brunch, we headed across the street from the restaurant to the Juliette Gordon Low House front stoop, in order to pick up an "Old Savannah Tours" on and off bus, so that we could explore a good amount of the city without totally overusing our limbs before our race. They have a special where you get discounted tickets online (we paid $71 for three people, for a 90 minute tour that you can take as many times as you want in the day) and so we purchased tickets before brunch, and simply hopped on and the closest stop.
I've taken a handful of bus tours like this, and the on and off is a great way to get around the city, and see a good amount of sites. I will note that the tours are only as good as the drivers, so if you don't like your tour guide, simply hop off, and wait until the next bus comes along. Luckily, we had two great drivers (we had to switch to a new bus at the first "official" stop, so that they can drive people to their hotels when they finish the tour.)
We definitely enjoyed the tour, which took us around 16 of the squares, down to Forsyth park, and around the top part of the historic district. (One odd thing to note: they do periodic checks to see if everyone has a ticket on board. Because we got our tickets online, we had to show them our receipt on my phone, which happened to say "this is your ticket", but then one of the ticket checkers instructed us to fill out a voucher at stop "one", and then exchange that for printed pay stubs from the ticket checker at the next stop. I have absolutely no idea why that was necessary, but I did find it amusing!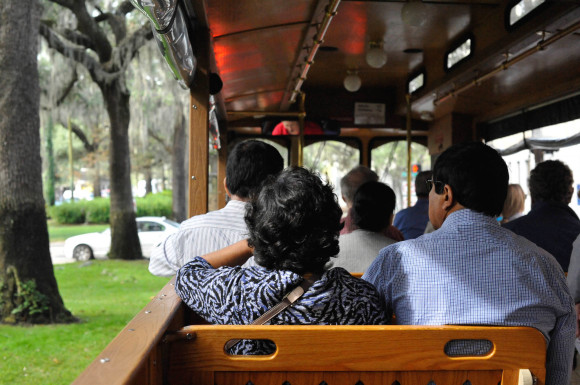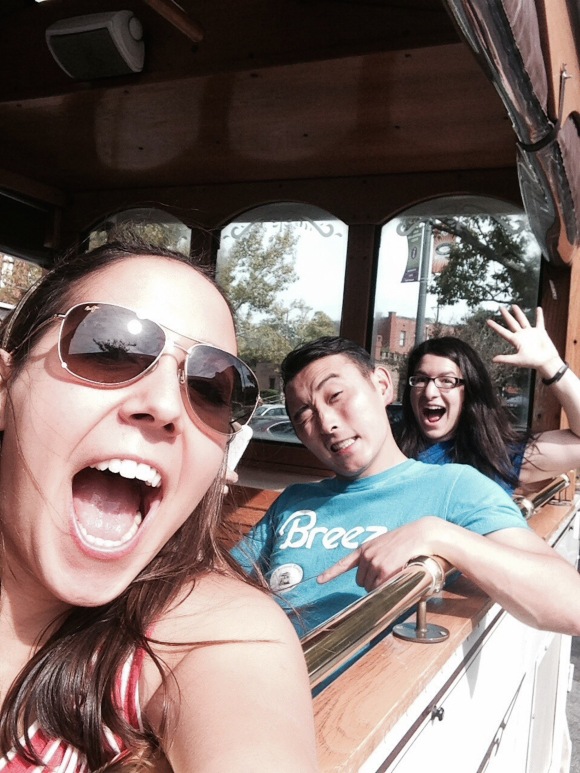 After finishing the tour at the Juliette Gordon Low stop – no girl scout cookies in sight, alas – we headed to the convention center to pick up our race packets. A word of warning to those prone to seasickness coming to the race – the convention center is actually located across the river from the city, and you have to take a (free) 5 minute ferry ride across.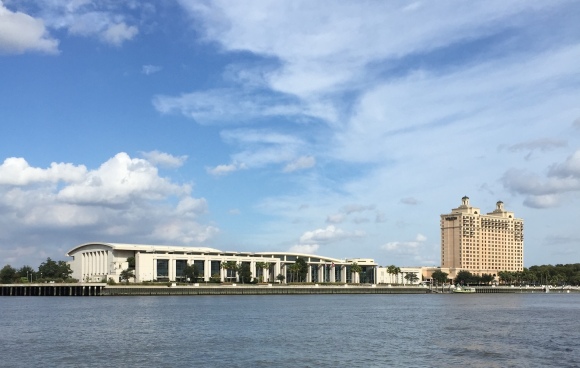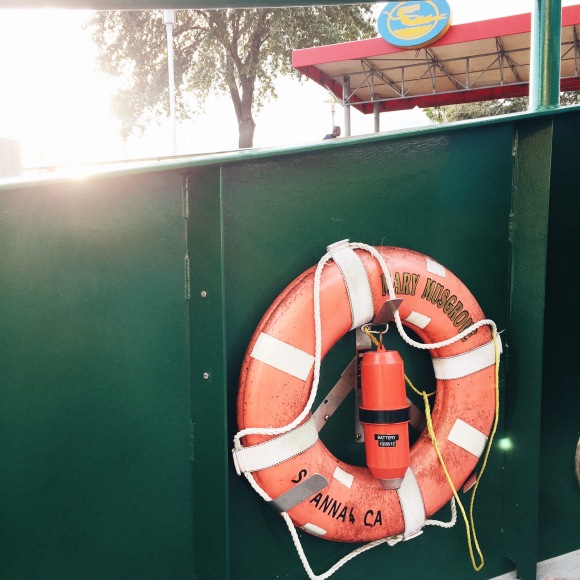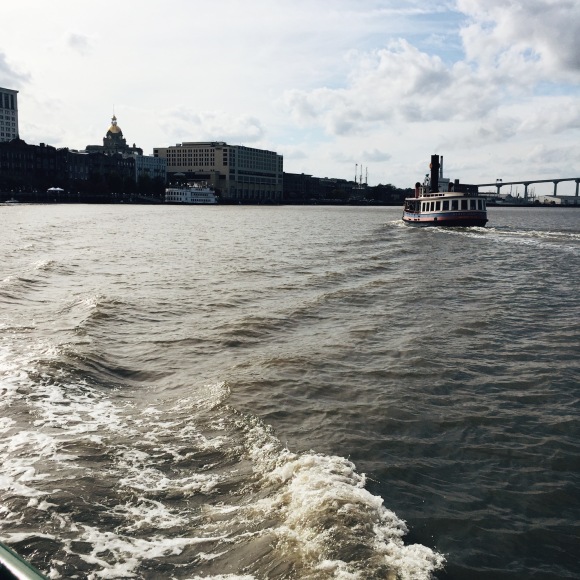 We arrived to a *very* quiet convention center, and things started to get real! Bib pickup was super easy, but they hadn't yet gotten in race tees yet, so we actually ended up waiting for an hour or so outside in the sunshine, so that we wouldn't have to pick up the shirts post race. I had assumed that I might want to buy a bunch of things at the expo, but I ended up just picking up a few margarita shot blocs from the Fleet Feet booth.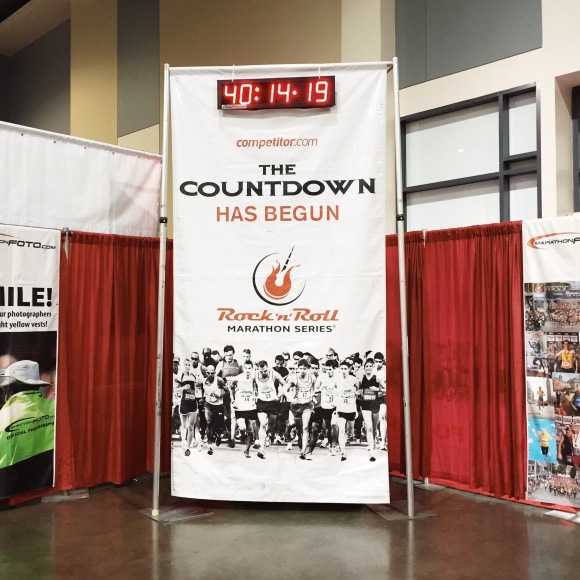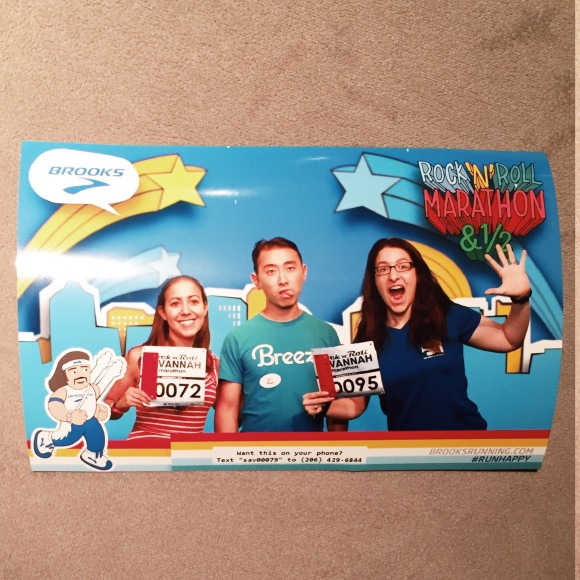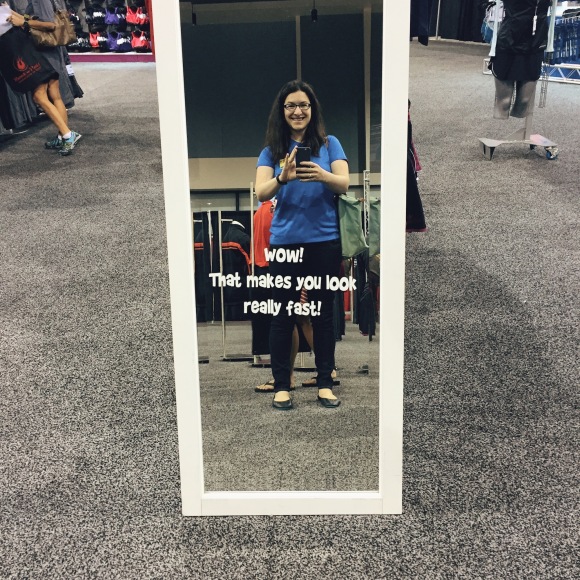 The race expo was decent, but I didn't feel compelled to do any more shopping. Instead we sat outside and looked at this view. Some of us took naps.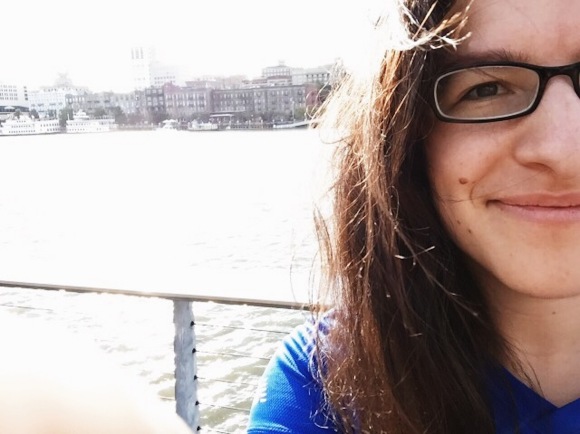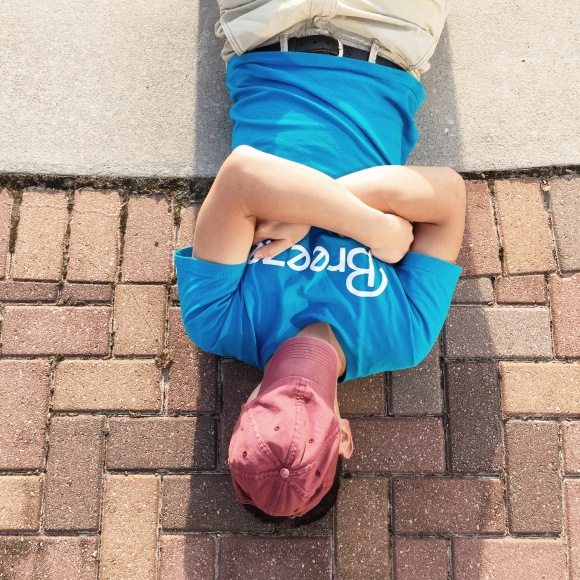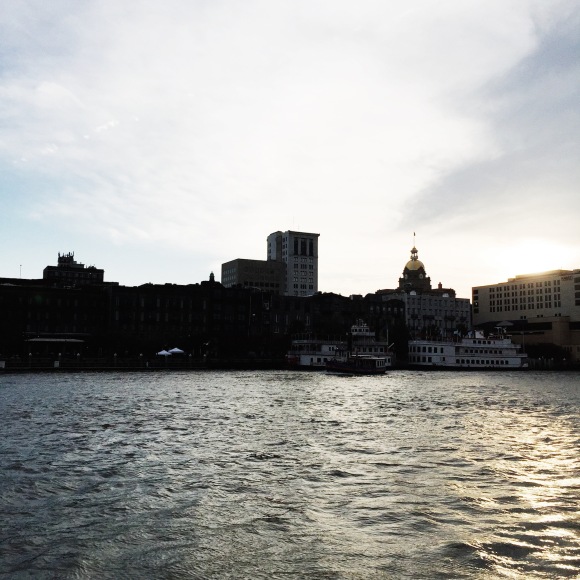 Around five, we headed back across the river, and took a short walk down River Street, which reminds me of so many of the other boardwalk streets intended solely for tourists, and then down Broughton to take a peek at some of the shops before dinner. We stopped by the Savannah Bee Company for some samples, and I wish I could have purchased some of their white winter honey to take home with me! It was delicious!
I saw this little guy, but he was too heavy to take home in my carryon. (Concrete.)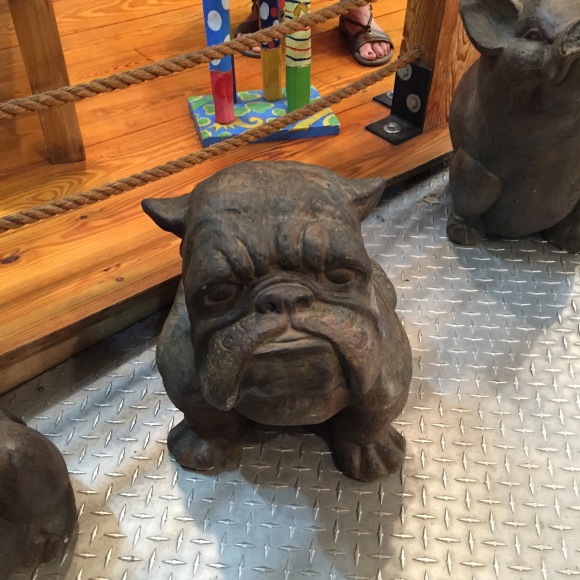 After our long day, we got ourselves to dinner at Public Kitchen & Bar just at the beginning of happy hour, which we opted to do tonight, because they don't take reservations, a risky prospect when 18,000 people are in town for a marathon. (Most people are likely going to arrive tomorrow.)
We sat outside, and our meal started awkwardly, with some general confusion about our happy hour wine orders. Rebecca ordered a Twisted Cabernet, but the waiter gave her a white wine (which was likely Chardonnay), and insisted that this was the Cab when she repeatedly expressed confusion. She finally gave up and ordered a different wine, but our first experience with service made me nervous for my meal. I on the other hand, made my own mistake, ordering a sickly sweet riesling when I assumed it was going to be a dry one. I just didn't drink my grape juice, although our waiter seemed to take no notice of this, even by the end of our meal.
The food, however, was good – Matt opted for an arugula salad with chicken (a prudent choice, although he had been eying the kimchi cheeseburger), Rebecca the risotto. I made the best choice of all, the shrimp and grits with bacon cheddar grits, peas, chorizo, tomato, and a sherry cream sauce. While I was bracing myself for a dish that was outrageously heavy, I was actually pleasantly surprised to find it quite light, and incredibly well seasoned and balanced. I left not a single bite.
For the second night in a row, we passed on dessert. It makes me a little dubious of my coworkers, but it's probably for the best :p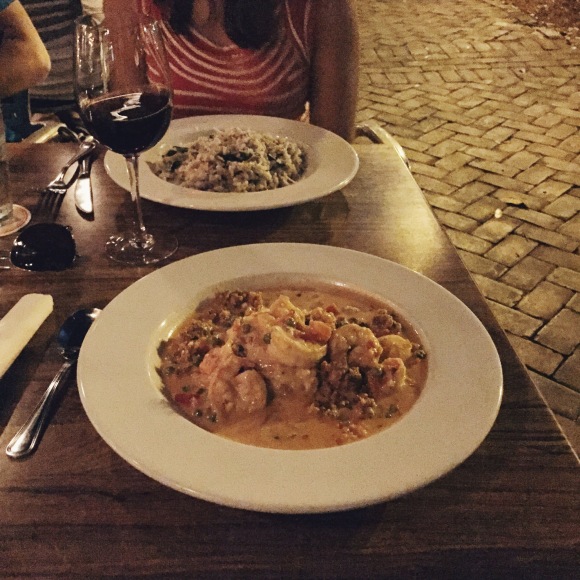 We did, however, make a final pitstop to World of Beer, so Matt could order a beer to go, to drink while walking home, as this is apparently legal in this fine city. He went for a Southbound Hop-lin IPA, which I got a sip of – yet another fine choice from this state!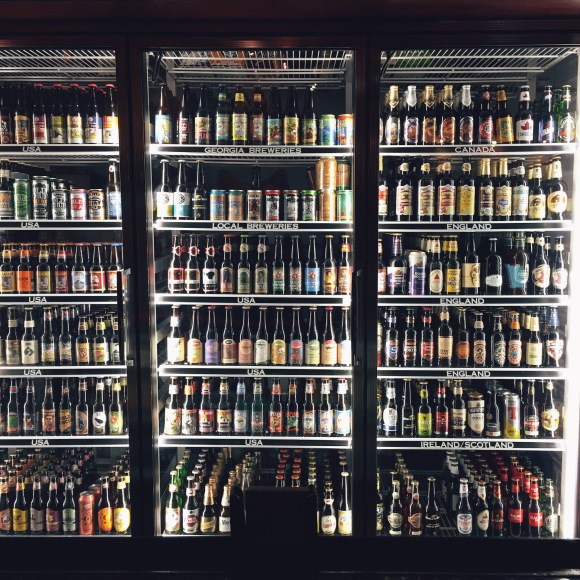 And with that, we're back at the apartment again, and it's 9:30 pm, and I'm thinking of turning in.
Onwards!