Part 1 of the challenge complete! This was the last day of my strict challenge (Whole30), and tomorrow I'll be following along with the rest of the folks at the gym for a slightly more relaxed challenge for the next few months. I'll still be focused on whole, unprocessed (or minimally processed!) foods, but there likely will be a few more healthy desserts around here, because I miss my chocolate.
How'd this month go?
First off, I attempted to eat at meal times and cut out snacking. This worked out quite well. I learned that by adding a little bit of extra protein and fat to each meal, I really did find myself satiated enough to tide me over to the next meal without finding myself hungry.
This was largely helped by the blood sugar regulation from cutting out refined sugars and sweeteners of any kind. Even honey and maple syrup. Near the end of the month I had a couple of LÄRABARs which I learned are technically verboten, but I didn't over do it. You'll also notice that I largely cut out desserts. This was helpful retraining myself to get out of the habit of needing something sweet after every meal. I'm guessing that I'll be much more mindful of this in the future. While I missed out over the holidays on one of my favorite desserts ever (pumpkin chocolate chip cake!), I've been pleasantly surprised at how easy it was to let the daily dessert habit go.
Although the first few weeks I felt fine (with no noticeable change positive or negative), the last few weeks I've been feeling great! I've been doing awesome things in the gym, eating lots of delicious meals, and feeling bouncy and peppy in general.
Most of all, I had a lot of fun cooking. So many great meals at home! My tummy and my wallet are thanking me.
And, I finally made it through an entire jar of almond butter. It lasted me the whole month, and I ate the last scoops on a ripe banana.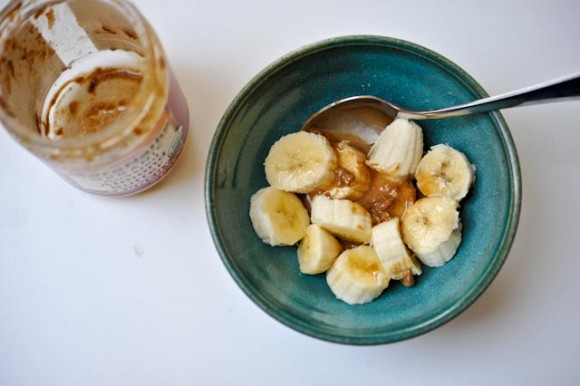 For lunch, I had what can only be described as a "clean out the fridge meal", but one which tasted much better than it looks. In the bowl is leftover shredded beef shanks, a cup of frozen artichoke hearts from Trader Joe's, and an egg.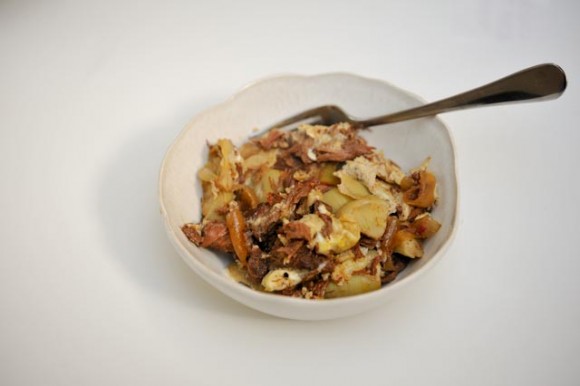 In the late afternoon, I headed out to do some grocery shopping. A few things at Formaggio, Whole Foods, and a trip out to M.F. Dulock to pick up my weekly meat allotment. (Three stores again, Sam? Yes, I'm in love with grocery shopping.)
Here are the cases this week. Gorgeous: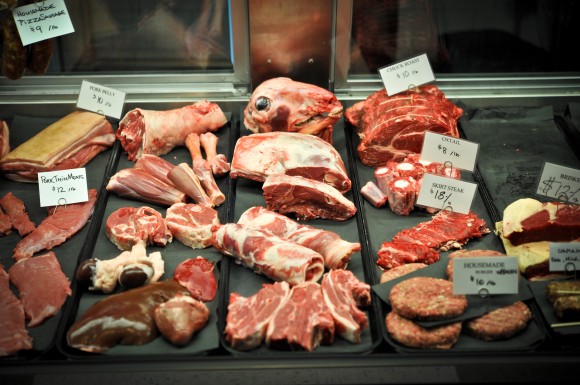 I picked up some lamb shanks, a small portion of lamb liver, some all-beef Romanian sausage, a little Eye-of-Round roast,  some ground beef (ground to order!), and a gorgeous pork tenderloin. I've been trying to get a little of each animal in the case each week, and going for variety.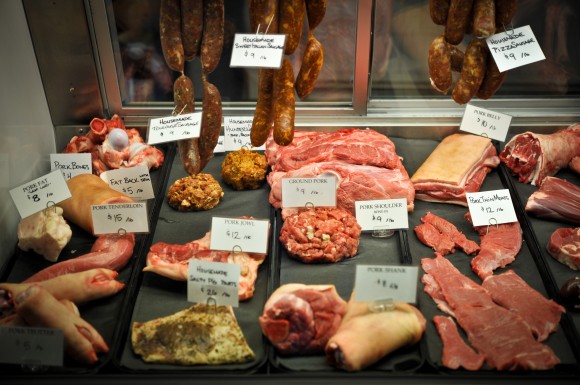 For dinner, I put together a fall dinner of roasted pork tenderloin, acorn squash, and a fennel and apple slaw.
I chopped an acorn squash, tossed it with some coconut oil, salt, cumin and chile, and roasted it at 450 for 20 minutes, and then 20 more minutes at 400 – while the pork was also in the oven. The pork tenderloin I seasoned with Nom Nom Paleo's Magic Mushroom Powder from her iPad app, and some rosemary (yep, exactly how I seasoned the lamb yesterday). I seared the tenderloin on all sides the stove top (about 3 minutes), and popped it in the hot 400 degree oven for 15 minutes. I then took it out and let it rest for 10 minutes, lightly covered with the lid.
Right as I put the pork in the oven, I added a little lamb liver to the pan to roast along side it. (Chef's treat!)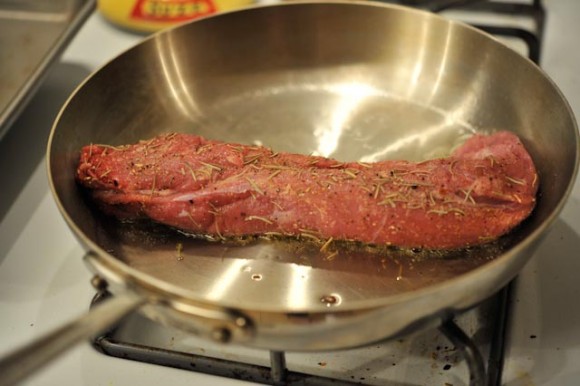 While the pork was cooking, I made a quick fennel apple slaw. I toasted a tiny handful of walnuts, and I thinly sliced a bulb of fennel, and a gala apple, and tossed them all together with the juice of half a lemon of lemon to keep the apples from browning. I then made a quick dressing: juice from the other half of the, a tablespoon of cider vinegar, a teaspoon of mustard, and 3 tablespoons of olive oil. I seasoned it with salt and pepper, and tossed it all together, letting it sit out on the counter about 20 minutes to mellow before serving.
My dinner: