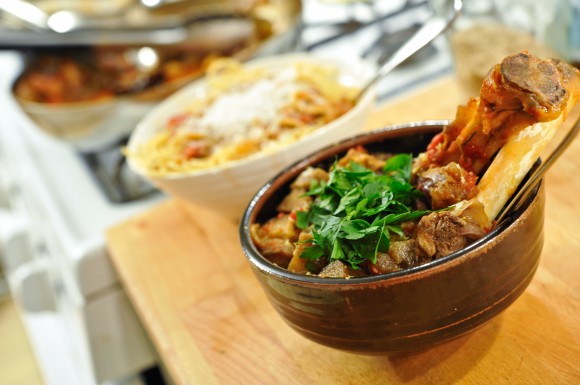 There are two Nigel Slater recipes for lamb shanks that I use often. The first is his lamb shanks with anchovy (you can watch the video of him making it), and the second, his Moroccan spiced lamb shanks with aubergine from Real Cooking. Left with what is likely my last eggplant of summer (there's supposed to be a frost tonight!), and an abundance of good anchovies from Eataly, I decided to combine the two. I love throwing anchovies in braises because they lend a salty-umami taste without screaming out "there's a fish in here!"
To make this dish, you'll want two lamb shanks. These were actually quite small, but you could easily get larger ones if you are feeding more people.
I drizzled them with a little bit of olive oil, seasoned them in salt and pepper, and seared them off in my deep skillet in a little bit of tallow (rendered beef fat, a gift from the awesome folks at M.F. Dulock). A dutch oven would work well for this, but my dearly beloved Le Creuset 7 1/4 Qt. is currently injured, and I haven't been able to send it back to get a replacement. While doing this, I turned the oven to 300 F to preheat.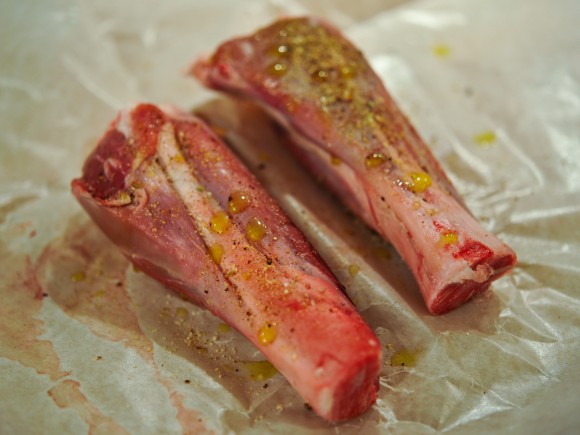 After browning the shanks, I added the chopped onions and a few cloves of garlic to the pan. I sprinkled on some rosemary and added a few Turkish bay leaves my mom smuggled back from a tree in Istanbul.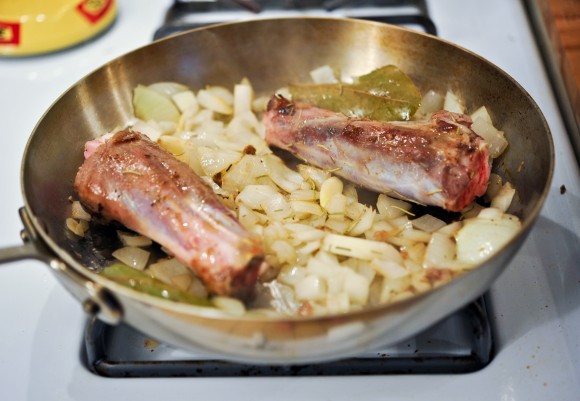 I then chopped the anchovies, added them to the pot, added tomato paste, an eggplant chopped into large cubes, and some water to come halfway up the shanks. You could easily use some red wine and stock here if you had some. The anchovies are quite salty, but I tasted the broth and gave it a final seasoning.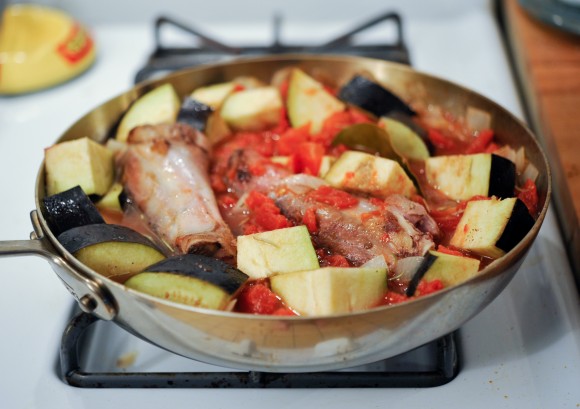 I brought it all to a simmer, put on the lid, popped it in the oven, let it cook for an hour, turned the shanks, and braised for an hour more. The result: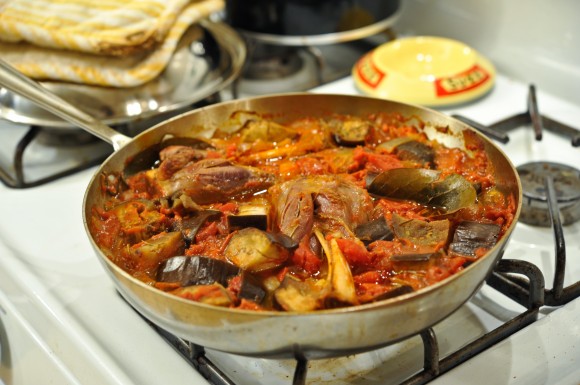 I served Devon's off the bone over some pasta with parmigiano, and my bowl with a double portion of eggplant, and a grating of lemon zest and sprinkle of parsley.
Braised Lamb Shanks with Tomato, Eggplant, and Anchovies
2 lamb shanks
salt and freshly ground black pepper
1 tablespoon olive oil
1 onion, roughly chopped
3 whole cloves garlic
2 sprigs rosemary (or about 1/2 Tbs. dried)
2 bay leaves
4 anchovy fillets, chopped
1 tablespoon tomato paste
1 medium eggplant, chopped into large cubes
1 can diced tomatoes (15 oz.)
about a cup of water
lemon zest + parsley to serve
Preheat the oven to 300 F.  Season the shanks with salt an pepper, and brown them in a dutch over or deep skillet in some olive oil or good fat (I used tallow). When the shanks have browned, add the onions and garlic. Nestle in the rosemary and bay leaves. Chop the anchovy fillets and add them to the pan, then add the tomato paste and gentle stir. Add the chopped eggplant, pour over the diced tomatoes and the water to reach about half way up the shanks. Bring to a simmer. Once simmering, put the lid on, and bake in the oven for two hours, turning the shanks half way through.
Serve topped with lemon zest and parsley. Or, remove the meat from the bone, and serve over pasta with a grating of parmigiano. Leftovers taste particularly good on day two with a few poached eggs.