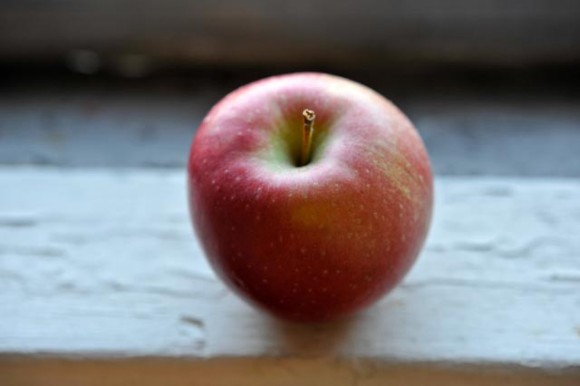 My morning started with no coffee because I was running late, but this gorgeous Spencer apple which I grabbed on the way to the gym for an early workout. To warm up, we did several rounds of medicine ball torture – burps, squats, ball tosses and lateral tosses with a partner, more squats. By the end of the warm-up, I was dying. We then set to work on the strength: back squats. I like back squats! I'm still trying to get used to squatting deeply – my left leg isn't as strong as my right, but I'm working on it.
Strength:  Back Squat – 6 sets of 2 @ 80% of max., rest 2:00 between sets (I used 80#, and knocked these out no problem.)
Workout of the Day:  "Snatch Balls" (Snicker…)
AMRAP 7 (As many rounds as possible in 7 minutes):
7 Power Snatch 95/65 (I used 45. I could go heavier by weight, but my form…is lacking.)
10 Wall Ball 20/14 (I used a 10 pound ball.)
Now, these two moves happen to be some of my least successful ones, so this workout did not go well. I ended up finishing only two rounds, the 7 lifts, and 5 wall balls. I wish it had gone better, but not every day in the gym is a personal best, so I'll accept it as valuable practice.
After out workout, several of us hung around to watch Coach Steve perform 20 rounds of "Cindy" (5 Pullups, 10 Pushups, 15 Squats) with a 20 pound weighted vest, to raise money for Barbells for Boobs, an awesome non-profit raising money for breast cancer prevention.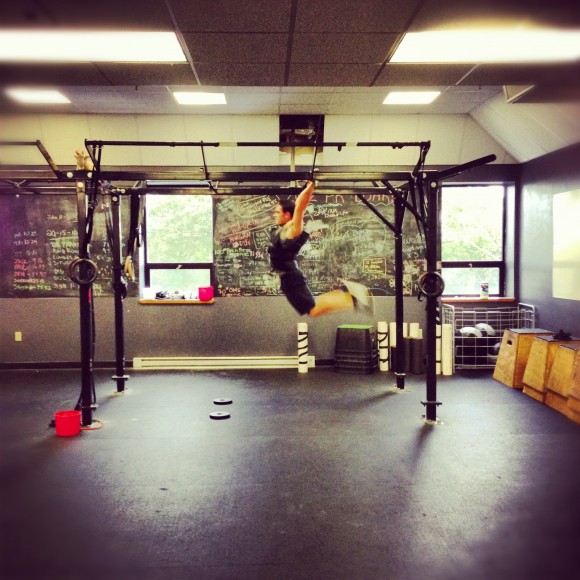 *        *         *
For lunch, I had the leftover eggplant from my braised lamb shanks two nights ago. Because there wasn't really much lamb, I topped it with two eggs and called it a meal.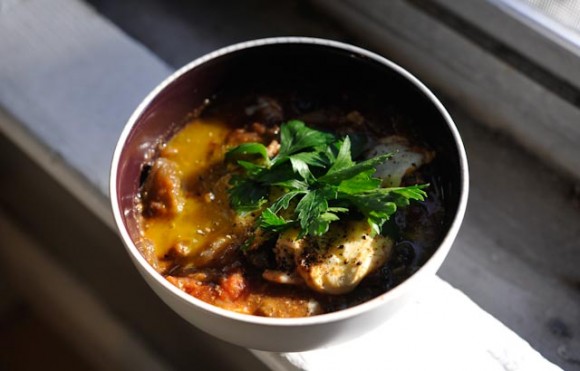 After a busy afternoon, I didn't manage to get to the butcher (M.F. Dulock) until well past six, and I was worried that they'd be out of everything. I shouldn't have been worried! Here are some shots of the gorgeous cases this week.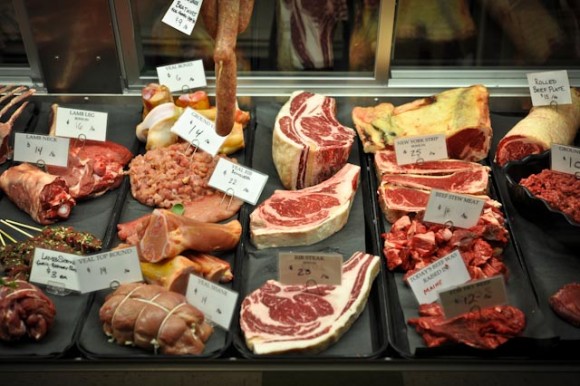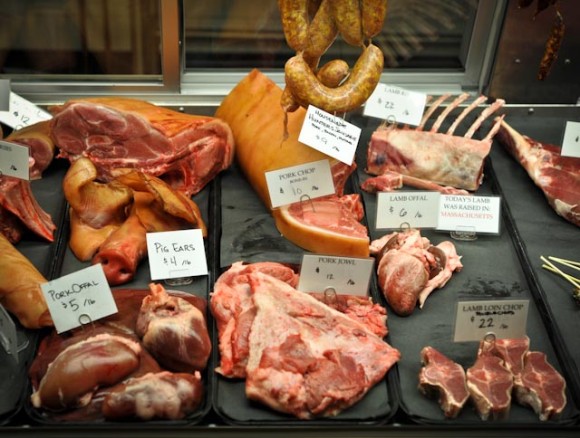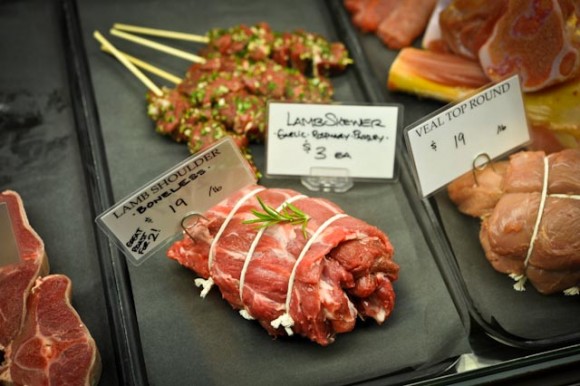 I ended up going home with some ground beef, garlic-thyme sausages, bone in pork chops, lamb neck, baby merguez sausages, and lamb kidney. Unsure of what to do with the kidneys (no soaking in milk!), they lent me a copy of Jennifer McLagan's Odd Bits: How to Cook the Rest of the Animal to play with. I adore her books – excellent monographs on meat (Fat, and Bones) – truly inspired histories and recipes on the subject.
For dinner, despite having purchased a week's worth of meat, we ended up going out to Strip-T's, one of our hands down favorite restaurants. Hidden away in Watertown, the place has been open for three decades, but recently went through a renaissance when the owner's son came back from New York, working in David Chang's empire.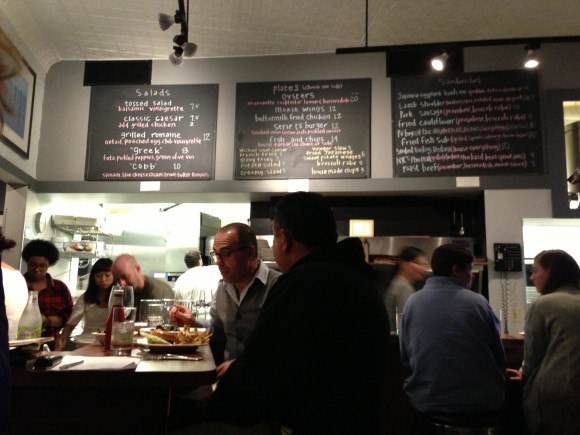 I wish I could tell you that it was a welcome relief, but it was kind of a bust. The wait was longer than usual, service was spotty, and the kitchen was having a serious off day.
For an appetizer I had the roasted brussels sprouts and sardines (minus the romesco, which contained bread). This was a good combination. The sardines were fresh, but cured slightly like pickled herring.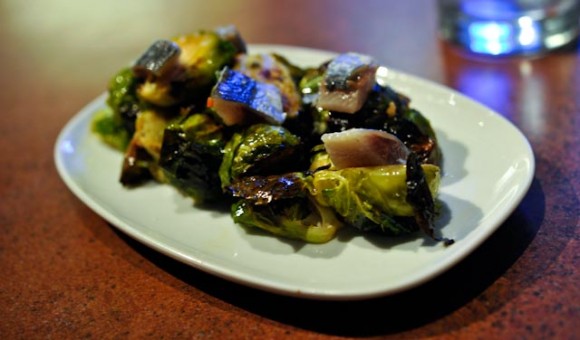 For my entree, I opted for my usual flank steak, but had to modify it for my challenge. Unfortunately, this meant that most of the delicious accoutrements were missing, so I got a medium rare flank steak over a big bed of braised greens. This would have been fine, save for the fact that someone may have dumped three tablespoons of salt accidentally into my greens. At this point, almost two hours since we had arrived, I was starving, so I asked for some lemon to see if the acid would cut it enough. It did not.
They were kind enough to make me a fresh batch of greens, but the experience left me feeling like I had done something wrong.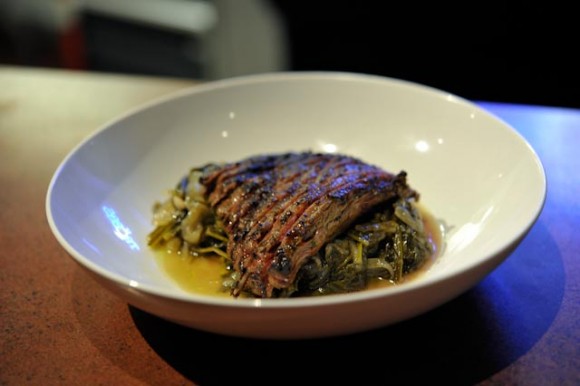 After dinner, because I can't have my favorite mocha sheet cake of theirs, I had a double espresso. (Which was delicious.)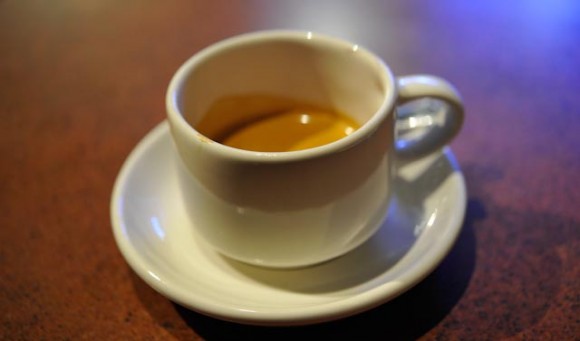 To say that we were disappointed would be an understatement, but the dozens of stellar meals we've had there make up for this fluke.