This morning started with a cup of coffee and Saveur magazine. The rose was from Rosh Hashanah dinner, and has been making me smile every time I sit at the table.
I was interested to read Tea's post on morning rituals, and have been equally interested in the comments that have been popping up. My morning ritual is usually centered around waking up and wandering into the kitchen, making myself a cup of tea or a single cup of coffee, and reading until I finish half the cup or the beverage gets too cold to drink anymore. I have a few mugs, but I found my favorite, so I bought two. I rarely finish the whole cup, and then I move onto breakfast. Do you have morning rituals? I'd love to hear about them.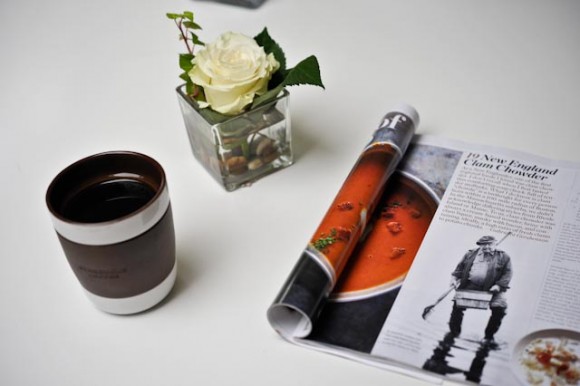 Breakfast was a quick omelet, two eggs with some spinach and leftover Italian ground pork tipped in while it set.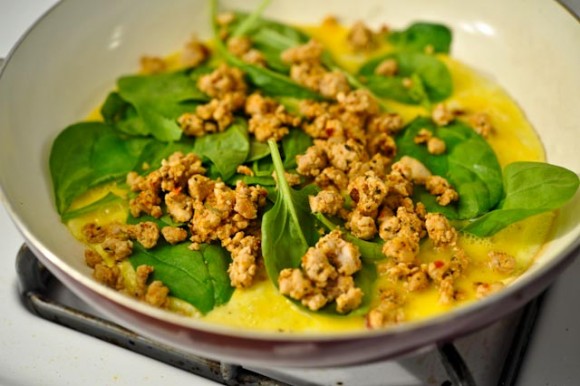 Lunch was leftover salmon salad with a side of chopped carrots and celery to dip. Having sit in the fridge overnight, it tasted even better than the previous meal.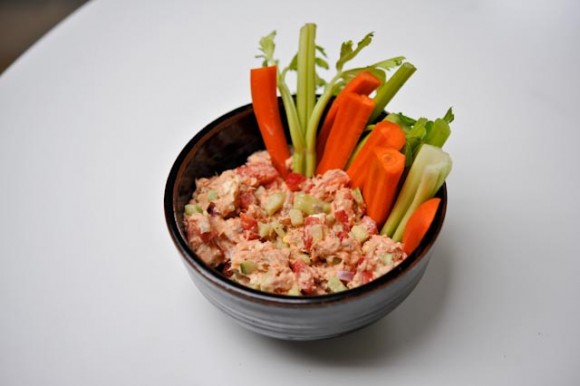 In the early evening, I set about my walk – a few loops around the library listening to a podcast and praying that it wouldn't downpour. I dropped off a few cookbooks that I had taken out, and picked up Boswell's The Life of Johnson, which I get to read when I finish my overdue library book.
I also took a quick trip to Costco before they closed. I had been considering renewing my lapsed membership, but a loop around the store proved that I couldn't actually find a single product that I buy for my household, so I saved myself fifty bucks and walked away.
For dinner, I reheated this coconut chile beef that I cooked yesterday.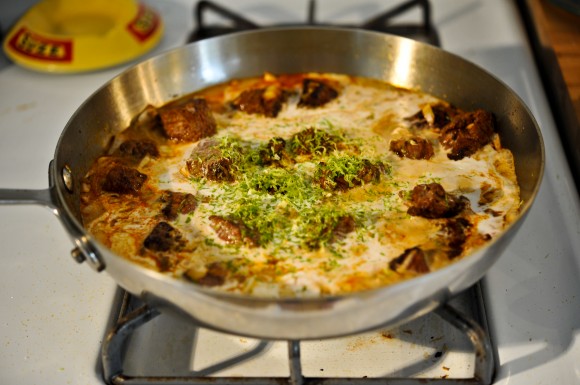 I decided to add the last few cups of cauliflower couscous into mine before putting into my bowl, so admittedly it looks quite unappealing here, but it was good! After making this recipe half a dozen times, I think I like it best with chicken thighs. I'll post a recipe when perfected.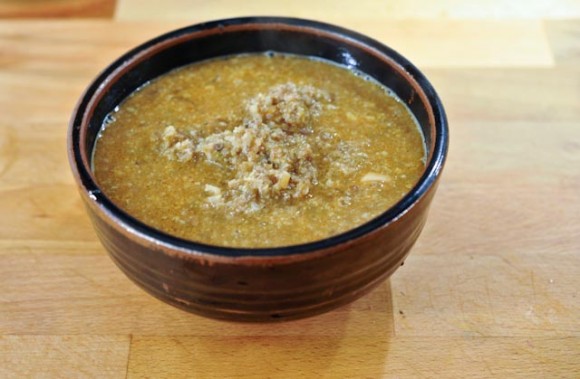 And before I forget,
Today's Happiness Booster: Tackling a few small nagging tasks. I'm sure you have a few of these – maybe it's a project you've set aside, but today I committed to getting a few things done that just weren't getting themselves done, namely, plugging in a light over the stove (still in progress, I have to drill holes through the cabinets), and working to finish up a way-overdue library book. They might officially hate me at the library.