Today's Happiness Booster: The Email Opt-Out. In the spirit of the new year (Rosh Hashanah!), I'm going to be focusing on one new happiness booster each day. These are the little things that I try to identify and implement – consistently making my bed, going to sleep with the sink empty of dishes, 10 minutes of exercise, etc. – that when performed every day, add up. Today, I focused on the email opt-out.
A few months ago I started using unroll.me, a site which actually automates the process of clearing and archiving your inbox. It archives mail into a daily roll up, and lets you choose whether you want future mail from the sender or to unsubscribe. While this was convenient, I realized that I needed to do it myself for prime satisfaction. So each email, I've started taking 2 seconds to ask myself: Keep? Or Unsubscribe. I'm reaping the benefits already.
*            *             *
Breakfast this morning was a leftover slice of roast beef tenderloin, and a sliced tomato from Volante Farms.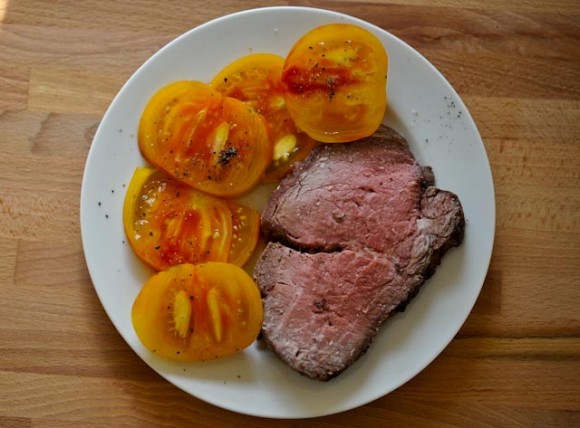 I then headed out to a morning meeting with a friend at Formaggio Kitchen. George Howell coffee, black. I'm getting quite used to coffee with nothing in it, but it certainly doesn't hurt that this is some of the best coffee in the city.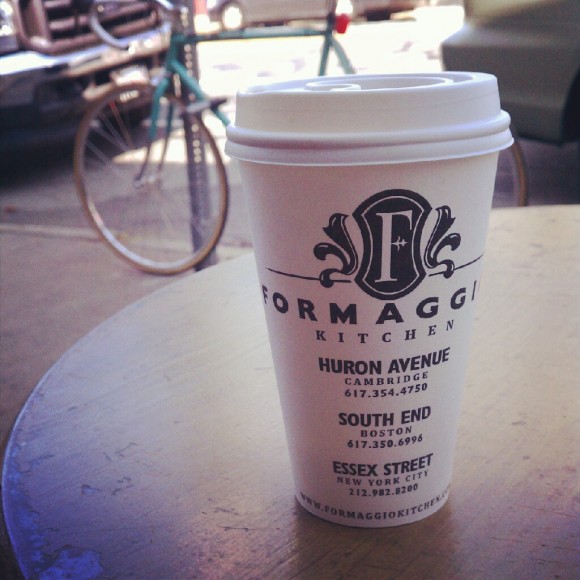 Resisting the urge to buy everything, I left with eggs from Silverbrook Farm. Farm fresh eggs are my vice. Lately I've tried Chip-In, Eric's, Red Fire Farm, trying to determine which I like best. I admit it, I was swayed by the blue box.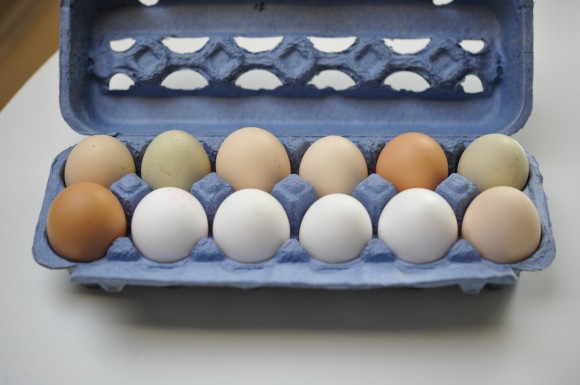 Late in the afternoon, I set about doing some prep cooking, to help reduce time spent actually cooking during the week. This entire prep took just shy of 45 minutes, but it's a definite head-start to the week! [Yep, 4 different things, 45 minutes.]

I started out with a batch of homemade olive oil mayo. It has a whole egg, olive oil, lemon juice, salt, pepper, and a tiny bit of mustard. A minute with my stick blender and done!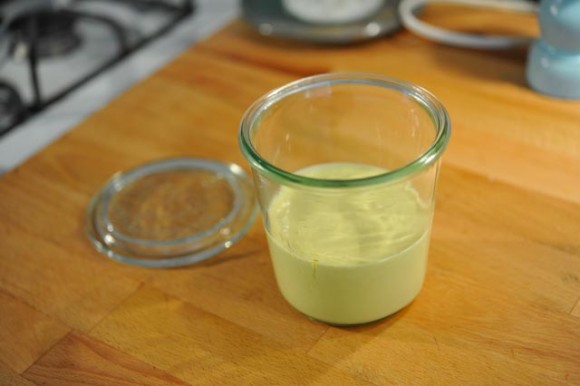 I then set about making some Coconut Chile Beef from Melissa Clark's 'Cook This Now'. Love, love, love this cookbook. Beef, coconut milk, chile, and lots of lime, cooked down into a sweet, tart, and savory sauce. The prep takes 12 minutes, and then you put it in the oven to braise for a few hours.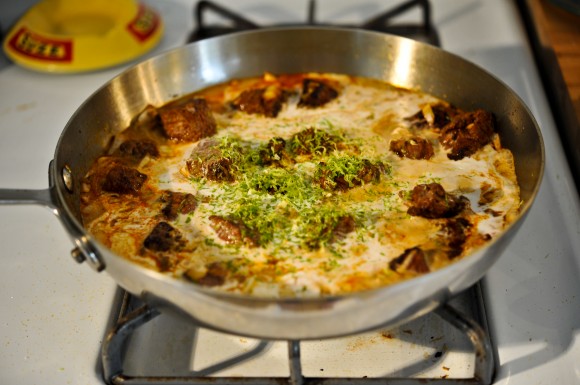 Because I always aim to maximize the work my oven does, I quickly chopped up the last of my Volante Farms eggplant and popped it in the oven as well to roast for an hour.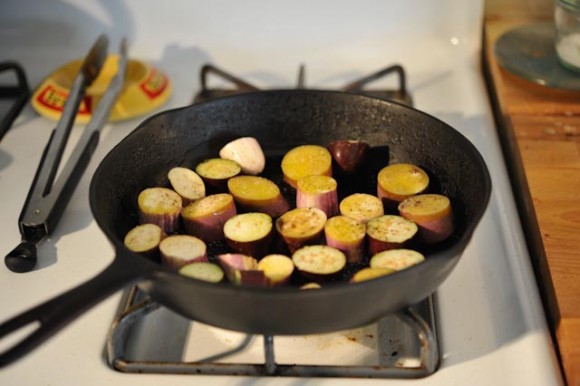 And then, on a roll, I decided to quickly brown the ground pork I had with some Italian Seasoning. I'll use this with eggs for breakfast, or on leafy greens, or to add some depth to soup. I might also add some sauce and serve it on spaghetti squash. We'll see. It helps to have it on hand.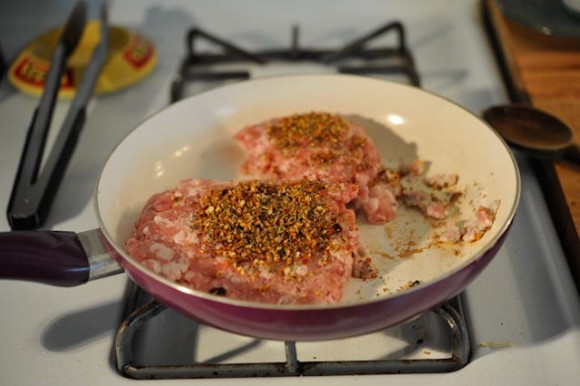 Finally, I made myself a quick lunch before sitting down to work at the computer for several hours! Chicken soup with homemade stock, the last of the roasted chicken, a large handful of kale, and a good squeeze of lemon.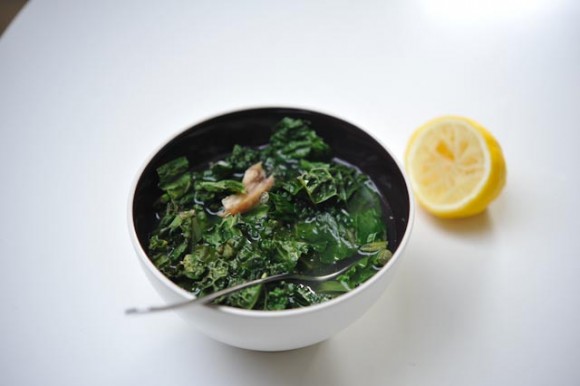 As if all that cooking wasn't enough, tonight was our very first benchmark workout of the challenge at my gym! The challenge is 8 weeks, so we'll likely do this at the end again to see how far we've improved.
The WOD: (Workout of the Day)
It's split up into two parts – a strength workout, and then a workout set.
Strength:  Back Squats – 6 sets of 3 @ 80% of  your 1 rep max*, rest 2:00 between sets*If you don't have a max, take the time to get one. I didn't have a max, so I worked to get one today. I ended up hitting 85 lbs. for 3, and then 95 I managed to eek in 2 lifts. (85 is 20 pounds heavier than last time, so I'm feeling pretty good). 95 next time!
Benchmark WOD 1:  "Fran"
21-15-9 reps for time:
Thrusters 95/65
Pull-ups
The prescribed weight for Fran for women is 65, but I'm still working up to full capacity. I eeked things out in 9:40, using 45 pounds. And I wanted to puke. But, that's 10 pounds heavier than I did it last time. As for the pullups, well, jumping for me. This looks easy. It is not! I'm looking forward to what two months more of progress will bring me to.
When I got back home, I walked to the store to pick up a few vegetables, and set to work making a crunchy salmon salad. I was happy to have leftover grilled salmon on hand from last night, so it came together quickly. I'll definitely be making this again soon with some of my frozen Copper River salmon – although you could also make it with a high quality wild canned salmon.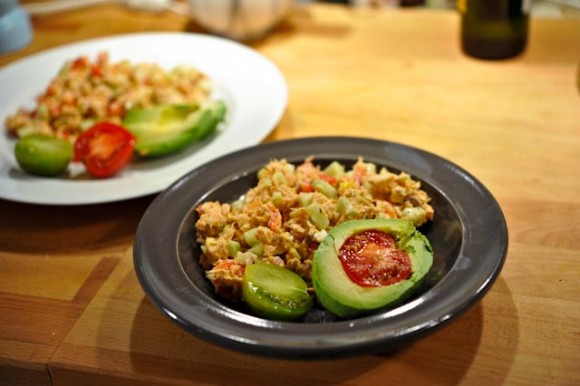 Just like tuna, but with salmon! I served it with a half an avocado, and two small tomatoes.
Crunchy salmon salad
serves 2 with leftovers for lunch
This recipe has a lot of mayo – but I make mine fresh, with good olive oil and a fresh egg, and it makes all the difference. You can reduce the amount you use to your taste, but it tastes better with more. Note, you can (and probably should) make this an hour or so before you eat it, and let the flavors meld in the fridge.
2 cups leftover cooked salmon (preferably wild)
2 hard boiled eggs
1 shallot
juice of a lemon
salt
1 red bell pepper
1 cucumber
1/4 cup homemade mayo
1/4 teaspoon cayenne
1/4 teaspoon celery seed
1/4 teaspoon dried dill
salt and pepper to taste
Mince your shallot, and place in a small bowl, adding a pinch of salt and the juice of a lemon. Let sit while you prep the rest of the salad. This tempers the shallot so it won't have such a bite! In a large bowl, flake your salmon with the two hard boiled eggs.
Prep your vegetables – peel and dice the cucumber, and dice up your red bell pepper. Add to the salmon and egg mixture, and stir to combine. Add about a quarter cup of homemade mayo, and the cayenne, celery seed, and dill. Stir gently, add the lemon and shallot mixture, and stir again. Taste, and season with a little bit more salt if need be.
You can eat this right away, but it tastes a lot better if you give it an hour or so in the fridge. (Well learned lesson from my dad, tuna/salmon/crab salad master.) Serve as is, on lettuce, or a soft bun.