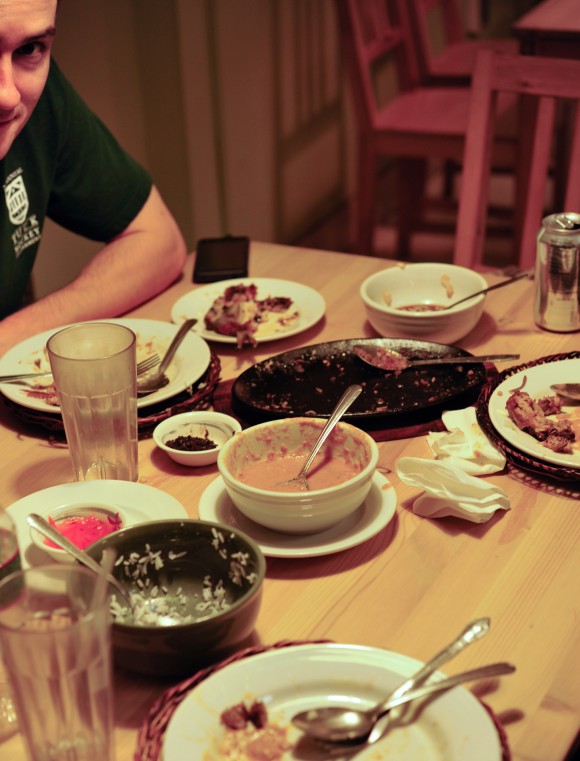 Let's pretend here that the photos in this post have proper white balance and focus, and ignore the cold, harsh reality that even if you get a fancy new camera with a phenomenal lens, it does not mean that you will be able to properly shoot with it if you don't know what you are doing. Also, if  you hand the camera over to anyone at all, you should watch carefully that they don't adjust the settings resulting in all your colors being off. I'm learning! – Sam
To say I'm an adventurous eater is an understatement – I'll likely consume whatever you put down in front of me, and happily so if it has strong flavors, is fermented, or is a recognizable part of an animal.
What I'm less comfortable with is going into a restaurant for the first time where I'm the only person not speaking the native language, and ordering with confidence. Even if I've done my research, which I always do, and usually fairly thoroughly, I'm skeptical that I'll be served a traditional dish in it's full glory. I worry that the spice will be dialed back, or I'll get fewer banchan, or the fish paste will be curiously absent from my table.
There's a reason why Anthony Bourdain meets up with a fixer in each episode – it always helps to have someone who knows what they are talking about, and can cry foul if something is amiss.
So here I found myself craving Filipino food, and needing some dining partners and a fixer. Enter Bianca, of the delightful blog Confessions of a Chocoholic who agreed to come with me and Alex (my boss at Tasted Menu, and the creeper up there in the photo) to JnJ Turo-Turo, the ONLY Filipino restaurant within a several hundred mile radius.
From everything I had heard, it was so-so. But, after regular breakfasts in San Francisco of Silog in my old neighborhood, Hopia from Hilda's, Señor Sisig, Hapa SF and the Adobo Hobo trucks, and Mitchell's Ice Cream two blocks away serving up classic flavors from the Philipines including Buko (baby coconut),  Langka (Jackfruit), Macapuno (coconut), and my favorite Ube (sweet purple yam) – I have learned that even not-very-good Filipino food is better than no Filipino food at all!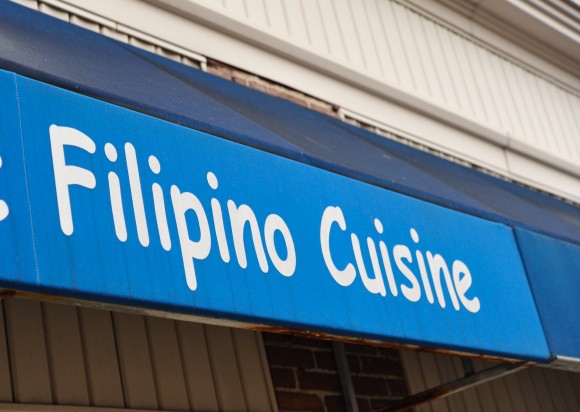 First we had to get there. This place is in Quincy, which is a bit of a hike from Boston.  A thirty minute drive outside of the city got us there without too much hassle.
We made a quick detour to Kam Man Superstore right around the corner before heading in to dinner – a Chinese market about double the size of the Super 88 in Allston, and one of my favorite local places for Bento supplies. After picking up a coconut bun and a custard filled mocha bun – you can't leave this place empty handed, no matter how hard you try – we headed over to the restaurant.
JNJ Turo-Turo isn't exactly upscale. Turo-Turo means "point-point" in Tagalog, and generally refers to a small eatery where they have a few rotating dishes on the menu and you simply point to the ones you want.  It reminded me of the places in Istanbul, neighborhood joints where working people eat or might pick up some dinner to take home after a long day. I found the place charming though, with it's Ikea furniture, a group of friends speaking Tagalog at the next table, a quiet smiling woman cooking and serving our food, and Filipino tele-novelas dramatically unfolding in the background on the TV hanging above our table.
Bianca did the ordering, and I put in my requests – lumpiang shanghai, kare-kare and adobo and whatever else we needed.
To start, we got plates of cigarette shaped lumpiang shanghai (fried pork spring rolls) with a sweet chili dipping sauce, and slightly shorter and plumper lumpiang gulay (vegetable spring rolls filled with bean sprouts, carrots, potato and tofu) with a slightly tangy vinegar dipping sauce called sawsawan.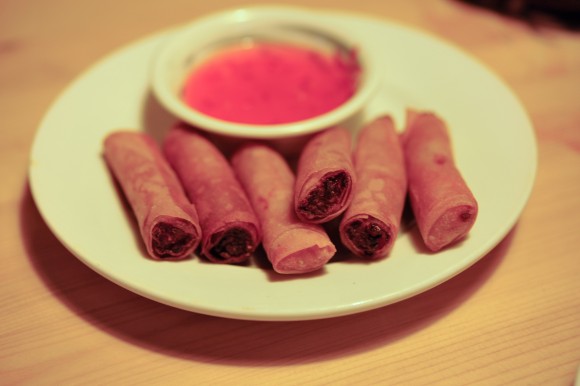 Taste-wise, these reminded me curiously of the latkes (Jewish potato pancakes) and mücver (Turkish vegetable fritters) my mom makes – I take particular delight when my brain allows me these cross-cultural associations when trying new foods.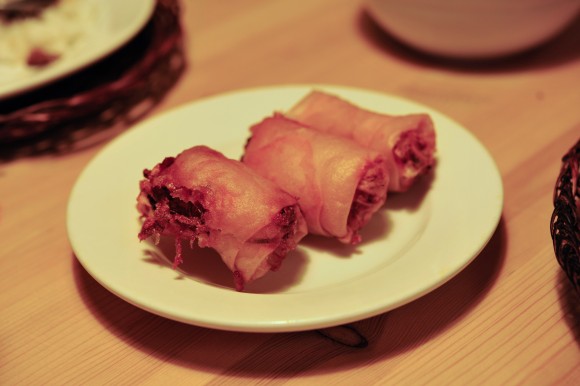 The next dish that came out was our chicken adobo, which for me was the low point of the meal. While the chicken was moist and tender, the sauce was sweet and not particularly tangy at all.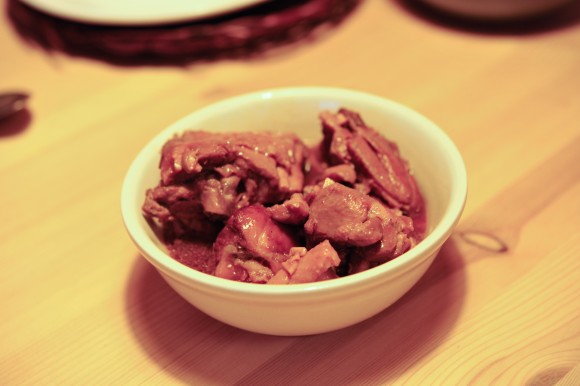 From my limited experience with adobo, I was disappointed, and felt for sure that my imaginary grandmother in Manila would have made a better version. I really like the one Amy Besa makes, which I have the recipe for on this here website and have cooked many times. After thinking about it in retrospect though, I remembered when I posted a few years back about adobo, a reader mentioned that the adobos of the North were sweetened with sugar cane and are much less acidic – so it's possible this was a good example of that? I digress.
To my delight, the next dish to come out of the kitchen was a whole fried milk fish, (called Bangus) served split, and boneless.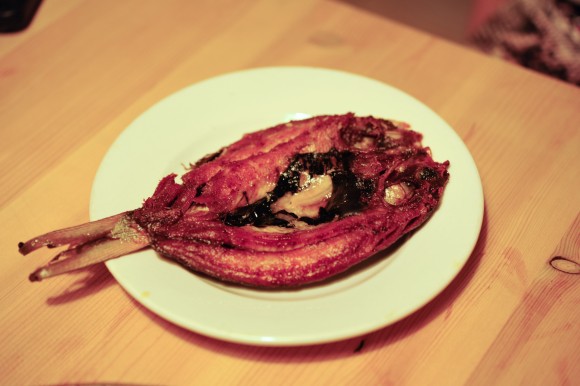 This fish, commonly eaten in the Philippines, but new to me, was crispy and brilliantly flavorful.  I'm always happy when I get served a whole fish in a restaurant, and ashamed that I cook it so rarely myself at home, as it's one of the more satisfying eating experiences one can have.
A bowl of kare-kare,  a stew made with peanut sauce came out next, and was served with bagoong (shrimp paste) – which the cook looked at us skeptically and asked if we'd want.  Of course I wouldn't have turned down the opportunity to try it, and while I didn't dislike it, I will advise you that it is not for the faint of palate.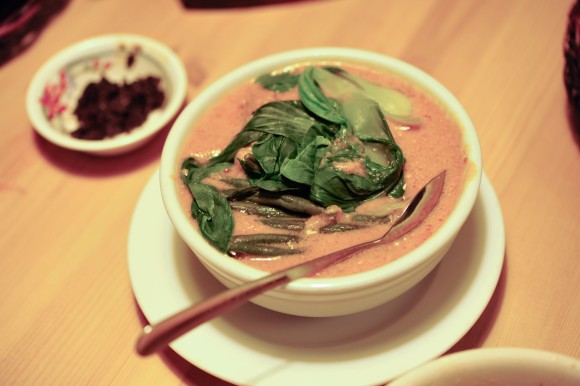 The tripe in this was cooked well, and tender, but I had been hoping for oxtail which was sadly missing from this rendition.
Even though from all that I'd read about kare-kare it's usually described as fairly bland, I think I was hoping for a punchier dish, and the foreigner in me wanted to douse it with something acidic or spicy. Sometimes though, learning to appreciate subtlety is more important than assaulting the tastebuds – although I'm guessing that this dish would be much more flavorful with better quality nuts, cuts of meat, and the ministrations of that imaginary grandmother from Manila. I'll be sure to try it again.
Finally, my favorite dish of the evening, the Sisig: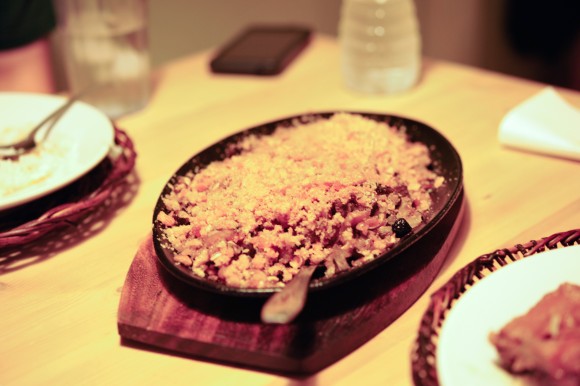 This was my first sisig experience (Señor Sisig, my favorite food truck in SF, while delicious – the California burrito, silog style with the egg is a perfect food – doesn't actually serve it's eponymous dish on their truck.)
Sisig is a dish comprised of the bits and pieces of the pig, ie: the good parts, and is served on a sizzling hot platter. This one was full of crunchy cartilage, and liver (my favorite) seasoned with onions, garlic, and hot pepper. I contentedly scooped my second and third helpings to eat with rice, and pitied all the folks out there who can't deal with texture in their food.
While eating, I couldn't help be reminded of the Turkish dish called Kokoreç, a chopped plate of intestines and other bits of offal – which I stupidly refused as a child because intestines were pretty much the grossest things that I could think of, and the last three letters of the word are pronounced "retch". You can imagine the fuss we kids put up.
After eating our fill (ie: everything on the table), we managed to leave room for dessert: the Halo-Halo.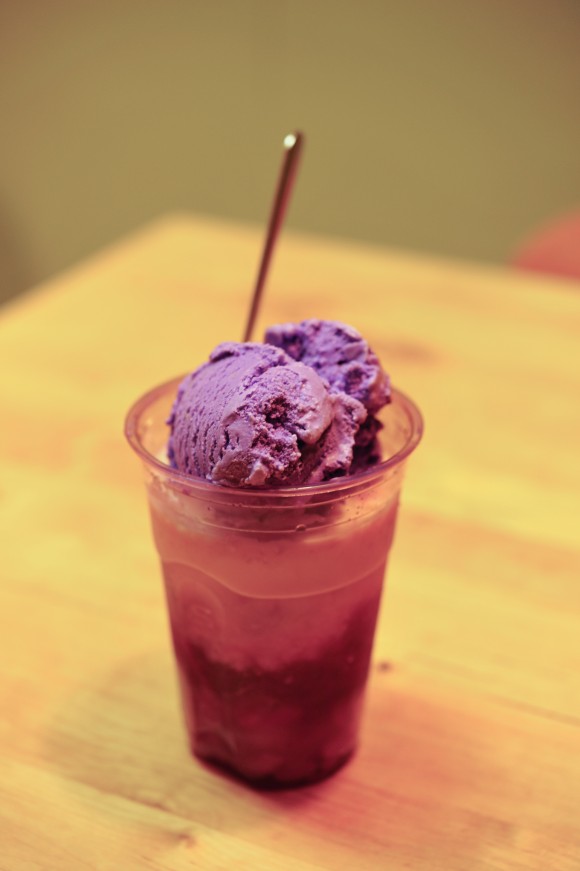 This took me straight back to summer nights when we'd walk down the street in Noe to Mitchell's, braving the lines for a late night cone. After moving away, I'd been feeling sorry for myself that I didn't have access to their ice cream flavors… and then BAM – finding some dee-licious Ube ice cream topping my Halo-Halo at JnJ Turo-Turo pretty much made up for the entire year of Ube-withdrawal.
So, we had … beans, banana (which I could have sworn was plantain), assorted tapioca and jelly at the bottom of the plastic Solo cup, topped with shave-ice and two scoops of Ube ice cream the exact shade of purple I would have been obsessed with in 1992. This sounds and looks a little terrifying, but I was thrilled, and ate the whole thing despite being well past the point of uncomfortable fullness.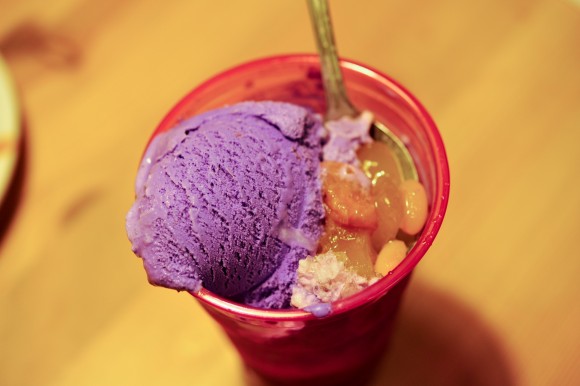 At the end of the evening, we were politely ushered out, having extended our welcome a whole half hour after they had closed, and we stumbled out smiling.
I found that while I'd gone in skeptical, this place had exceeded my expectations: it was a lovely evening, the food filled some deep needs of mine, and I was with excellent company. What more can you ask for?
JnJ Turo-Turo
143 Water St.
Quincy, MA 02169
(617) 471-8876
For more fun, here's Bianca's write-up of the very same dinner.