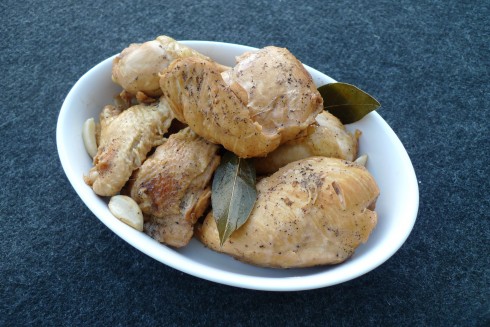 "Filipino food is delicious because it is cooked with love and always served with generosity and hospitality."
One of the greatest pleasures of working at Omnivore Books is getting to learn about different cultural cuisines.
For the second Foodbuzz Next Food Blog Star assignment, we've been tasked to tackle a classic dish from another culture. My immediate thought: Chicken Adobo. Pungent, tasty, and shockingly easy to make, Adobo is a staple of Filipino cuisine.
Filipino food is finally getting its moment in the sun. In Los Angeles, good Filipino restaurants are ubiquitous and the younger generation are clamoring to embrace their cultural food roots. In New York, Amy Besa and Romy Dorotan created a sensation with their restaurant Cendrillon in Manhattan, and more recently moved out to Brooklyn to open the Purple Yam. Here in the Bay Area, Filipino restaurants are on the rise too, and food trucks Adobo Hobo, Hapa SF, and Senor Sisig are producing both contemporary and traditional versions of Filipino classics.
A few months ago, Filipino chef and cookbook author Amy Besa came for a talk at Omnivore Books. To be honest, having grown up in New Hampshire, I had never experienced true (or even bastardized) Filipino cuisine. While Besa spoke, I feverishly took notes.
In addition to being an incredibly warm and friendly woman, Besa is above all an intellectual. "If you are going to write a cookbook," she elaborated, "I would recommend that you read a lot first. And use food to learn about history. If you try to trace back to where your food came from, you are doing history, and all of a sudden [history] is very exciting!"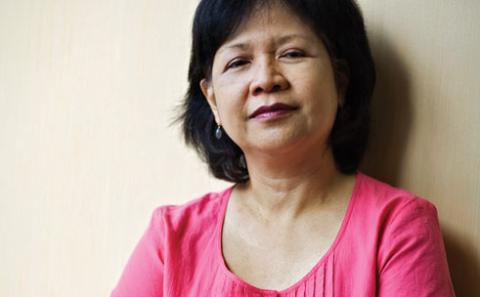 (Photo: Allison Michael Orenstein, Time Out NY)
"Filipino food is fundamentally about balance, subtlety, nuance and harmony."
People tend to itemize Filipino dishes rather than contextualize them. A good way to think about any cultural cuisine is to look at it from a historical perspective: food that is ours, and food that is borrowed. The Philippines experienced a long history of colonialism and occupation, and the food culture was greatly influenced over time. Besa noted that "Filipinos were very good at borrowing foods – the foods that they liked, they indigenized."
Arab traders had been passing through for eons, and over several hundred years the Philippines were ruled by Spain, and then really ruled by Mexico. You can see this in influences such as Pampanga Bringhe – the Filipino version of Paella (made with sticky rice with coconut, turmeric, and native chicken.) There were very few influences from Mexico, but those include tamales made with rice, and other crossovers such as the use of lye.
Existing in Southeast Asia, they also had many influences from across the region. Immigrants from the Fujian mountains couldn't use a lot of vegetable oils because they were cost prohibitive to the poor Fujian, so they used pork as fat, which was brought over to the Philippines. Then the Cantonese came with their cultural influences, and as richer communities they brought lighter foods such as stir fries.
In the 50's, the United States came to occupy the country. Besa noted, regretfully, "Television came on in the 50's and the big companies started cooking shows to promote their products (and in doing so destroyed generational culinary transfer).The new medium got totally divorced from the values of food you got from your grandmother."
Besa made it her mission to preserve some of the old ways in her book "Memories of Philippine Kitchens".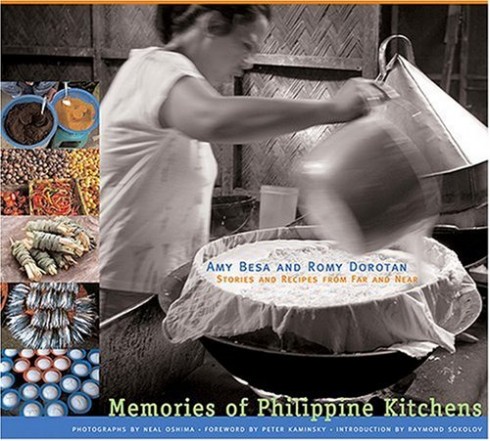 "No matter how rich or poor – Adobo is always on the table, and there are universal rules."
In many Filipino dishes — including Adobo – a traditional marinade technique, Sinigang – a soup of meat or seafood with tropical fruits, and Kinilaw – a seafood preparation similar to ceviche — the common flavor is sourness. Besa explains this as defining the Filipino palate. The ingredients are the key to the culture, and "Every ingredient you put into your food has got to mean something". In her restaurant, Besa imports coconut sap vinegar, heirloom rice, and salt from the Philippines. "Everytime I use heirloom rice, I eat up the price – it supports a farmer – that's the taste of our soil. Of our culture. For me, that's how I show my pride. It's not always the best business model, but it is what makes us happy."
When I set out to choose a recipe for Adobo, I thought about Amy's rules for creating a recipe and the importance of dealing with ingredients and showing respect for the dish. A good recipe will explain how the dish came about into being, and what you are trying to do with it. You find a lot of truths in classic combinations. You use the very best ingredients.
There are endless combinations of Adobo recipes, but the key components are the sweet, sour, and slightly spicy flavors infused in the meat and vegetables. The technique has been native to the Philippines for centuries, and it was only after the Spaniards came that it was renamed. (Adobo is a Spanish word for the marinades in Spain and Mexico that slightly resembled the Filipino dish.)
For my version of a Filipino Adobo, I used chicken, soy sauce, rice vinegar, coconut milk, bay leaves, black peppers, and chiles. I made some modifications based on what was in my own kitchen (ie: low sodium soy sauce, and lite coconut milk), but the beauty of Adobo is that as long as you have that wonderful sour flavor from the vinegar, and the sweet coconut, it tends to turn out well every time.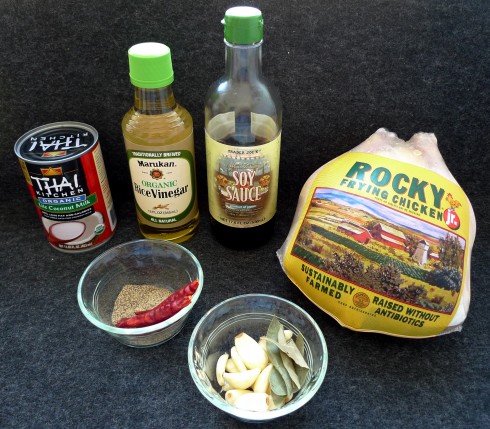 "Cookbooks are a roadmap to our identity, our history, and our roots."
When Besa spoke about creating the cookbook, I immediately felt moved by her influences and how thoughtful she was about the process.
"I first had to make my cookbook really personal – my love of food comes from my grandmother. It's a way of preserving memory. Ask a person who is dying about food memories. … Every family should record their treasured recipes…. In generations past, you knew where your food came from. Your Grandmother wouldn't take shortcuts – it would be the best.
Her first rule of writing cookbooks is to find a muse. For her, it was Doreen Gamboa Fernandez – whose books led Amy to learn more about Filipino foods. She re-read them every year to make her understanding of Filipino food and culture deeper.
It took Amy and Romy four years to put together this book. They traveled back to the Philippines, where she hadn't been since she had left Manila 30 years before, during a period of political unrest. She traversed the country taping oral histories. What's your name? How do you do this? "[It is] amazing what you can discover. You become very attuned to the ingredients. The knowledge of the people [like being acutely aware of the stages of a coconut] – just amazing – once you accumulate all that information, you raise the level of information by seeing universalities of all things."
At one point, an external editor tried to take it over. Besa was adamant: "You can not take out Mahjong. She wanted to cut out the personal. Her notes were kind of racist – too much about grannie, boring."
For me, "Memories of Philippine Kitchens" has become one of my most treasured cookbooks on my shelf. The material was totally new to me, and I realized that there was so much to discover about my own food and cultural roots — it has inspired me to start writing my own food histories.
"If you really love and respect your culture and food, you would not come up with anything less than the best."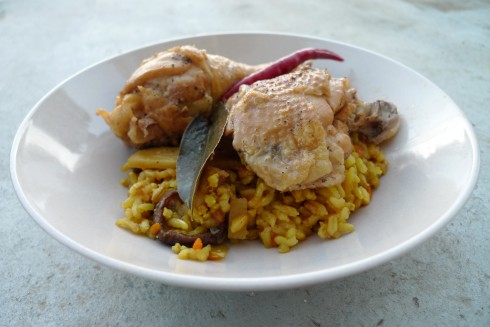 Chicken Adobo
Excerpted from Memories of Philippine Kitchens by Amy Besa and Romy Dorotan (Stewart, Tabori & Chang, 2006).
Serves 4 to 6

This is the recipe we use at the restaurant. The coconut milk helps keep the chicken moist and it makes a rich sauce. We serve this with Mushroom and Bamboo Shoot Rice (recipe follows) and sautéed mustard greens or bok choy. There are countless variations of chicken adobo; Mary "Inday" Gancayco serves a memorable mixture of chicken and pork adobo coated with mashed chicken livers and topped with fried garlic.
Marinade:
1 1/2 cups rice vinegar
1 cup coconut milk
1/4 cup soy sauce
12 garlic cloves, peeled
3 bay leaves
3 whole birdseye chiles
1 1/2 teaspoons freshly ground black pepper
One 3 1/2-pound whole chicken, quartered and cut into pieces
In a large nonreactive bowl or heavy-duty, resealable plastic bag, combine all of the marinade ingredients. Add the chicken pieces and turn to coat in the marinade. Refrigerate for at least 2 hours or overnight.
In a large casserole or Dutch oven, heat the chicken and marinade over high heat. Bring to a boil, then reduce the heat and simmer, stirring occasionally to make sure the chicken is covered in the marinade, until the chicken is cooked through and tender, 20 to 25 minutes.
Transfer the chicken pieces to a large bowl, raise the heat to medium-high, and reduce the sauce until it is the consistency of heavy cream, about 5 minutes. Remove the bay leaves and chiles. Return the chicken to the sauce and cook until just warmed through.
*            *           *
Inspired by Besa's suggestions in her book, I served the Adobo with a rice made with Shiitake mushrooms, bamboo shoots, and turmeric. For two people, I sauteed a half an onion (chopped) with a grated carrot, for a few minutes until soft. I then added 3 cloves of garlic (minced), and cooked for another minute. I then added 1/4 pound of shiitake mushroms, and 1/2 cup of chopped bamboo shoots, and 1/4 teaspoon of turmeric. I stirred, and added 1 cup of Koda Farms Multi-grain blend (brown rice, quinoa, etc.) from Rainbow Grocery, and topped with an inch of water. I brought it to a boil and set it to simmer for 45 minutes until cooked.
*           *            *
F0r more good reading – a few food bloggers whose posts on Filipino food have inspired me:
Arnold @ http://www.inuyaki.com/
Marvin @ http://burntlumpia.typepad.com/
MarketMan @ http://www.marketmanila.com/
Connie @ http://homecookingrocks.com/
Erika @ http://ivoryhut.com