To be honest, I'm not sure why I've become so obsessed with pizza. It has recently replaced sushi as food that I crave practically all the time. Perhaps it's nostalgia hitting at the very same time that the food has become a city wide trend here in San Francisco. Seriously, everywhere you look here there is pizza – Flour + Water was nominated for a James Beard, Gialina is practically around the corner, Delfina is less than a mile from my house, and apparently my neighborhood is about to get a new Deep Dish Chicago style joint. In the city Piccino in Dogpatch is one of my favorites, but I still find myself going back to Cheeseboard in Berkeley on a regular basis. It is consistently the best.
Now, I have another pie under my belt.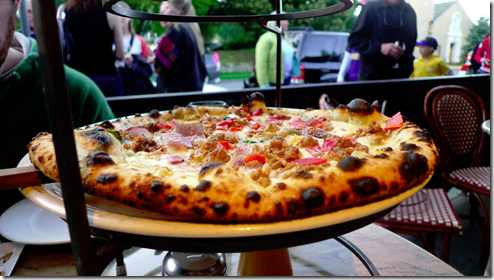 A few weeks ago I went to Larkspur to try Pizzeria Picco. I had never been to Larkspur (or really heard anything about it), and after strolling through the neighborhood, determined it to be a haven of nature, small shops and restaurants: what could be called "quaint", although really it's more of a composed environment. At 6 pm in the evening the town was filled with older parents and kids on bicycles, extended families, mid-twenties kids with their visiting parents, and what appeared to be the Palm Beach crowd of the Bay Area – the only time I've seen Lilly Pulitzer on more than one person in one place. The houses were beautiful, and I doubt that I'd mind living out there.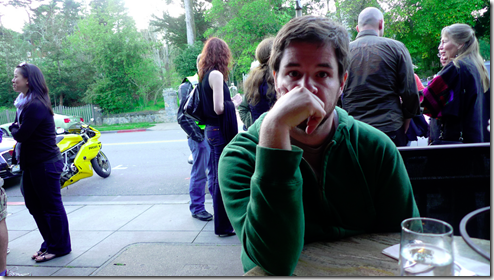 To be honest, it wasn't a true quest – we landed at Pizzeria Picco fairly accidentally. I pulled out my Tablehopper guide after several hours of aimless wandering landed us in Larkspur. Pizzeria Picco was right there on the list, and after I recalled Peter Reinhart waxing poetically about it, we decided to park and wait in line for some good eats. It was about a 15 minute wait, but glorious weather. We glanced in at the bar around the pizza ovens, but ultimately waited for an outside table. Above, my dining partner, making a funny face.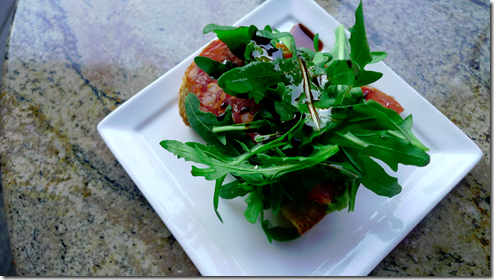 The first course we ordered was a special – little toasts topped with bright green chickpea puree, hidden in the photo by the sopressata and a little salad of crisp arugula and aged balsamic. ($3.50 each) It was a pleasant first bite – a combination of textures – crunchy, soft, creamy, chewy, and tastes – sweet, salty, and a little bit of bitter. I could have easily polished off a few of these, the caveat being that they were slightly difficult to eat.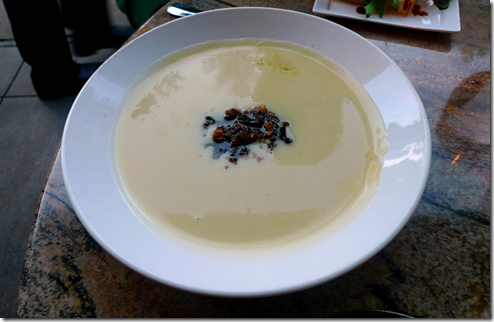 We then split the green garlic – potato soup with red currants and country ham (cup $4.00, bowl, $6.95). It was possibly my favorite dish of the evening – the soup was nicely seasoned, and the currants and slightly crunchy ham bits offered just the right amount of excitement.
And then finally the pizza:
Look at that crust!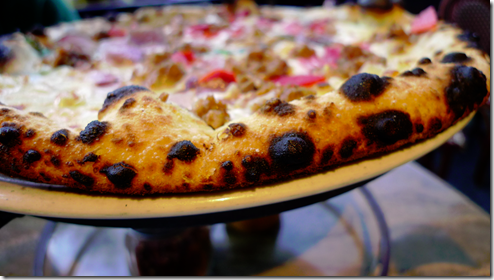 After browsing the menu and debating pizzas such as the marin (roasted garlic, young organic potato, mozzarella, parmesan, and rosemary oil – $11.95), and the surly (hog island clams, tomato sauce, garlic, sopressata, pecorino, parsley, calabrian chile – $15.95), eventually we decided on a cannondale (house made sausage, roasted peppers, roasted onion, mozzarella and basil – $13.50). I think I just liked that my pizza was named after a bicycle.
The portion was fairly good to split between two people, although hungrier folks might prefer ordering one pizza per person and taking home any leftovers. The pizza was good example of this type of woodfired neapolitan style, but my personal preference is a little bit of a thicker crust ala Cheeseboard. I'd say that ultimately I liked it, but didn't love it.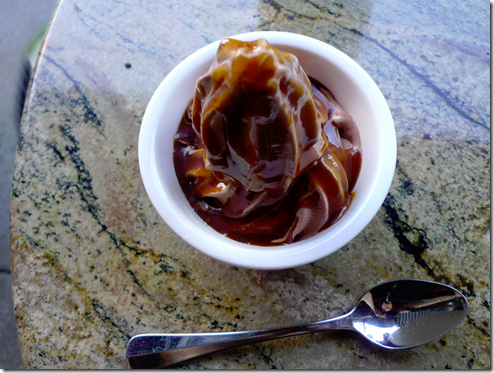 I was craving a salad at the end of the meal, and I should have listened to my gut and gotten their picco caesar (romaine hearts with farm egg, anchovy, lemon and parmesan – $9.50) rather than ordering dessert. I had seen several go past during dinner, and they looked absolutely delicious.
The Straus chocolate soft serve – they only had chocolate when we were there- with caramel sauce was a little bit disappointing. They do however serve vanilla soft serve with olive oil and sea salt, which is a combination that I like. Don't get me wrong, I LOVE Straus products in every shape and form, but I think I prefer ice cream rather than soft serve. After trying the Straus soft serve at Bi-rite this week, I have to say I came to the same conclusion.
Bottom Line: Tasty affordable pizza with fresh local ingredients in an idyllic setting. Not the best I've ever eaten, but exciting enough that I'll be back.
316 Magnolia Avenue
Larkspur, CA 94939
(415) 945-8900
Open Mon-Thu 5pm-9:30pm; Fri 5pm-10:30pm; Sat 12pm-10:30pm; Sun 12pm-9:30pm