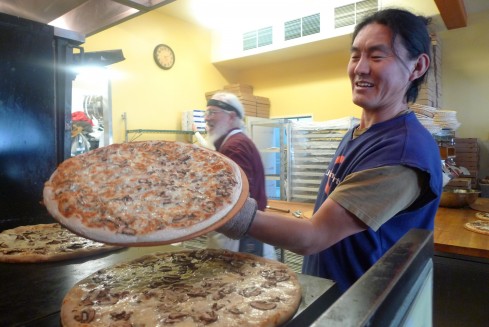 I've only eaten about twenty pizzas at Cheeseboard this year. Yes, that's right, I said twenty pizzas. And it's a modest estimate. Now, if you've seen me recently, you will notice that I'm more than twenty pizzas thinner (a loose pizza to pound estimate) than last year, so it's safe to say that this pizza has fit in perfectly fine with my healthy diet.
I'm a sucker for neighborhood food, and the pizza from Cheeseboard certainly qualifies. Cheeseboard is a co-op that has been going strong for decades. Most of my friends who grew up in Berkeley in the 80's and 90's have a parent or two who has been a part the collective. There is no boss, manager, or employees – it is worker owned. What does this mean practically?
Delicious pizza, of the freshest ingredients, served up by happy people who are integrally connected to the food. There is real stake in this product, and it shows.
Yes, I travel for my pizza. I love heading over the bridge to Berkeley – less than an hour from SF on public transit, including the short walk from BART. It's peaceful, friendly, and let's me get my hippy on.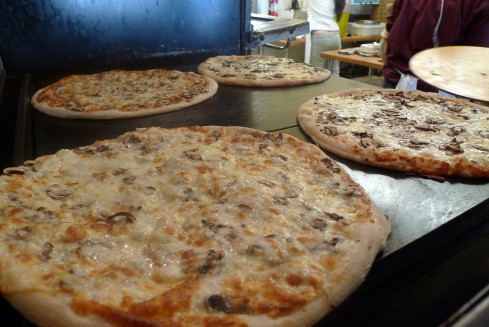 The pizza at Cheeseboard is made fresh, from some of the highest quality ingredients. They are thin and crispy, and topped with the finest cheeses, including gruyere, goat cheese, feta, montalban, fresh mozzerella, to name a few. They are also topped with seasonal and local vegetables – and they are vegetarian, although even a devout carnivore would hardly notice the absence of meat.
This particular pizza was cremini mushroom, onion, mozzarella, and ricotta salata, topped with an arugula salad dressed in a lemony vinaigrette. Salad on a pizza? Light, refreshing, and balanced. Trust me, it's wonderful.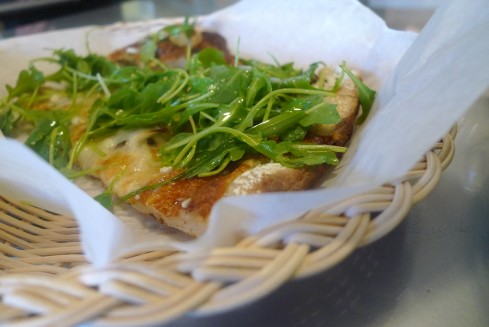 Things to know about Cheeseboard:
There will be a line. It goes incredibly quickly, and it is worth it.
1. One pizza a day. No choices, you get what they have. (Part of the reason the line goes so quickly.)You can see what the pizza of the day is on their website, or by following (the unofficial, but totally reliable pizza of the day) on twitter. Or head in to be surprised. They have a few pizzas in heavier rotation, and particular favorites include:
** Roasted potatoes, onions, chile passilla, mozzarella and feta cheese, garlic olive oil, cilantro, key lime.
** Roasted cauliflower, caramelized onions, mozzarella and Montalban cheese, pistachios, garlic olive oil, fresh herbs
** Fresh corn and chile pasilla, onions, feta and mozzarella cheeses, garlic olive oil, cilantro and Mexican key lime.
There is also a salad of the day, and usually a fresh cookie, the best being the gingerbread cookie. They also offer a variety of tasty adult beverages, as well as kid friendly beverages, all of which of the all-natural and delicious variety.
This particular salad was mixed baby greens with blue cheese and walnuts, with a balsamic vinaigrette. One of my favorites. (I also have a particular fondness for coleslaw day.)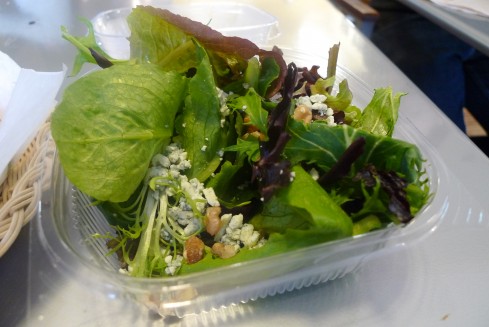 2. Cash only. The pizza is inexpensive – 20 dollars for a whole pizza, including tax and tip. You can also purchase by the slice ($2.50), or by half pizza, 3/4 pizza, etc. My advice for the best date? Take a 20 dollar bill, and you can get a half pizza ($10), a small salad ($3.50), a cookie ($2.00), maybe a drink, and a couple of dollars to tip the musicians.
Prepare in advance, or if need be, head down to the ATM – one a block away is Bank of America, but there is a Wells Fargo ATM a few blocks away in Andronico's.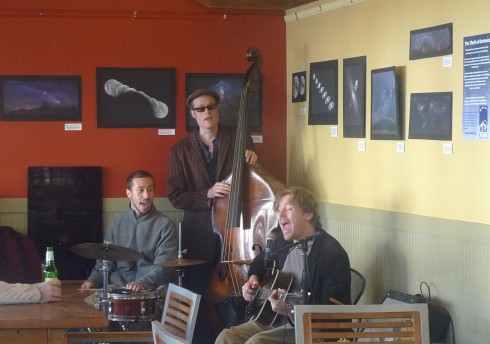 3. Live Music! The music is great, mostly jazz, and makes for a festive mood. Don't forget to tip the musicians! They appreciate it! Yesterday was a smashing performance by The California Honeydrops – I polished off an extra slice of pizza just to hear some more of their music. (There were three more musicians jamming out of the photo…)
4. Don't forget to head next door! Pick up some cheese to go! Next door at the Cheeseboard, you can immerse yourself in cheese heaven – and be sure to check out the discount cheese basket hanging from the counter (maybe I shouldn't have shared that secret), and their selection of tasty breads and pastries. You can also purchase pizza from next door here to go, if the line at the pizza place looks impossible.
Berkeley Cheeseboard Pizza
(The Cheeseboard Collective)
Web: http://cheeseboardcollective.coop/
1512 Shattuck Ave. Berkeley.
Phone: 510-549-3055
Unofficial Twitter: http://twitter.com/cheeseboard
How to get there: A short walk from Downtown Berkeley Bart down Shattuck- (about 12 minutes) Just have someone point you towards the "Gourmet Ghetto".