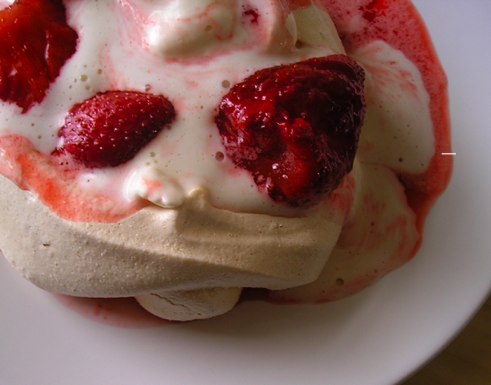 A few weeks ago, I discovered Barefoot Bloggers, a group of people who love Ina Garten, the Barefoot Contessa, just as much as I do, and who have joined together to cook through her marvelous recipes. The next recipe on the list was Ina's  Meringues Chantilly, chosen by BMK of Reservations Not Required Fantastic! I love meringues! But the question was, would it be possible to make it in my kitchen in time to post today? You see, there are rules about meringue. Fresh eggs! Metal bowl! Only on a sunny dry day! That was the one I was the most worried about…. this is San Francisco… a sunny dry day? Oh dear.
I scanned the recipe list.
My first challenge: Cream of Tartar. Hmmm.. I've always had cream of tartar lying around, but now I don't have any in my new kitchen. So began the search for cream of tartar. Apparently, it's not really something that you just buy here. Four stores later, I finally found some overpriced cream of tartar and bought it. There is nothing like spending six dollars for something you are going to use a quarter teaspoon of. Sigh.
The next part was the eggs. According to the experts, you need the freshest eggs, to help break down the protein in the whipping process. I got mine from Omnivore Books on Food, where Celia, the owner sells fresh eggs from her neighbor's farm in addition to her well chosen selection of cook books and books on food. These eggs are the absolute best, with really big orange yolks (which because they were omitted from this recipe are about to end up in a custard).
Now for a metal bowl. I didn't have a metal bowl, but I had a glass pyrex. Would this work well enough? According to the experts, glass should work fine- the key is not to use plastic, because the fat from previous cooking might stick to it and ruin your meringue.
Finally, Ina's recipe called for orange liqueur, and framboise, a raspberry liqueur, although all the hard liquor I had in my house is… Seagrams Whiskey. I know. I was the queen of the liquor cabinet. Four years of collecting the finest alcoholic libations in my dorm room, and all I have now is a bottle of whiskey, in a plastic jug no less. Because my current priority is paying my rent rather than paying for the expansion of my liquor cabinet, I opted to substitute the whiskey.
Finally I was ready to make the meringues.
…And it rained hard, down pouring rain for three days. I just couldn't do it. The experts tell you to avoid moisture- not even to run your dishwasher or boil a kettle!
Just two days ago, the sun broke through the clouds and I was prepared to make the recipe. I went to the cabinet and…. apparently we didn't have a hand held mixer. How could I forget! Oh god, I've whisked meringue before, and it's a long, arduous process with no real assurance that they will even stiffen into peaks. A quick panic led to the obvious thought- I live in an apartment building now! I could borrow a mixer!! Huzzah!! So, with the great kindness of my neighbor Khrista, the following recipe was accomplished.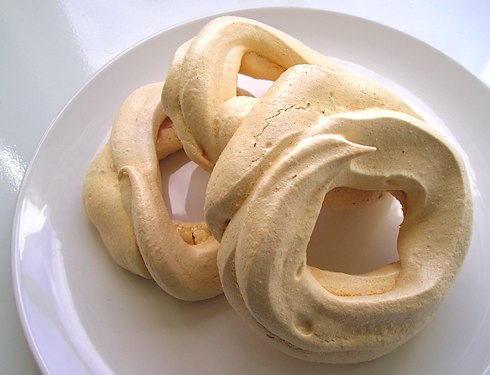 The original recipe is here, but the following was my adaptation that given there are just two of us, would feed a few less than the intended recipe.
Meringues Chantilly
adapted from the Barefoot Contessa
makes 6 meringue cups
Ingredients
– 3 extra- large egg whites, at room temperature (make sure there is no yolk!)
– 1/8 teaspoon cream of tartar
– a pinch of kosher salt
– 3/4 cup granulated sugar, divided
– 1/4 teaspoon pure vanilla extract
– Whipped Cream, see below
– Stewed Fruit, see below (cooled slightly or it will melt your whipped cream)
Method
1. Preheat the oven to 200 Farenheit. Line a baking sheet with parchment paper (or a silpat, or foil, which is all I have and works fine).
2. Beat the egg whites, cream of tartar, and the salt on medium speed until froth. Add half a cup of the sugar, and increase the speed to high until the egg whites form very stiff peaks. Whisk in the vanilla, and carefully fold in the remaining quarter cup of sugar into the meringue.
3. Put meringue into a piping bag with a large star shaped pastry tip, or if you are me, you put it into your ziplock bag in which you have attempted to cut a star shaped tip into one of the corners. Pipe into 3 1/2 inch or so circles.
4. Bake for 2 hours, until the meringues are dry and crisp, but not browned. Then turn off the oven, and wait for four hours, or overnight. Frankly though, I think you can use them right away and they would be fine, if not even better (I like a less dry meringue).
5. On a plate or bowl, spread some of the sauce from the stewed berries, place the meringue, fill with a dollop of whipped cream, and top with the fruit and eat.
Stewed Strawberries:
1/8 cup sugar
1/8 cup water
1 teaspoon whiskey
1/8 teaspoon orange zest
Combine all the ingredients in a saucepan, and bring to a boil. Lower the heat, and cook uncovered for a few minutes, allowing the sauce to get syrupy.

Whipped Cream:
Because I was not making the whipped cream for the entire recipe, I simply used about a 1/4 cup of cream and whipped it until stiff, whipped in a teaspoon or so of sugar and some vanilla, and a tiny bit more of the whiskey. It worked wondrously.
Ina's recipe though calls for a pint of cold heavy cream, two tablespoons of sugar, two teaspoons of vanilla extract, and a tablespoon of orange liqueur. Well, next time!